Have you been looking for apps to modify your lock screen on Android? If yes! You are at the right place. Mobile platforms are exceptionally developed these days.
Android allows developers to develop a variety of apps to modify major parts of the user interface. Home screen, themes, and lock screen modification are some of the definitive wants of android users these days; the lock screen is one major part of screen appearances.
In the guide, you will share the 23 best lock screen apps for Android that change the appearance of your smartphone and deliver you productive task management from the lock screen.
---
List of 24 Best Lock Screen Apps
Below we have shared the applications that are unique, popular, and meet all your demands. Take a look at the feature to decide which app is worth downloading.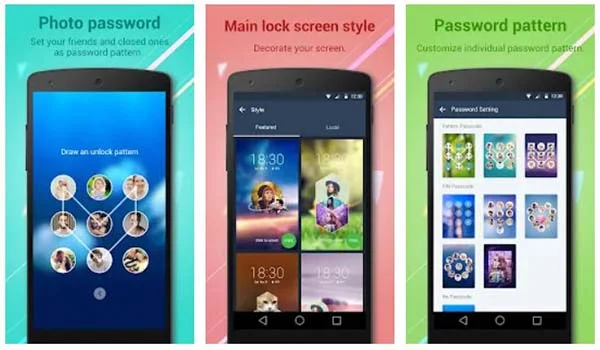 Solo Locker is an attractive lock screen app that comes with loads of features. The availability of a wide range of wallpapers is one of the popular qualities that users admire. The wallpaper that users access on this lock screen app comes segmented into an extensive range of categories. It includes animals, flowers, festivals, lifestyle, landscapes, and many more.
The app lets you choose between pin, pattern, and password. What draws more attention to the app is its image circle. For every connecting circle of pattern, you can choose your image to appear. Thus, it gets ten on ten in personalization. Users can also adjust the blur amount to wallpaper for achieving a higher degree of customization.
See Also: Top 22 Best Backup Apps for Android
---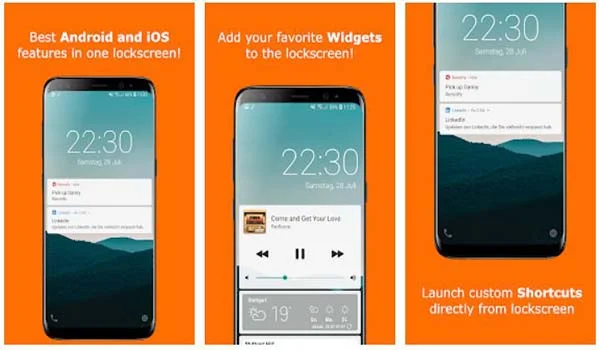 Ava Lock screen is an outstanding lock screen app if you don't want ads bothering you on the lock screen. The app has a minimalistic approach. You can expect customization along with a decent lock screen using this app. The main screen appears quite similar to standard android or iOS lock screens.
So, to cover it up, the app offers you wide accessibility to integrate widgets and apps. Swiping right each time displays you an app to access. Users will get full authority to customize the theme and style of the lock screen. You can modify the clock layout or choose better app aesthetics. Like Solo Locker, this lock screen app also provides blur-level customization on wallpapers.
---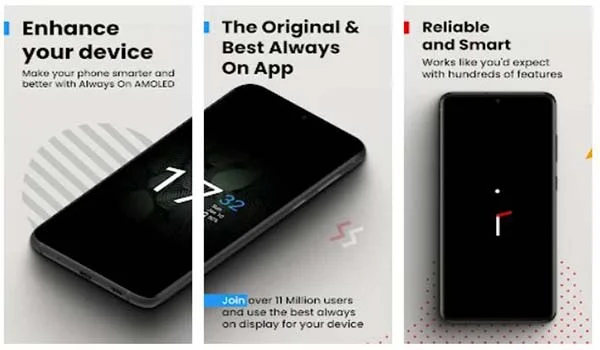 AMOLED is a premium display type that you will get in current-day smartphones. Always on AMOLED is one such in-demand lock screen app that brings you terrific features. The app works great on One Plus 7T. Compatibility has never been an issue for the app.
---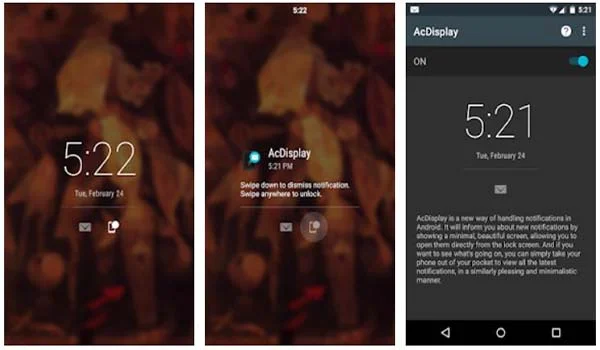 This app is popular for offering better management of notifications. Users looking for a minimalistic lock screen app will find the interface intuitive. From the lock screens, you can directly jump to the app. This app always remains active mode even on the low battery to display all notifications.
Activity mode also offers vibrations when you pick the phone or bring it out of your pocket. Other features that may attract you are blocklisting apps from the lock screen, exceptional backgrounds, and low-priority notifications. Customization is not as much as you have explored in the above apps, but it offers you decent changes.
---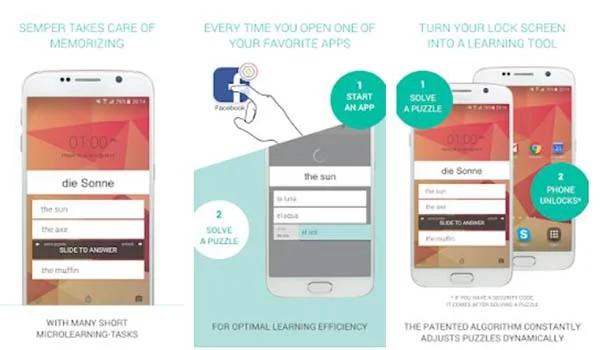 Semper is an amalgamation of education and security. This lock screen app educates you each time you unlock the device. Vocabulary is a primary education focus on the app; it is quite helpful for students. Quizlet is a quiz-based learning platform that powers this lock screen interface.
Students using this lock screen can also integrate their GK questions and trivia to learn something new. While the app is a great platform to learn, but features are very minimalistic. You don't even get much opportunity to customize the lock screen and achieve notification. Business professionals may not find this lock screen interface much useful for Android.
---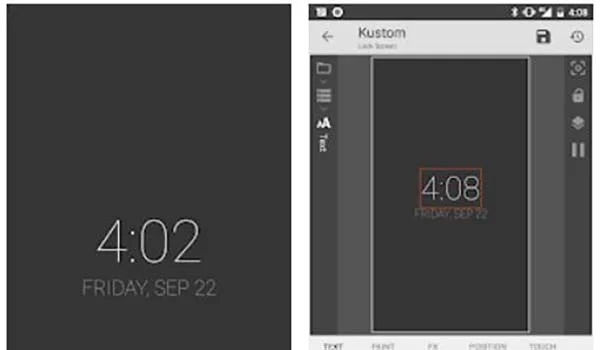 This is an app that is a whole SDK in itself. You can customize and make your lock screen using the app. You may address it as a lock screen creator as well. The app has two versions that include free and paid versions. The pro version with many features demands a subscription to achieve it.
You can customize everything that appears on the lock screen; it includes text, font size, color, and many more. Adding elements is also possible with this creator. You can integrate apps and widgets for improved usability. One fascinating feature about the app is adding your creation to the google play store. Users can achieve creative satisfaction using this app.
---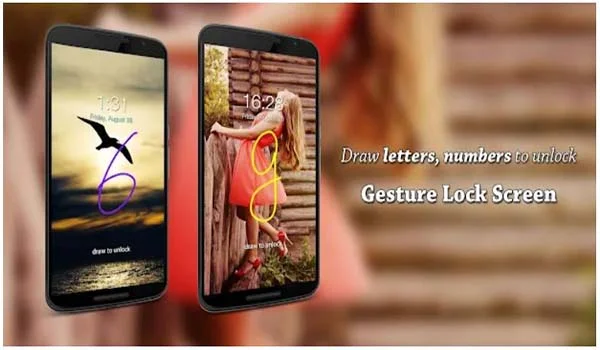 The name says everything about the app. Users who wish to unlock their smartphones with cool and unique gestures can use this app. The app allows you to create your gesture and set them for unlocking. The lock screen interface is quite simple. Wallpapers are good to go.
However, the app offers you tons of customization options. Users can change the unlock animation. You can also modify the screen lock time and lock sounds. What may bother you is ads. The free version offers you ads on the lock screen, while paid version enables you to get rid of them. Users can also choose a gesture color that will appear while drawing.
---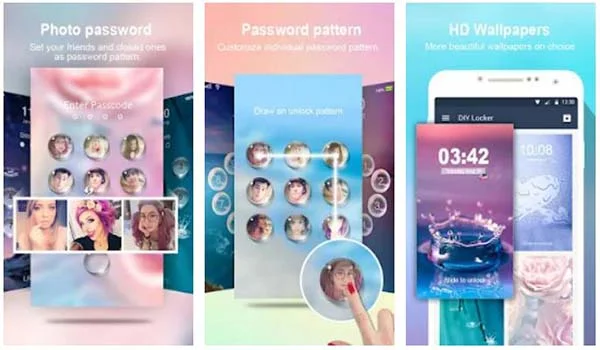 This is a simple lock screen app with some genuine customizing features. This lock screen app allows users to unlock with passcode, pin, and pattern and is quite standard. However, what adds up here is the ability to modify the lock screen. In the background, you can add photos of your choice
You may miss the blur-adjust feature, though! It supports several widgets on the lock screen. It includes mini music players and many more. On the pattern dots, you can also add images of your own to personalize them. The app sounds great for the minimum requirement. Users who don't want much customizing on the lock screen can use this app.
---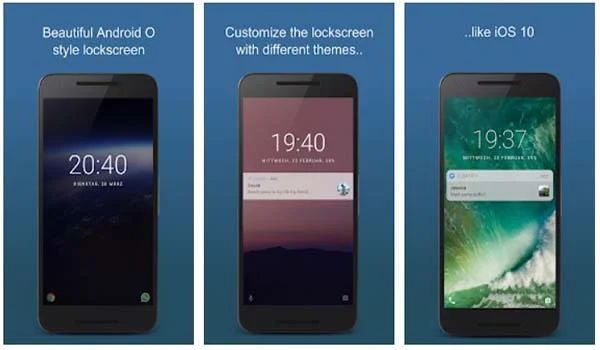 Floatify is a popular lock screen app that works as a decent replacement for built-in customization. Most of this lock screen looks quite standard. A background with a watch face on top is what you can expect. But what makes the difference is users can integrate weather reports, notifications from an app, and other data.
Users can also integrate and customize shortcuts to the footer of the lock screen. There is another helpful feature that most users find. When you pick up your phone, the lock screen lets your display turn on to watch notifications. However, this popular app has not witnessed any update since 2017. This might bring you security threats.
See Also: Top 25 Best War Games for Android
---
10. Lock Screen Widget
This is a quite new lock screen app. As an alternative to the standard lock screen, the app doesn't bring you much change. Like initial android versions, you can integrate widgets to the lock display. Your lock screen can have one display per page, and swiping it allows you to switch pages and access apps. The app lets you remember the android 5.0 Lollipop.
This app will ask for device administrator permissions. You can allow permissions to bring appearance changes. You can add Google Maps, music player, radio, messaging app, and many clock widgets in the widgets. The app also allows you to turn off the device without pressing a physical button. Users have a soft key on the lock screen to switch the device off.
---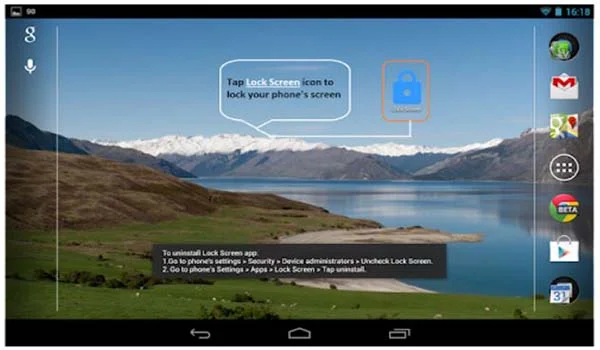 The name says the story; a great app for pin, passcode, and pattern unlock. The app supports all operating systems, including Android. Users can even use the swipe to unlock option having customized wallpapers on it. Wallpaper customization is one major USP of this app. You have got an extensive range of options to choose from.
After uploading the wallpaper, you can integrate it into the background of your lock screen. The number in passcode unlock appears within bubbles to offer you great aesthetics. It seems like a 3D screen. However, watch face options are quite standard. Digital display with date and time is what you should expect in this app.
---
12. Keypad Lock Screen by Smart Lock Screen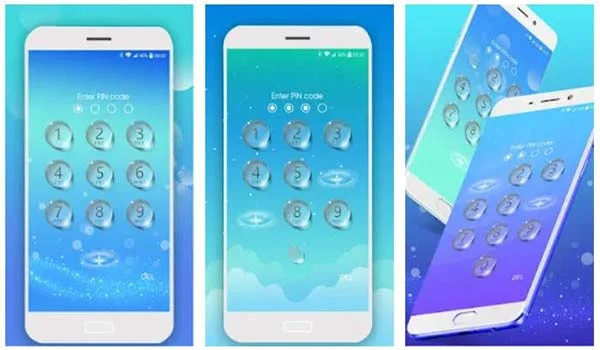 This is yet another 3D background lock screen app that has numbers appearing within water droplets. It might fascinate some users. By using this app, you can unlock your smartphone using a passcode, pin, or pattern. The lock screen shows your network, Wi-Fi connectivity, and battery percentage like any other standard app.
The background of the lock screen is customizable. There are multiple wallpapers to choose from. App also allows users to choose wallpapers from the gallery for personalization. As all users would want, this app consumes less battery and memory. The design is quite clean and doesn't have any complications while using. Color contrasts are something that might attract users.
---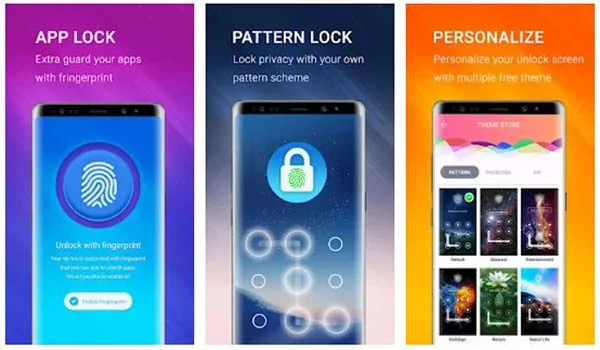 Users who are more concerned about pictures and videos' privacy can find this a great choice. Some users are always afraid of handing the phone to relatives. In that case, this lock screen interface is a solution that offers individual locking of apps. Improved features let you lock and hide your gallery, videos, and other apps for improved security.
Now, coming to the lock screen, this app offers you a fingerprint scanner on the screen to unlock your phone. This might be simulators only. Users can also lock with pins and passcodes. The fingerprint sensor appears secure, though, but most of the customization features are missing. Users are unable to change the background of the app and customize it with app integration.
---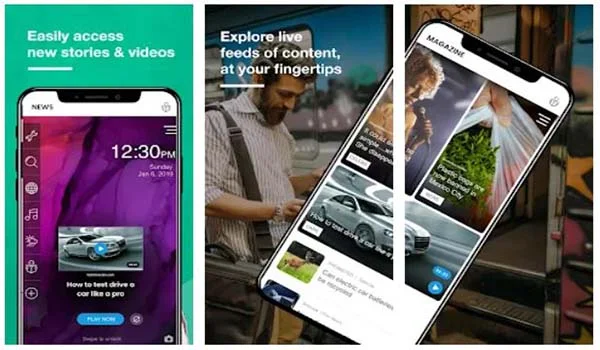 This is a modern-day lock screen interface that shows interesting background every time you turn on the display. The lock screen covers various categories, including sports, entertainment, news, business, and even viral videos. The app is more like a glance on Android smartphones. Wallpaper customization is a great feature of the app.
With an extensive range of wallpapers, users can choose the one that best suits their mood. Application integration in the form of the widget is a feature to say about. Users can achieve minimal control on music players, social networks, and more in the lock screen. There is a notification manager that enables you to set priority for notifications from apps.
---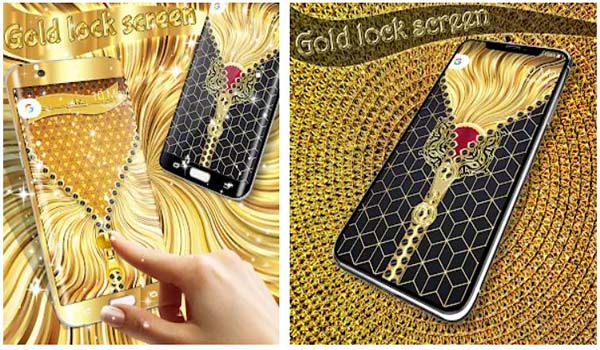 Users who love gold can find this app more attractive. The app unlocks your lock screen with a zip sliding that opens a layer of gold wallpaper. Before unzipping the initial layer, users can again achieve layered protection with passcode and pin. The theme is full of gold, but you can customize it as per their use.
There are also plenty of options for wallpaper customization. Users can change the background of the lock screen and use their galley picture for a personalized experience. Customization features are not over yet! You can still change the zipper's color and shape, text fonts on lock display, and many more.
---
16. LOCKit – App Lock, Photos Vault, Fingerprint Lock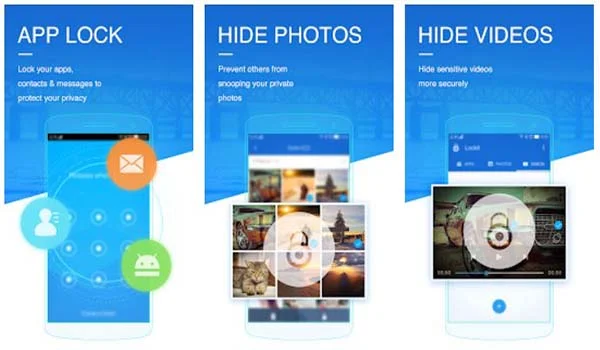 LOCKit is famous for offering a privacy guard to your smartphone. Users who want maximum privacy to their social media and instant messaging app conversation will find this great app as help. Individual app locking is a mainstream feature of this app. It includes protecting private photos in a gallery or videos; users can find four types of locks in the lock screen.
It includes fingerprint, passcode, pattern, and pin. Users can get notifications from all major app in a locked state of the phone. However, wallpaper customization is not available. You will achieve a standard lock screen without any 3D effects or blurriness. In the lock screen, you can also protect the answering of incoming calls from intruders.
---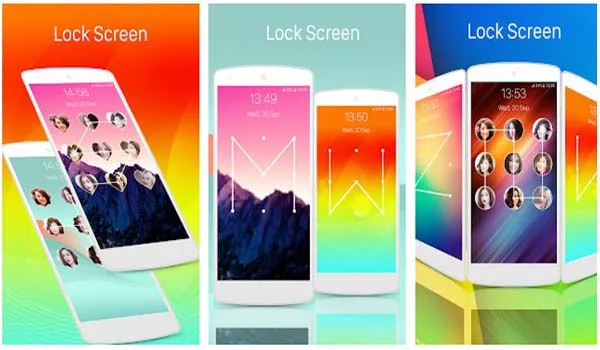 As the name suggests, this lock screen only unlocks with patterns. The app allows users to add personalized images to the pattern dots. The background and wallpaper collection are extensive. Users can choose colored backgrounds or beautiful images for the lock display. While customizing the background image, the users will get access to resize or crop images for perfection.
You can also integrate or eliminate widgets from the lock screen. There are exceptional watch types to add to your lock display; users also admire this app for low battery consumption. The app is lite and consumes lesser memory. One more extraordinary feature that the app offers you is changing the shape of pattern dots to hearts, stars, and diamonds.
---
This is a simple and interesting lock screen interface that offers door unlocking to users. You can unlock your phone using more than 15 door lock themes. Users have to enter the passcode and push the door by simulating it to unlock the phone. In the door themes, users can achieve single and double door themes to unlock.
The concept is quite interesting, but it will get boring after a few days, as there is not much customization option. One more useful feature that users will achieve is information about intruders. When an intruder enters the wrong passcode, the app secretly snaps a picture with the front camera and sends it to the user's email. The app is quite reasonable to protect the device against theft.
---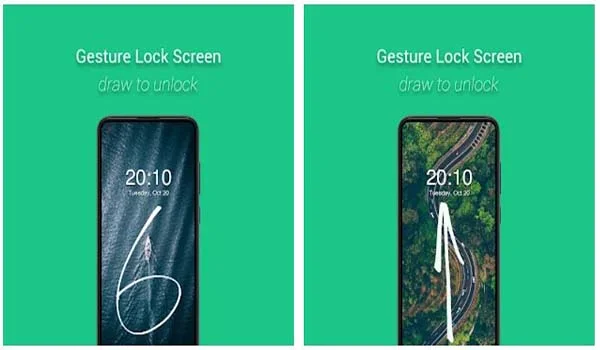 The app opens with gesture control, as the name says. Users using the app can draw any gesture they set to unlock the device. It includes numbers, letters, signs, or any personalized marks. The app first allows you to create a gesture and then keep it as your unlocking pattern.
The invisible gesture feature also enables users to protect gestures from the eyes of intruders. This app offers you anti-theft protection, as it secretly clicks the image of the intruder and sends it to your email. Wallpaper customization is extensive as users can obtain more than 2.5 million images to customize lock screen backgrounds.
---
20. Free AppLock & DIY Lock Screen Wallpapers Security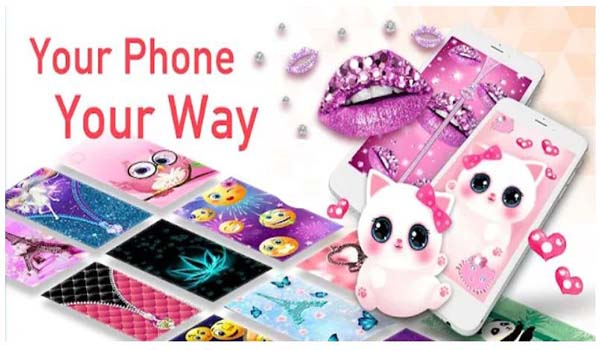 This is rather an elegant and unique application. The app protects your phone and the individual apps as well; users can protect instant messaging apps, galleries, videos, and any other apps. You can also customize the lock screen with HD wallpapers. There are tons of HD themes and wallpaper with 2D and 3D.
Users with these backgrounds can achieve an immersive experience. This app also offers you anti-theft protection by tracking locations from social media. Personalization is more accessible by mixing and matching the backgrounds. The lock screen also offers immediate access to music control, a camera, and many more.
---
21. Canyon – Lock Screen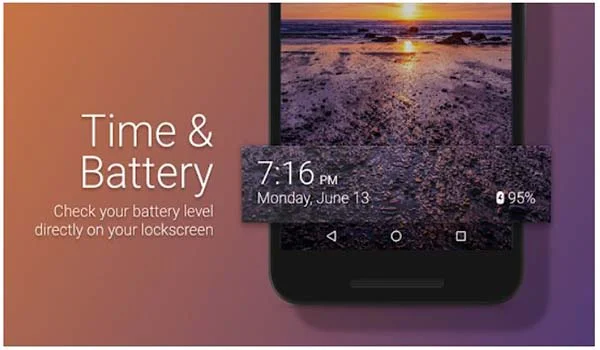 It is a highly customizable app with several features. The smart launcher disables the lock screen of your phone and gets deployed automatically. Users can use a pin or passcode to unlock the phone. Background pictures are customizable with an extensive range of wallpapers. Users can also choose to keep background images from the gallery and camera roll.
---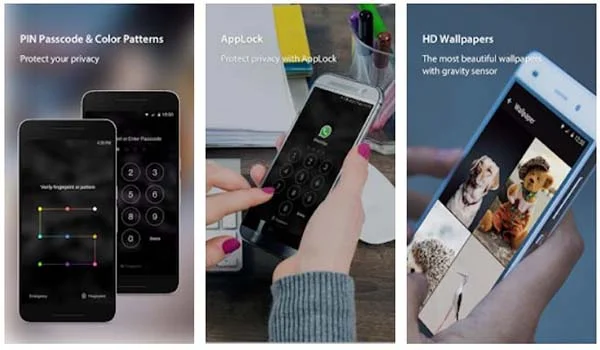 Super Locker is a simple lock screen interface with a dark theme. The dark theme makes it attractive; the lock screen app offers you individual app protection also. Users can lock up the gallery and other vital apps from intruders and relatives. Customizing the lock display is satisfying to achieve.
App offers you more than thousands of wallpapers for all your moods and liking. This app's unlocking method is diverse; you can unlock with pin, passcode, and pattern. Priority-based notification management is available in this app. Users can set priority on which notifications to show first. The app is lite in size and consumes minimal battery.
---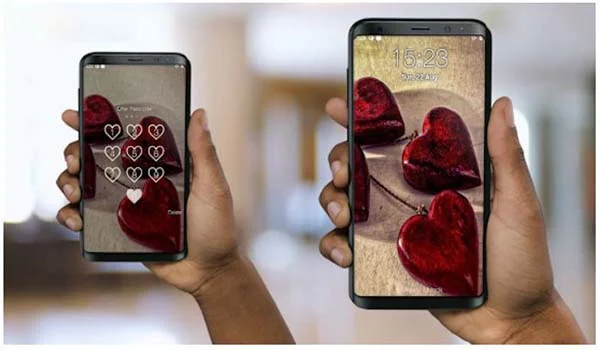 This app offers a refreshing look to your smartphone screen. As the name suggests, the lock screen interface only displays several heart images as a background. However, the mode of unlocking the phone only pins. No pattern and passcode unlocking are available.
Users can also manage notifications to appear on the screen. Like a standard lock screen on the phone, this app also lets you answer and reject calls. The design is quite simple and clean. However, only heart images may overwhelm you.
---
Frequently Asked Questions (FAQs)
1. What is the best lock screen app for Android?
Solo Locker, Hi locker, Always on AMOLED are some incredible lock screen apps that offer you many features. However, all the apps listed are unique and the best in their way. You can choose one after comparing the features.
2. Which lock screen app is smooth to use?
The lock screen apps are usually lite size apps offering seamless accessibility. Solo Locker, Ava Locker are some apps that are smooth to operate.
3. How can I customize my Android lock screen?
To customize your android lock screen, you need to follow the steps below.
1. Go to the settings on your smartphone
2. Tap on the security and location option
3. You will find screen lock; click on the option
4. Then tap on lock screen preferences, and customize it
Some users might also get the direct option to access lock screen settings. You can click on the lock screen and customize it.
4. How can I use the lock screen app?
To use the lock screen app on your smartphone, you need to install it. Here are the steps that you need to follow.
1. Visit Google Play store
2. Search for the lock screen app that you want to install
3. Install it to your device
4. After installing it go to your phone's setting and tap on the security/ lock screen
5. You will find the screen lock option with the added option of your new app
6. Choose that to change the lock screen
5. Can I change my lock screen wallpaper?
Yes! Using the lock screen apps, you choose and change as many wallpapers as you want. Some advanced apps even allow you to edit the lock screen wallpaper blurriness.
6. Can I add any app to the lock screen?
Yes, you can add apps in the form of a lock screen widget. In many smartphones, you can tap on the large plus sign to add apps and widgets. Besides, the lock screen apps also let you add apps.
7. Can I customize the lock screen on my phone?
Yes! You can customize the lock screen with various means. You can customize with built-in features, or you can use lock screen apps.
---
Conclusion
Keeping this short, these are reviews about the top 24 best lock screen apps for Android that you can use. Before choosing an app, make sure that you are testing the security. In no case should you comprise security for features? There are also many other apps available on the Play store; you can surf to find the best fit.
We hope this article about the best lock screen apps is helpful to you. Do share this content on social media if you find this article useful for you in any manner.