Are you looking for the best themes for Android? If yes, then this article is for you.
Nowadays everyone is dependent on their mobile phone like never before. It is not just the device anymore. It is an accessory. You all love to decorate it either from the outside or inside. When it comes to internal decoration, you all become selective about themes.
These themes help you change your operating system style, such as home screen, keyboard, icons, fonts, menu, etc. The look of each theme is different. Sometimes you might need a theme launcher app to run these themes. The most significant advantage of using these apps is that they allow you to customize your device's home screen.
They offer a quick makeover as you can switch between various themes in a few clicks. Also, the Android OS is gaining popularity because of its low price and more customization options. There are many free and paid themes available to change the appearance of your phone.
So, if you want to surprise everyone with your Android device's new look, then here in this article, we have reviewed the top 25 best themes for Android devices.
Reviews of Best Themes For Android Devices
1. Electric Black Theme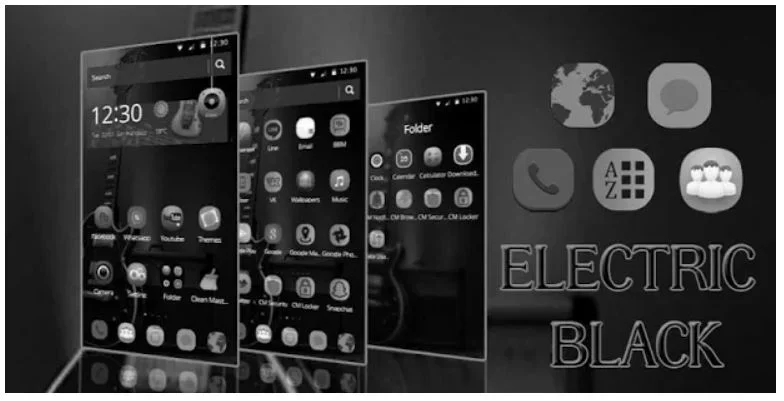 Electric Black Theme is a treat for music lovers. It has a vast collection of fantastic and straightforward black live wallpapers along with a metallic lock screen. The live guitar gives you a dark metallic experience. Feel like a superstar with this cool, dark, artistic, metallic, and straightforward theme.
App Highlights:
There is a considerable collection of easily customizable HD black wallpapers. The entire library of theme and wallpaper is updated weekly.
You can switch between the home screen and landscape mode.
It has many unified HD icons and comes with dark metallic skin that supports many popular apps.
It has a black lock screen to protect your privacy.
---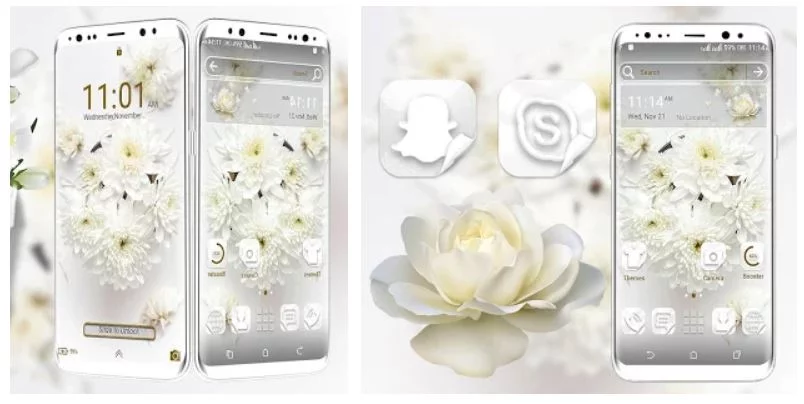 White Flower Launcher Theme is a beautiful and soothing combination of white, grey, and black. Most of the design is white, with a shade of grey in the background. This pure white flower theme is specially designed for people who love pure white. It comes with a pure white flower lock screen on simple wallpaper.
App Highlights:
It is free and easy to install.
It has a stunning collection of custom app icons with a free icon mask to match the pure white theme.
There is a simple white flower lock screen to protect your privacy.
It has a massive collection of HD white flower wallpapers.
---
3. 3D Theme For Android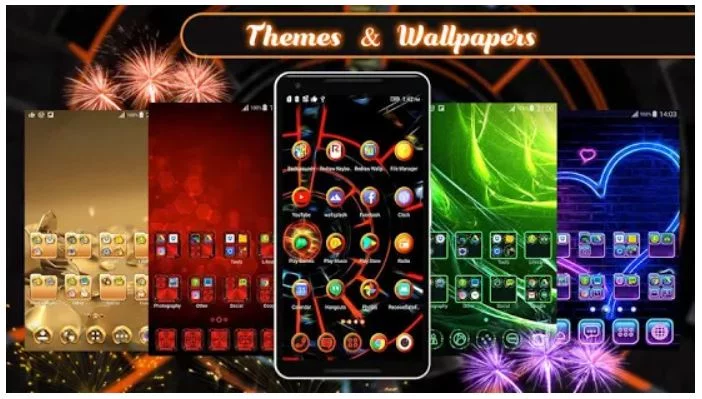 3D Theme For Android is one of the most popular themes available today. You can customize it the way you want. Enhance the beauty of your device with beautiful icons, amazing themes, and unique graphics. It is free to download and use. Change the look of your Android phone or tablet with this colorful theme.
App Highlights:
It is free to download, easy to install, and has excellent visual effects.
It has a massive collection of graphics, themes, and icons to choose from.
You can customize the color and font style of the theme according to your desire.
It comes with an icon mask for all app icons.
See Also: Top 20 Best Video Streaming Apps For Android
---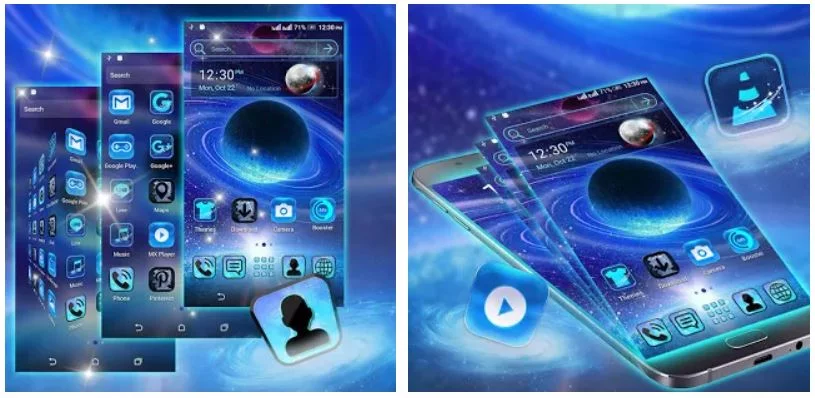 Galaxy Space Launcher Theme offers you unique space and galaxy graphics. If you are fond of the universe and space, this is the most download theme. This beautiful launcher theme has HD universe wallpaper and customized icon packs. The holographic look with a blue effect makes it stand out from the rest of the apps.
App Highlights:
It offers a collection of custom app icons and a free icon mask.
It comes with a customized and outstanding lock screen theme that protects your device from strangers.
There is a vast collection of themes in various categories.
It has stunning visual effects.
---
5. Water Drops Theme
Water Drops Theme is a relaxing water and raindrops theme that offers unique personalization for your Android device. The look of this theme is outstanding and will completely change the look of your Android device. It has wallpapers with tremendous blue-colored water drop effects and water drop icons to make your smartphone a fantastic device.
App Highlights:
The theme can be customized according to your device's interface.
It has significant visual effects, and all the icons are in the shape of water droplets.
It works with the Go launcher theme and comes with instructions on downloading and installing the app.
You can change the phone theme, font, color, and app icons according to your desired style.
---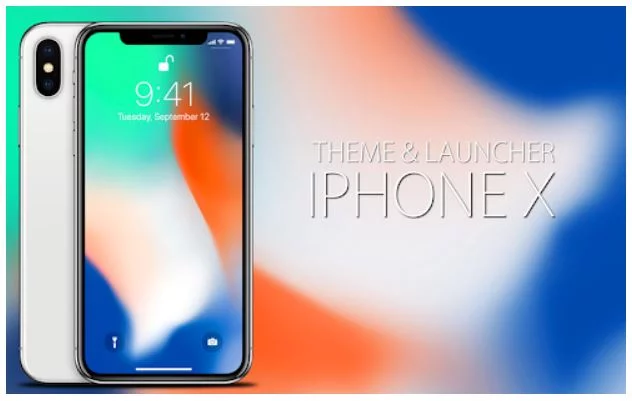 Theme For iPhone X comes with many amazing wallpapers, HD graphics, and beautiful icons. If you are an iPhone lover and want to make your phone look like it, then download this app. There are a variety of categories, such as photography, comics, sci-fi, etc. This theme will give your device a bright look, and it runs smoothly.
App Highlights:
This theme is compatible with all mobile screen types, such as small, medium, large, X-large.
It supports both portrait and landscape screen settings.
You can preview themes and icons before applying them.
There are many free HD wallpapers and lovely icons.
---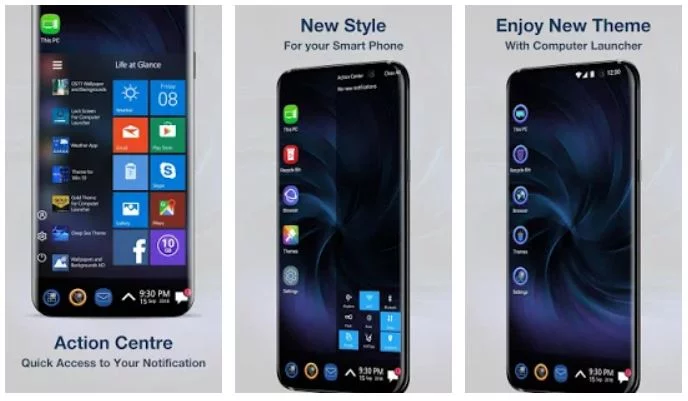 Modern Theme For Computer Launcher to give your phone a mini-computer-like appearance. It makes your mobile device looks modern and stylish. It is the best pack for windows and computer launcher style phone. The base of the theme is blue-colored and comes with great icon packs and cool animations.
App Highlights:
It comes with customizable icon packs for many apps and offers smooth icon animations.
There is a regularly updated collection of HD wallpapers to decorate your screen.
The theme will give a sci-fi look to your phone.
It consumes very little battery.
---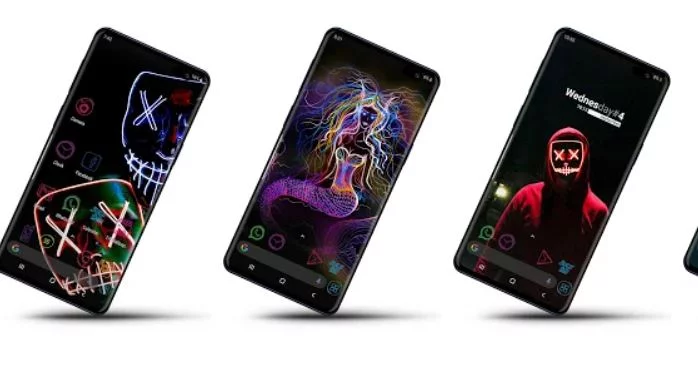 Themes App beautifies your Android device with fantasy 4K wallpapers and comes with an icon changer pack. This theme can be downloaded for free. It supports the Neox launcher and all the devices with the latest Android updates. Give a contemporary and stylish look to your phone neon inspired unique icon pack and themes.
App Highlights:
It has a vast collection of 4K HD to suit your daily requirement.
You can apply all the themes in one single click.
You can share the pictures on social media with your friends and become a rockstar.
It is not a standalone app but an icon pack for the Neox launcher.
---
9. Launcher New 2021 Theme Version 3D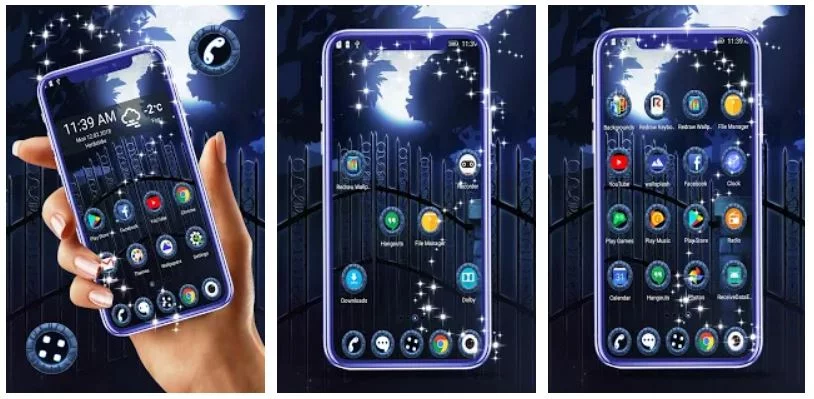 Launcher New 2021 Theme Version 3D offers new and cool 3D themes. If you are fed up using the old home screen and theme, you can try this. It will completely transform the look of your phone with its excellent graphics, wallpapers, and icons. The app is updated regularly to provide new customization features to its users.
App Highlights:
It is easy to download, install, and operate.
It comes with amazing visual effects, and you can change your home screen theme to 3D.
You can change the color, font, graphics, etc., very quickly and according to your preferred style.
All the icon sets come with free icon masks.
---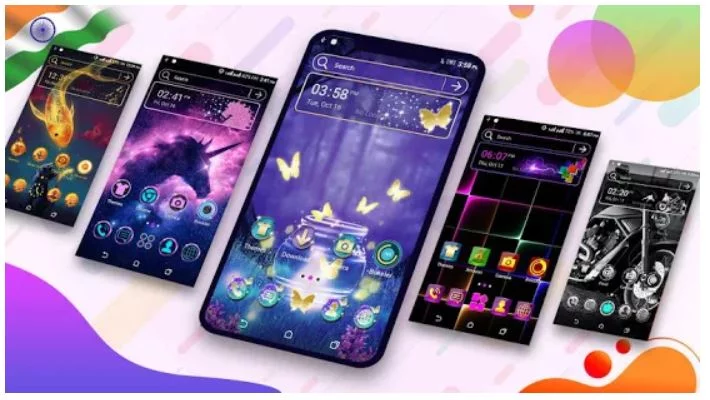 CM Launcher 3D is the best Launcher for Android phones. It comes with many outstanding features, such as personalized theme settings and battery-saving features. Additionally, it protects your privacy from third-parties and provides you with lots of free themes and HD wallpapers every day. It is a fast and straightforward launcher that keeps your battery in the right shape.
App Highlights:
It is a safe and secure Android launcher with great features.
It comes with some gesture options like a double-tap to lock screen and finger swipe mode.
This application customizes your installed application to a dedicated folder according to the behavior of the applications.
You can easily change various 3D effects.
---
11. Butterfly Launcher Theme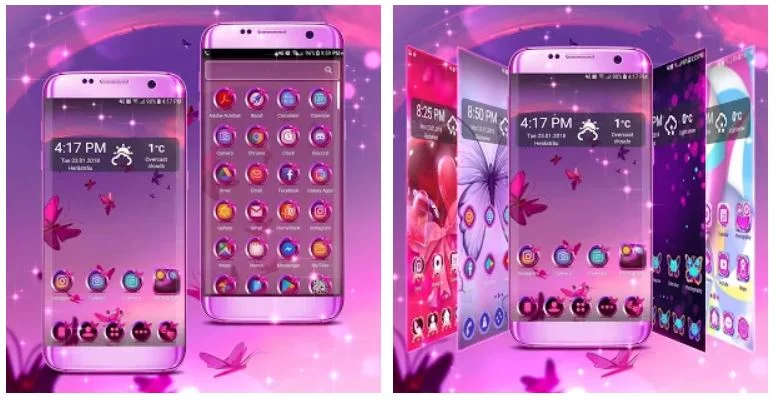 If you like some colorful interface of your Android phone, then you can go with the Butterfly Launcher Theme. This application is considered one of the best themes for Android due to its attractive and cool features. If you love butterflies, you can use them because you will see that all your icons will change to butterfly shape as soon as you install them.
App Highlights:
It is easy-to-use and comes with a pretty simple configuration.
You can apply individual markings as per your taste.
With this app, you can include free icon masks.
You can change fonts, colors, and more.
---
12. Love Theme Launcher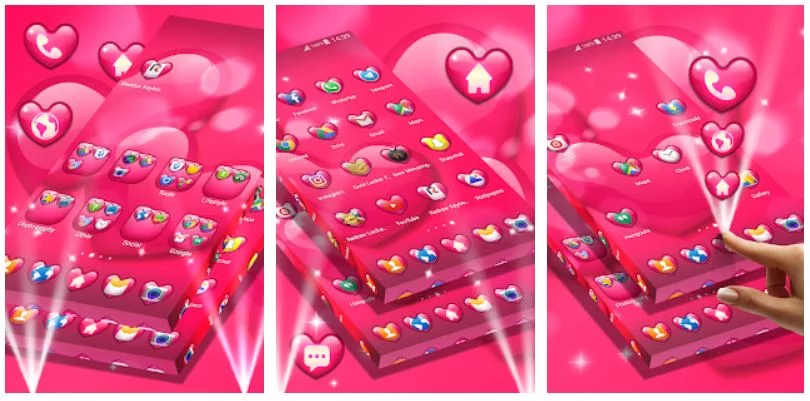 Love Theme Launcher is another free and feature-loaded theme launcher for Android devices. This app comes with lots of love-sign wallpapers and pink backgrounds, and other visual elements to make your phone more adorable. With this application, you can customize wallpaper, icon design, and more. It will be an ethical decision if you download it to experience love.
App Highlights:
It is effortless to configure, and all you need to do is swipe to start the activation.
You can change many wallpapers, icons to give your Android phone a lively look.
You will find lots of love themes and wallpapers.
This will also allow you to customize the widget.
---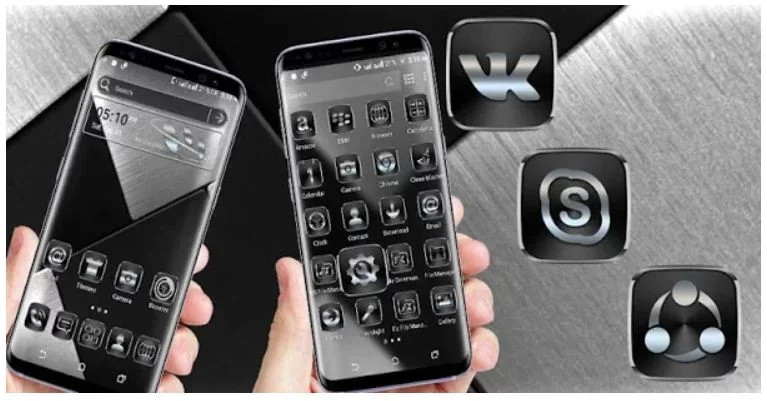 If you are a black lover, then there is nothing more exciting than this launcher. After downloading this app, you will fall in love with its natural black silver interface. No matter which Android brand you are using, it works with any Android brand. With this app, you will get fresh new cool and fantastic themes every day.
App Highlights:
It comes with high-quality images to give your phone a sharp look.
This app comes with HD customized icons for popular apps.
It supports the 3D transition effect.
You can design your lock screen according to your needs.
---
14. Green Nature Cartoon Theme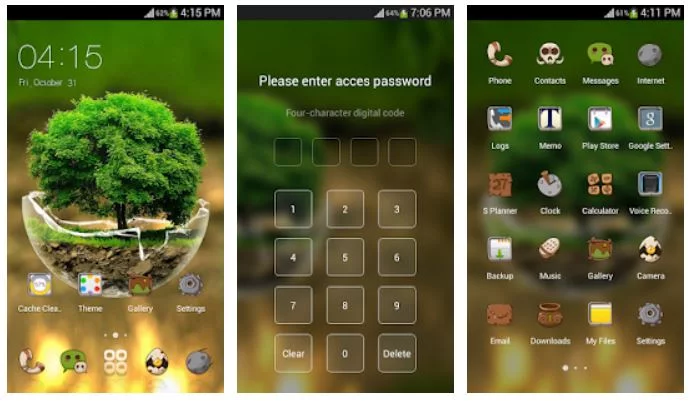 If you like being around nature, then Green Nature Cartoon Theme will be the best launcher for your Android phone. This theme provides HD wallpapers, cool customizable icons, beautiful skins, and a transparent app drawer interface. Furthermore, with this application, you can customize your new theme using your DIY function. Let's take a look at the features of this app.
App Highlights:
You can change the home screen background, drawer screen, menu screen, app icon, and the folder icon.
It comes with a DIY function that enables you to design your theme.
It comes with tons of 3D wallpapers and icons.
With this app, you can now customize your lock screen and clock widget.
---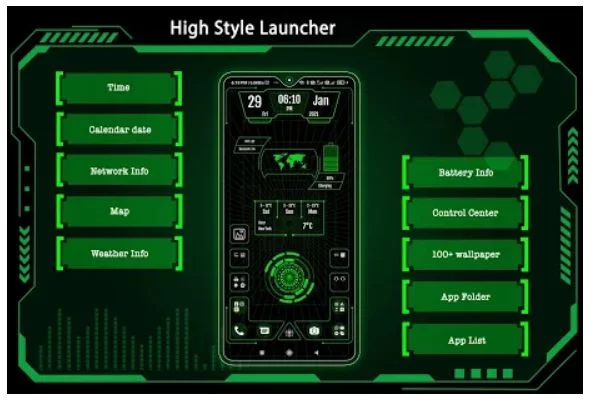 The High Style Launcher is a bundle package of various types of functions. With this, you can not only decorate your home screen, but a lot more things are added to give you a sharp look. One of the best things about this app is its smooth display and various icons and wallpapers that you can use and customize. Additionally, there are multiple beautiful designs with red lights in the background.
App Highlights:
The minimal configuration is easy to use to make you stand out among others.
It comes with an energetic metro look and multiple widgets.
It is swift and is more thoughtful to manage apps on your phone.
You can use its folder feature to manage all your applications appropriately.
---
16. Scary Wallpapers Horror: Skull, Joker, Anonymous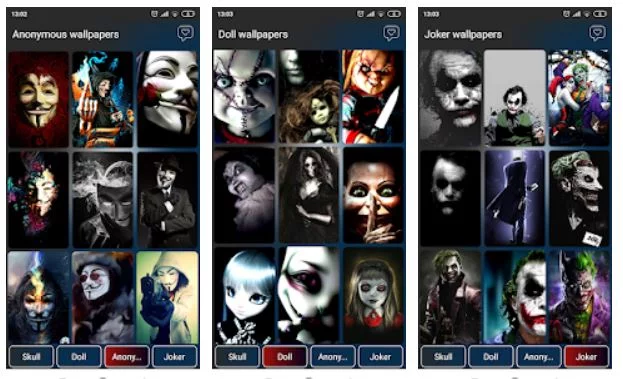 If you are a big fan of Joker, then you must download the scary wallpaper horror launcher on your android device. You can use scary wallpapers and backgrounds to give your phone a scary and spooky look. You will find complete scary wallpapers in four categories that you can use according to your mood. This launcher will give your phone a horror-movie look within a few clicks.
App Highlights:
It is simple to use, and its configuration can be done in two steps.
It provides a bunch of amazing wallpapers and various icons to customize.
You can use its DIY feature to design your theme.
It works with a strong community so that you can share your favorite photos on social media.
---
17. Red Neon Apple Dark Theme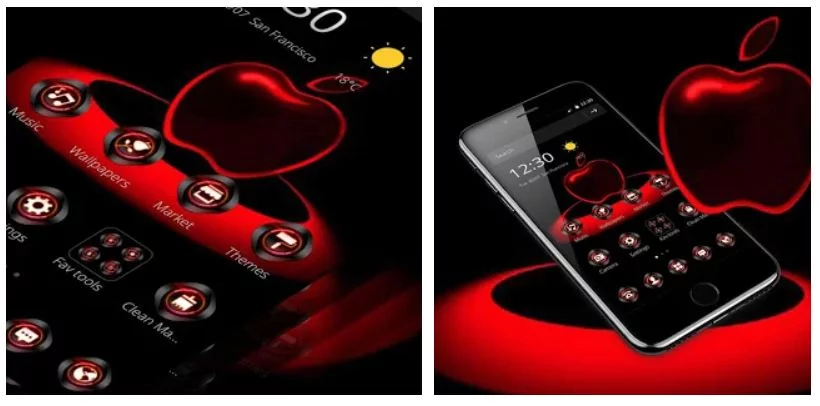 If you love red-colored elements, then Red Neon Apple Dark Theme is specially designed for you. You can download it for 100% free and give your phone a beautiful black look. It works with its dedicated launcher, so you have to install it on your Android device. This will replace your old phone with a new one. It includes amazing wallpapers, customizable icons, and more.
App Highlights:
You can use its intensely animated effects and DIY functionality to create your own.
It provides an intelligent locker to protect your privacy at the next level.
This gives your phone a metallic tech-style look.
It enables you to customize wallpapers and widgets according to your requirement.
---
18. Pink Cute Cartoon Bear Theme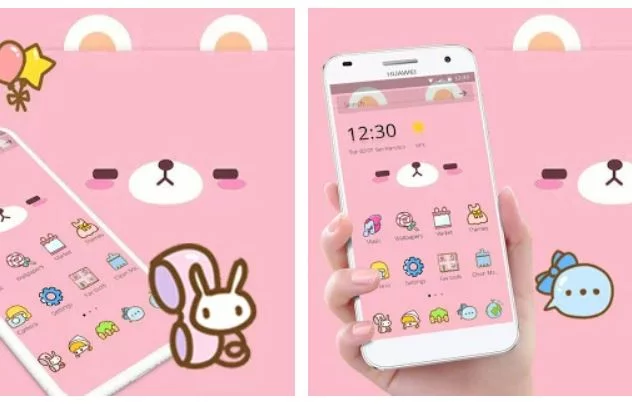 You can change your old phone into a new one using the Pink Cute Cartoon Bear Theme. It comes with HD wallpapers, various pink and unique icons, SMS wallpapers, 3D launchers, and more like dynamic touch effects, cartoon widgets for clock and weather, and DIY live wallpapers. It works well with Samsung S8, Huawei P10, Xiaomi phones, and other brands. There are many things you can do with this cute launcher. Please have a look at the following features.
App Highlights:
It comes with live 4K wallpapers that you can customize as per your taste.
This gives your phone a completely different look.
It comes with 100+ popular icon packs.
You can use pink bear phone dialer skin and various SMS wallpapers.
---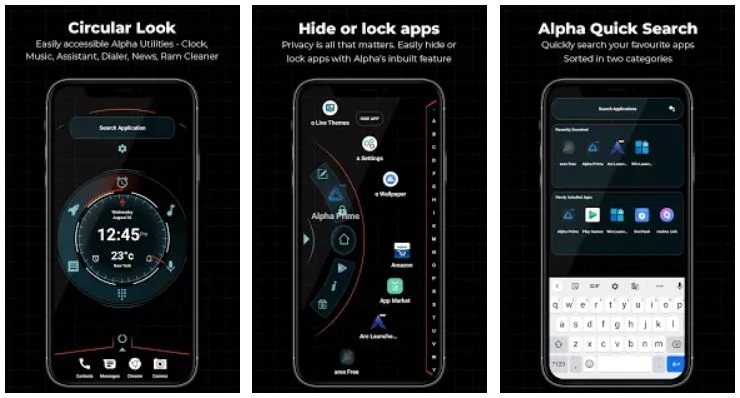 Alpha Hybrid Launcher is the safest launcher on the Play Store. This launcher does not keep your personal information and contacts, media, and location on their servers. It is easy to use, and the application is easy to configure. It will bring your favorite items to the home screen in a circular form and comes with a voice assistant to read your messages, settings, alarms and reminders, math calculations, and more.
App Highlights:
You can use its free phone dialer to make your phone more fashionable.
It comes with lots of widgets and customizable accessories.
It also supports news updates in many languages ​​and worldwide.
You can use one tap, double-tap, swipe, and customized gestures such as right or left.
---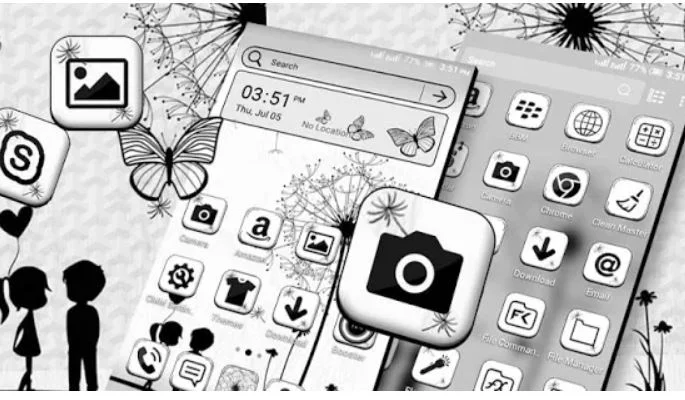 Let us introduce you to this adorable black and white launcher theme. This is the best launcher if you love the black and white combination. It works with almost every Android big brand. You can download it for free. You will see that new elegant themes and wallpapers are updated every single day. So you don't have to carry the same theme or wallpaper every day. It includes many customizable HD wallpapers and icons for your library.
App Highlights:
You can design your phone with HD wallpapers, a variety of themes.
It also supports dynamic calendar icons and social and popular apps.
You can do a 3D effect theme.
It offers unique designs during festive seasons such as Christmas, Valentine's, and holidays.
---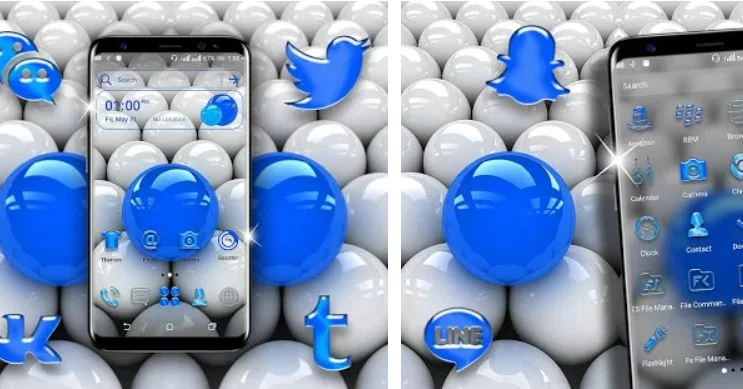 3D Balls Launcher Theme is also a great option to decorate your phone with an excellent and gorgeous theme. This launcher enables you to customize your phone to your needs according to its free and easy-to-use configuration. What makes 3D Balls launcher different is that it comes with a beautiful and vibrant background that will enhance your experience as a user.
App Highlights:
Its lock screen option comes with additional security (pattern and passcode).
This allows you to customize it with one click.
There are many HD wallpapers and icon packs available.
It comes with a free icon mask and visual effects themes.
See Also: Top 25 Best Free Music Apps For Android
---
22. Simple, smart launcher, Themes & HD wallpapers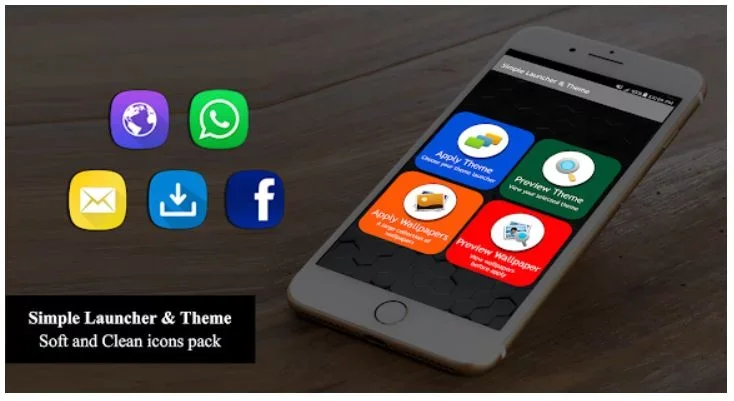 If you don't want to buy a new mobile and are bored with Android's standard interface, you can download the smart and straightforward launcher to stand out among others. As its name suggests – simple and smart! It comes with a dozen theme categories such as tech, business, cool, cartoons, 3D, team edge, news alerts, and the list does not end here. This enables you to design your theme using your DIY theme option.
App Highlights:
It is easy to use and comes with lots of themes, wallpapers, and customizable icons.
It supports the auto-grouping feature that will organize your application into separate folders.
This dramatically increases the speed of your mobile.
To protect your privacy, you can use the lock screen and hide app features.
---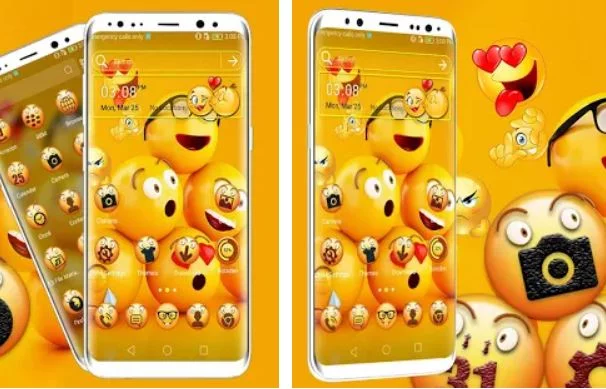 Excellent Emoji Launcher Theme is the best Android Launcher on our list. It is an emoji launcher that will surely make you fall in love with the application. The best thing about this launcher is that all your icons look like emojis on your screen. Every application on your phone can be turned into a beautiful and diverse emoji, and this launcher is all about happy faces.
App Highlights:
It comes with a creative app icon collection.
You can customize your lock screen with a pattern and a password feature.
A wide range of HD wallpapers and icon masks and beautiful skins are available.
It supports a one-tap activation mode.
Conclusion
All the themes that we have reviewed above have been carefully selected after in-depth analysis. We hope you will love these themes to change your device's looks and make your device perform better. You can try various themes before finalizing the best one for you. Or, you can try different themes depending on your mood.
If you found this article about the best themes for Android helpful, then share it on social media. Stay connected with us for future updates.
Have an Android theme app that you'd like to list here? Get in touch with our editorial team.