If you're looking for open-source Linux email clients, you've come to the right place. With the advancement of technology, communication has become more seamless. This is especially true for corporates who are able to communicate more easily with the development of mail clients.
Although every browser offers web-based mail clients, many operating systems come with their own native mailing clients. For example, Windows has Thunderbird and Microsoft Outlook. Android and iOS also have their own mail clients. However, there are a significant number of users who are using Linux. So, in this article, we bring you the 10 best open-source email clients that are better for Linux. Read on to explore features and functions that will help you find the best one.
The 10 Best Open-Source Linux Email Clients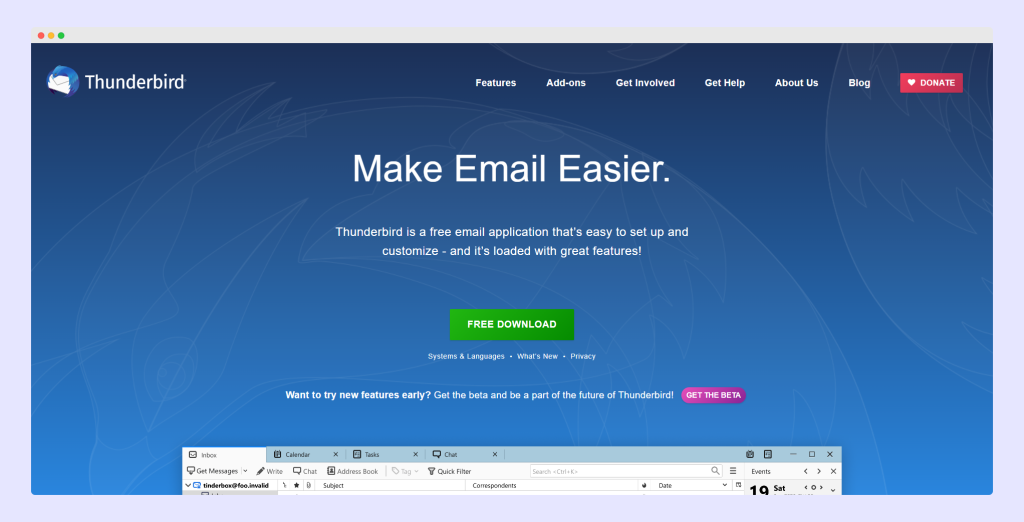 Thunderbird has always remained a consistent favorite for all Linux users. Most users prefer this email client because it's free and open source. This email client initially came designed after the Mozilla Firefox internet browser, but later it changed. Apart from that, an outstanding feature that users love is the tabbed email interface. The tabbed email interface allows users to manage and see multiple emails simultaneously. Users who are switching to Linux after using Windows for several users can find it easy to use.
Microsoft Outlook and the Thunderbird in Linux are mostly the same interfaces. Some themes empower it to offer dark and light theme use to users. There is also a quick Support filter toolbar. This filter toolbar allows users to filter the mail that they want to. In features, you also attain an add-on library. The add-on library offers users add-on features to this email client.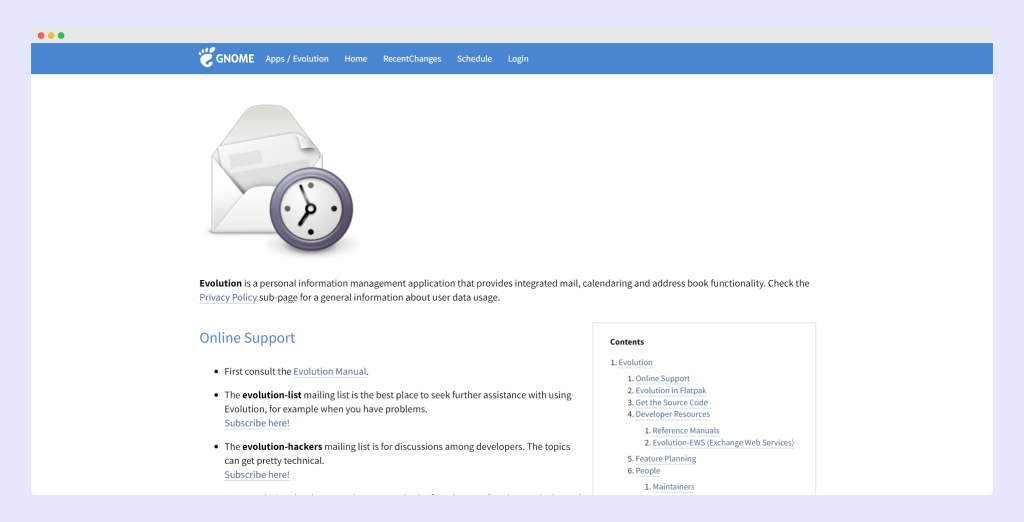 Evolution is an open-source email client for Linux that gives tough competition to Thunderbird. This mail client is considered to be a part of the Gnome Desktop environment. Users can also use it in another desktop environment. Users can also set up the online services they get like Gmail.
Evolution has a range of features that also makes it a complete suite. Like Google, it not only can get employed for email, but you can also find lists, Calendars, memos, and many other features. Users can also find RSS plugins. This helps them attain plugins. Clients' users can attain a wide range of customizing options in this free mail.
However, after customization, users may find it a little outdated appearance. This Mail client also supports Microsoft exchange servers.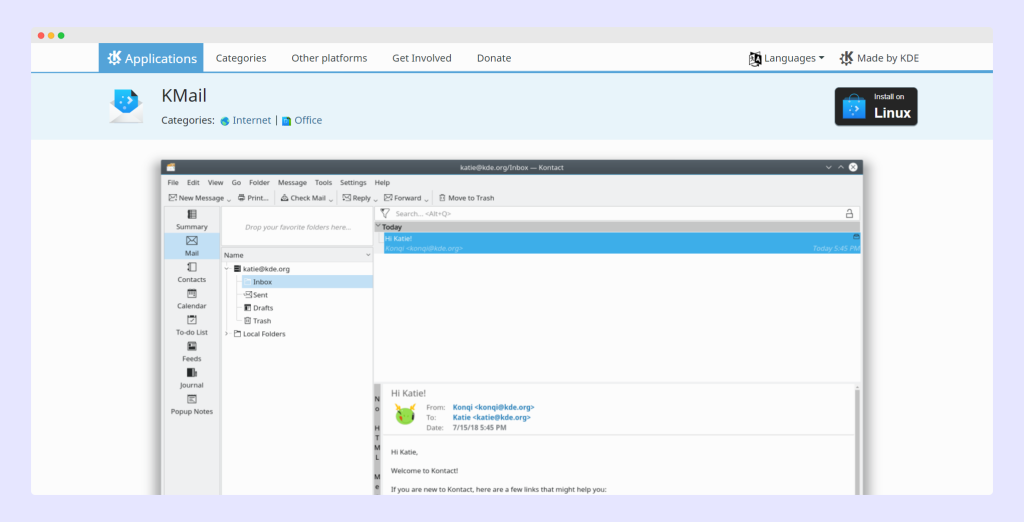 KMail is one of the default email clients you can witness in all the KDE-based Linux operating systems. This implies that it offers you better compatibility with KDE systems. However, you can still use it on one other desktop. There are templates available in this mail client that helps corporate users automate their mail creation tasks and send mail quickly. Kmail also completes the email addresses that are stored in the email client.
The main feature that you attain from Kmail is the spam checkers to prevent the spam mail. Privacy is also easy to achieve in this mail client as all the communication remains encrypted. It supports several plugins, but this will consume more space in your system. Kmail, apart from Linux, also supports other platforms, including Windows and Mac OS.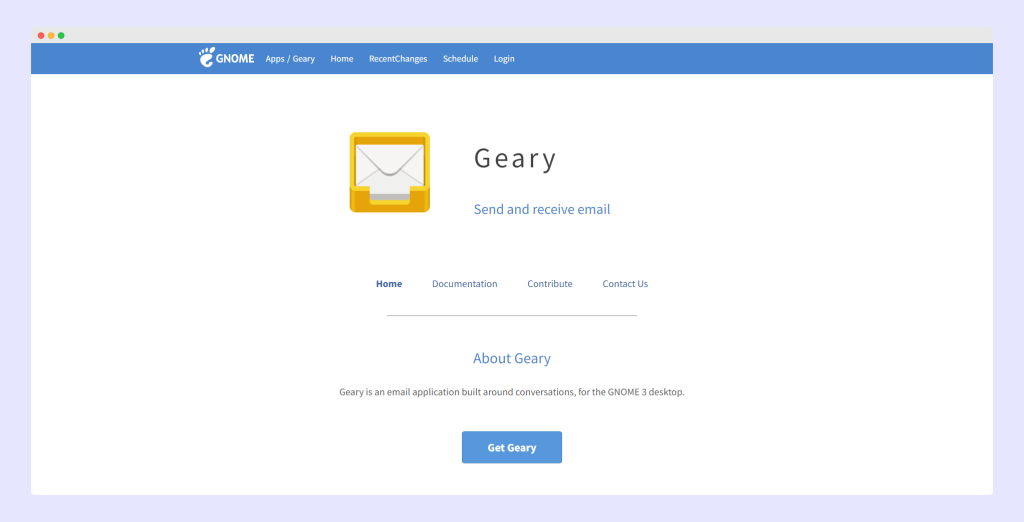 Geary as an email client is open-source to all Linux users. It is available for operating systems such as Unix, BSD, and Linux. The most impressive feature is it is lightweight and works in all the older systems. If you are a user of an older desktop with a Gnome Desktop environment, you can get an enhanced experience.
In the case of notification tones, you might not get many options. There are also no calendars or any sort of advanced contact management systems. There is also no support for labels. However, on the other hand, a stylish interface is what lets you forget all the missing features. It is more modern in looking than Thunderbird and Evolution. This email client focuses on keeping the mail accessing simple for Linux users.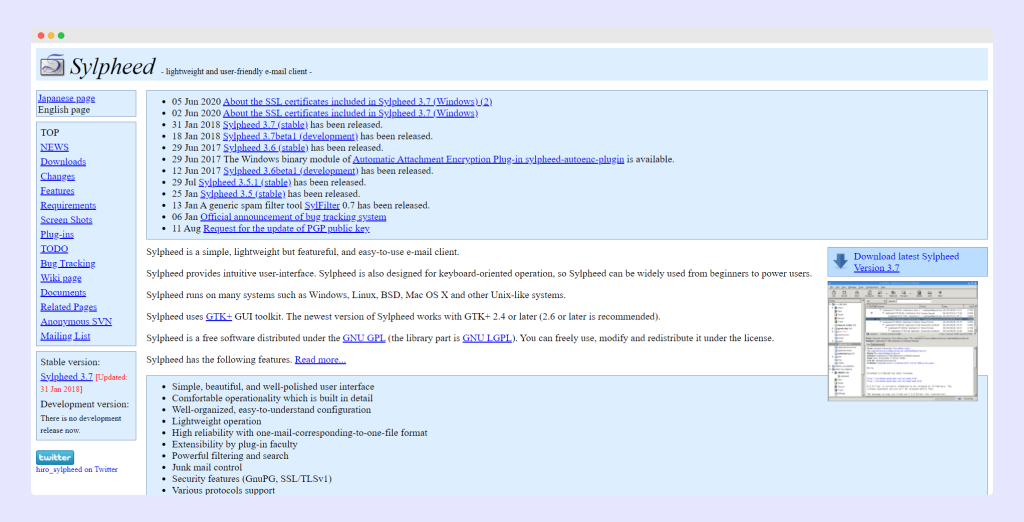 Sylpheed is an open-source Linux-based mail client that is great for mail communication. The developers have made it quite advanced in looking. The interface is also remarkable with a three-panel display. The looks are quite identical to that of the Outlook express. This is a program that comes written in C as a language. This offers you a better performance. Sylpheed has a great track record offering you consistency in speed and performance.
It also doesn't freeze. Sylpheed doesn't have any serious crash reports; it also rarely crashes. There are some rudimentary features that you can expect. It includes email filtering access to Junk mail. Sylpheed also keeps tall the communication private with proper encryption. However, this mail client gets minimal support for HTML emails.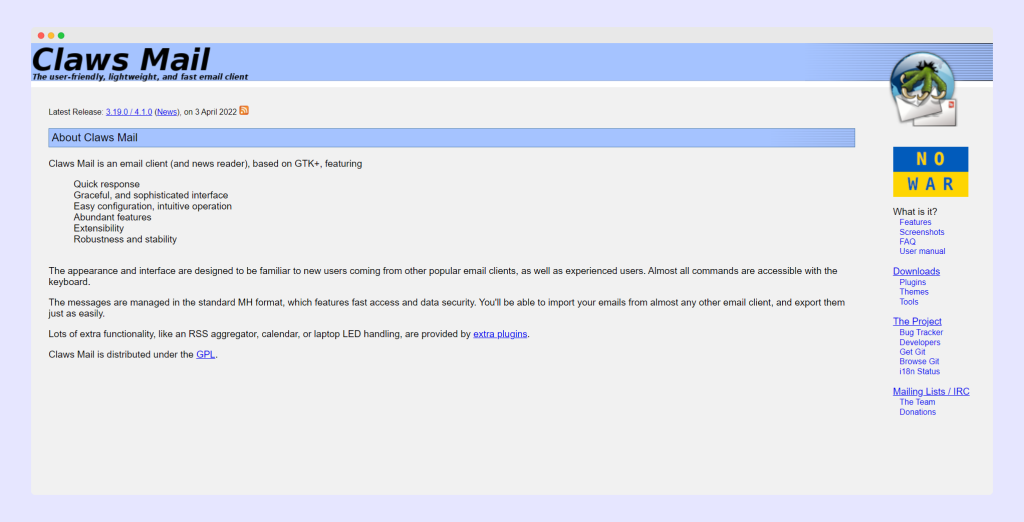 This is a lightweight email client for all Linux users. It also offers you cross-platform support, which implies you can use it in your Windows, Mac, BSD, and Unix-based system. In the year 2005, Sylpheed got forked into two diverse projects. Claws Mail is one of those projects that comes as a fork.
It shares a similar DNA with Sylpheed, so most of the features are quite similar here. This mail client comes in a complete minimalist way compared to the former mail client. However, a few more features can help you attain an enhanced experience. There are new authentication modes that make claws-mail more secure than Sylpheed. Apart from that, users can also get the RSS feed, Atom feeds, and inline PGP support.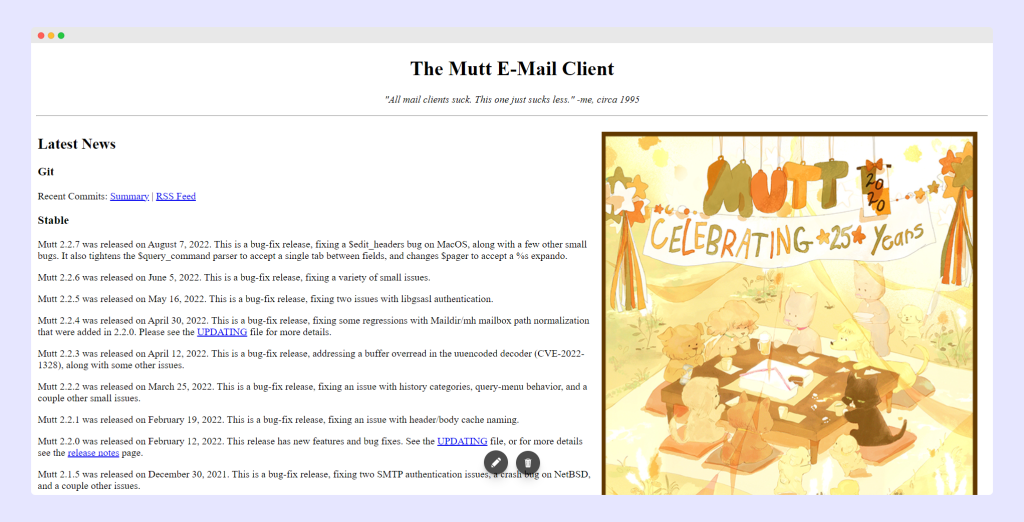 If you are a user who likes fancy user interfaces more, then this is an open-source mail client for Linux that might fulfill your needs. Mutt is a preferred choice, as it is easy to install for the users. However, the mail sending and receiving interface is pretty simple, offering you a positive user experience.
This mail client first came in the year 1998. With the development, it got updated. Some of the mainstream features that you can find are our mailing listing, message threading, color, and many more. Mutt is also an email client that offers you a wide customization option. Users can create their native Key binds and macros; this helps them lightning-fast speed in mailing. It is also quite low on resource usage and doesn't consume much space in your older computer.
Trojita is quite different from all the other email clients that you see on this list. It is an IMap only client. So, instead of installing it on the computer, this mail client remains on the server all time. This mail client has the perk of consuming lesser hard drive space.
It creates no effect on any hardware resource of the computer. The designers of this mail client designed it to be efficient in older computers. Thus, you can even find the most seamless use in traditional systems.
The interface comes with three designs to choose from. You can choose the design you want and keep on rotating the look. For beginners/new users, it is quite easy to learn as well. Users can also integrate inboxes from more than one mail account.
Zimbra is another open-source email client that comes with cross-platform support. It is not only for Linux users, rather Windows and Mac users can also use it. There are several email clients, but none offer you offline access. Zimbra is a mail client that offers you both offline and online access in such cases.
Besides that, you can also access all your mail accounts in this mail client interface. The interface design is quite easy, and you get several features. It includes Calendar, contact, Task management, and many more. There is also a mini-calendar that comes with drag and drop options. You also get a reading pane in a feature, which helps you attain a quick review. This is an email client that also offers chat windows to chat instantly.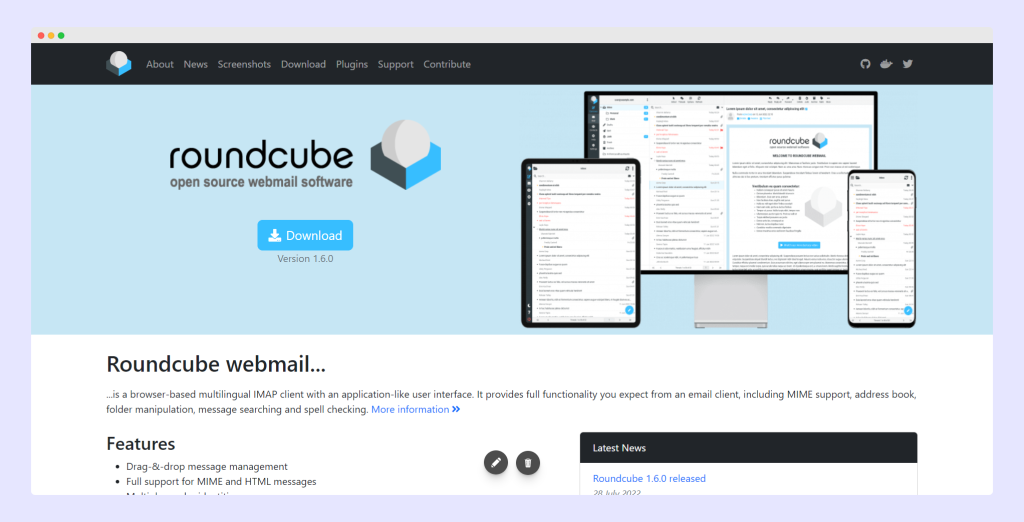 It is an unrestricted and open source Linux-based email client that originates with a unique inbox. You can add all your email IDs into one domicile and even access your inbox in one window. The users can save wealthier contact data and summaries. Users can snooze the mails that they contemplate as less significant.
The mail arranging option is a regular and one of the most advanced option that users can explore. This option allows you to send mail at a time that is desirable for you. You can set the time, and mail will be sent on the time, as scheduled. It has a great user interface that makes it easier for you to navigate.
FAQs
What is the most suitable email client for Linux?
All the email clients you see in this list are quite efficient as per the professionals. However, Thunderbird, Evolution, Kmail, Blue mail, and Geary are the best names. These are quite a few prevalent names as email clients.
Are all these Email clients open source?
Yes! All the email clients that you see in this list are open source. That implies; you don't have to pay any premium subscription for its usage.
Why is Thunderbird a preferable email client for Linux?
Thunderbird is most prevalent amongst email client users, as it offers users the facility of online and cloud storage. There are tabbed email interfaces and also options for add-on libraries. That is why it is preferable.
What email client does Linux use?
Linux uses ThunderBird. It is no reason one of the better mail client. There are also several advantages that users get similar to that of Firefox. It offers cross-platform compatibility and also offer add-ons.
Which is better, Evolution or Thunderbird?
Thunderbird is the most prevalent choice amongst Linux users, as discussed above. The OSD notifications, along with the add-ons, make it is a better choice for users. Users can also retrieve the email faster.
Is Kmail a good consideration for Linux?
Yes! Kmail is open source and available for all platforms. So, it is a great consideration for your Linux system as well. There are several features that you can fall in love with! End-to-end encryption, along with support for spam checking, is some of its good features.
Does this email app create any impact on system resources?
All these mail clients are light in weight and don't create any impeccable impact on the system resources. Users can even use these apps in their older systems. However, all you need to contemplate is the interface, storage, and privacy. Privacy is one imperative element that is necessary for all business communication.
Conclusion
In the climax, these are the top 10 best open-source mail clients for Linux. Professionals shortlist all these 10 to offer you a better function. Now that you are conscious, you can pick one that suits your need. If you have any more suggestions, you can comment on the names of mail clients in the comment section. It would be best to share this article with a maximum of your connections to let them know.