Media Kit: Advertise On Codeforgeek
Welcome to Codeforgeek's Media Kit page.
Here you will find all the information you need to advertise on Codeforgeek.
An Introduction to CodeForGeek
Codeforgeek was started in June 2014 as a side project and in a few short years, it has become one of the most popular international blogs educating users about system design, programming languages, and databases technologies.
This website focuses on the following themes:
Node.js and its ecosystem.
Database Systems both hosted and managed.
Web development with practical development.
RaspberryPI and DIY projects.
Developer Productivity.
Developer tools to make their life better.
…and all other related topics.
Codeforgeek has improved a lot since last year and we have made changes in the core platform to improve it further with custom design and subscription-based service.
Traffic Stats
We have crossed 7+ million page views so far and gained readers and subscribers during the journey.
Attached is the image for May 2019 stats: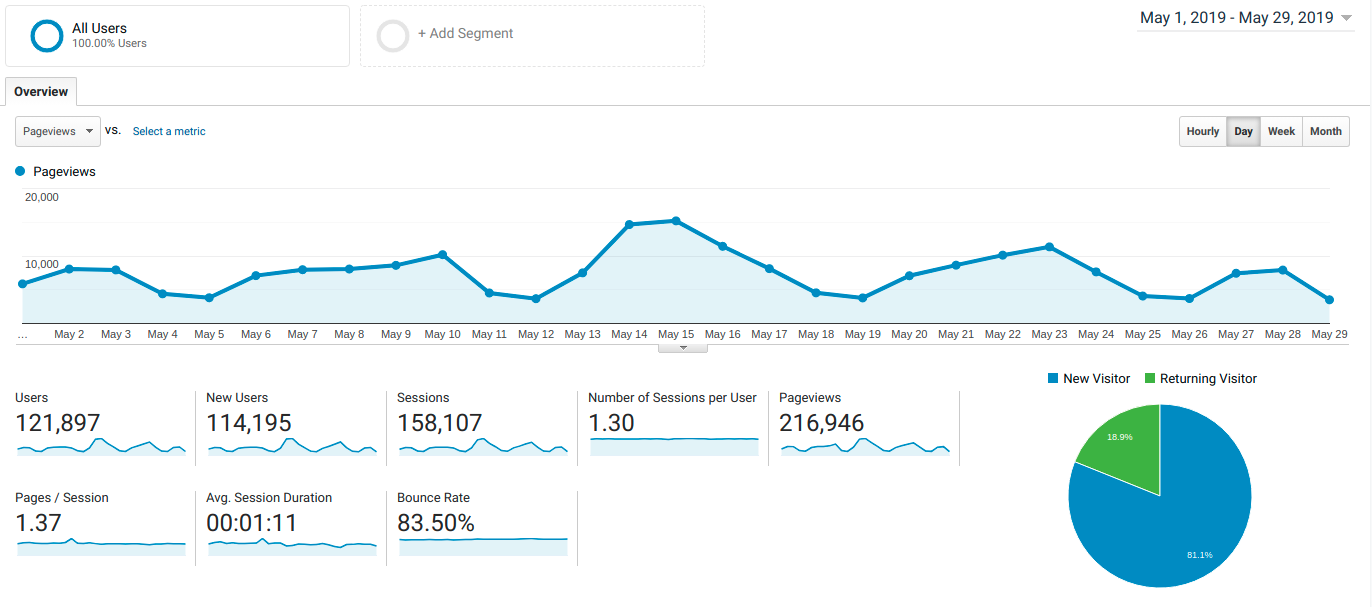 We update these stats every quarter or so. Drop us an email to know the real stats.
Advertisement and partnership opportunities
I am trying not to be rude here but I reject a ton of advertising requests, and the only reason behind that is the value exchange between the readers of Codeforgeek and return on investment for the advertiser.
I am selective with partners, choosing only those companies/services that meet our quality standards.
We seek out long-term partnerships with businesses that are committed to delivering quality services or products that are user-centric and provides value.
To give you an example, refer to the articles below, We are partner with Eversign, Digitalocean and many more.
Here are some available advertising opportunities that we offer at Codeforgeek. Depending upon your individual marketing strategy, you can pick one or create a custom bundle suited to your needs.
Sponsored story
We do offer a sponsored story about your product, service, company, etc. We have worked with top-notch companies in the industry and provided them with tons of leads and value.
Here are a few companies we have worked with:
Wix.
Trullio
Digitalocean.
Keymetrics.
Mandrill.
Eversign.
Radix.email.
Deepstream.
Proxycrawl.
Unikernal.
Gearbest.
Clouding.io
And more.
We blend in the product in an article in such a way that it would provide value to the reader as well as to the companies.
We charge 500$ for the story submission. Use the contact form below to get in touch.
Product Review
I am an engineer and solution architect. I design and build products. I have authored three books and these things would not have been possible without the awesome products I have used to manage my work and data.
And I review those products too. I believe in the value and if you think your product does provide value to the awesome community of entrepreneurs, engineers and designers then drop us an email.
We won't just use your product and say a good or bad thing about it, we would be writing tutorials, adding it in our newsletter, and recommending it to various subreddits.
Our base package to review the product is $500 and if the product is hardware then you need to courier it to our office address with customs paid in advance.
Display ads
You can book our ads slot at the below rate.
720*90 Above the fold: 1500$/month
300*250 after two paragraph in each post: $1200
300*250 Sidebar: $800/month
Custom arrangements
If you have a creative idea for ad placement or running a media campaign, feel free to contact me. Creative ideas are always welcome.
Payment options
We accept payments via PayPal and wire transfer.
Interested? Please drop an email to [email protected]
Please be sure to add enough details so that we may respond appropriately to your query.