Visual LANSA is a low code platform that allows you to develop and ship applications faster than ever before. A low code platform saves time, resources and helps you to deploy the builds all in one place. In this post, we are going to check out the Visual LANSA platform and its features.
Click here to check out the Visual LANSA platform.
Why you should consider Visual LANSA platform
LANSA platform is built for today's high pace development approach. With the continuous change in technology and user's demand, it's difficult to build and ship software in a conventional way.
With LANSA, developers can work on any part of an application. You don't need to hire a new staff for growth, existing staff can work on any part of an application thus saving time and money.
LANSA aims to perform the digital transformation of existing applications running on a paper and manual basis. You can use LANSA to transform your existing workflow in mobile, web, and desktop applications.
LANSA allows you to deploy your application in major cloud providers such as AWS and Azure as well as on-prem Windows and IBM I servers.
Let's check out the features of the LANSA platform.
Features of LANSA Platform
The LANSA low-code platform eliminates the need for multiple technical skills thus allows you to develop applications faster.
LANSA platform has 4 important pillars.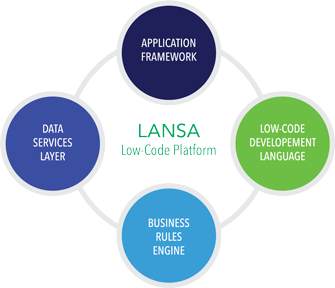 Application framework.
Low-code language.
Business rules engine.
Data service layer.
These four pillars together provide an interface to developers that they can use to build business applications without having to worry about deployment, data layers, etc.
The core features of the LANSA platform is as follows:
Build web applications that look and perform like desktop applications.
Build native or hybrid mobile apps.
Build desktop applications.
Automatic screen generation.
Application generation wizards—create applications by answering a few questions.
Comprehensive platform portable language.
Platform portable Business Rules Engine.
SQL support—create tables and views via SQL.
Cross-platform database access including triggers and business rules.
Various encryption capabilities including TLS/SSL.
Data modeling—view entities and relationships with the LANSA Visual Modeler.
LANSA's fast, secure, and scalable middleware optimizes communications between the server and client.
Integrated Microsoft SQL Server Express database for development and testing.
You can learn more about the features of the LANSA platform here.
You can try a demo of the LANSA platform by signing up here.
Conclusion
LANSA platform is one of its kind low-code application development platforms allowing developers to build and ship web, desktop, and mobile applications quicker than ever before.