Are you looking for the best brain games for Android? If yes! You are at the right place. Brain games are useful for adults and kids. It empowers them to boost their logical reasoning skills and reflexes.
---
Review of 25 Best Brain Games for Android
In this guide, you are going to learn about the top 25 brain games that are high in potential. Professionals have played all these games to offer you the most genuine review. Thus, you can keep reading to explore the most suitable game for you.
1. Solitaired
Solitaired offers a plethora of classic card and dice games that range from easy to extremely challenging. Classics like solitaire, spades, and yahtzee are available as well as new games forty thieves and canfield, all in a bright, colorful, easy-to-navigate format.
Card and dice games are beneficial for the brain because they engage cognitive functions like memory, strategic thinking, and problem-solving, thereby enhancing mental agility and potentially delaying cognitive decline. The mix of mental enrichment and competitive gameplay lead to a great way to pass the time.
Visit Solitaired or download their app on the Google Play Store.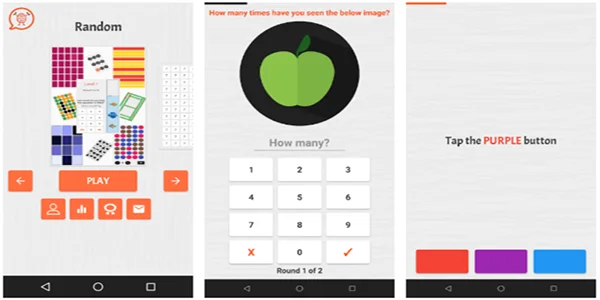 Skillz is a top-tier brain game on the Play Store. It is an exclusive free game that assesses your brain to improve your brainpower and memory; there are many suitable brain exercises that you can discover in this game. Mini tasks within this game offer you brain speed, flexibility and improve your reflexes.
After playing for a while, you will gradually improve your skills. There are scientific-based tasks that conscious skills and reflexes. Further, every day, you will get a new task.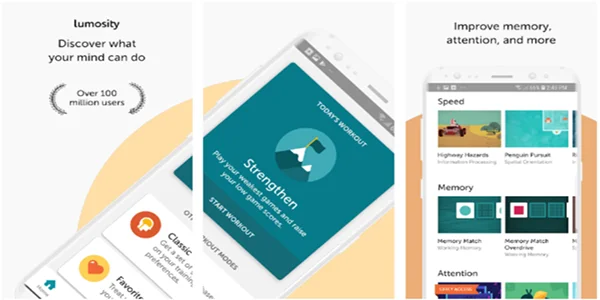 Lumosity is a game that is prevalent amongst most gamers. There are many responsive puzzle games to improve and polish your brainpower. Most imperatively, it challenges your mental muscles with numerous brainstorming puzzles. Only playing ten minutes a day will gradually enhance your memory as well.
Apart from that, this game offers you tips and tricks to enhance your skill, accuracy, and speed in the game. There are different levels in this game, and you can choose your level that would be challenging for you. You would also be getting a practice mode, and based on practice mode, tasks will appear on the screen.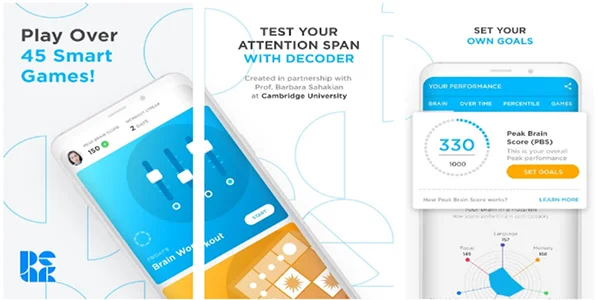 Peak is another free game with 45 fun games and tasks to test your skills. It improves your brain's efficiency by offering you problem-solving tasks. The gameplay is decent and truly based on science. It is also suitable for all age groups, and you will never get bored of it.
This game challenges emotional control, creativity, coordination, mental agility, and much more. Peak allows you to connect with friends and play games online. You can compete with your friend to prove your efficiency. Apart from free games, some other games require a subscription to play.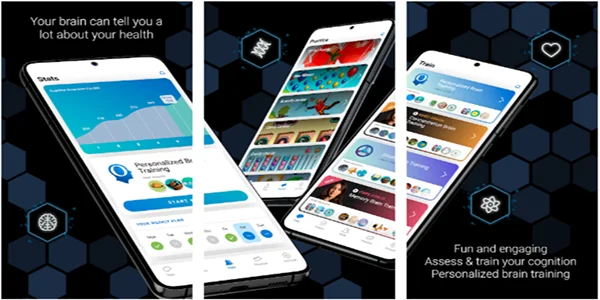 Cognifit will help you to improve your brain function. The three things that it focuses on are concertation, attention, and planning efficiency. One unique feature of this game is it improves the brain's efficiency, and at the same time, it also lets you determine the present state of mind.
You can play this game online with other competitors as well. Apart from that, the interface of this game is quite straightforward. This game is also get used for treating people with mental illness. Kids, adults, and old-aged people even can play this game to sharpen their brains.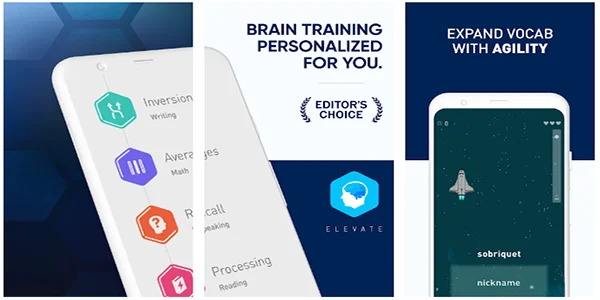 In the digital gaming world, Elevate is one more prevalent name with an extensive number of users. The gameplay focuses on boosting brain skills and memory. It also helps you enhance your skills in solving mathematical problems. Aspirants who are preparing for any exam can use this game as their coach.
Forty mini-games within this game offer you decent brain exercise. Each mini-game or task in this game has its own objective. Players will also get a weekly and monthly report to know about their proceedings.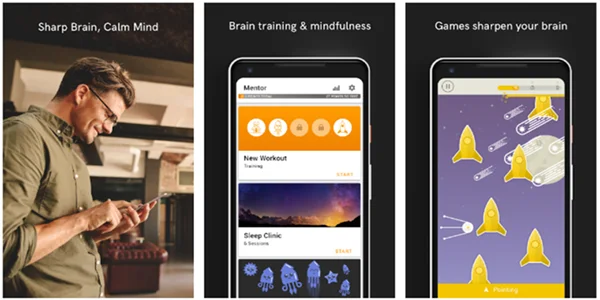 Memorado appears as an editor's choice game on the Play Store. The game is purely based on science that works to enhance your cognitive skills. It also develops your IQ and prepares you for any sort of competition. The in-game interface is quite attractive and unique in contrast to many other games.
The gameplay and the design itself empower you with a sharper brain. In this game, you will find more than 24 mini-games with several levels to cross. It even aids you in improving your skills in mathematics, logic, and reasoning.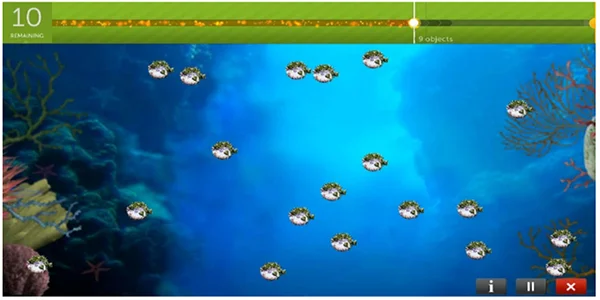 It is a game developed after years of research. BrainHQ offers you several brain development games that are quite effective. Users can play up to 29 brain games having several levels. The more you progress in this game, the more you will experience difficulty levels.
The game primarily focuses on improving your attention, accuracy, speed, navigation skills, and memory. Every day, players can explore a new challenge, as there are many levels in the game. Players can even personalize the game as per their interests.
It is a perfect game for those who are suffering from a weaker memory. It quite plays the role of your mentor to make your brain sharper. Any player can only invest 15 minutes of their everyday routine in finding results. Playing this game also reduces your stress. In this game, you can find 25 different tasks and exercises with 250 levels each.
That implies; you will face a new task every day. You can also track your progress within the app. The in-game interface is quite intuitive, offering you ease to play. Users can also personalize their training along with this game.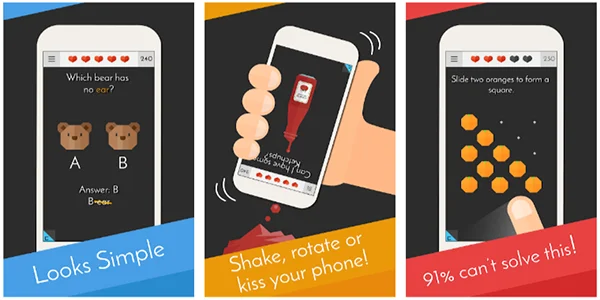 It is an IQ-based game. However, it doesn't really test your IQ. Instead, this game offers you a few puzzles. Besides, there are also quizzes in this game that are quite challenging.
Users can face up to 111 trivia quizzes that they have to complete within a certain time. These quizzes primarily focus on improving your math, ability, and logic. You can also play with your friend in which you can set questions for your friends to test their IQ. Moreover, this is not a brain game that you have anticipated. But quizzes are quite interesting.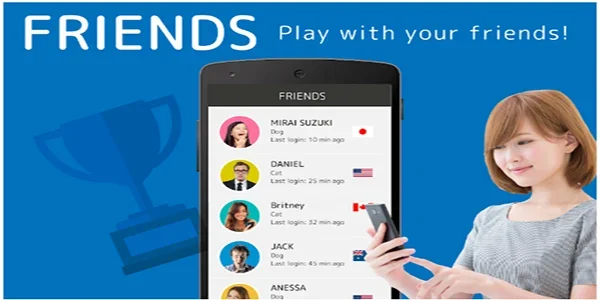 It is another challenging game that tests your judgmental skills. The game has a quiet hold on the Play Store. It is prevalent for its competitive modes of playing. Users can also compete with other players and friends online. Apart from the competitive modes, there are pre-defined training levels that train you before you start.
There is also an initial guide that allows you to know about mini-games. One great feature, there is no limit to trying any level. You can play as long as you complete every level.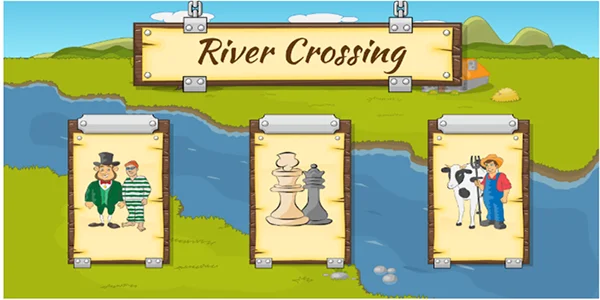 It is another popular brain game with an extensive user base. There are many prevalent mini-tasks to improve your IQ. The challenges that players will face are quite tricky. Once you start playing, you will find a new interest in this game. As a game, it quite tests your judging skills with many tasks.
In the initial stages, you may discover this game to be easy. However, once you start moving forward, you will find it challenging. There are many river crossing puzzles in this game to challenge your brain as well.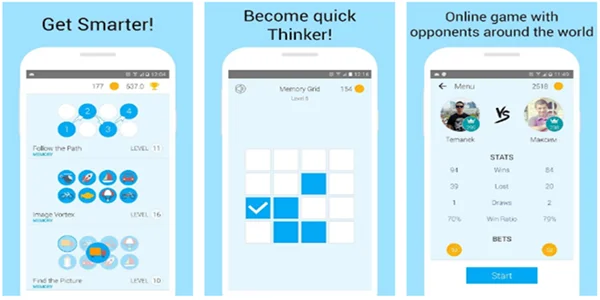 It is a memory-enhancing game that indulges puzzles to aid you in improving your brainpower. User can utilize their brainpower in full fledge to solve any puzzle. This game also assesses your judging skills. Several tasks demand hardcore judging skills.
Tasks are easy to recognize, and players can use several tactics to complete tasks. Users can have 2-5 minutes of training before every task to complete them with full efficiency. It is an offline game, and you can play it without having an internet connection.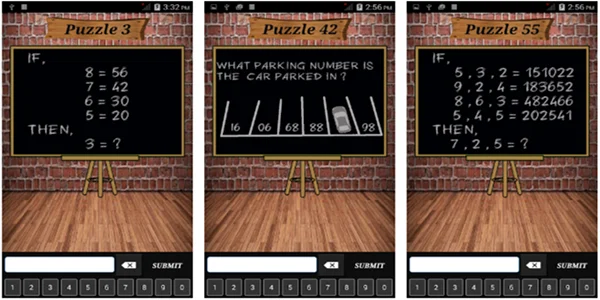 As the name suggests, this game offers you mathematics problems and puzzles to improve your brain's efficiency. It is quite evident that not many people like to solve math, but playing this game will bring your interest back in math. You can find mathematics puzzles in three different modes.
It includes easy, medium, and hard; playing this game is great fun. Kids can have great help from this game. It offers you some unique techniques to solve mathematical problems. Apart from that, this game also tends to improve your judging and decision-making skills.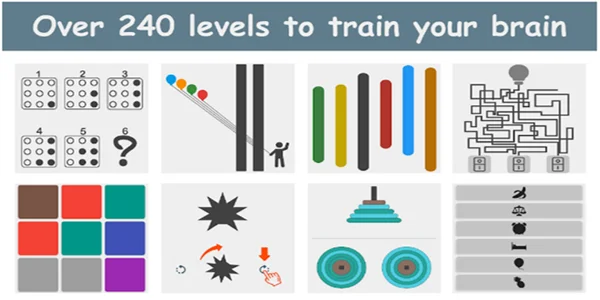 It is not a provocative or anti-relaxing game. Rather it is a soothing and brainstorming game. The game's unique quality is that you don't have to play this game in a hurry with a time limit. You can play it with a relaxing mind. Smarter primarily focuses on improving your approximation and accuracy.
By playing this game, you can also become a pro in mathematics. Many users also reported that they had improved their efficiency of being attentive. The in-game interface is quite easy, and players of any age can play it. There are detailed tasks that you should never miss.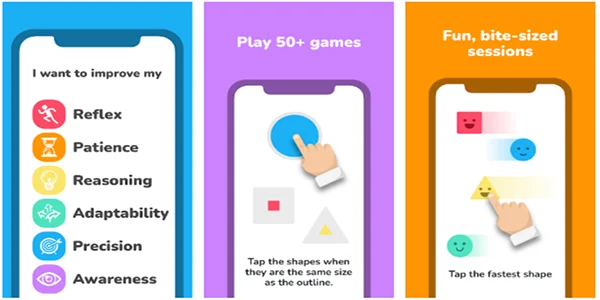 This is a gym for your brain that improves your mental ability. It has tasks and games that exercise your brain's left and right sides equally. This game brings a unique concept with it, and that is judging the awareness. It tracks your brain's activity, memory, and sensitivity via tasks and offers you more tasks to make it sharper.
Players can play a new game every day and increase their IQ. In terms of challenging, this game is moderately challenging, as you can employ easy tactics to solve problems. Players who want to become more attentive and improve reflexes can play this game.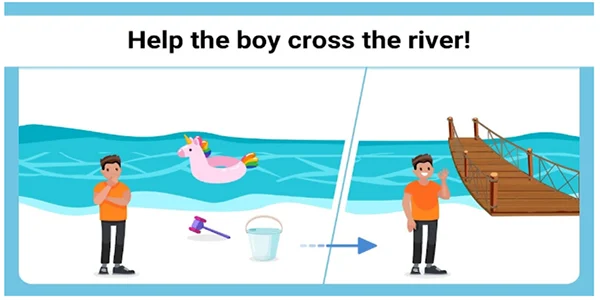 This is a workout game for your brain. It maintains your brain's power with everyday exercise and tasks. The game is quite easy and more relaxing to play. Many users also have reported stress elimination after playing this game. You have to use your thinking power and make decisions to make up to several trivia of this game.
You can find several mini-games that include Sudoku, puzzles, riddles, and word games in this game. Aside from these, there are also diverse other fun games to relax you. It offers you an abundance of brain-teasing games every day. The Easy Game also offers you hints to complete the tasks.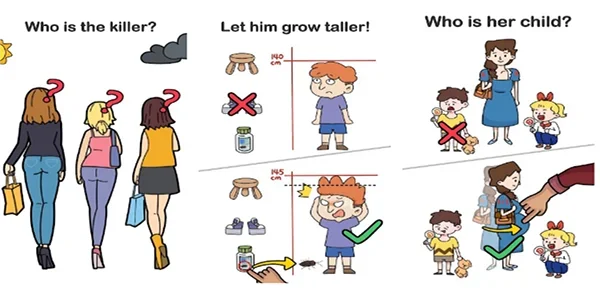 One more brain-teasing and fun game on the list! There are a lot of tricks in this game to open your brain to its full efficiency. Users can enhance their IQ level by playing several tasks. Brain Out also offers you tips and guides to complete tasks and gradually improve your IQ.
After playing this game, many users can activate their thinking power, memory, and reflexes. There are also a ton of trivia quizzes that you can answer. It also has satisfying graphics and funny sounds that make this game more fun.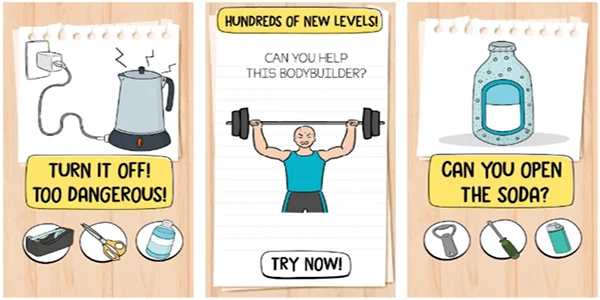 It is a great game to test your brainpower. Brain Test is quite an addictive game with many tricky puzzles. The tasks in this game are playful and funny. In-game UI is designed to let the users enjoy the game in a great mood.
One interesting feature of this game is you can include your friends to play tasks with you. Mini-games include Sudoku, puzzles, riddles, and a lot more; above all, this is an offline game. Thus, you can play it in remote areas without active internet connectivity.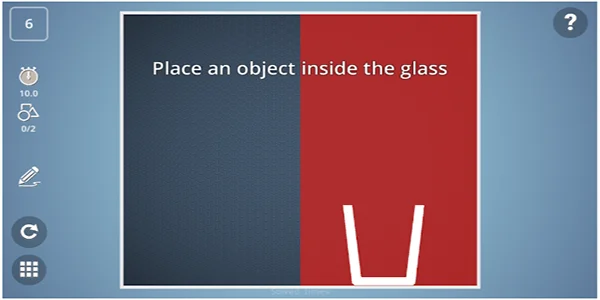 As the name quite describes it all, you will get some physics puzzles to improve your skills in physics. Some exciting and tricky games will exercise your brain in full power. Professionals also mark this game as a blend of math and physics puzzles. You can draw shapes and solve puzzles to earn stars.
Every user can track their progress in the achievement list section. But users have to complete one level in this game successfully to unlock the next level. Games in this bundle offer you undo and redo to change your recent move.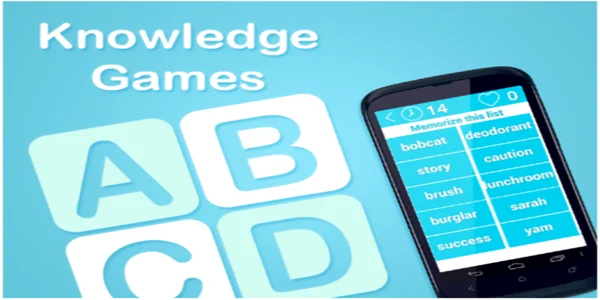 Mind Games are exciting brain games with tons of tasks and puzzles. The objective of this game is to assess the cognitive power and enhance its efficiency. One helpful quality of this game is it first let you practice different games and then play the real games. The game is quite relaxing and addictive.
Users from any region can play this game, as it also supports a wide range of languages. There is a total of 36 different games with different levels, and you can play a new game every day.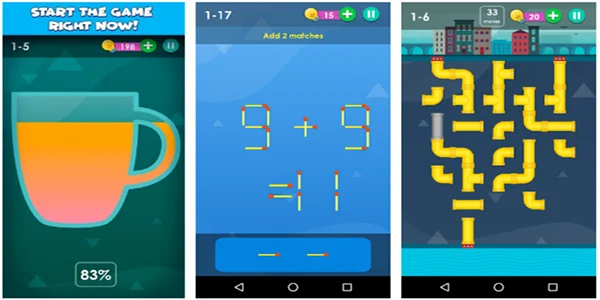 If you love to solve puzzles, this is a game to play definitely. It offers you a ton of puzzles to solve and improve your brainpower. There is an extensive range of mind tricks that users can explore.
After playing the game, you will get a good overall experience. Apart from that, the interface of this game is also player-friendly. Players can play in offline mode without any network. It has creative and unique tasks and runs on all android devices.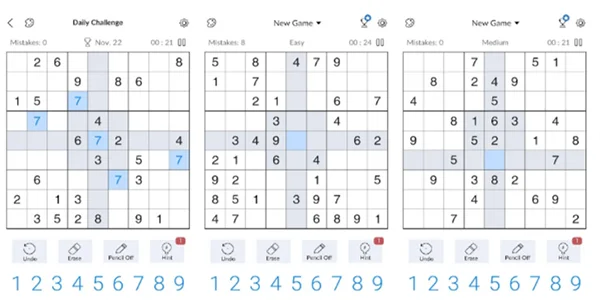 Classic Sudoku Puzzle is another prevalent game known for its brainstorming tasks and puzzles. Playing this game can impressively improve your brain's power. This game is also scientifically proven to be working for increasing brain power. There are tons of challenges to overcome and equations to solve.
Every step you proceed, the difficulty level of the game increases. Users will also get 100 new challenges every week. Moreover, it is an optimized game and known for tricky puzzles.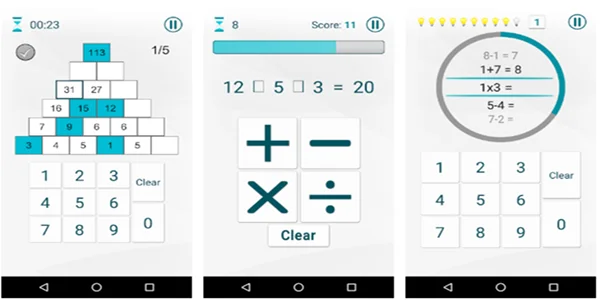 Like Math Puzzles, this is another brain game that focuses on math. It is a game that takes you to crucial mathematical problems. There are tons of problems to solve. The most useful quality of this game is it teaches you many short tricks and ways to solve any question faster. It is a fun game to play.
Players from any age group and profession can play this game like students, adults, job holders, and many more. There is also a multiple-player mode in which you can play it with your friends.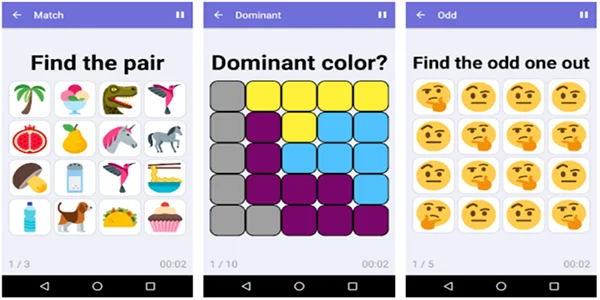 It is a widely popular game amongst users and is quite effective for the brain. Many exciting stages will improve your skills; you can concentrate on this game once a day to achieve great mental exercise. Users from all age-group can play this game, as it is fun and free to play.
There is also performance tracking available, and user can track their improvement. Brainilis also works offline, so users can enjoy playing this game without any internet connectivity.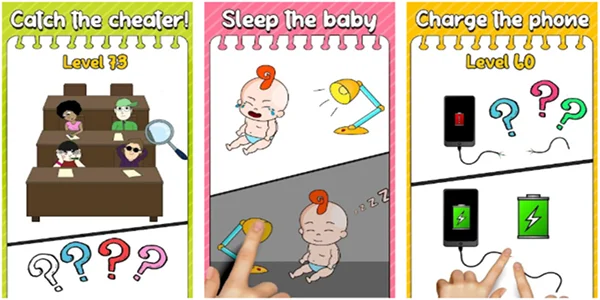 This game focuses on improving your logical and reasoning skills. It has an abundance of puzzles, quizzes, and riddles that improve your brain's efficiency. The puzzles are quite confusing; you must have good judgmental skills to complete all tasks. The game challenges you by offering you a task and assessing how fast you can solve it.
Based on your time, you would get a score. Users can get a simple, fun, and fast gaming experience while playing it. The challenges of this game are great, and you can find more than 200 levels in each game.
---
Frequently Asked Questions (FAQs)
1. What are the best free brain games for android users?
All the games mentioned in the above list are prevalent when it comes to brain games. However, some of the most imperative ones in the list are:
– Skillz
– Lumosity
– Peak
– Cognifit
– Elevate
– Memorado
– BrainHQ
– Neuro Nation
2. What game is best for brain development?
Lumosity, Clevermind, Dakim, brain fitness are some of the games that are quite decent for brain development. It improves your logical and problem-solving skills to make you sharper.
3. What games increase the IQ?
All the top 25 games are great for increasing your IQ level. Sudoku puzzles, Lumosity, Clevermind are top-tier games that increase your IQ.
4. Is Lumosity effective?
Lumosity is an effective game for improving your brain power and IQ. However, you do not spend all your time playing this game, as playing can also affect in reverse.
5. How can I sharpen my brain?
Apart from playing brain games, there are also some other ways to improve your brainpower. It includes:
Mental exercises
Reading books
Engaging in challenges
Making schedule
Quality sleep
6. Do brain games work?
Yes! At present, there is a bit of evidence that proves that brain games do works. Besides, you can always test it yourself after playing for a while.
7. Do brain games consume more battery?
No! Brain games do not consume much battery of your smartphone. Besides, battery consumption also depends on your usage.
---
Conclusion
Keeping it short, these are some best brain games that will make you sharper than ever before. Now that you know all the free games, you can install them and find out what's suitable for you. If you have any more suggestions, you can let the readers know by commenting in the box below.
We hope this article about the best brain games for Android is helpful to you. Do share this content on social media if you find it helpful for you in any manner. Please stay connected with us for future updates.