Do you love farming games? If yes, this article is for you. Here we have shared 24 of the best farming games for Android smartphones that are sure to captivate every gaming enthusiast. From real-life experiences to sharpening skills in farming activities, these games offer something for everyone. So take your pick and start playing!
Top Farming Games for Android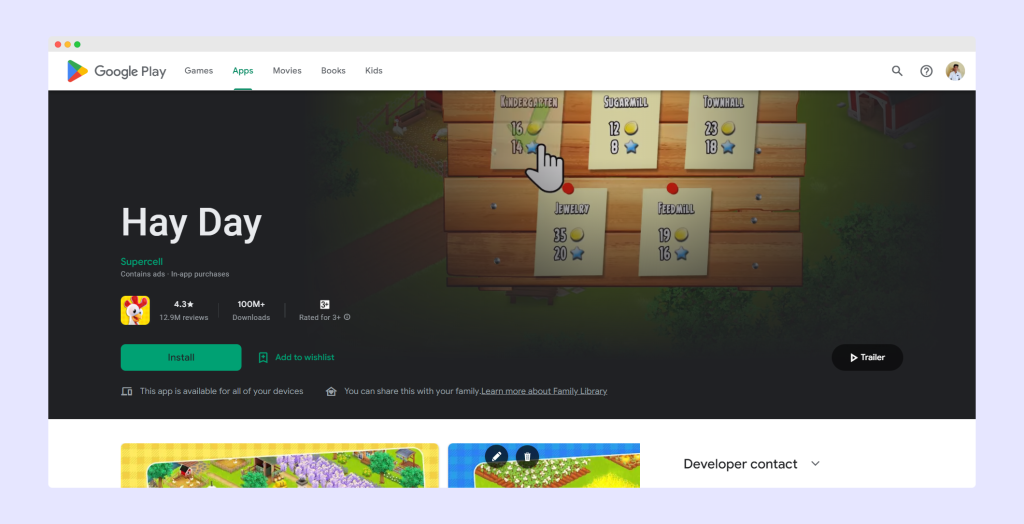 Players of the popular Android game Hay Day are becoming addicted to its exciting levels and long-playing duration. The game allows users to nurture crops and make processed food in real-time, as well as trade their products with other people for in-game cash.
You can also chat with each other and visit other farmers' farms, giving them a realistic experience. With its easy download from the Play Store, it's no wonder why Hay Day is one of the most widely played games on Android smartphones.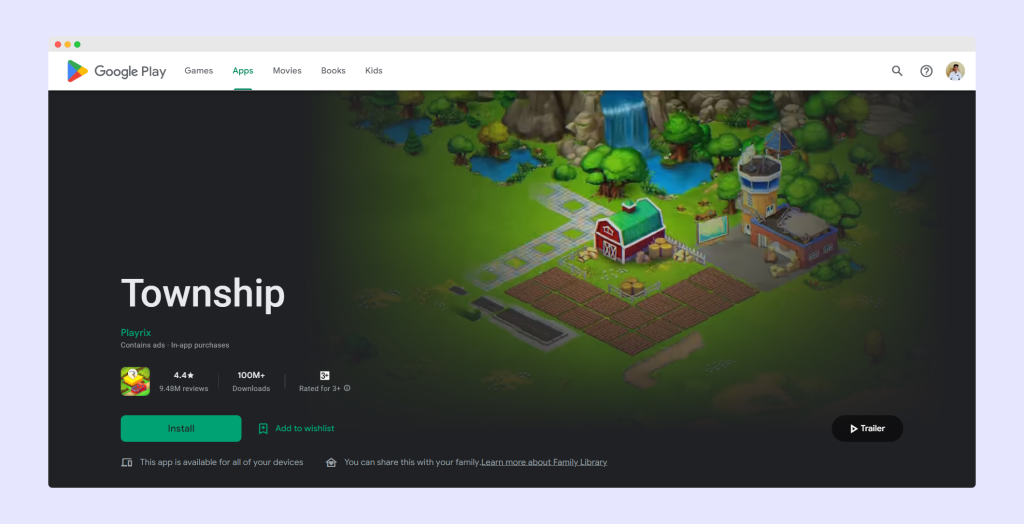 Township offers a unique, fun farming experience that will keep you entertained for hours. With its graphical integration and customizable town-building features, players can create their own virtual farms and towns. Trading facilities are also available to help you get the resources you need.
The game also provides an exotic country location for players to explore. Plus, with its social media integration, users can connect with friends on Facebook and Twitter. So if you're looking for a way to pass the time or learn about farming skills, Township is the perfect companion!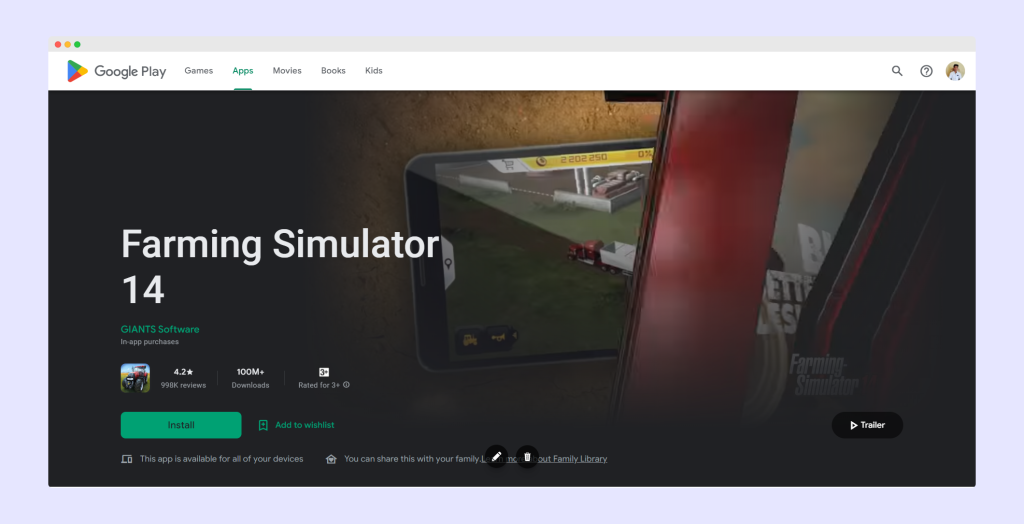 Farming Simulator 14 is a great game to enjoy and have fun in your free time, offering users a relaxing experience away from the hustle and bustle of everyday life. Players can create their own dream farm by playing this realistic 3D farming simulator on both Android smartphones and tablets.
The visuals in Farming Simulator 14 are highly realistic, with detailed graphics that provide an immersive experience for players. The various farming equipment used in the game looks incredibly lifelike and helps make the virtual world feel more like reality. Additionally, computer-controlled assistance allows players to learn how to play the game quickly and easily.
Players will be able to achieve all of their farming objectives while having a blast doing so. With Farming Simulator 14, you can enjoy a unique agricultural experience without ever leaving your home!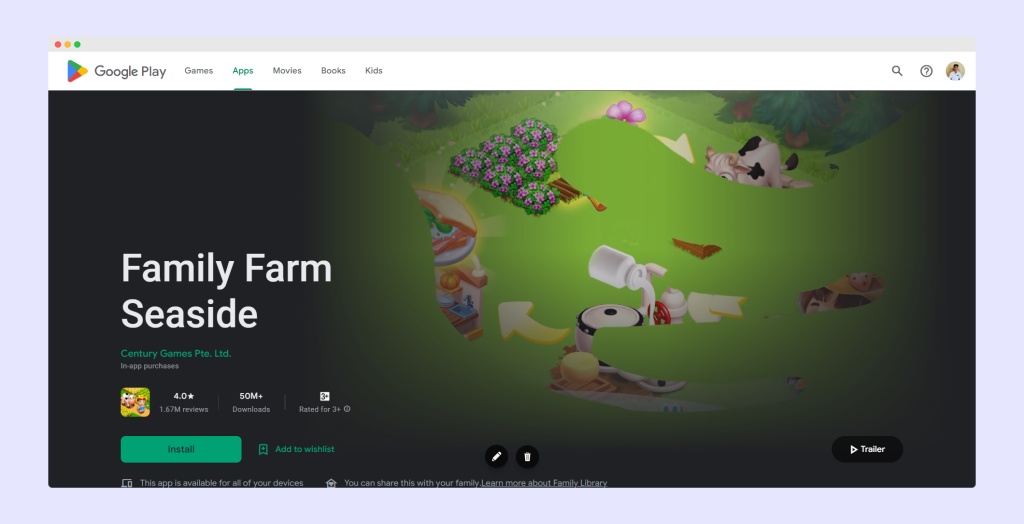 It is a game that offers tough competition to all the other farming games that you see on this list. It can be interesting, as it has several features to entice you. However, unlike other gaming apps, this game provides you with interesting features, farming in two different places. You can farm on seaside land, and also on an exotic island.
There is also a farm beauty contest in which you can participate, with more than 200 crop products to choose from and grow in this game. Family Farm Seaside also offers you daily orders to fulfill. There are also more than 100 achievements that users can achieve as a reward. It is an online game and requires the internet to play.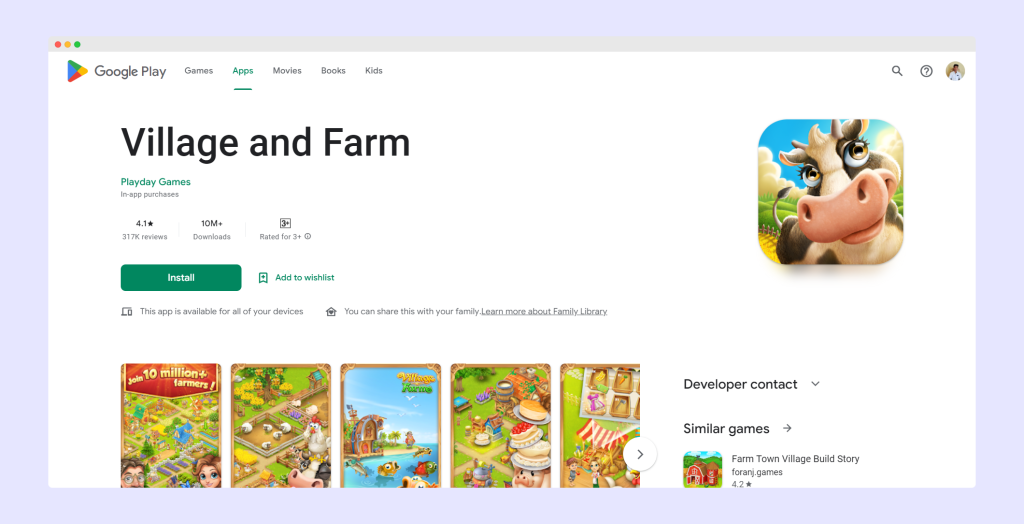 Farming fans rejoice! A new, unique farming game is here to bring you hours of fun and entertainment. From growing crops to taking care of livestock, this game offers a realistic approach to the farming experience. With no need for mandatory in-app purchases, it's free to play and enjoy.
Whether you're a seasoned veteran or just starting out in the world of virtual farming, this game is sure to capture your attention with its stunning visuals and immersive gameplay. Get ready for an unforgettable adventure as you explore the wonderful world of farming!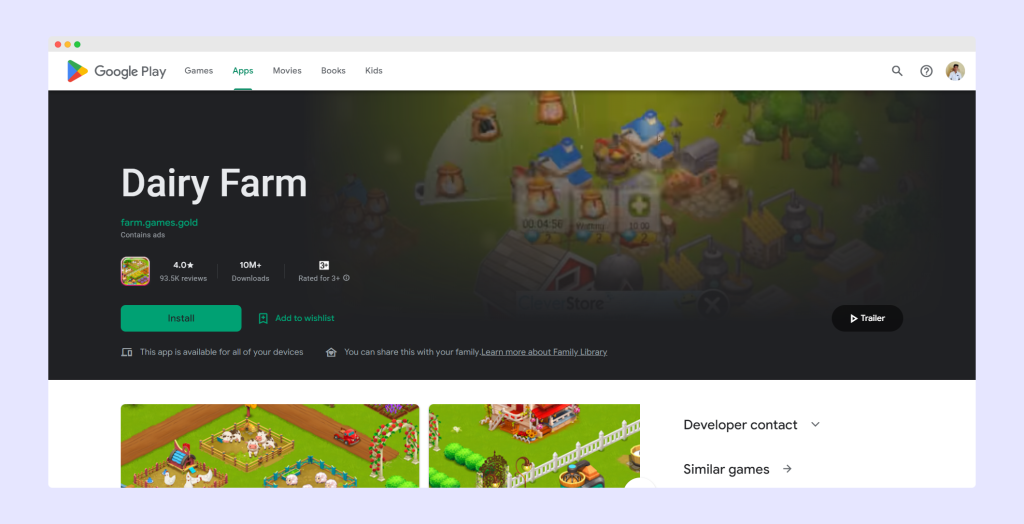 This one is a remarkable farming game on Android to enjoy in your spare time. It offers you a great farming experience, and you can do many real-time farming activities. The game comes completely free to all users. There are also some in-app investments in the review of the former game. Users here can buy several decorative elements that users can use to decorate their farm.
There are amazing visual effects to immerse you in farming. Users can do all types of farming. It includes growing seeds, grazing animals, and growing pets; users can also find a decent number of stages to explore. Apart from that, you can also upgrade your levels, farmhouse, and warehouse as you move along in the game.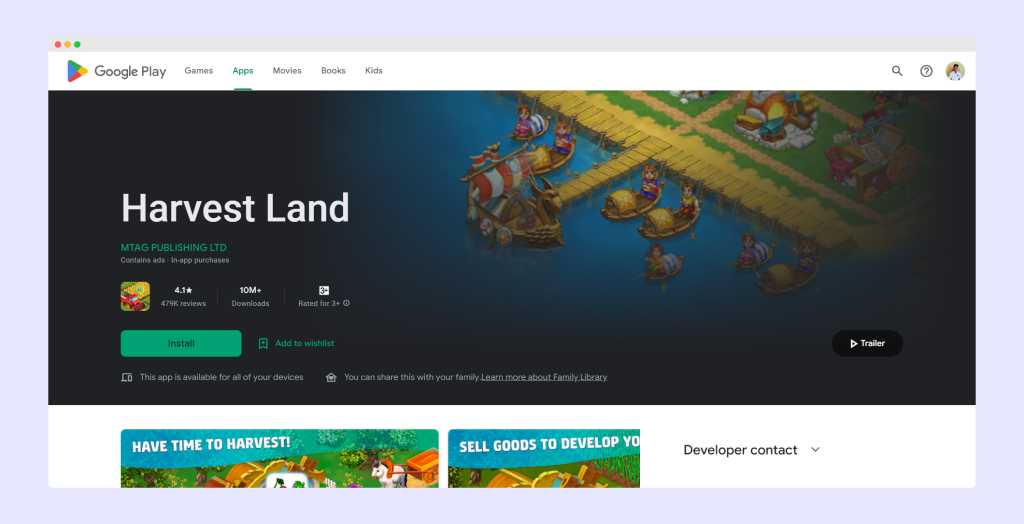 If you wish to explore something new in farm games, this game can fulfill your demand. It also comes as one of the most-played Android games on the play store. There are many features to make this game more fascinating and addictive for you. You can grow an extensive range of crops and also trade them for in-game cash.
There are also different types of pets and animals to feed and take care of them. The visuals are satisfactory and offer you an immersive playing experience. It is a multiplayer game, and you can connect with your friend online to play with them. There would be forest monsters invading you; you have to win the battle against them to protect your farm.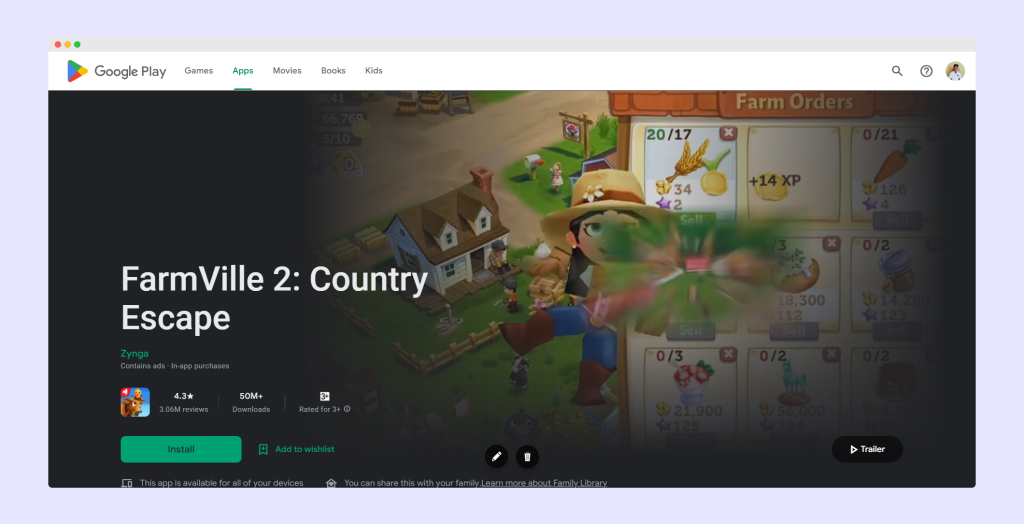 FarmVille 2 is a great game to enjoy in your spare time. It is like a casual Android game that you can only play for fun. Previously, the game was only available on Facebook, but now it is also available to play on Android smartphones. The graphics and visuals in this game are quite fascinating.
There is also an awesome village-making experience to enjoy. It offers you an enriched experience of farming; you can play this game in a single mode and multi-player mode as well. There are a lot of functions that you can find in this game. It includes harvesting, making goods, and many more. Users can also sell the gradual development in their farms.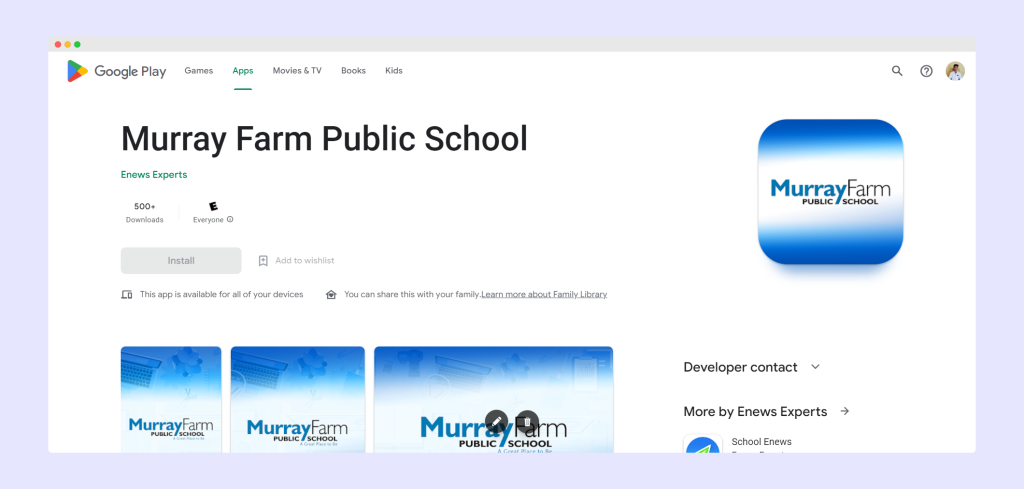 Farm School requires proper planning and strategy in farming to proceed. It can be quite addictive with top-of-the-line graphics. The game quality is good, but it demands the latest version of the Android platform. The farmland in the game is completely customizable, and you can arrange them in a way that suits you.
It also offers you a complete feature-rich farming option to enjoy. You can grow plants and feed animals, as you want. As the name says, it is completely an educative platform. You will learn about several farming activities while enjoying the game seamlessly. In the rewards, players will get rewards in the form of gold in the game. Farm School is a blend of joy and adventure at a time.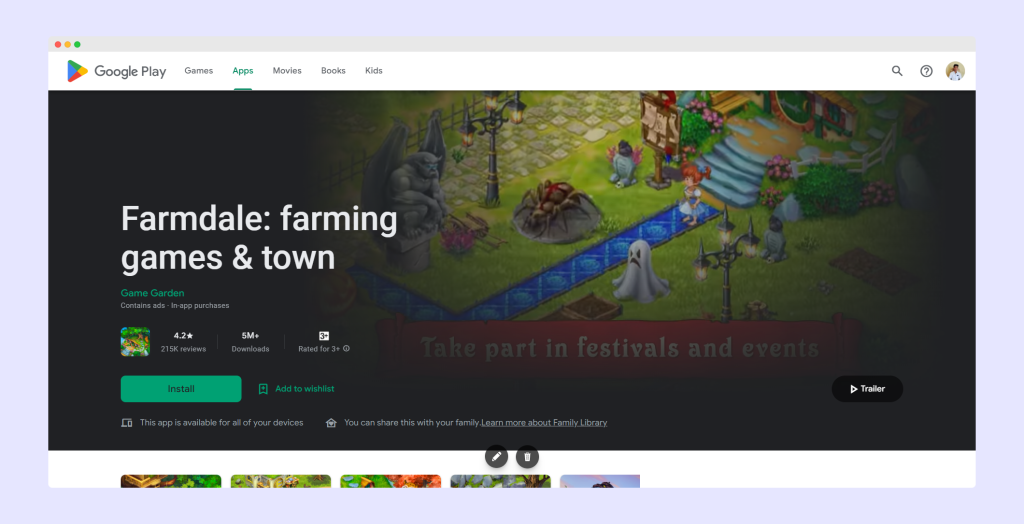 Another great farming game that you can enjoy. It is one of the most exciting farming Android games that are much addictive for you. Again users can experience a real-life farming experience in Farmdale. There are also achievements and rewards that players will receive when they successfully complete any stage.
There is an extensive range of features to mesmerize you in this game. You can explore several things while farming. The unique feature of this game is you can build your own house near a farm. Apart from that, the game's graphics and visuals are decent. Both male and female players will love this game. There are a lot of pets to take care of and feed them.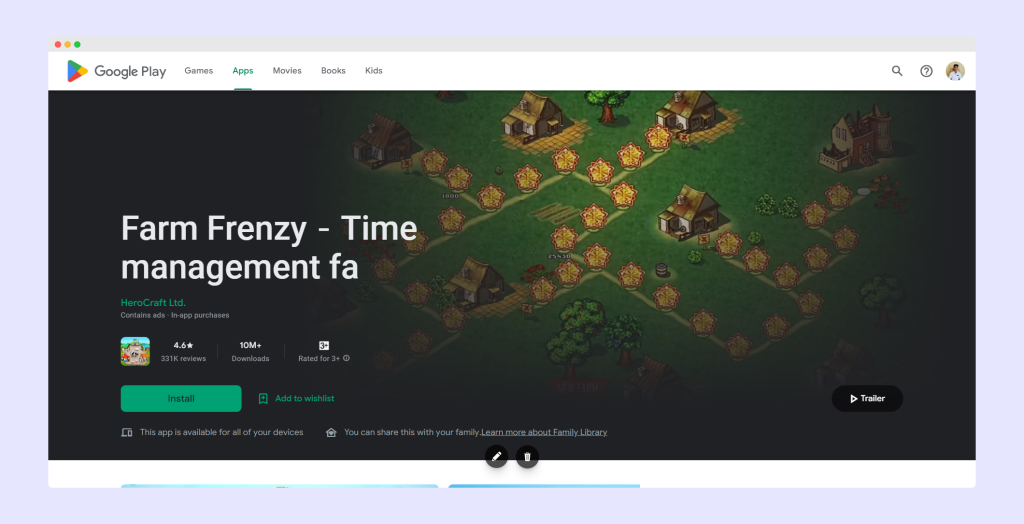 It is a free game that is known to teach time management to users. The role of the players would be to play as full-time players. Farmers will get here a well-decorated farm, which they can improvise further also. You can make it greener by growing more crops. There is an abundance of tasks and objectives that you will enjoy in this game.
Users also have to complete all the tasks in the desired time. This makes you more productive. Apart from farming, there are different types of farming goods to trade. When users move further, they will find several exciting stages to enjoy. In detail, there are about 72 levels that users have to complete while playing.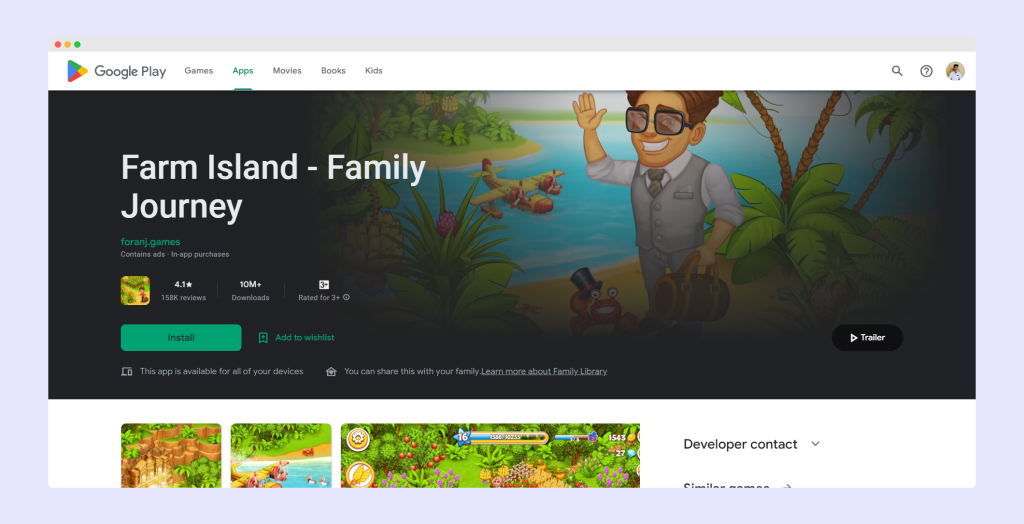 As the name says, you will get a paradise for farming in this game. It is quite a well-known game that is great for all Android users. Users can create their beautiful visionary garden. You can witness green paddy fields, fences, huts, and several other elements as a part of your farming game.
Players can grow different kinds of things, including crops, vegetables, fruits, etc. farming will be great fun in this game. You can also feed animals and take care of them. Users can build buildings and also upgrade them. You can make your farm and expand it to a factory. Apart from features, there are several levels that you can enjoy in this game. Players can explore the island to farm on them.
13. Green Farm 3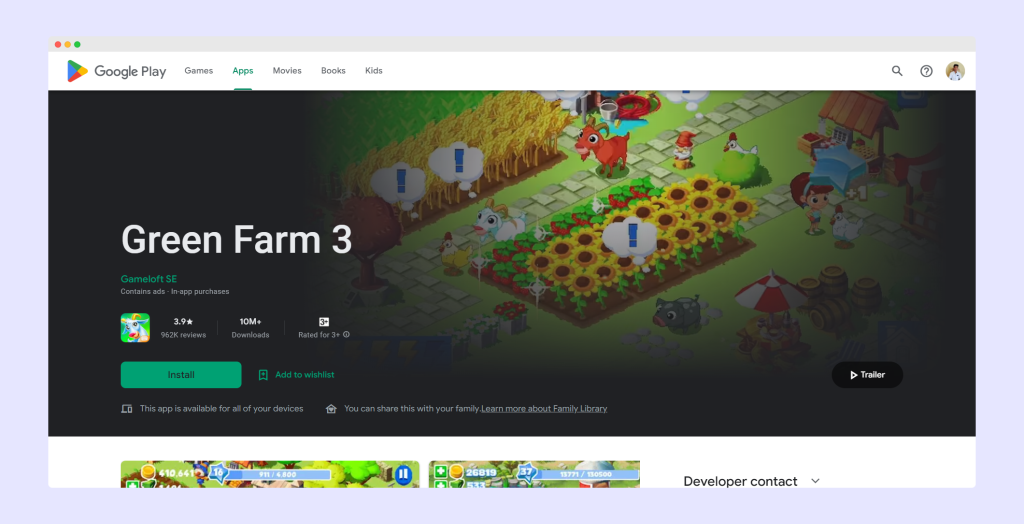 It is an exciting game that you can play and enjoy on your Android smartphone. People who love to play farming games will find this game more interesting. It also brings you a story and journey with the game. There are several things that you can discover in Green Farm 3. The game story starts when the user inherits the farmland from their uncle. Then you will recreate the farmland and bring back the greenery using your game strategy.
There are easy tactics to employ, and it offers you smooth control of the game as well. The common activities that you can find in this game are feeding cattle, growing crops, and rearing cattle. The game's visuals quality is also high with immersing sound effects.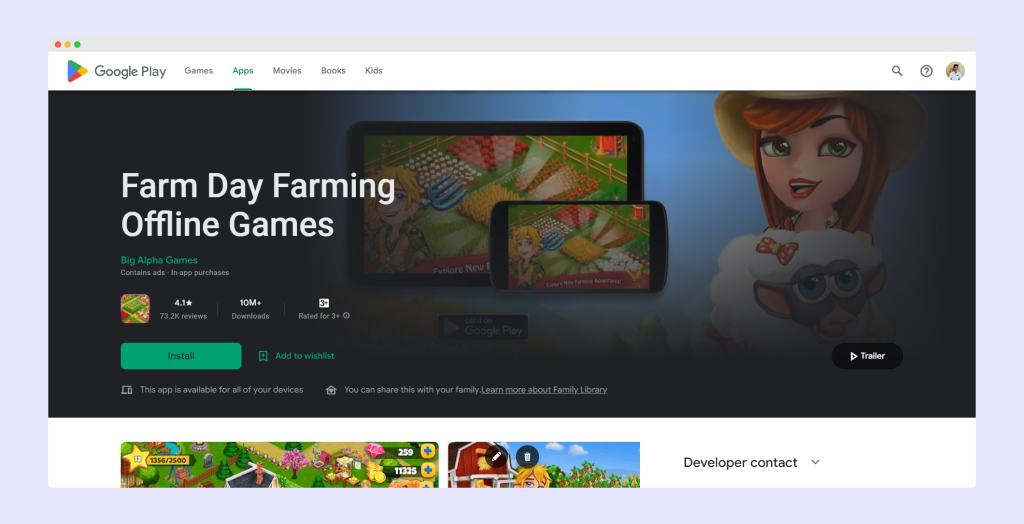 Most people usually love this game, as it comes with high-quality graphics. There are several other features that you can discover in this game. However, it is a game that doesn't support offline playing. It runs smoothly on your Android smartphone without any lags. You can enjoy several features and events in the games; users can grow crops, vegetables, fruits, and several other things.
There are a variety of crops that you can cultivate and enjoy here. Apart from that, there are several small activities to enjoy. It includes watering the crops and plowing as well. You have to face several challenges and complete them in a given set of times.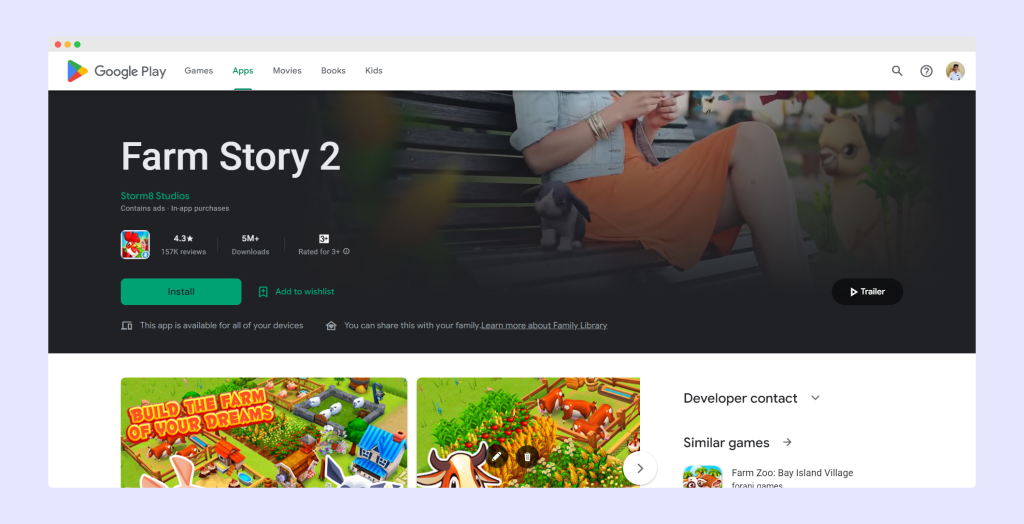 It is a popular farming game that you can enjoy playing in your spare time. There are even tons of interesting facts to discover. As the name says, it offers you a story and journey. However, farming would be the main occupation. You have to grow crops and raise cattle in this game. You can explore several enticing lands to start growing crops.
Apart from that, there are also tons of surprises to astonish you. There are a lot of mini-games to play in this game and earn rewards for it. The funny fishing game is also quite enjoyable in Farm Story 2. You would have to produce several kinds of crops, and after producing, you can trade them in the market.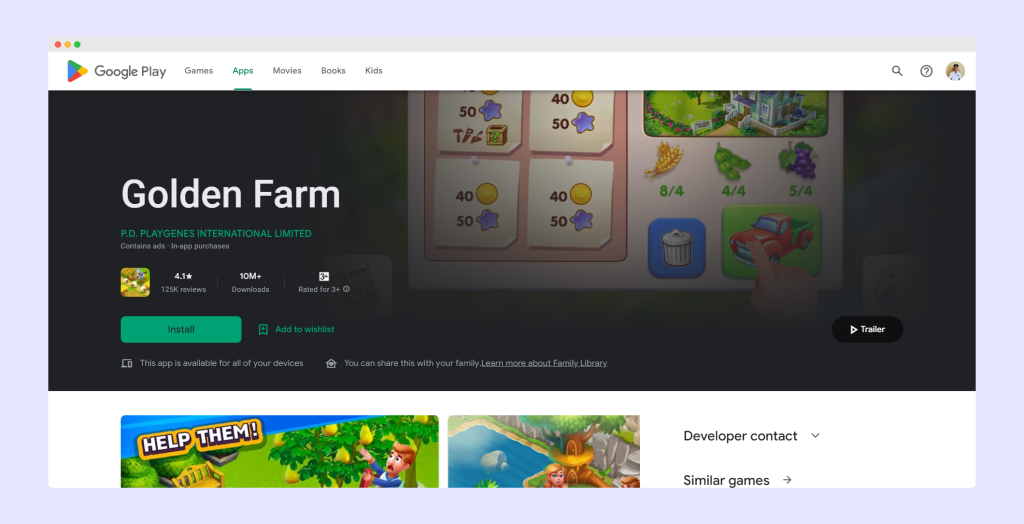 It is a game that demands your tactics and thoughtfulness to offer you results. However, this simulation farming game is not different from other games on this list. It runs smoothly on all devices. You can start your farming as a real-time farmer indulged in several activities.
However, there is also something great and fun about this game. Users here can create their farmland and customize it at the same time. Apart from growing crops, players can also learn to trade in Golden farm. Exploring the diamond mine is one of the adventurous sides of this game. In the process of building your farm, you can also grow vegetables and flowers to make your farmland more decorative.
The professionals can assure you that it is a quite distinct type of game that you can enjoy playing. This is a competition where you have to simulate several types of machinery on the farming land. Driving a tractor would offer maximum fun to players. There are also trucks, trailers, plows, and other machines that you can enjoy driving around in the field.
All the vehicles here are quite realistic to offer maximum enjoyment. Apart from that, the weather condition also looks quite realistic in the game. You can see the game changing from day to night when you play for a long time. The graphics, however, is a completely new generation with advanced visual effects to entice you.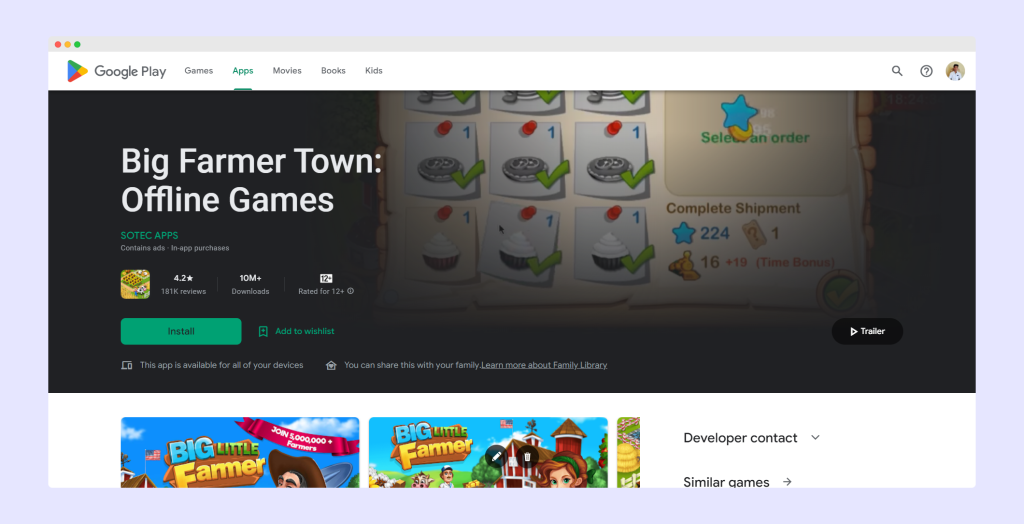 As the name says, Big Little Farmer offline game is another offline game to play for entertainment. Players will be amazed at this game to experience attractive UI and features. It is also a game that strengthens your time management skills. You have to complete a set of tasks, which you have to do within a time.
In the game, players have to move from big cities to small farms to recover their farmland. The game has adorable animals and cattle to collect several dairy products. Players can also grow vegetables apart from the crops. The game has one objective, the more crops will harvest, the more stages you can unlock.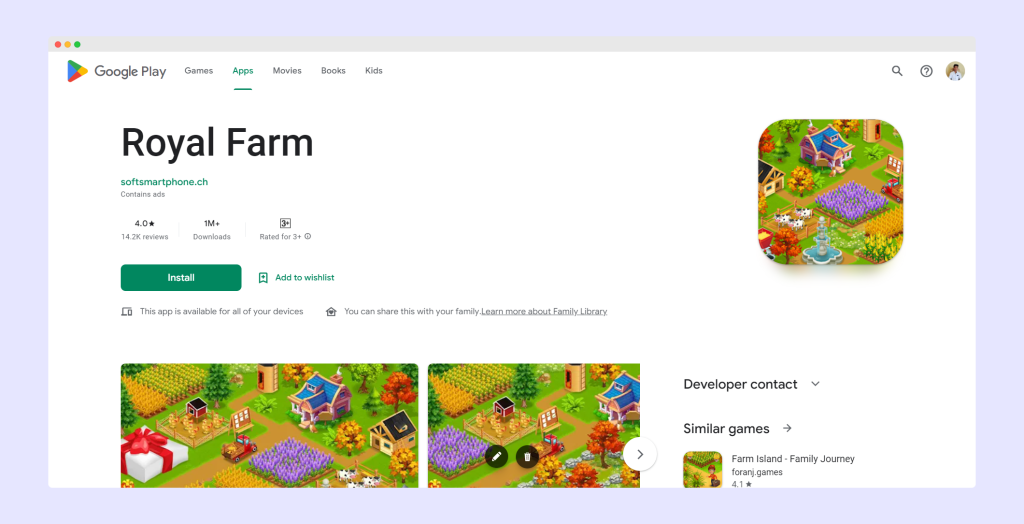 A royal farm is a great option for you; if you are getting bored in your free time, it is a game that can offer you maximum enjoyment. All the users playing this game so far have gotten addicted to the game. Players can enjoy this game from the core level and deploy interesting tactics to win different game stages.
In Royal Farm, you can experience farming with several features. You can harvest corn, paddy, wheat, carrots, and a lot more agricultural product. Users/players can also create their own visionary farmland to do farming; there are also many surprise gifts that you can enjoy. There are also daily bonuses that help you proceed further.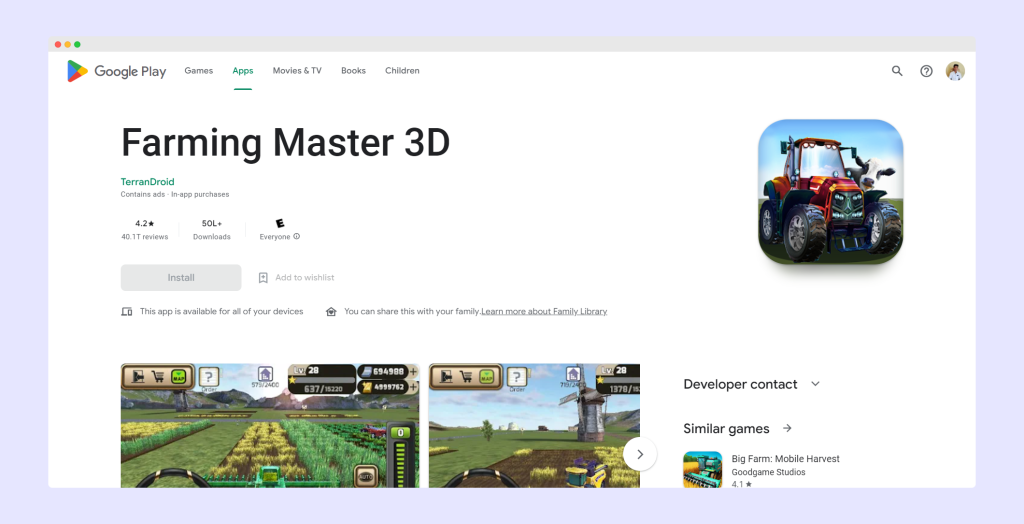 This is a game that brings you out from the traditional farming means. Rather, you have to use all modern-day advanced equipment in this game. You will also experience it as if you are a modern-day farmer. The sound effect and visuals are quite good; it matches your expectations and offers you an improved playing experience.
All the machines that you see in this game look quite realistic. Using this machine, you can complete all your farming activities. Players here can also feed cattle and graze animals for obtaining dairy products.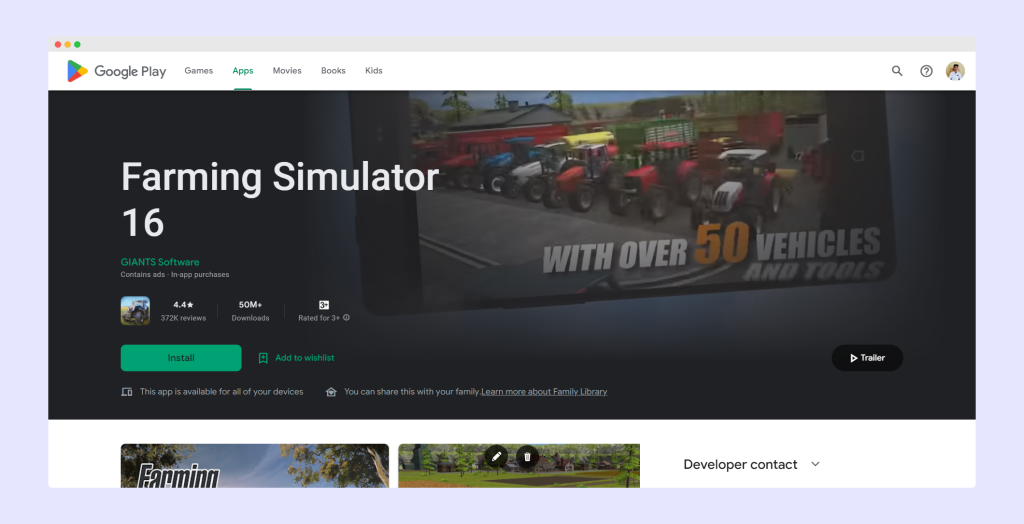 It is another advanced game that you can enjoy playing. This simulator offers you all the modern-day farming equipment as the former game, and you can drive these machines on the open farm to explore the game. You don't have to use any customary method for this farming game.
Rather, you can do your farming with an advanced farming machine. It includes 3D graphics and realistic sound effects to better immerse you in-game. You can also sell your agricultural products to get capital in return. Players will also have to feed cows to obtain dairy products from them.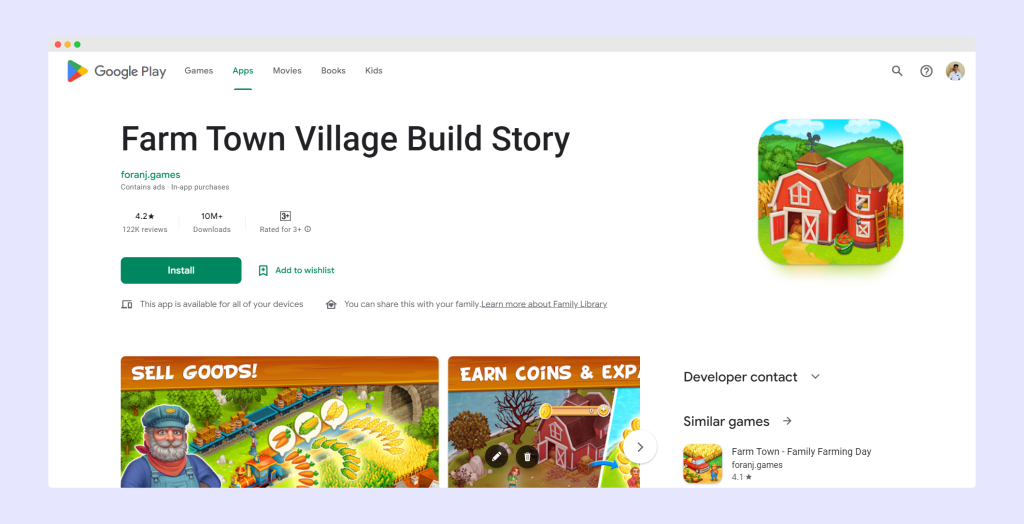 It is a trending game that enables players to play and enjoy. Players here not only have to spend time in farming, but they can also spend their free time gardening.
Users can also experience the charm in the quite beautiful rural backgrounds. There is also a river that offers you all real feelings. Players have to create and decorate their beautiful village with flowering plants and crops. You can also create buildings to stay in. The game has impressive visuals and decent sound effects.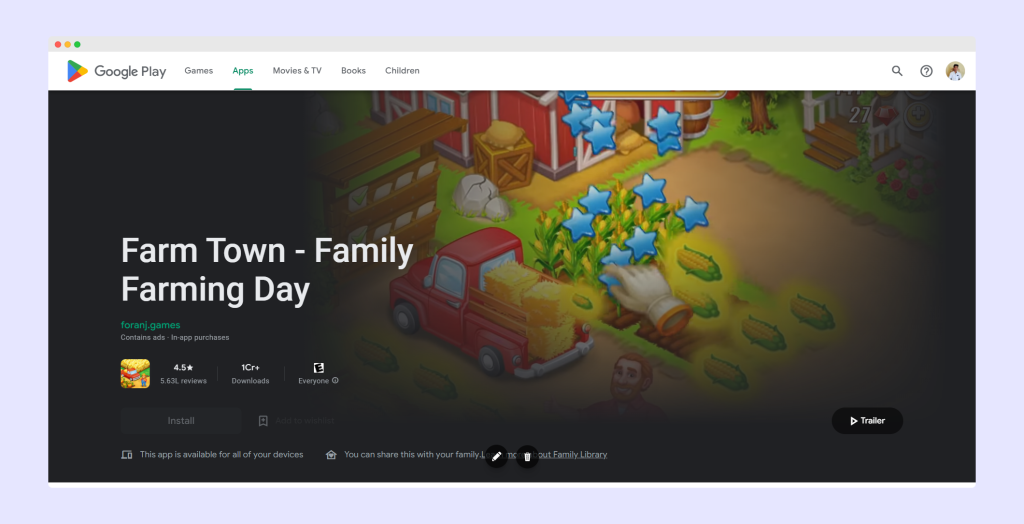 It is surely the best way to spend your day. It is one of the most prominent games that you must have played to date. Players can spend their Christmas and enjoy their games in Farm Town.
It is a simulator game to offer you a simulation of all the farming activities. Players can create and upgrade their farms by completing a different stage and adding elements. Apart from vegetables, you can also grow several fruits and flowers.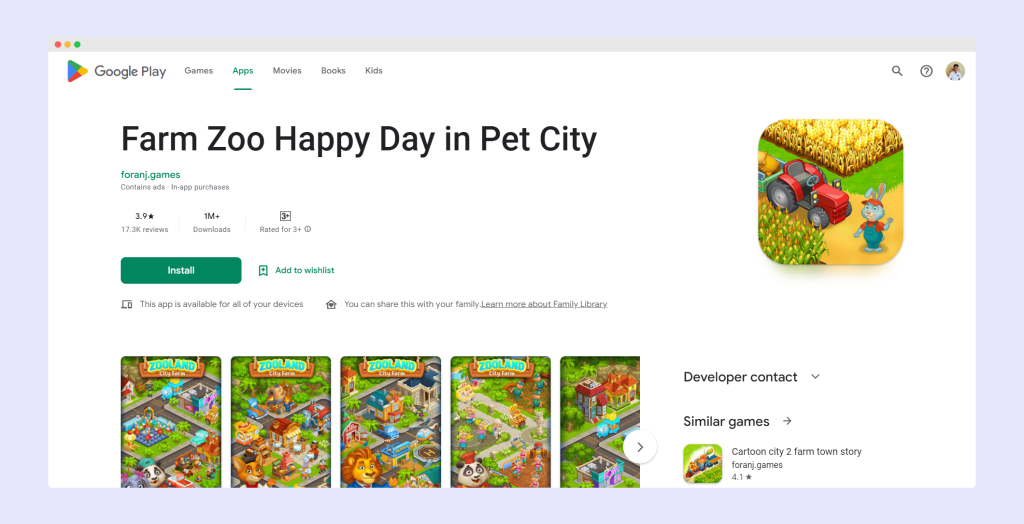 This is a game that offers you the experience of farming and managing the zoo simultaneously. You will experience the charm of the rural atmosphere. There are a variety of crops that you can enjoy growing in this game, including fruits, vegetables, apples, and many more.
After harvesting crops, you can trade them for money in the market. The players here also have to manage the zoo animals and other pet animals and feed them. The game has impressive graphics, and the sound effect is also decent.
Frequently Asked Questions (FAQs)
1. What is the most realistic farming game to play on Android?
All the games you see in the above list are realistic farming games to immerse you in the visuals. However, Hay Day, Township, Farming Simulator 14, and Family farm seaside are some of the most indispensable names.
2. What Farming game is the best Farming simulator for Android?
Hay Day is the most prominent farming simulator game that you can find for your Android phone. You can grow crops and process food in these games, as you would do in real-life. After growing, you can also trade your end products with other users.
3. Which game is an online farming game?
Almost all the games can be played both online and offline. However, offline access to the game doesn't offer you many features.
4. Is Farming Simulator 14 a good game?
Yes, Farming simulator 14 is a decent farming game to play on your Android phone. It is a great game to enjoy during a relaxing time. All the users can get a logical farming experience with the addition of all sophisticated graphics and a great agricultural experience.
5. Is the Farming simulator realistic?
Yes! The farming simulator is quite a realistic game. All the versions of this game offer you a good experience.
6. Can you learn farming from Farming games and simulators?
No doubt, you can learn farming from the farming game simulator. Some activities and events make you acquainted with all farming activities. You can also experience the obstacles like drought, no rainfall, and many more.
7. Which Farming game is the most popular amongst users?
Hay Day and Township are two of the most popular games that you can find among users. These two games have decent visuals to immerse you.
Conclusion
In conclusion, these are the top 24 best farming games for Android that you can enjoy playing on your Android smartphone. These games also offer you a great learning experience and sharpen your skills in farming. Now that you know the top 24 farming games, you can choose the one that best suits your expectations.
If you have any more recommendations, please let the reader know in the comment section. This article hopefully would help you find an ideal farming game. If you do like it, share it on social media.