Are you searching for free music apps for Android? If yes, this article is for you. Below we have shared the top 25 best music apps for Android that are free to use!
Everyone loves music, and it is a part of our daily life. We listen to songs from different categories, but it becomes quite challenging to manage them in one place. Music apps for android are the solution to this problem. You can store and download your favorite songs in one place with the click of a button. You can also curate your favorite playlist or listen to a live stream.
Here Are The 25 Best Free Music Apps For Android
Without any further delay, let's go ahead with these apps!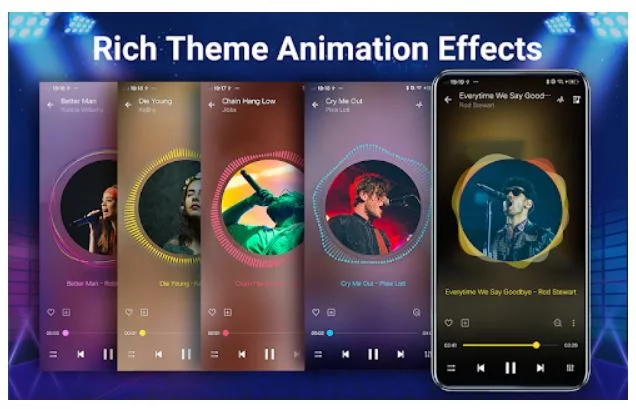 This is one of the best free music apps for android. It offers a collection of both the classic and latest songs. You can search for any theme based on the type of singer or category. The best part is you can have access to both the audio and the video here and customize the background theme depending on your mood.
Key features of the App:
All latest music file formats are supported.
It offers an accessible search facility and more than 20 customizable backgrounds.
It provides headset support and Bluetooth control.
You can play the next song just by shaking your phone once.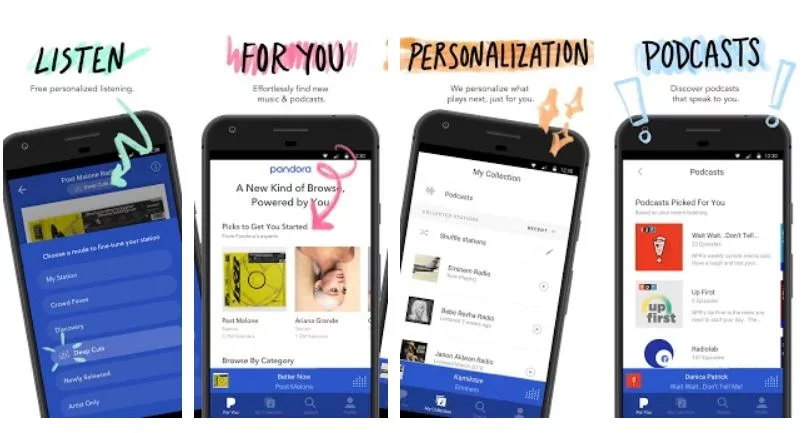 Pandora's simplicity and cross-platform support make it one of the best free music apps to download on Android. You have to enter the App and start listening to your favorite music on any platform. The stations sync automatically to the chosen platform. The App is updated regularly, and its music library has expanded a lot in the last few years.
Key features of the App:
You can enjoy on-demand streaming services on this App like Spotify.
You can give thumbs up or down to the random songs played.
It presents a similar genre of music when you search for a particular song.
Create customized music stations to which others can also listen.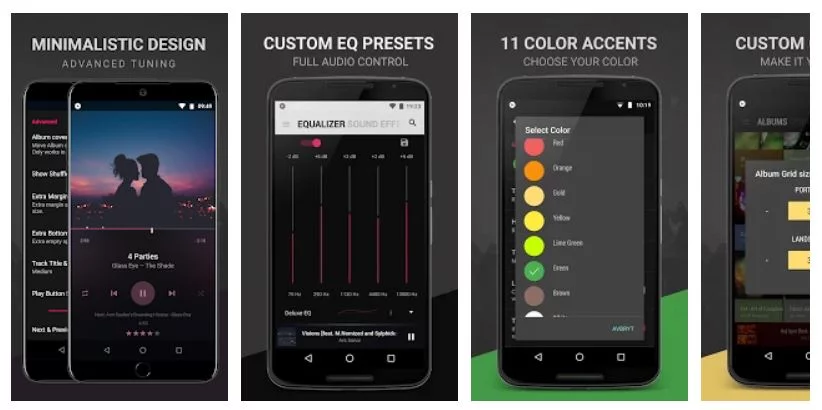 This app falls in the unbeatable category of free music apps as it is super easy to install and use. You think of a song, and you will find it in their collection. It offers customizable theme options, and you can change the music by just swiping it. The interface is immaculate, smooth, and comes with easy use of the search option.
Key features of the App:
All types of music players, such as MP3, FLAC, WAV, OGG, etc., are supported.
The themes, colors, animations, and fonts can be customized.
Mp3 player scrobbling is included.
If you want to navigate between pages, just swipe in the middle of the screen.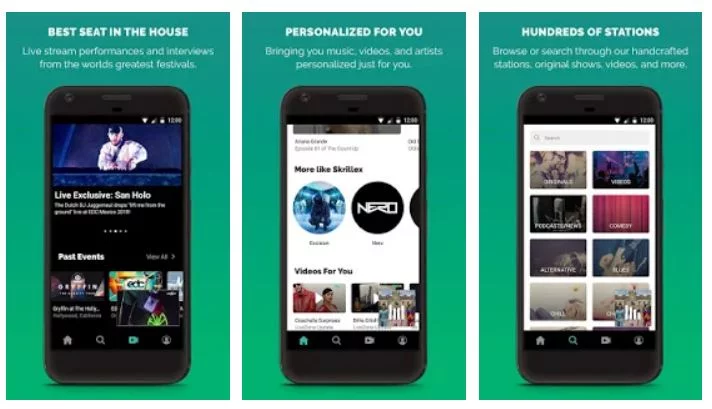 LiveXLive is a free music app with ads. It supports various stations covering a lot of genres. The free version comes with a lot of features. But, if you want to explore more features, you can opt for the premium version of the App. It also focuses on live music and station streaming service, though some improvements still need to be made.
Key features of the App:
Creation and sharing of customized music stations are possible.
It has more than 400 curated music stations.
You can also enjoy live-streamed music events.
There is an option to get hourly news updates on any station.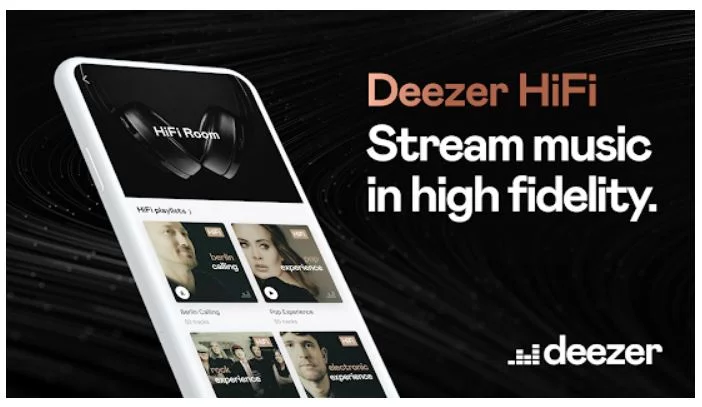 This App is one of the high in demand free music app as you can enjoy listening to songs, podcasts, and Radio all in one place. It offers swift and smooth functioning and hence provides a great user experience. What makes it praiseworthy is that you can download songs and play them offline.
Key features of the App:
Create and share your playlist with anyone.
It offers customizable theme options.
It auto-suggests a song according to your choice.
Compatible with podcasts and radio station networks.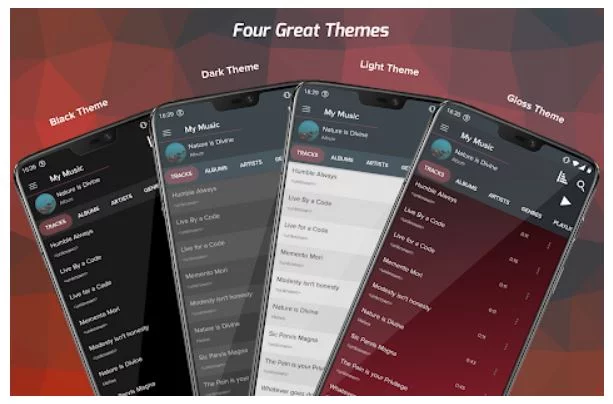 It is one of the most sought-after free music apps as it is a cross-platform music app. It offers an enormous collection of old and latest songs. Their song library is automatically updated with the latest tunes. The interface of the App is simple and easy to use.
Key features of the App:
Browse YouTube music videos and add them to your playlist. It offers a floating video player that you can use while doing other activities on your phone.
Unique theme backgrounds with animation.
Most of the audiobooks and podcasts are supported by this App.
It offers a ringtone cutter service. You can cut a part of the song to set it as a ringtone.
See Also: Top 25 Best Raspberry Pi Projects You Can Start Right Now!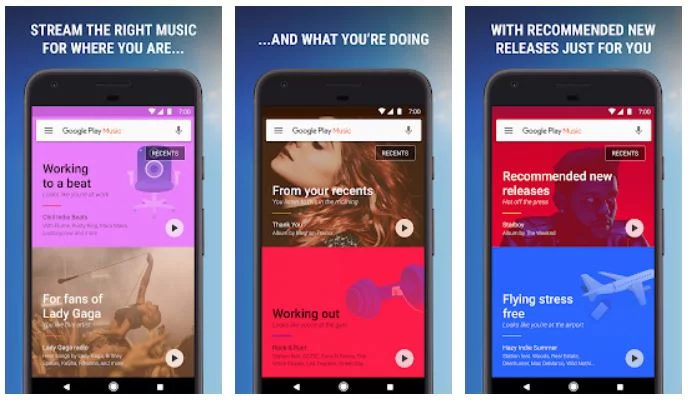 Google play music needs no introduction. Almost all android smartphone users and music lovers are familiar with this App. It offers an unlimited collection of songs to make your listening experience memorable. It is easy to use, and you can search for songs based on their mood, artists, genres, and decade. Its search engine is relatively easy and fast to use.
Key features of the App:
Podcast and radio station networks are supported.
You can browse from a comprehensive list of over 35 million songs. You can store up to 50,000 songs in your collection.
Suggests new songs based on your search preferences.
It offers premium membership also.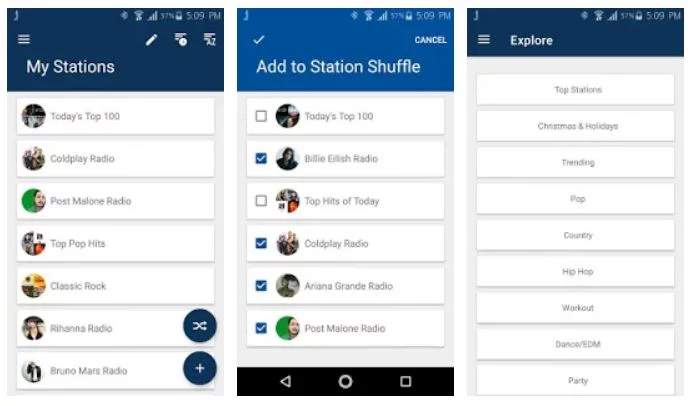 Jango Radio is a treat for music lovers. It has a vast collection of songs from famous as well as independent artists in its content library. Also, independent artists sometimes pay for their pieces to be played and heard by people who use the App. Jango app generates its revenue in this way and hence continues to offer you free service.
Key features of the App:
Free to use without getting interrupted by commercials.
Create custom radio stations.
Share your personalized stations with your friends on Facebook.
Save data while roaming by changing the audio quality.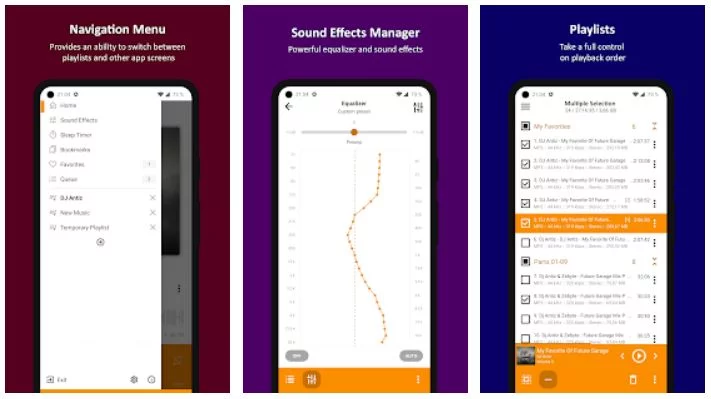 AIMP is a stunning free music app but should be downloaded if you are not a Xiaomi phone user with MIUI firmware. It is lightweight, has an attractive look with easy to use interface. It is compatible with all kinds of SD cards and file managers, and you can share music from them.
Key features of the App:
More than 29 types of band equalizers are included.
You have control over the music and can balance the sound also.
The theme can be customized and comes in light and dark versions.
Almost all types of audio formats are supported.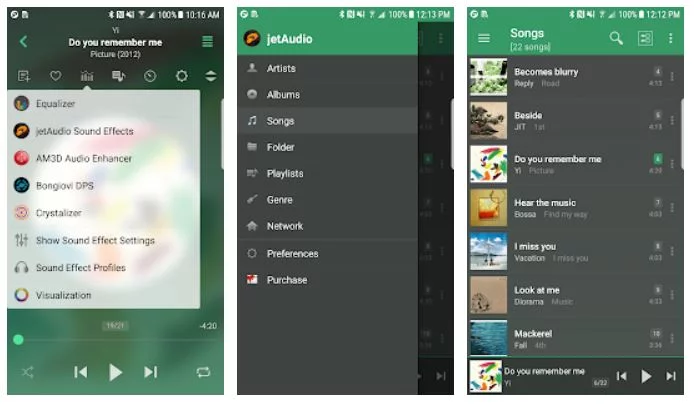 JetAudio is top-rated and is the top downloaded free music android app. You can get a massive collection of songs in one single App and can also download them. If you love to share your playlist with your friends, then you must download this App. You can share using Wi-fi. The customizable theme and the sound quality will make you fall in love with this App.
Key features of the App:
Almost all types of music players are supported.
There are many effects and enhancements to experience the best sound quality.
You can customize the background and theme.
It offers a lock screen facility, notification bar, and grid mode.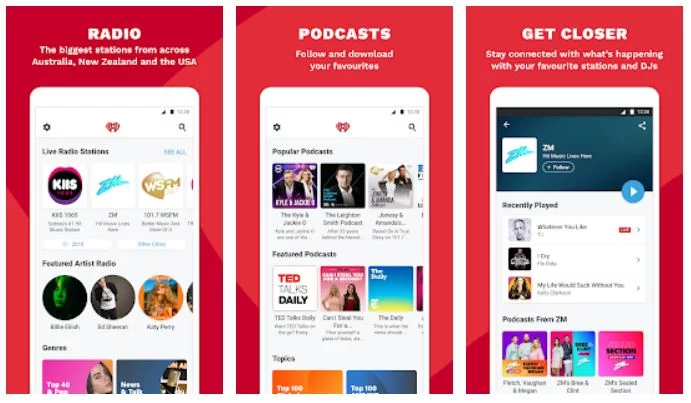 iHeart radio offers you to listen to many stations according to your liking. You can also enjoy podcasts, comedy shows, and seasonal radio stations. The interface is modern and easy to use. You can enjoy its services without registration too.
Key features of the App:
Play the music with cell phone locked or using other applications.
Set a timer to turn off the application.
Use music equalizer for personalized music experience.
AM and FM radio stations can are included. They support data streaming so that you can listen to the news as well.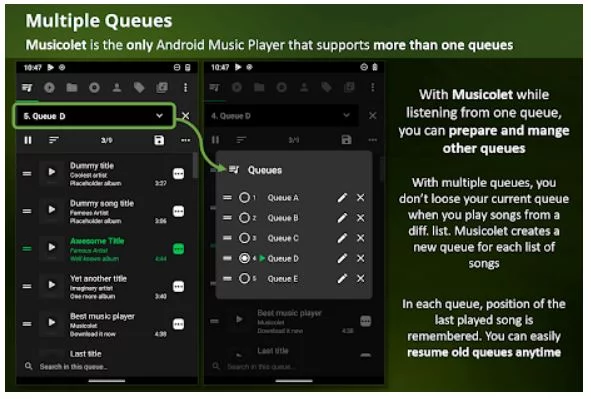 Musicolet is an excellent and completely free music app for music lovers. There are a considerable number of songs to listen to. You can also create and name a folder and copy the songs there. The best part is that you can enjoy listening to music without the internet too.
Key features of the App:
No internet connection is required.
Headset and earphones are supported.
It offers a sleep timer, lock screen facility, widgets, folder browsing, and a smooth search option.
You can see the lyrics of the song and also the music in the queue.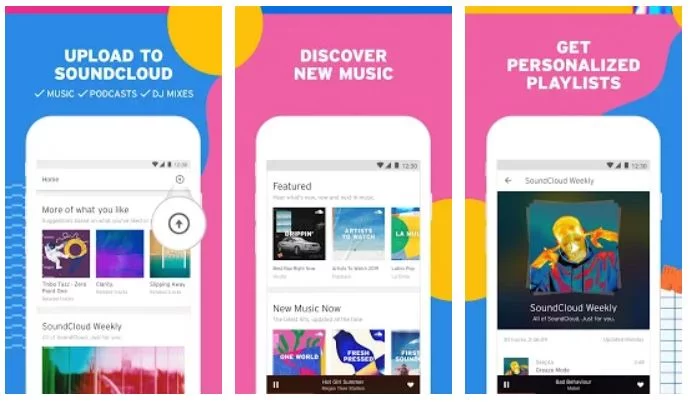 One of the best features of this App is you can share your song and music library with your friends, family, and others. With this App, you can discover, share, and stream your favorite artists worldwide. Additionally, this App is based on the open global community, which means that you can upload your songs to its library for free. It has several other features that you can explore once you install it on your Android phone.
Key features of the App:
You can discover your favorite artists, songs, DJs, and podcasters.
This App suggests songs based on your listening habit over time.
You can connect to your famous artist and fellow listeners at the same time.
With this, you can create your playlist as per the occasion.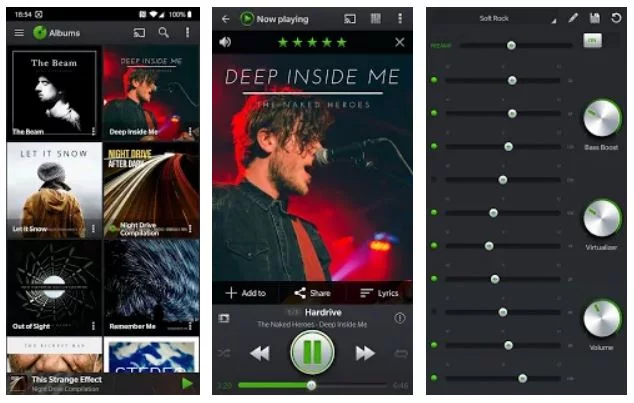 Say hi to another emerging and excellent music app for Android users. This App is free, but after ten days of use, you will start seeing ads. This App has beautiful features and such as a powerful audio configuration system and a heart-touching interface to operate.
Key features of the App:
You can browse and play songs of your heart in several different ways, such as albums, artists, composers, genres, songs, playlists, etc.
You can browse and enjoy your videos by folder option.
Allows you to stream your favorite music to your TV and Chromecast Audio device, which is compatible with your system.
You can change the theme of the songs by installing available skins.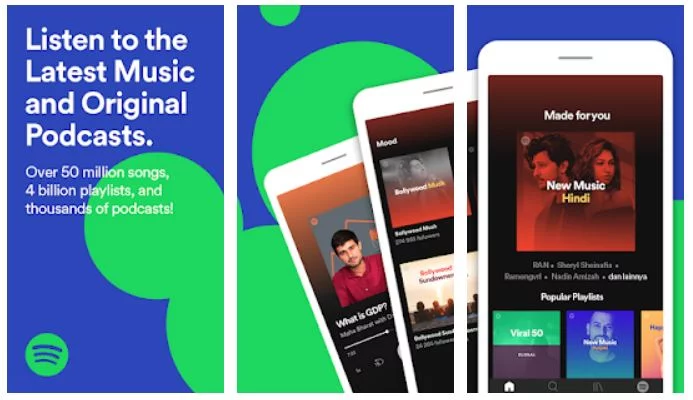 There is no need to introduce Spotify in front of you. It is one of the very few, most popular music apps for Android today! Many of you have this App on your mobile phone already. However, let's take a look at this excellent music app. With it, you can listen to millions of songs and podcasts for free. There is no need to enter your credit card detail at all. This App comes with so many customizable features. You name it, and Spotify has got covered everything for you.
Key features of the App:
You can listen to your favorite songs, artists, albums, genres for free.
You can connect it to several systems, such as a mobile, tablet, desktop, Chromecast, TV, Speakers, and PlayStation.
Search any song by mood, genre, or activity.
You can now share your playlist with your friends, family, or colleagues.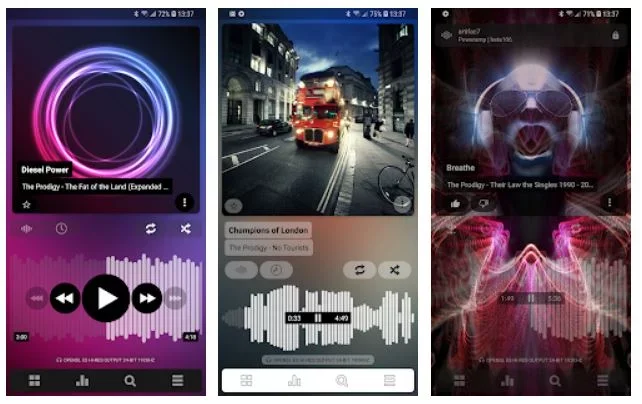 This App is the most downloaded free music app for Android. This App comes with the latest features and an initial 64-bit processing system that will ring an exciting bell in your ears. With it, you can choose one of your favorite songs, and you can store them in a separate folder. One of this music app's best features is that you can experience millions of non-stop songs without any ad. So, let us convince you why you need to download this fantastic App.
Key features of the App:
With it, you can create your music library and folders too.
It comes with an intuitive interface and customizable theme and backgrounds.
You can use Google Assistance support.
It comes with separate impressive BASS and Treble adjustment.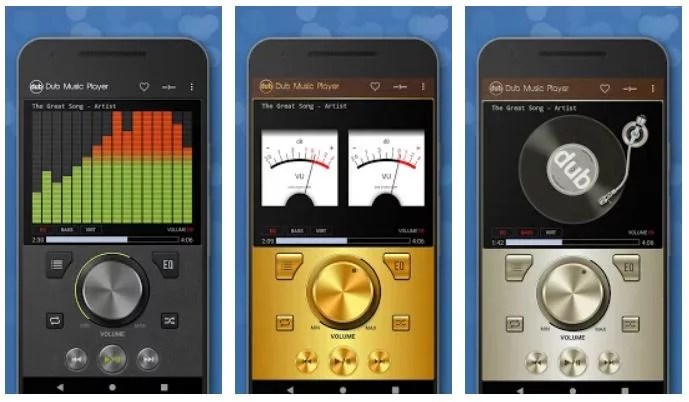 Dub Music Player has 40 million active users and 4.7 rated reviews under its belt. In this App, you can easily frame new playlists and add your favorite tracks to them. You can enhance your audio quality by using its equalizer and bass booster.
On top of that, you can use this music app without any internet connection at a time. Like other apps, you can also play millions of songs by creating various playlists or by genre, albums, or artist.
Key features of the App:
You can create and edit a playlist according to your occasion.
You will get nine predefined presets for a better experience.
It supports headset/Bluetooth controls.
You can use its Home Screen and Lock Screen Widget to use it faster.
Pulsar Music Player is one of the best android music apps on the whole list. It has a lot of features with beautiful backgrounds and customizable theme options. The thing that makes it more successful is that there are no add-programs to bother you. Pulsar Music Player can be run without an internet connection. It has all the necessary useful features to make you fall in love with this App.
Key features of the App:
It comes with a spectacular interface and matching animation layers to make you feel good.
You can notice all your recent activities with this App, such as current played and most played.
You can manage your favorite songs by creating playlists, artists, albums, or genres.
It comes with play speed adjustment and crossfade support.
19. Music Player by appBott.com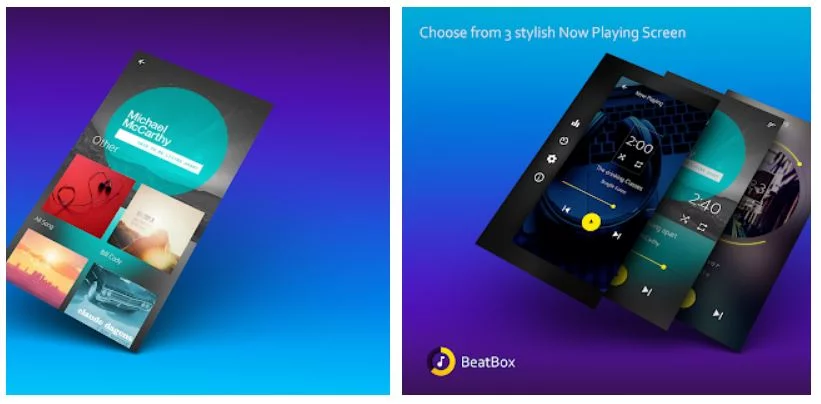 Music Player Android app is by appBot.com, and it has more 4.3 overall rating on Google Play Store that makes it more reliable. This Music Player is a fast, robust, and elegant interface and design. You can select skin as per your taste and make it more fabulous than before. This music app for Android will allow you to manage your files, tracks, and playlists very quickly and conveniently.
Key features of the App:
It is lightweight, easy to manage, and gracefully designed.
You can play any audio files for free,
You will get several color and skin options.
It comes with seven-band equalizers to make your music experience more delightful.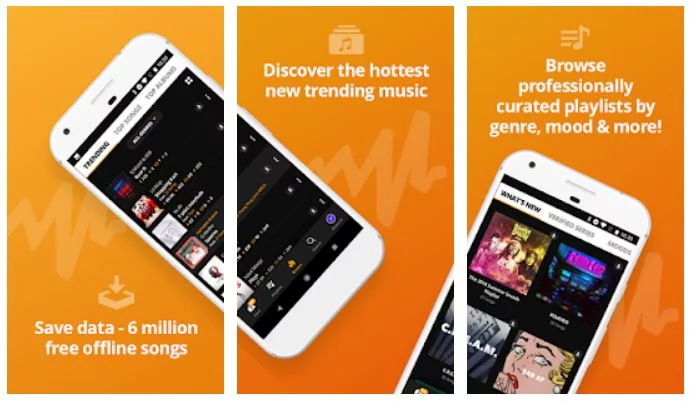 Audiomack Music App is free, and it can be accessed without any internet connection. With it, you can steam and downloaded the best new tracks, albums, or playlists for 100% free. This App allows you to play songs offline as you like. You can download your favorite music and have fun with your friends. You can go for the monthly subscription for just $4.99 per month to enjoy the music ad-free.
Key features of the App:
Follow your favorite artist, composers, podcasters, and much more.
You can browse curated playlists according to your mood and genre.
You can take its monthly subscription to avoid ads.
Anyone can download songs or albums, and even you can play without using data.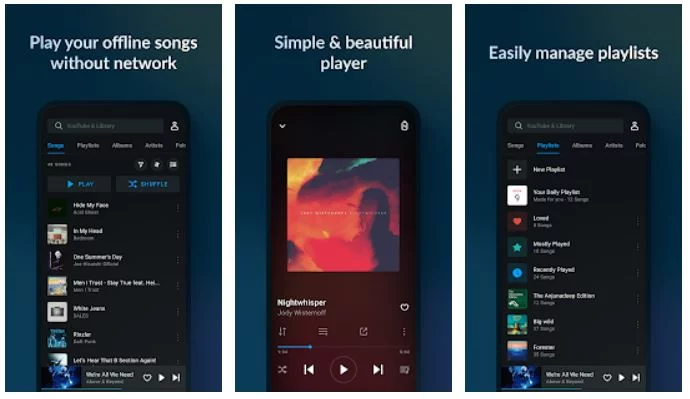 If you want to play both music and videos, Lark Player is the solution for you. It is top-rated and 100% free, plus a piece of lightweight music and a video player.
It supports all kinds of essential files and formats and can fetch your library and let you play it on youtube as well. In this App, you will find millions of sophisticated features and music controlling options to fulfill your desires in one-app.
Key features of the App:
When you listen to your favorite song, the song's lyrics will automatically synchronize with the music.
It supports any format, such as MKV, MP4, M4V, AVI, ASF, MOV, 3GP, FLV, etc.
You can manage and customize songs, albums, artists, and so on in one place.
It can fetch audio and video files from your storage.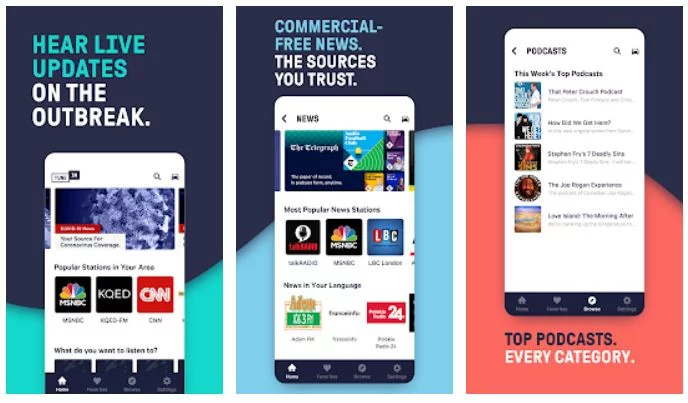 TuneIn Radio is a bundle package of great fun. Let us explain why; this App comes with several different ways to entertain you, such as music, news, podcast, and live supports. This App offers you around 5.7 million podcasts and more than 100,000 AM and FM radio stations globally. You can play for your favorite English premier league and tons of podcasts, tracks and it has much more to bring a smile on pretty your face.
Key features of the App:
You can stream live support games.
It provides you with endless and most contemporary songs at your fingertips.
You can listen to Radio and your special podcasts around the globe.
You can experience live 24-hour latest and breaking national and international news.
23. Music Player 3D Pro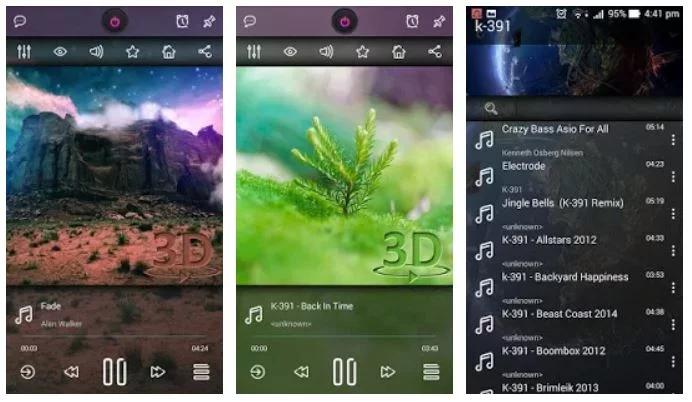 Still here, we would like to introduce one another best music app with powerful and stunning sound controls, Music Player 3D Pro. This is a great app to enhance your music experience and take it to the next level. On top of that, you can enjoy songs offline anywhere. Music Player 3D Pro allows you to play songs available on your device.
Key features of the App:
It supports almost every type of file, such as MP3, AAC, WAV, AIFF, etc.
You can use BASS boot up to 1000 strengths.
It comes with a beautiful widget and sleep timer to add more value to your life.
You can sort your favorite songs by albums, artist, folder, and playlist.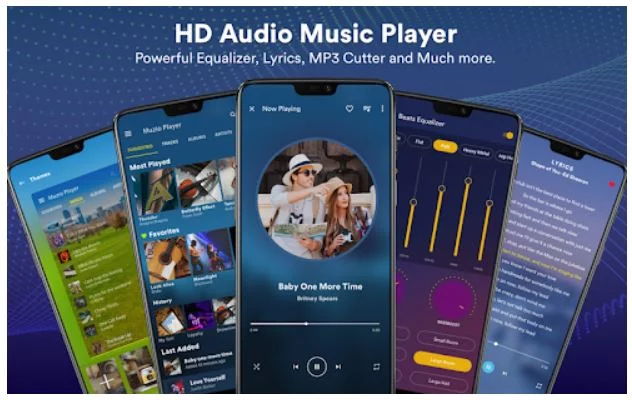 Suppose you're looking for an average and free music app for your relaxation. This App enables you to create your playlist according to your need. Mp3 Player is the best music app for android users with millions of songs and a powerful music controller. It comes with an in-built equalizer to extend the music experience as per your occasion.
Key features of the App:
It shows you the lyrics along with the song, and it synchronizes accordingly.
You can use background and skin according to your taste.
It comes with several kinds of lock or home screen widgets and dashboard suggestions to enhance your experience.
You can use a music cutter to make ringtones of your favorite songs.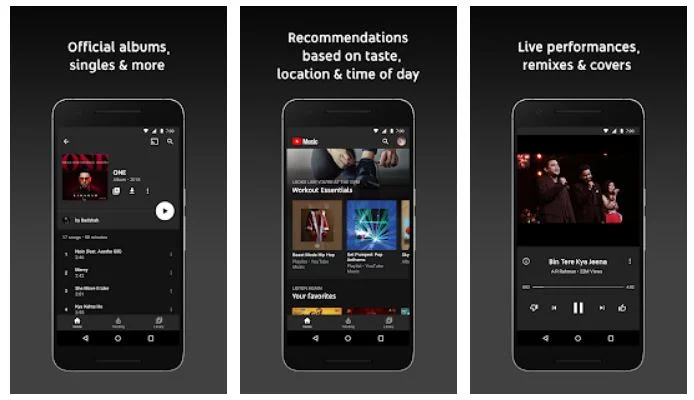 Everyone knows about YouTube. But now it has launched a new music app by the name YouTube Music. With an easy search option, you can find almost any video and song and discover new songs simultaneously. You also get song recommendations based on your liking. Though it's free, you can try all the premium features without any charge for a whole month and it is probably the best music apps for android with a wide collection of songs.
Key Features of the App:
It allows you to let people know how you react to videos such as likes, comments, and shares.
You can upload and edit your videos using several filters.
You can subscribe to your favorite channels to stay updated.
Allows you to browse tons of music videos within a second.
Conclusion
We hope this article about the 25 Best Free Music Apps for Android is helpful for you. Do share it on social media if you found this article helpful for you in any manner.
Have a similar music app on Android that you'd like to list here? Get in touch with our editorial team!