Quick Summary: This tutorial helps you to record the screen in Ubuntu using Kazam screen recorder. You will learn about installing the Kazam screen recorder and how to use it in Ubuntu to record your screen. You will also learn about handy shortcuts to record your screen.
Introduction
I have been using Ubuntu for a while (8 years to be precise) and I have recorded lots of tutorial videos for you guys on Ubuntu (Check out our YouTube channel for video tutorials).
In this article, I just want to share with you the software I use to record screencasting tutorials. The software tool is called Kazam and it's awesome <3.
Some of the main features of Kazam are:
It's free and lightweight (2.5 MB to be precise).
Record entire single screen, part of a screen, application window or all screens (I use 3 monitor setup and this single screen recording feature is a blessing).
It takes screenshots.
It has keyboard shortcuts to control the recording.
It also captures mouse clicks and key presses.
It can capture video from webcam and put it on the recording, so you record and show your face at the same time.
It can perform a live stream on YouTube.
I have used this software for years and witnessed its development from a simple screen recorder with just one screen recording feature to what it is now. I highly recommend Kazam to Ubuntu users.
Install Kazam in Ubuntu
The latest version of Kazam is 1.5.3 and I recommend you to use this, however, if you don't require features such as Webcam recording, live stream etc you can use version 1.4.5.
To install Kazam 1.4.5, run this command in Ubuntu terminal.
sudo apt-get install kazam
If you want to install the version 1.5.3, you can use this PPA.
sudo add-apt-repository ppa:sylvain-pineau/kazam
sudo apt-get update
sudo apt install kazam
You also need the following libraries.
sudo apt install python3-cairo python3-xlib
How to record screen using Kazam
Once you have installed Kazam, open it from the Application menu. You should see a screen similar to this one.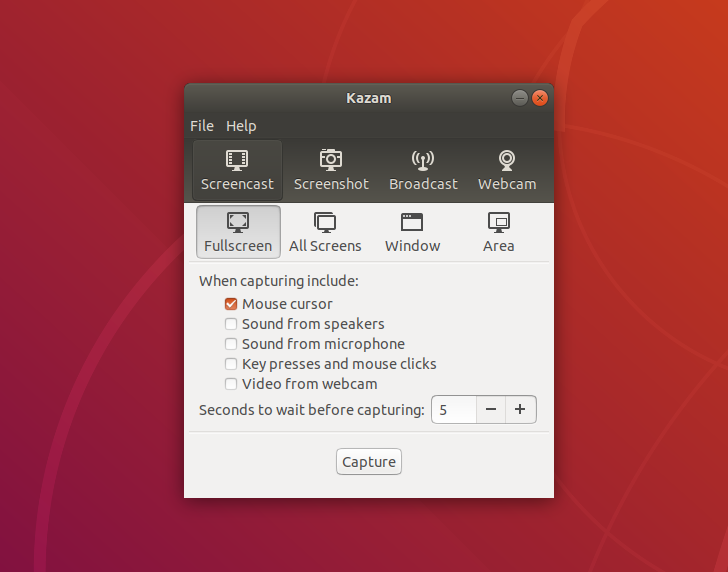 Select the area which you want to record, You can use full screen to record one screen and All screens to record all the screens.
Click on capture once you are ready and it will show you a countdown like this.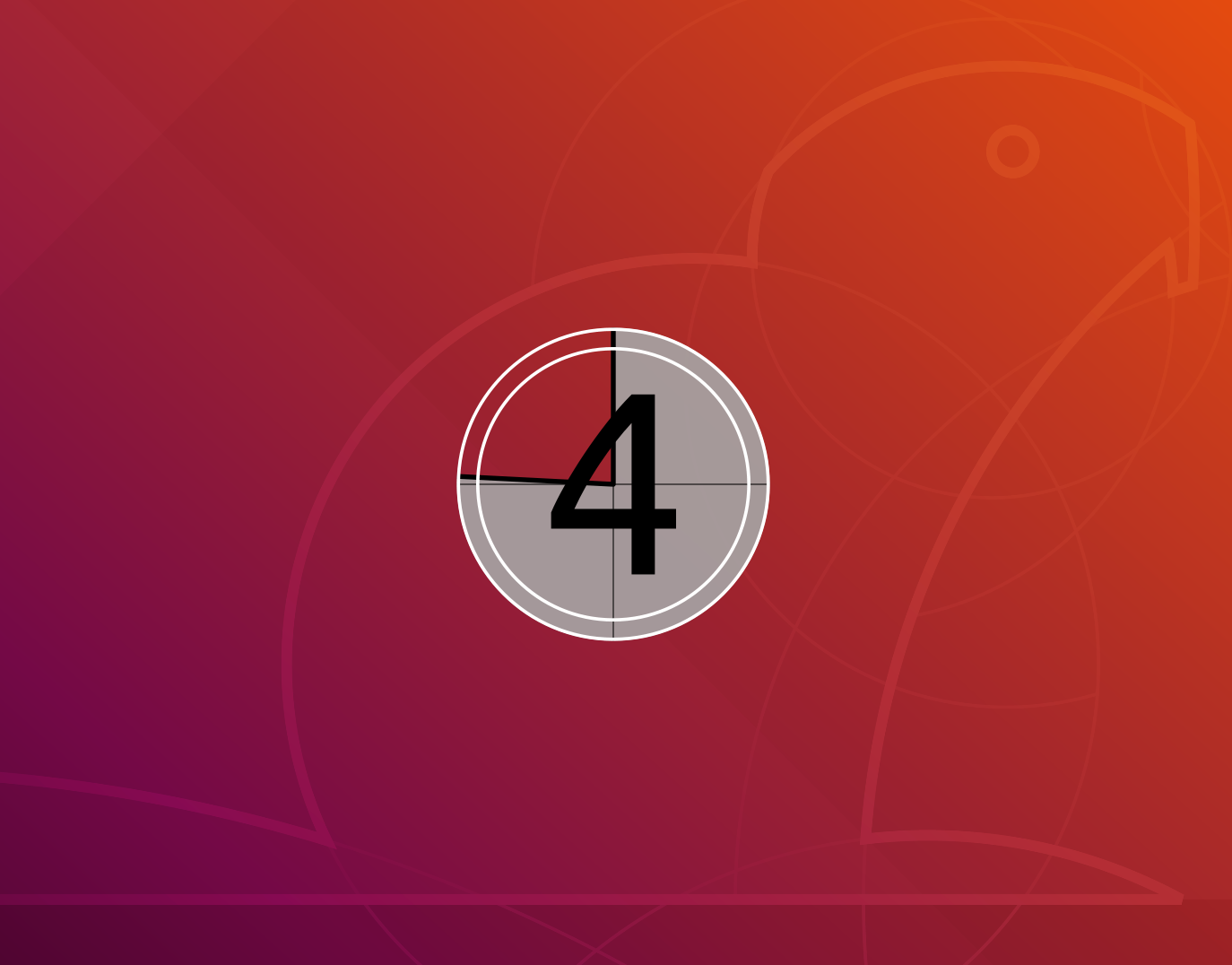 After countdown gets over, your recording will begin. You should see a red camera icon blinking at the top of the menu bar.
Once you are done with the recording, press Windows key + CTRL + F to finish recording or you can navigate through the menu and click on Finish recording.
Kazam will ask you to whether to save this file or not.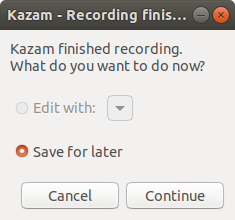 Click on Continue and save your recorded video file.
Changing Kazam Settings
You can change the settings of Kazam. Open the preferences window from the File menu and you should see a screen similar to this.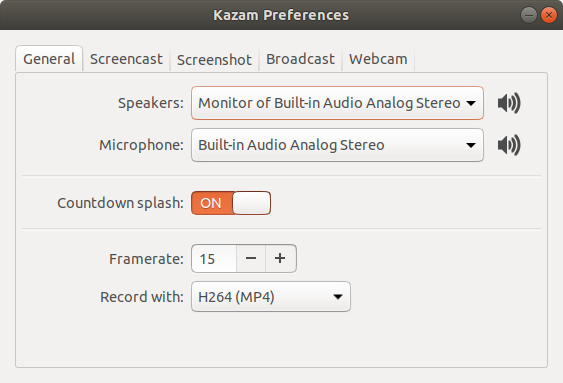 You can also change the video path and autosave options for video. Go to Screencast tab and change the settings as you need.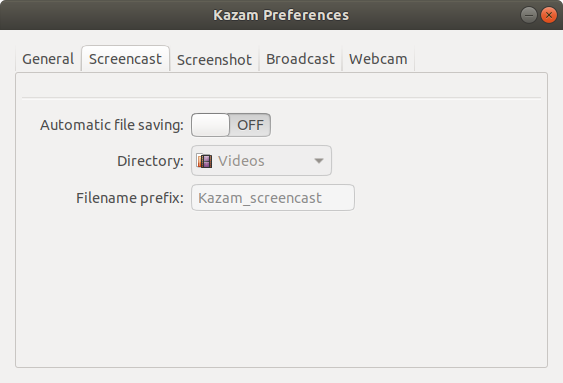 If you would like to do a Youtube broadcast, go to the Youtube live events page and get the details. Fill those details in the Kazam settings page.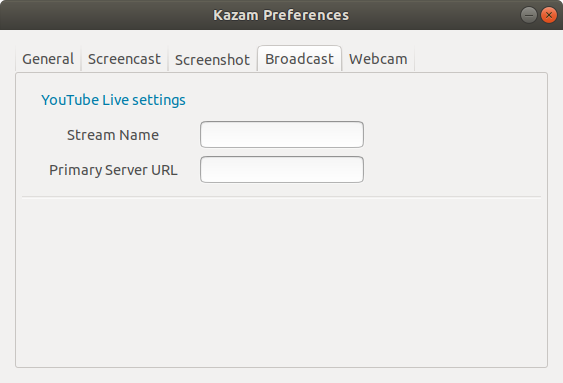 You can also change the webcam settings.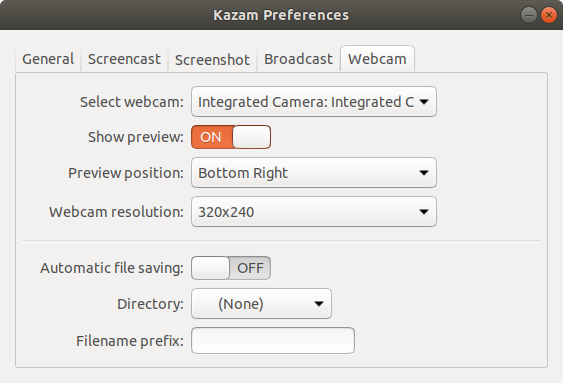 Let's learn various keyboard shortcuts.
Keyboard shortcuts to control screen recording
If you are experienced screen caster you understand the importance of keyboard shortcuts. There are so many events when we record our screen where we need to pause the screen for a while and resume again.
You can do it with the menu option too but that part gets recorded as well.  Enter keyboard shortcuts.
Kazam supports the following keyboard shortcuts:
Windows key + CTRL + R = Start recording
Windows key + CTRL + P = Pause recording, press again to resume
Windows key + CTRL + F = Finish recording
Windows key + CTRL + Q = Quit recording
I use the pause shortcuts a lot whenever I record the screencasts.
Conclusion
I love Kazam and there is no reason why you should not love it too. Kazam is simple, lightweight and packs amazing features to record simple screencasts in an effiecient manner.
Download Kazam and give it a shot and let me know in comments whether you loved it or hate it!