Are you searching for the best torrent apps for Android devices? If yes! you are at the right place. They are encrypted private platforms that offer you a safe and secure way to complete a Peer-2-Peer transfer between data stored on multiple devices across the internet.
---
25 Best Torrent Apps for Android Device in 2021
In this article, we have listed some safe and secure torrent apps compatible with android devices. Have a look at the best 25 apps.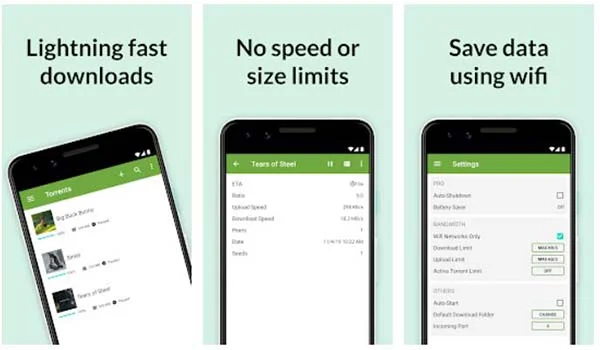 The uTorrent app is an official downloader for bit torrent sites. uTorrent features a hyper distribution communication protocol. This feature enables it for super-fast downloading of content. The Peer-to-peer file sharing option is another useful feature that enables users to maintain privacy.
All the files downloaded in uTorrent get divided into multiple downloadable files. This helps in the quick downloading of large files. The app has no size or speed limit. You can download as much content if you have an ideal internet connection. Social media sharing is another great feature that makes file sharing easy.
---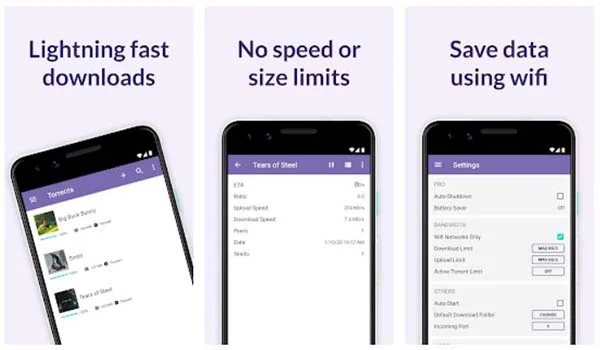 Another popular and official torrent app for all android users! The simple functions and ease of use is the most attractive feature of this app. It is also quite accomplished in terms of compatibility. Cross-platform compatibility gives users the freedom to install in any OS.
The UI of the app is light which enables users to find torrent downloads quite easily. Multiple language support is another feature of the app that might surprise you.
You can change the language to your native for easy navigation. Users using this app can download using a direct magnet and fast magnet links. Moreover, it is a decent app to use.
---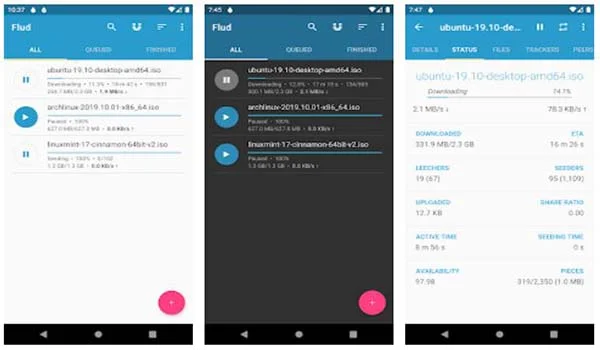 With this app, you can search any content across the globe and find it with autofill features. Downloading of content is quite fast to achieve. There is content displayed in the app based on genres. Simple UI and easy-to-use features make it suitable for all users.
Users can access both magnet links and HTTPS links for content torrenting. Apart from it, you can also choose the file type before downloading it. What makes it more secure is IP filtering and encryption while downloading.
---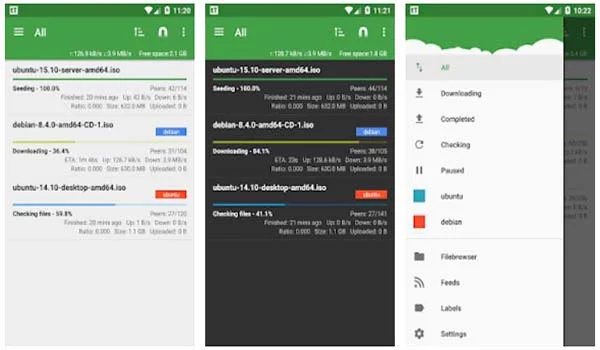 If you want a lightweight app, tTorrent Lite is the right one with simplistic features. However, the app also features some robust functions. What might impress you is the toolbar. There is a toolbar that understands user functions. Controlling the app is smoother.
The users who have not used the app before also can use the app without any guidance. The app has a free and pro version. The Pro version offers some additional features and functions. Sequential downloading is helpful for users in large file downloading. tTorrent also enables multiple files downloaded at a single time.
---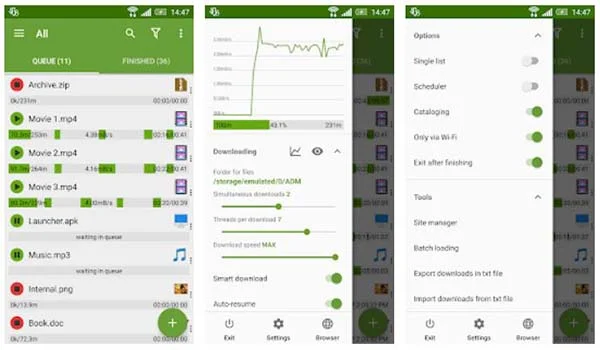 It is a torrent download manager that offers you torrent access instantly. Files downloading is super easy and fast. When you access this app, you can easily download multiple video files in one take.
The usability of the app is simple to achieve. There are no annoying ads or commercials to bother you.
Further, there is no size or download limit for users. You can download as much as you can. Advanced download manager employs a multi-threading system to download large files. It segments the files into nine parts for faster downloads.
---
This is a powerful torrent application for android users. The app is very simple and easy to operate. An extensive range of features also makes this app interesting.
What you will find is easy and super-fast downloading of your favorite TV show, Movies, music, and games.
The UI of this app is compatible with devices like tablets and smartphones. Users can also download content using magnet links via this app. In multiple downloading, you can select certain files and pause downloads.
However, the ads may appear in this app while using it.
---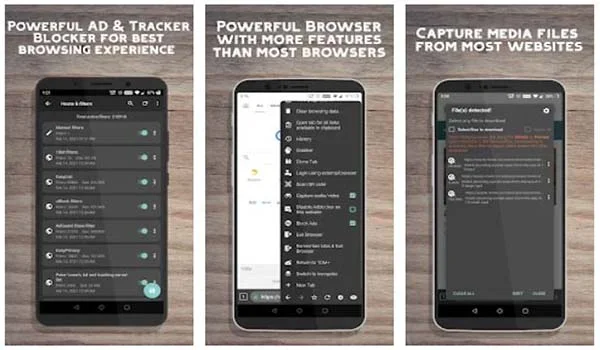 The 1DM app is designed to work 500% faster than any other competitors. Using 1DM is great fun. This app is a free torrent downloader with simple features and minimalistic UI. You can find all your favorite content to download.
The app's engine is powerful. It is similar to the Google search engine that finds you content at one click. This app segments the file into 16 parts for easy and super-fast download.
---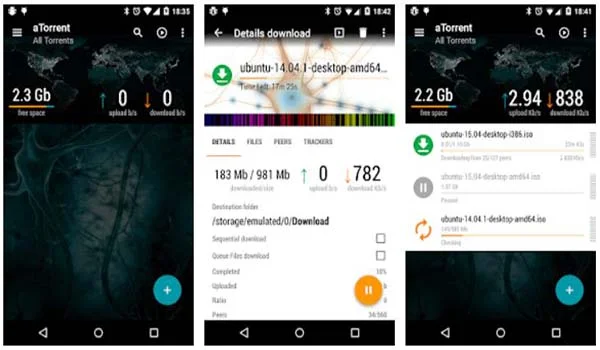 aTorrent is a free platform with a bunch of features. The app is quite effortless to use and offers you error-free downloading in one take.
Android phone users can find the smooth operation of the app without consuming lot of battery. aTorrent supports file downloading from direct links and magnet links.
Further, it features an advanced UI. There are also a bunch of tools that help in seamless use. However, users may find in-app ads.
---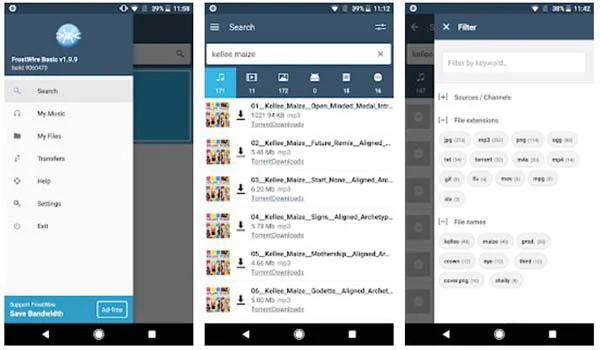 FrostWire is more of a competitive app. It gives a tough fight to all the popular apps on this list. It comes packed with many useful features.
For downloading torrent files, this app is sufficient, as you don't need any additional browser to find content. What's more, included in the app is a music player, media library, and file explorer.
This delivers convenience for users while operating. There is no restriction while downloading in number and type. You can download any file type you want.
---
10. WeTorrent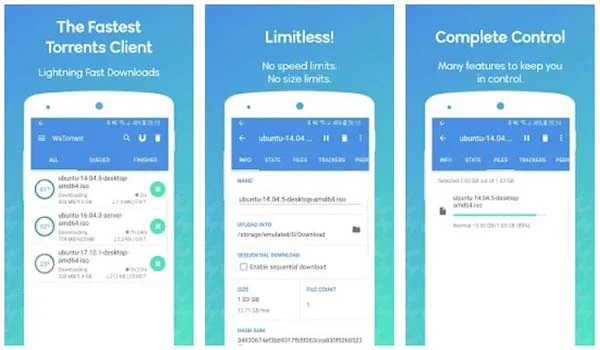 It is an advanced mobile app from Tap Mobile. The app supports all features that any user would desire. It is 100% free and easy to use on all android devices. WeTorrent is lite and doesn't affect the performance of the battery life of the phone.
---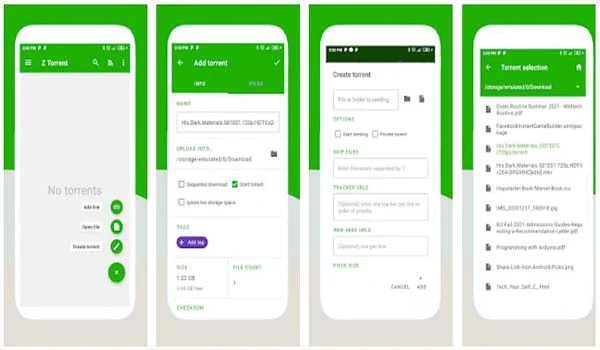 It comes as one of the popular apps when it comes to torrent download. Works on virtually all Android devices without any compromise.
There is a power management feature that optimizes battery use to not harm the phone's battery life. The users can easily get familiar with all features.
The UI is quite simple to use. Peer exchanging technology is a key feature in this app that backs super-fast file sharing. There are no limits for file downloading in Z torrent.
Most importantly, the app also respects users' privacy and does not access unnecessary information.
---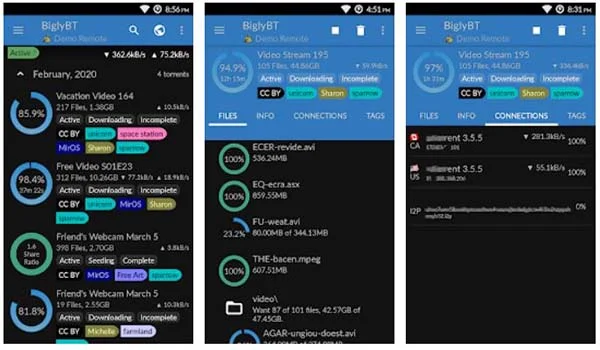 BiglyBT is ad-free! Usually, all the free platforms have ads, but it is one advantage that you get here. The app is optimized for phones, tablets, and Chromebooks.
You can also use it on your Android TV by installing it from the play store. Swarm merging is a feature in this app that enables you faster torrent downloading.
The app is also capable of repairing the torrent without seeds. The file management is seamless in this app. You can select and organize the files while downloading multiple files. Users can also view the real-time progress of the downloading.
---
13. Torrent Downloader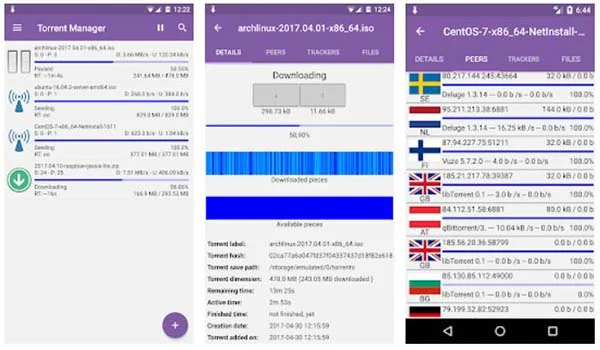 It is free to use application for android users. You can find many features that are quite cool. The app includes an advanced downloading manager. You can organize the files before downloading them.
There is no speed limit or download limit. Anyone can access video files using this app; users also can set the download location. You can store files in your external storage.
---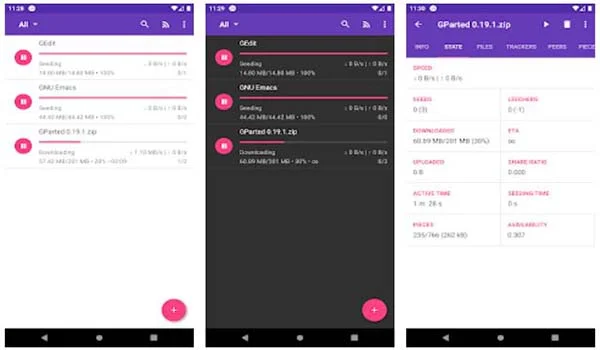 It is an app that works great on old services as well. This app appears with some simple and materialistic UI design. Users can expect smooth use in all android devices above 4.0.
A file-sharing option enables users to share files to other devices from within the app.
LibreTorrent comes with a dark theme that is attractive to the eye and saves battery for the phone. Android TV users and tablet users can also access this app on their devices. The app supports magnet and web links for downloading.
---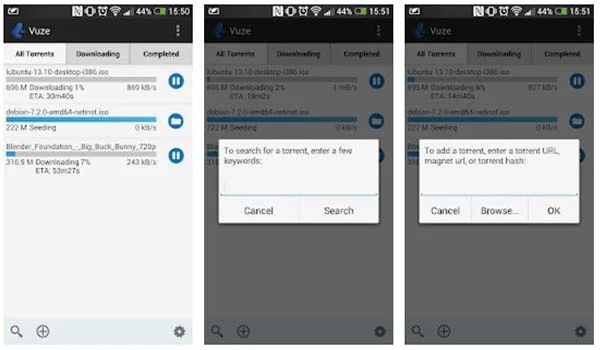 Vuze is yet another powerful app that comes with both free and premium versions. The premium version of this app has some additional features for better usability.
Users can access all Bit torrent-based torrent clients on android devices. However, the free version of this app has some in-app ads that may bother you.
This app features battery-saving while the app is in use by using minimal resources in the background. Vuze also doesn't have any impact on the phone's performance.
It is responsive and offers you faster download than contemporaries.
See Also: Top 20 Best Video Player Apps For Android
---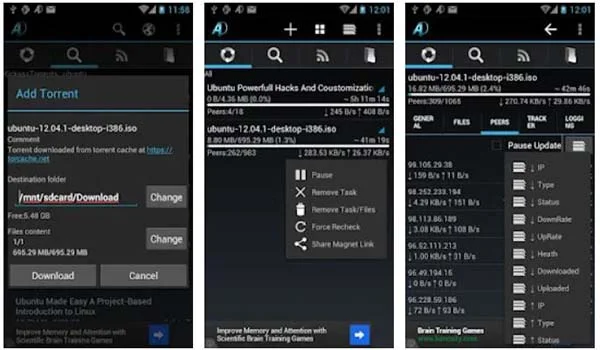 You can also try ADownloader, as it appears with some convincing features. The video preview support is one of the most talked-about features of this app.
Before downloading any file, you can see whether you are comfortable with quality or not. Similar to other android torrent downloaders, ADownloader makes it easy to get torrents quickly downloaded.
Large files in this app get segmented into parts for quick download.
---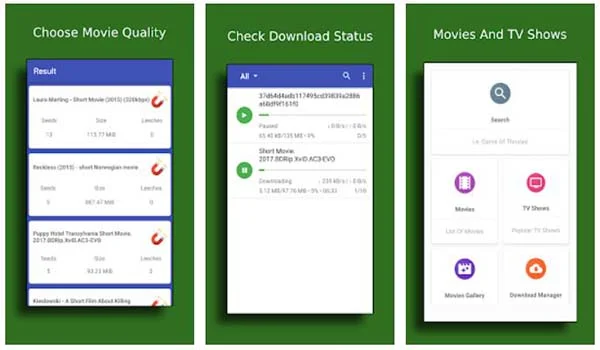 It is a flawless app offering you access to trending and the latest movies from other platforms. As a torrent downloader, this app has been quite popular among users. This app makes it is easy to find movies and instant downloads. Users from any nation can use this app.
Files are downloadable in all formats. There is no upper limit on data or size in downloading.
The application also allows you to stream some exclusively available content directly on your device. The search box is AI-based. It will suggest content based on your previous search.
---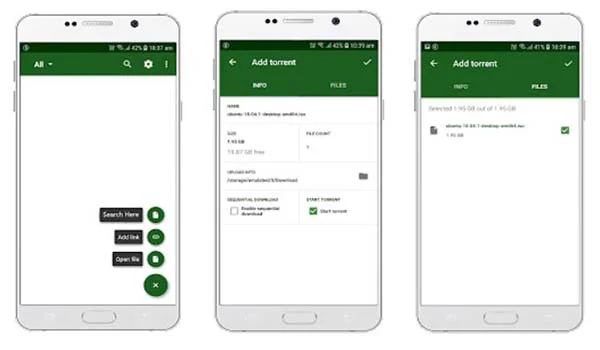 This is another torrent download by the Cash app. It is a decent app for large file and movie downloading. It segments the files into several parts to offer quick and easy downloading to you.
The theme and UI of the app are interesting. Light theme attracts most users, while UI is user-friendly. The apps work great with a stable connection.
There is no limit on downloads; users can also filter torrent files based on categories. File sharing is again easy in this app.
---
19. Torrent Downloader Lite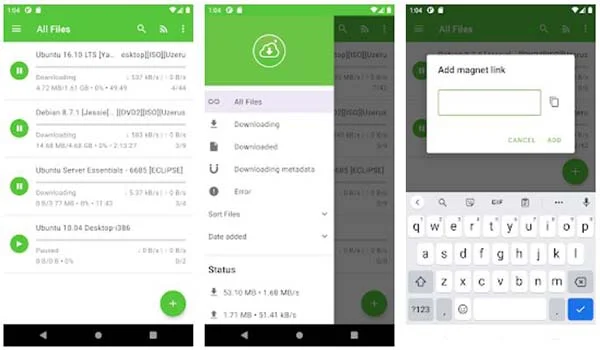 It offers you a simple download with just one tap. The app is compatible with all torrent clients. Users can start, stop, pause, and resume download.
Even after resuming, the download speed will remain fast. This app is optimized for all types of devices includes tablets and Android TV. It is a 100% free app.
However, ads may bother you. Users can download torrent files from HTTP, web, and magnet links. Users can also download multiple files at once.
There is no impact of this app on the phone, and it also doesn't use much battery.
---
20. Free All Movie Downloader-Torrent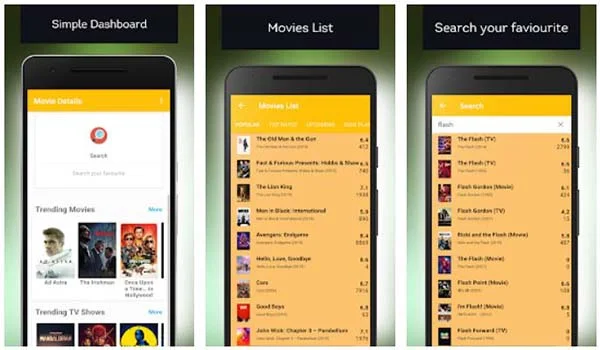 Free All Movie Downloader works with all torrent clients. It is a powerful and optimized app. It works great with all sorts of devices, including tablets and Android TV.
Large files get downloaded instantly the app also has a robust search engine. You can explore any of your favorite content, and the app will show you results with torrent. In this app, you can also find categories.
It includes trending, top-rated, popular, upcoming, and many more. There is no limit on downloads of torrent files.
---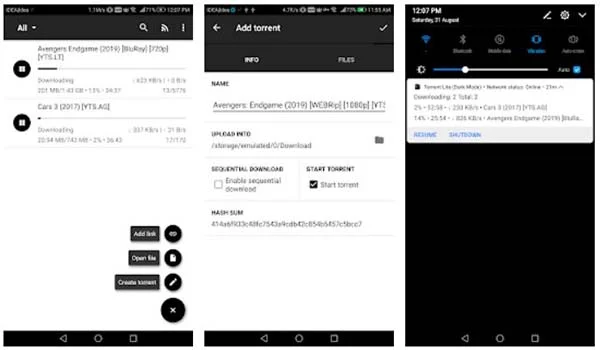 This app is prevalent for its dark and attractive theme. It also doesn't consume much battery for its dark-colored theme. The app is quite simple and powerful.
It works with all bit torrent clients. As the name infers, this is a lite app. It doesn't use much space in the phone's storage and doesn't affect the phone's performance.
This app has no speed limit -> you can download as much as you can. Users can also choose a location where they want the file to reside. Users also get support to magnet links using any browser.
---
22. HyperTorrent Lite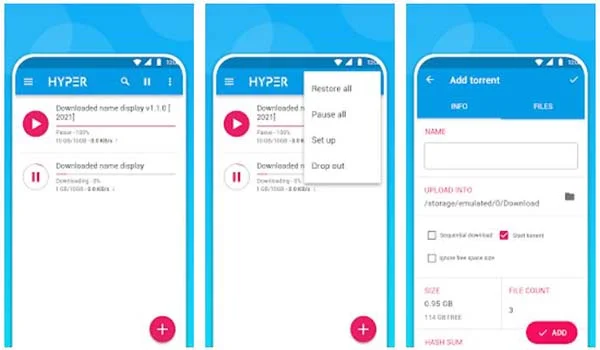 HyperTorrent Lite is a simple bit torrent downloader. You can enjoy downloading with no speed limits and downloading limits. The UI of the app is materialistic and minimal.
Users can enjoy three types of themes in the app. Dark and black are more prevalent, while the light theme also looks great.
There are customizable settings in this app that let users change the UI setting to conserve battery.
Encryption support is robust. IP filtering allows users to achieve maximum privacy in downloading. All the big files in this app get downloaded in segments for fast download.
---
This is both a torrent streamer and a downloader. Users using this app can stream content online and can download them to watch offline. It is like your private OTT platform.
This app works with all bit torrent clients. Users can also send files to chrome cast to enjoy downloading even while streaming.
Some top features enable you to download any file type and format.
The app is clean in UI and has integrated player support for instant streaming. By default, users get Wi-Fi only downloading, but you can go to settings to change it.
---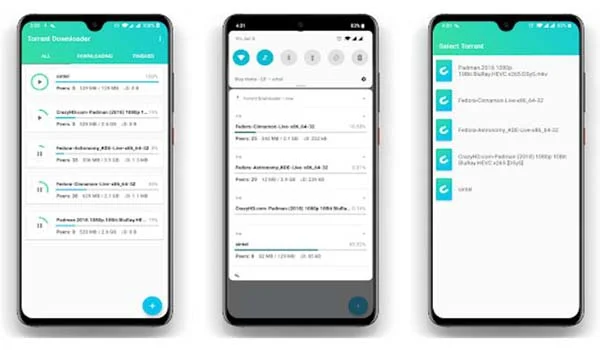 This is a fast torrent downloader that comes based on Bit torrent protocols. Downloading torrent files is quite simple using this app. This app has a clean UI that users can understand.
Besides, it also comes optimized for phones, tablets, and Android TV.
Captain Torrent is also secure and reliable with encryption and IP filtering; users can download multiple files with ease simultaneously.
The app consumes less battery power and doesn't affect the phone's ability. Users can also view files in the app directly.
---
25. Torrent Downloader for Utorrent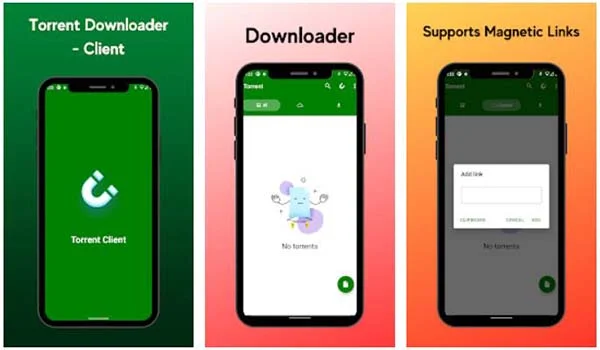 It is a torrent app that works as a streaming and downloading platform. Users can stream content while they are downloading content.
The app is free, but it contains apps that may annoy you. Like other apps, this downloader also follows sequential downloading. It segments large files and offers you a quick download in sequential order. The UI is light and beautiful. Users can access the app on tablet and android TVs also.
---
Frequently Asked Questions (FAQs)
1. What is the best Torrent app for android users?
uTorrent, Bit Torrent, Flud, and tTorrent are some exclusive apps counted among the best torrent apps for android users. Besides, all the above-listed apps in this review are also reliable to use.
2. Are Torrent applications safe?
Yes, the torrent apps are safe and secure. It is safer when you are using a powerful VPN. The most reliable torrent app that offers a safe platform is uTorrent.
3. How can you know if a torrent app is good?
To know whether the torrent app is good or not, you should compare the seeders and leecher numbers. If the number of seeders is more than the number of leechers, you can conclude the app is good. You can also count reviews and the number of downloads in the play store to find the app's usability.
4. How to use the Torrent app?
Using torrent apps is quite easy. Here are the steps to use it safely:

– Open the play store and find the torrent app you want to download.
– After the download is complete, access permissions to the app.
– Then you can open your browser and search for any torrent site that offers you content
– Once you visit the site, you can click on the link showing your content name
– After clicking on the name of content, you will find a new page with three options to download.
– Click on the fast magnet or direct magnet option to download the movies.
5. Do you need a VPN for torrenting?
VPN is always safe when you are using Torrent apps or torrent sites. It enables you to keep your download private and protects you from any hassles.
6. Do these torrent apps consume battery in smartphones?
It depends on the apps. Some applications consume battery while some app consumes less battery. You can always read reviews to find an answer.
---
Conclusion
Torrent apps are immensely helpful to users who want to save the cost of higher subscription fees. But while picking any app, you should choose a reliable one after seeing the encryption type.
We hope this article about the best torrent apps for Android is helpful to you. Do share this content on social media if you find it helpful for you in any manner.
Note: This post doesn't support the use of torrent apps, as it is illegal. Users must use the legal platform to access the content.