It's not feasible to carry our desktops everywhere. In such instances where you miss your computer, remote desktop apps for android shine out as a solution.
What is a Remote Desktop app?
Remote Desktop apps enable a user to connect with a PC (At another location) via the internet. It allows users to control and interact with the connected PC as if they were sitting in front of it. There are tons of fruitless remote desktop apps available on the Google Play store, making it very tricky to choose one good and protected remote desktop app. So, if you find it challenging to select a proper and secure remote desktop, follow our article on the 25 best remote desktop apps for android and install the one fulfilling your need.
Reviews of 25 Best Remote Desktop Apps for Android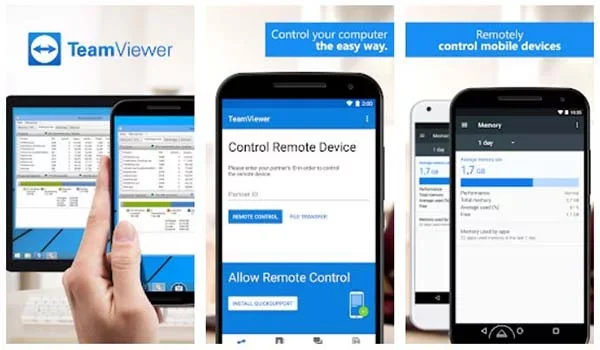 TeamViewer is the foremost and most popular application available on the play store for remote controlling your PC from any remote place at any time. The setup process may be a bit complicated, but it makes up for it when it comes to performance. Brands like Philips, Siemens, CNES, and many more have shown their trust and use TeamViewer remote connection according to their use.
Impressive Features
Entirely free for personal use. For business and commercial use, a subscription is a must. (They also provide better pricing for non-profit communities)
It offers continuous support and operational access to your computer from a distance.
Quick and straightforward connections with different OS laptops, desktops, tablets, etc.
Minimalistic lag: Lag-free performance, even sound, and video transmission take place in real-time.
Two-way file transfer

Top-notch security and privacy for entirely secured connection
---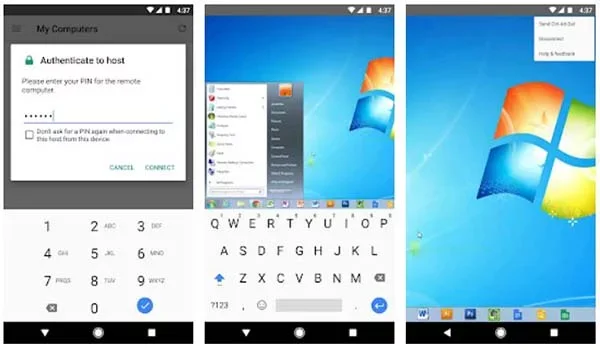 Chrome Remote desktop is a practical remote desktop application directly from the house of Google. It's one of the most popular and widely used remote desktop applications. For installing Google Chrome Remote Desktop on PC, visit the respective website. Click on "Access my computer," complete the sign-in procedure, and you are ready for the download. The same approach must be followed while downloading the application on your android device from the play store. Remote Desktop connection is protected with Google's security. Its user interface is clean and straightforward; file sharing is faster than the TeamViewer remote desktop app.
Impressive Features
Google's top-notch WebRTC security ensures secured and private connection
Very easy to connect. No hectic setup processes
Lightweight and quick connections with other devices
Supports all popular OS
Rapid file and data sharing
Several devices can be added simultaneously
---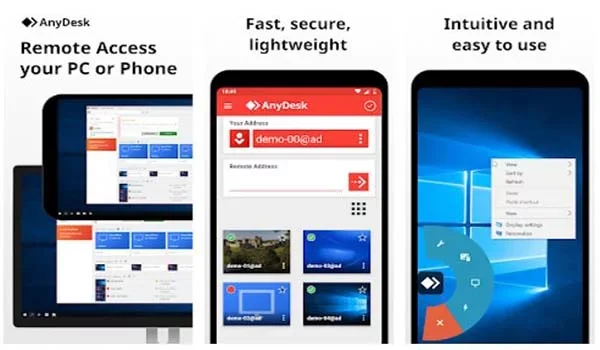 AnyDesk remote control application deserves a higher ranking among the top remote desktop app. Whether you're an individual seeking remote help or an IT professional firm AnyDesk has a solution for all IT problems. They deliver the best military-grade security for remote connections and are compatible with Windows, Linux, macOS, Android, and more. The User Interface is very user-friendly, with no complex setups. Brands like Spidercam, Airport Műnster, Leibniz Institute avails AnyDesk's services.
Impressive Features
Ideal solution for internet-based interaction.
Installing, updating, and app usage is entirely free.
Effortless and quick connections with all types of devices.
Lag-free performance: real-time video and sound experience without any delay.
Customized and controlled types of connections can be set up.
Video resolution up to 60 fps can be played on the current device from a remote-controlled device.
---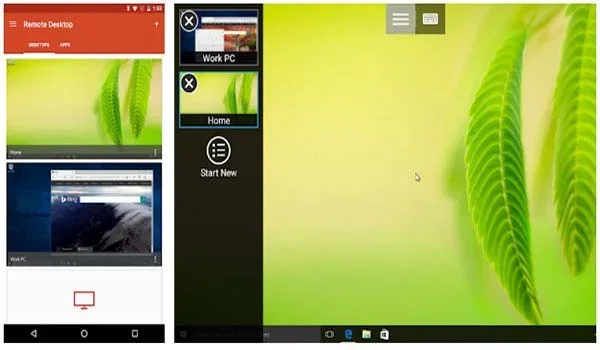 No matter where you are or what time it is, Remote Desktop 8 allows you to establish a remote session without any barrier. As this app comes directly from Microsoft's house, it is compatible with all versions of Windows and runs all the Microsoft applications smoothly on your Android device. It's lightweight and doesn't come with many complicated setups, and the connections are established instantly. If you are looking for a reliable and fast remote desktop app, this one is for you.
Impressive Features
Reliable and trusted application as it comes direct comes from the house of Microsoft.
For excellent control, it provides dynamic multi-touch and gesture features.
High-quality sound and video streaming are possible.
Connections made are highly secured and private.
The effortless connection between android devices and all PCs with any version of Windows OS.
---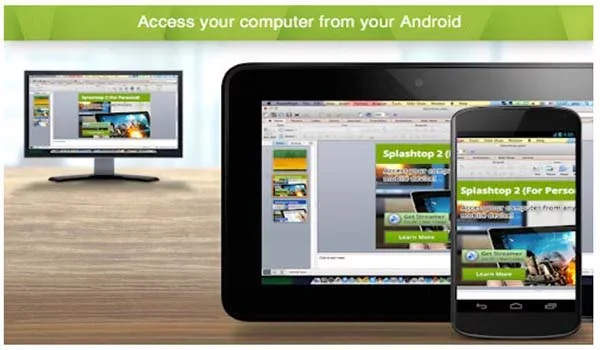 Splashtop Personal remote PC can access any file from the remote-connected PC. It's lightweight and is as fast as other top-ranked remote apps like TeamViewer and Chrome remote desktop. This app is full of fascinating features making the remote desktop experience worth enjoying. Besides, it can also control the webcam of a remote desktop, so no need to purchase any extra cameras for room surveillance.
Impressive Features
Webcams can be operated on remotely connected devices and used for room surveillance.
Can control up to five desktops or laptop PCs.
High-performing remote desktop applications, even games can be accessed and played on android devices via an internet connection. (*strong internet connection is a must.)
Data and file sharing is easy and rapid.
Music and Videos can be streamed flawlessly.
---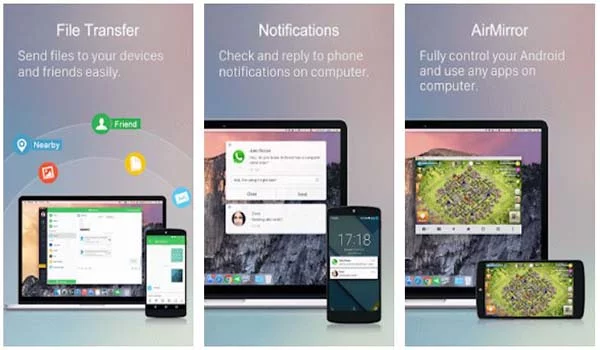 AirDroid remote desktop is very popular among IT and MSP professionals because of its speed and features. It allows two-way communication, i.e., it provides control of a desktop via Android phone remotely. The desktop device can manage all the notifications and calls of an Android phone. It's a complete solution for IT professionals as multiple devices can be controlled by navigating between them. The best feature of this app is it locates the lost user's android device and even wipes the data remotely if needed.
Impressive Features
Multiple devices can be connected and remotely accessed.
Screen recording and screen sharing from both ends are accessible, with customizable settings.
Connections made are highly secured and protected.
Good compatibility between mobile phones and desktop PC is achieved
Managing calls and other notifications from the desktop via an internet connection is available.
Let's you locate, lock and wipe data from your lost android device.
---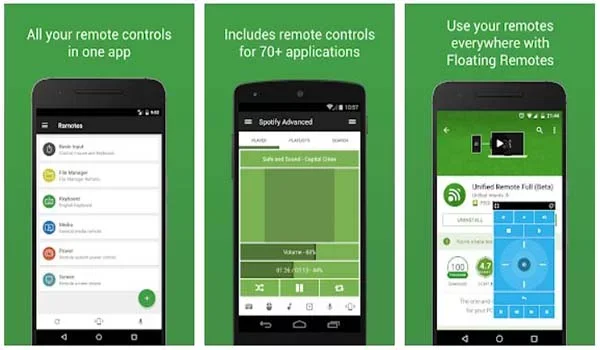 Unified remote desktop is unique and has an arsenal full of features. It is a one-stop app that all a desktop needs; with more than 100 programs, it is genuinely a powerful app. There is nothing in this world that this app can't do during a remote session. From waking up a sleeping computer using the WOL feature to changing the PowerPoint slide, every aspect of the desktop PC can be controlled by the Unified Remote desktop app.
Impressive Features
Universal remote control for the PC, complete control over desktop or laptop without any mouse and keyboard
IR and NFC actions are available
Very simple to set up and user-friendly interface.
More than 100 program features to control every aspect of the PC, from the increasing volume of Spotify music to changing the PowerPoint slide; everything can be controlled wirelessly.
Encryption and password protection offer maximum security.
---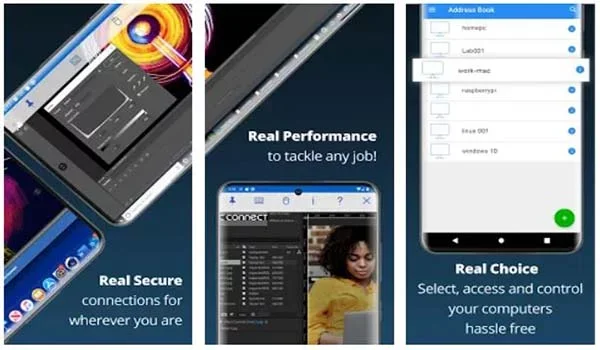 For the ones whose only priority is secured connection during remote sessions, this app is for them. VNC viewers' main priority has always been security; with their advanced encrypted security, users' data is always safe and far from the hacker's eye. The installation and setup process is straightforward and doesn't require any additional computer skills. The app is affordable and costs much lesser than the rivals; still, VNC Viewer provides a 30 day free trial.
Impressive Features
Let's connect five devices for free
Can establish remote sessions with all popular OS devices based on Windows, Linux, or even Mac.
All remote sessions are encrypted end-to-end and are password-protected, ensuring secured and private connections.
Entirely free, trial and subscription versions available
Integrated gestures simplify the keyboard and mouse commands and make the user interface engaging.
---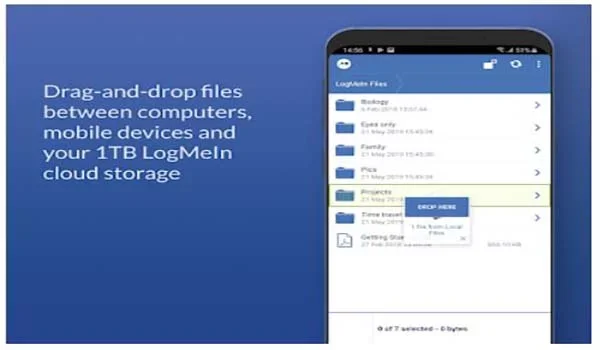 LogMeIn Pro remote is a perfect app for managing all day-to-day remote desktop works. The LogMeIn Pro subscription user also gets access to the LastPass feature that stores all the passwords and credentials with high protection. Not just security, it also provides lots of storage (1 TB) for storing and accessing the files on the go. Along with all LogMeIn Pro subscriptions, users also get the LogMeIn antivirus license for free. For experiencing all the premium features, they also offer 14 days free trial.
Impressive Features
Lots of cloud storage: LogMeIn provides 1 TB of cloud storage
Drag and drop type easy file sharing between PC and android mobile
Supports Chrome OS and Samsung DeX
Real-time experience when streaming videos and music over the internet
No barrier to connection, It can quickly establish a connection with Windows and Mac Device
Provides quick and protected connection for remote sessions anywhere and at any time.
---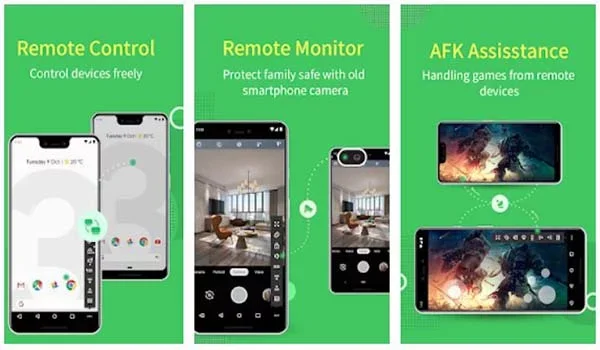 It would be exciting to note that AirMirror and AirDroid have the same developers. AirMirror remote desktop app is designed with a very user-friendly interface so that even elders who are not so technical can also perform remote session processes. This app performs exceptionally well, and even 3D high-resolution games can be controlled without delay. It can also access the remote desktop's attached webcam.
Impressive Features
A straightforward and painless user-interface requires no complicated setups
Ensures no random person or third party interferes with the remote session via a six-digit password
Strong performance, even high resolution, and 3D visual games can also be accessed remotely
Access to webcam can be obtained and can be used for home surveillance
Screen mirroring works perfectly and offers a real-time visual of the remotely connected device.
---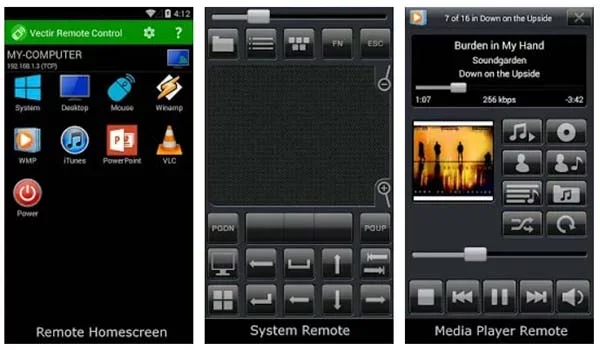 Vectir PC remote control is a fully advanced remote desktop app, along with an internet connection, but can also be connected via Bluetooth or a common wifi network connection. This app offers a real-time experience when sharing the desktop screen. The built-in trackpad-like gestures offer an actual laptop-type experience. There are already pre-installed game controllers for playing different types of games. The app is compatible with all Windows versions, and it handles PowerPoint slides effectively.
Impressive Features
Fully functional remote control with all basic gestures of laptop's trackpad
Compatible with Windows 10, 8, 7, Vista, and XP
Slide preview and timer features available in the fully functional PowerPoint remote control.
Customization option allows building a unique remote control for any windows application
Perfect streaming remote control for all types of media players.
Multiple devices can be connected via LAN.
---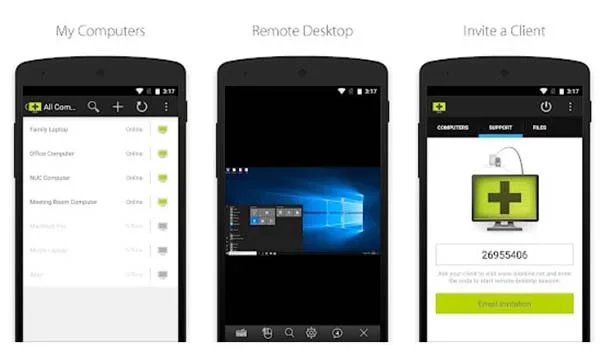 ISL Light remote desktop is genuinely generous when it comes to storage capacity; it offers unlimited storage capacity for storing user's data. Also, the file transfer between two devices can be done directly without any pain of uploading on the cloud storage. Through this app, you can set up permanent access by installing remote access on the device.
To get the whole experience of the app, ISL also offers 15 days free trial.
Impressive Features
No need to disturb the firewall setting for establishing the connection
Can connect any Windows, Linux, or even Mac OS computers
Unlike other file-sharing services, this offers unlimited storage for file transfers and sharing
Third-party logins are prevented with their integrated security; also, all the connections are password-protected, so there is no pain of data leakage.
Allows managing and controlling of unlimited remote computers.
---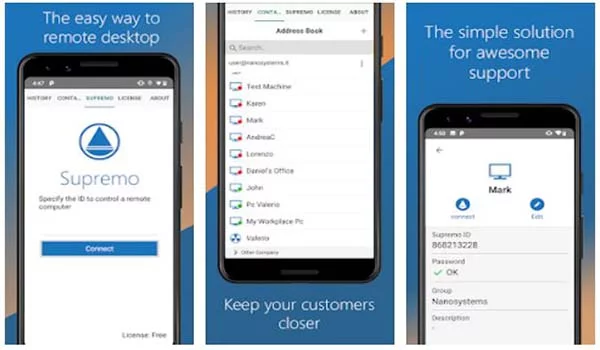 SupRemo app is another popular and most commonly used remote desktop app as it is compatible with all the OS platforms. The app's user interface is easy to understand and can be operated, and setting up a remote connection does not require any VPN or Firewall configuration. Security of connection is ensured by 256-bit AES encryption, plus to access the device, it asks for a unique ID and password so that no third person can enter into the machine. SupRemo also provides 21 days free trial.
Impressive Features
Best for IT solution companies, the app is specially designed for solving customers' problems by remote sessions.
A customizable special key can be assigned for a unique command.
Highly compatible can connect to Windows, Linux, and Mac OS devices. At the same time, it can receive signals from Windows, Linux, Mac, Android, iOS devices.
Easy and quick connections, no need to configure Firewall and router settings.
With the AES 256-bit algorithm and UAC compatibility, all connections made are highly secured.
---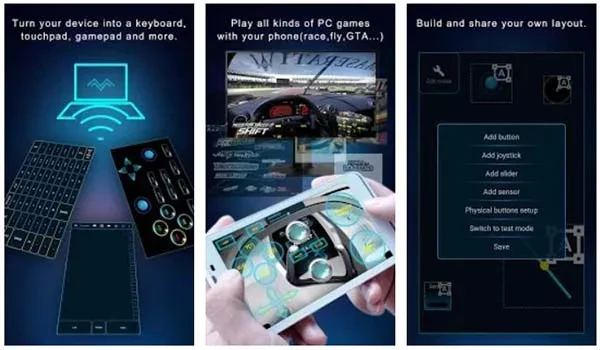 If stable performance and gaming are your priority, this remote desktop app is for you. Monect has done an excellent job for gamers who can't stay away from their PC games. This app allows users to play their high-resolution games remotely without any hiccups. Also, they have integrated the different game controllers keeping the demand and requirement of different games and gamers, in mind respectively. Additionally, not to mention it can also handle PowerPoint slides, music, videos, etc., comfortably.
Impressive Features
Allows control from both ends, i.e., you can control a desktop with a mobile device through a remote session and vice versa.
Connections are secure with the 256-bit AES encryption.

Lag-free music and video streaming give a real-time experience.

Play heavy games remotely
Customizable controllers for different types of games
---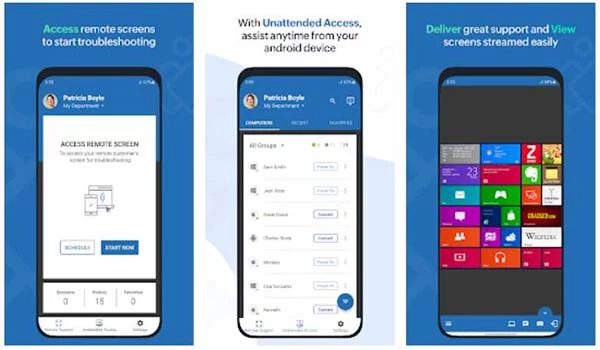 Zoho assist's Remote desktop not at all requires any sort of introduction. Brands like Hitachi, OnePlus, MG motors, OLA, and many more avail of Zoho's assist service. The connections are secure with high-level encryption and also allow users to connect to multiple devices. To add more value to remote sessions Video and voice chat function is also available. Moreover, Zoho Assist offers 15 days free trial.
Impressive Features
Perfect remote desktop for IT solution companies.
File transfer is secure with 256-bit AES encryption.
During the remote session, it allows the advantage of voice and video conversation.
It also allows the controller device to reboot and reconnect the connection without any hiccups.
Switching between the number of connected devices is possible.
---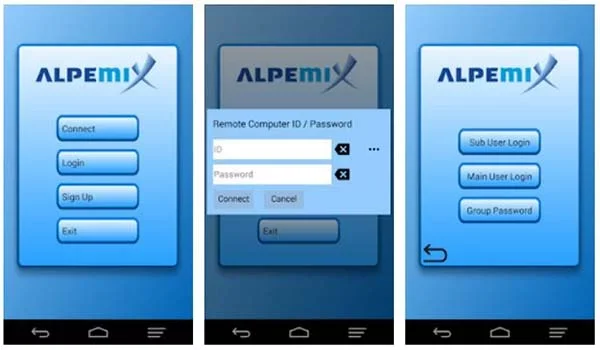 Alpemix app is a powerful and feature full app on the android platform for remote desktop access. The app is full of resources, it is quite a heavy app, but its heaviness won't affect mobile's performance. The app's advanced features allow the setting of rapid connections with 256-bit AES encryption protection.
Impressive Features
Suitable for IT solution companies
Allows multiple connections with different device credentials at the same time.
Ensured high encrypted communication via 256-bit AES encryption.
It also allows the controller device to restart and reconnect the connection with a couple of clicks.
---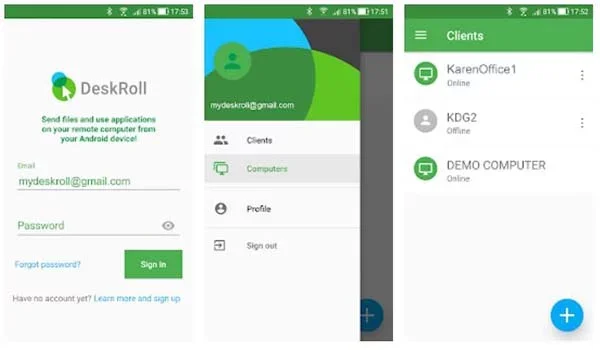 When it comes to flexibility and simplicity, DeskRoll remote desktop app is the best. Irrespective of the time and location, it allows complete control and access over desktop PC. Impressively the interface is innovative and makes users feel as they are in front of the desktop screen. They have perfectly integrated all essential mouse gestures, so users don't need to run for an external mouse. The trial period lets the user connect to multiple remote sessions simultaneously but for a limited duration.
Impressive Features
Very Simple and flexible UI.
Two-way file transfer capabilities
Remote sessions can work irrespective of network infrastructure, and there is no need for VPN or firewall configurations.
256-bit AES encryption.
---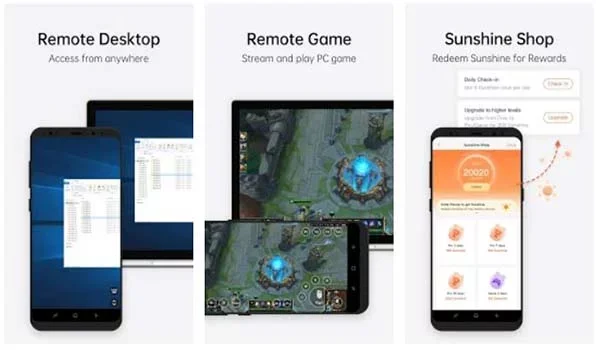 AweSun app offers users a reliable and stable remote desktop access experience. Users can connect to the PC from any network. The performance of the app remains stable even while playing desktop HD games. For gamers, AweSun has pre-installed game controllers. It provides lots of exciting features like Blank screen, File dragging, text chatting, and many more for remote sessions. Even the free version of AweSun offers a vast list of features.
Impressive Features
Two-Factor Authentication along with 256-bit AES encryption ensures secured connection
Powerful performance and can used be used to play desktop's HD games
Special game mode features that can be used to customize controls
Fast and reliable data transferring
Lag-free performance: real-time experience while streaming videos or even playing games online.
---
TSplus developers are dedicated to the platform. They provide a lot of solutions for remote works. TSplus Remote Access is the best remote desktop app and can be a perfect alternative for giant remote access apps like CITRIX. It is compatible with Windows, Linux, Mac, Android, and iOS devices. TSplus is also at par when it comes to security and secured data transfer. If it senses any suspicious activity instantly, it alerts the user to take action. With many more powerful features, TSplus remote access is relatively affordable too.
Impressive Features
Brute force defender ensures no hacker can spy into your account.
The working hours feature allows users when to and up till what time remote session can be established. It allows total control over Remote desktop sessions.
It stores the connected PC credentials, so the next remote session can be easily accessed by feeding the correct password.
Very reliable in terms of data transfer, a highly secured connection ensures no data breach.
Alerts the user if it finds any suspicious action and blocks ransomware attacks.
---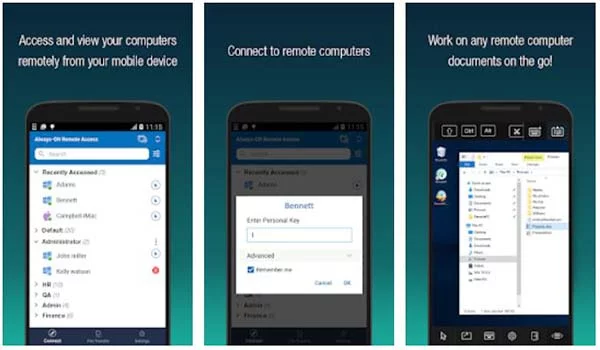 RemotePC Viewer is not so popular yet but is progressing in the right direction. It is the clear rival and challenges top giants remote access apps like TeamViewer, Zoho assist, Microsoft RDP. They made remote accessing technology so advanced that users may not even need to install the app on the desktop. Users can set up a remote session by logging into the RemotePC viewer account via an internet browser. If you sign up to this app now, you get 90% of one 1st subscription, or you can go for seven days free trial.
Impressive Features
Real-time experience with no lags and delays. Enjoy working on MS Word or stream videos seamlessly.
Highly secured connection via TLS v 1.2/ 256-bit AES encryption security.
The blank Host Screen feature allows the user to blackout a remote computer screen so that no third person can view the user's activity.
Users can also restart the remote computer system via an internet connection.
The Lock feature allows users to instantly lock the remote PC so that no unauthorized person can access the PC.
---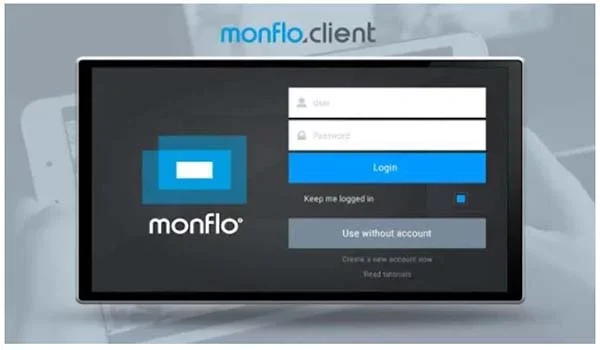 If you are an enthusiastic gamer or don't want to compromise on picture quality, this app is for you. The Monflo remote desktop app has done an inspiring job when it comes to picture quality. It allows users to play video files during the remote session with 4K picture quality without any delay in music or frame lag. Isn't that AMAZING? Besides entertainment, they also offer good security features. Users can also access the webcam of the remotely connected desktop.
Impressive Features
Super performance and is sufficient for playing games on Android devices from a remote desktop.
Pre-set various controllers already installed for playing different types of games.
Streams 4k quality videos without any delay and offers a real-time experience.
All Windows applications can be accessed from an Android device.
Webcams of remote PC can be accessed and can be used as a room surveillance camera.
---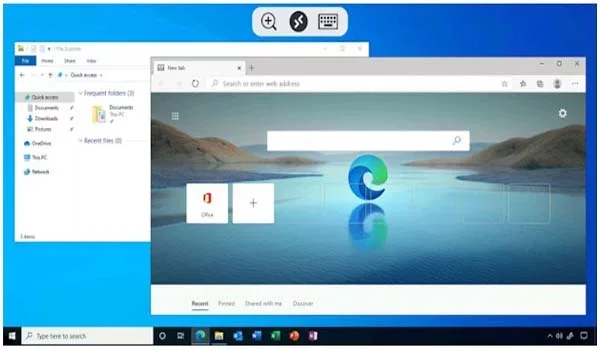 Microsoft's remote desktop is a minimalistic and straightforward app that helps users enhance their productivity when they are far from their PC. If you are a commuter and need your Microsoft Excel and PowerPoint data and files now and then, you should opt for this app. The app offers a straightforward and user-friendly UI, with no complicated setups and rapid connections. While remotely working on your Excel sheet, if you get bored, don't worry. You can even remotely stream your saved movie file.
Impressive Features
Reliable and trusted as Microsoft develops it.
All Microsoft applications work like a charm on current Android devices from remote PC.
It provides easy access and management of multiple devices simultaneously.
A fast and secured connection can be established between Android devices and remote desktops via RDP.
All Windows gestures with multi-touch experience are supported.
---
23. Getscreen.me – Remote Desktop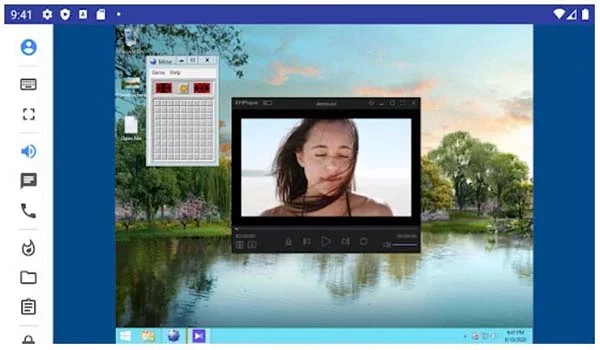 Get screen.me remote desktop is perfect for the one who regularly needs to manage multiple desktops simultaneously. Both individuals and IT solution companies appreciate this app. Also, this application offers cloud-based solutions, so if the desktop doesn't have the installed user can still establish a remote connection via a web browser. There is already an entirely free version with limited features, but to experience all enriched features, three months of the trial period also available.
Impressive Features
Perfect IT and MSPs solution business.
Compatible with Windows, Mac, and Linux OS.
Easy one-click installation and connection process, no complicated setups required.
Support of voice and video chats during the remote session, along with screen recording.
The premium version offers unlimited and simultaneous connections.
---
24. Wayk Client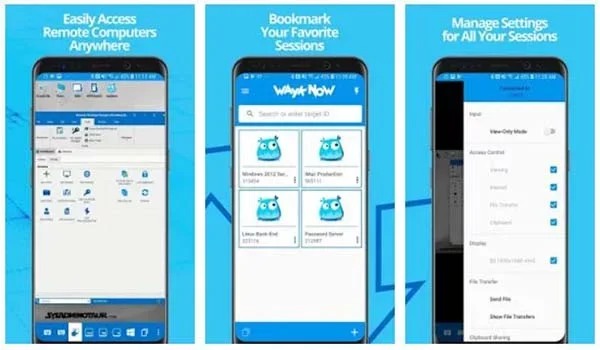 Wayk Client is an effective and powerful and remote access app. The setup process is complicated as different applications need to be installed to establish a remote connection. Wayk clients can only work with the devices that Wayk Bastion manages. Further, Wayk Agent must be installed on the desired desktop or device. Both Wayk Client and Wayk Agent are compatible with Windows, Linux, Android, Mac, and iOS. Wayk client is entirely free for personal use, while Wayk Bastion comes with 90 days free trial.
Impressive Features
Compatible with all versions of Windows, macOS 10.9 (or later), Linux 16.04 (or later).
No VPN or customization in Firewall settings is required for starting remote sessions.
Multiple connections can be managed by quickly navigating among them.
It tracks all the activity during the remote session to have all details of a remote session like duration, server info, etc.
The Session recording option is also available for review purposes.
---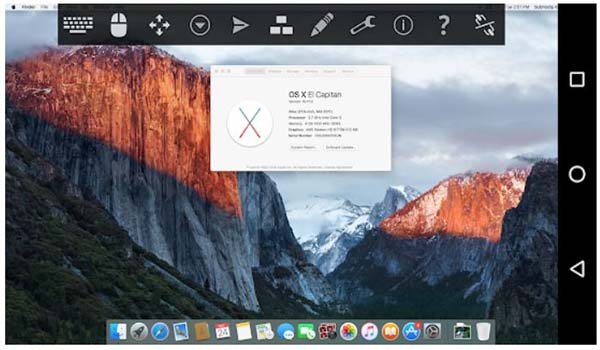 TruDesktop remote desktop pro comes from the house of Truapp developers. It is one of the easiest ways for controlling a desktop remotely, and it's also functional on Android TV. The app is compatible with Windows, Linux, Mac OS, or any other device which supports RDP. It also supports VNC servers like UltraVNC, TightVNC, RealVNC, and TigerVNC. There is also a trial version of the TruDesktop app freely available on PlayStore but, for all features support, you need to purchase the Pro version.
Impressive Features
It works on Android TV also, so users can enjoy streaming remote PC's content on a bigger screen.
Support of VNC servers like UltraVNC, TightVNC, RealVNC, and TigerVNC.
Compatible with all versions of Windows, including Vista and XP professional.
The Pinch zoom in and zoom out feature works well.
All basic laptop's trackpad-like gestures are well integrated.
Final Words
Those are the 25 Best Remote Desktop Apps for Android shortlisted by our team of experts after the comprehensive research of 72 hours based on user experience and ratting on Google Playstore. Before including in our list, we have personally tested all the above-featured application. We hope this article about the 25 Best Remote Desktop Apps for Android is helpful to you. Do share this article on social media if you found it useful for you in any manner.