Are you searching for the best clock apps for Android devices? If yes, you are at the right place. There is a wide range of clock apps available in the market. In this guide, I'll shortlist the top 25 clock apps for Android.
---
Review Of Top 25 Best Clock Apps For Android
So without any further ado, let's get right into the best clock apps!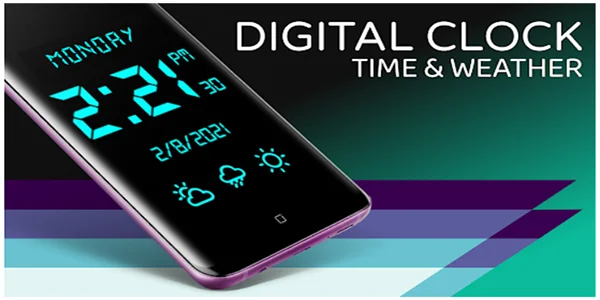 SmartClock is a digital clock app for Android devices that shows the time, date, and weather updates. You can stay updated with the weather from your smartphone's lock screen no matter where you are. This app provides the option of both 24 hours and 12 hours format.
It has black and dark wallpaper that gives an aesthetic look to the phone. This wallpaper is great for both day and night. It comes with a neon-glow effect that is great at nighttime and great for daylight. Users can also choose different wallpaper from the gallery.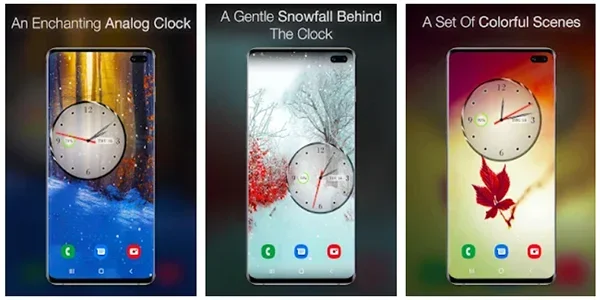 Clock live wallpaper is another clock app that comes with a beautiful live snowfall wallpaper and an analog clock as well that matches the background perfectly. It is one of the most used clock apps for Android that gained massive popularity due to its beautiful and elegant features.
It shows the days and dates of the week. Many wallpapers designs come with this app so that you can customize the appearance of the clock. This app shows the battery percentage along with the date and time. You can set any photo from your gallery as the clock's wallpaper to make it look more customized.
See Also: Top 25 Best Movie Maker Apps for Android Device
3. Big Digital Clock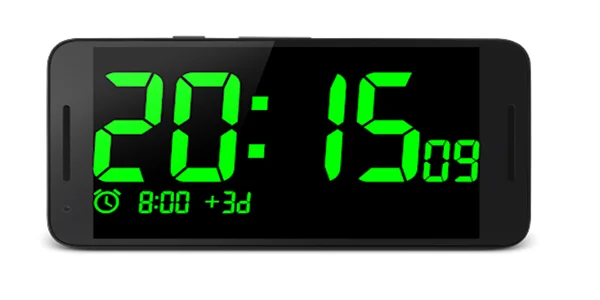 Big digital clock is a useful app for Android users. The best thing about this app is it shows the time along in full screen. It also shows the time even if your phone is on sleep mode, so you don't have to tap on the mobile phone to see the time. Big Digital Clock is the perfect app for all the people out there who use a nightstand. It has a great interface that gives it a look of a traditional digital clock. It covers the whole screen, which makes it suitable for standby digital clocks at the office as well as at home.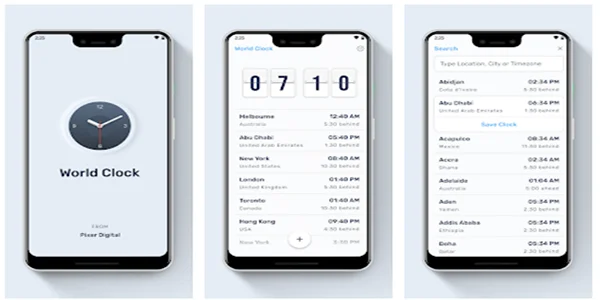 The reach of a business and meetings are not limited to only one region. Now, most people work with international clients. So, if you are one of them, this clock is the best option for you. This world clock gives the time for various countries, which can come in very handy. Additionally, this app can be very useful while traveling. World Clock is suitable for all business people and travelers around the world. This Android app can tell the time of more than 5000 cities, and it can also convert the time zone according to cities and countries.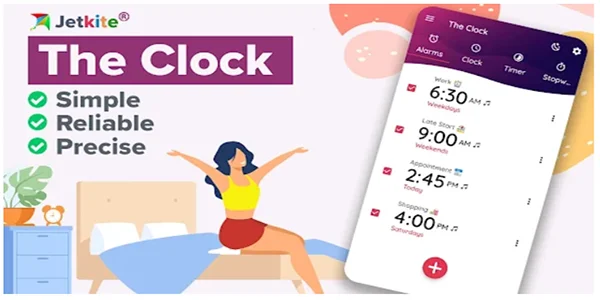 The Clock is one of the best clock apps available for Android. It comes with multiple features that work like a clock, stopwatch, alarm clock, and time. This app also offers clock widgets that make the setting alarm and date simpler. It works as a bedside nightstand clock that is designed with power saver mode and consumes less power to show date and time. You can use the app as a to-do list checker as well by setting the date, alarm, and time. This app allows you to give a voice command, and through this, you can set a control timer and alarm.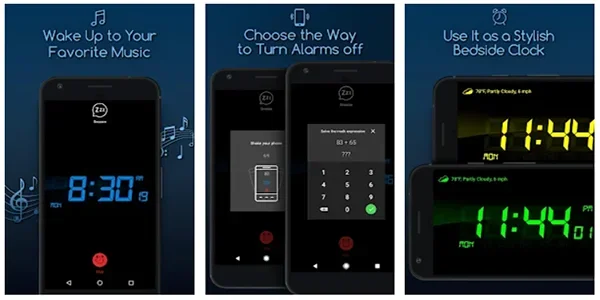 If you want to turn your mobile phone into a digital alarm clock, this is the right pick. You get the feature to customize the theme, color as per your taste. This app is ideal for the nightstand clock, and it comes with a beautiful theme and font style.
You can also get weather updates and a calendar option with this app. The using process of this clock is so easy that controlling all the features is at your fingertip. You can set multiple alarms on this app, and you can sleep by playing your favorite music and setting the timer to turn off the music as well.
This Android app works as a widget and gives a feel like having an iPhone lock screen. It displays both date and time with the whole screen, and it also works as a mobile background screen. It supports multiple time formats, and this app also supports tablets.
You will get so many customization options such as font size, background changing, and color changing. It displays the next alarm time and current time, and this simple UI design makes this app clutter-free and user-friendly. You will also get an option to make the app screen short or full.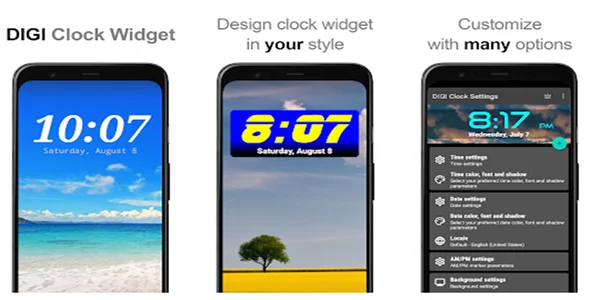 Do you want a clock app that is suitable for your tablet, mobile, and notebook? This clock app for Android is best for you, and there are many screen sizes available for the app that is great for all Android devices. It displays data in a numerical way that offers a perfect digital look.
This Android app's colorful background and smart font collection will make you fall in love with this clock. This app supports both 24 hours and 12 hours formats. This clock allows you to set your language and set multiple alarms by creating to-do lists and schedules.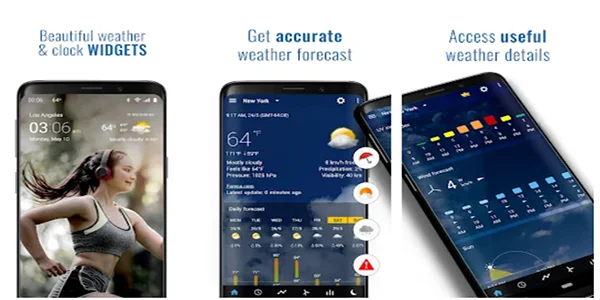 If you don't want to spend the memory downloading two apps for clock and weather, you can opt for this app. This app comes with both weather, clock, and also calendar options. This app is suitable for travelers that give the right update about the weather.
Even if you are not a traveler, this app can come in handy for you. This shows all the information in a transparent way that matches the wallpaper of your mobile. The live wallpaper of this clock app changes with time and weather situations.
10. Analog Clock Widget Plus-7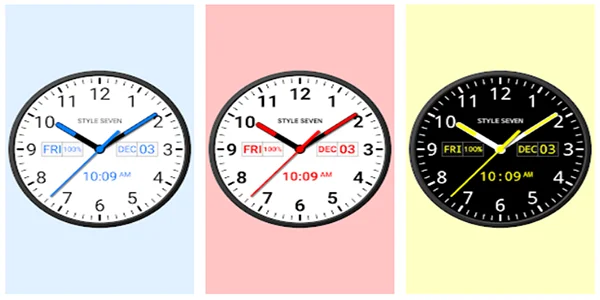 If you miss having an analog clock, this app would be the best choice for you. This app shows time and date in analog format. This app is the perfect combination of digital and analog.
You can customize the font, color, and text size. You can also choose from a wide range of appearance collections to customize the outlook of your clock. This displays both dark and light themes.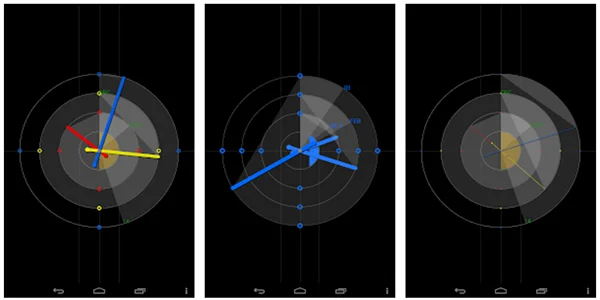 This is an ideal option for Android users. The application gives an aesthetic look to the phone wallpaper. It supports both Tablet and Android, and you can use this as an application, wallpaper, and widget.
Get complete control of this application by resizing the clock as per your convenience or either full screen. Receive complete control by adjusting the size, background color, and style.
The ReGular Clock Wallpaper app will become aware of the moon's current phase with time, day, and date of the week. Get informed about the sunset, sunrise, and sun peak time. To get a feel like a real analog clock, turn it out to the smooth mode.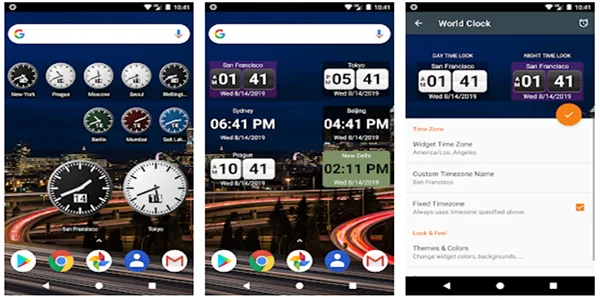 Are you a businessman and struggling to remember the meeting dates and times? This application is the best choice for Android users again. It gives a convenient option to be aware of the time schedules. The application shares time in both digital and analog modes.
World clock widget application has everything like a time converter, alarm clock, organized to-do list, time management for different cities, and most importantly, a meeting planner. The application's user interface is easy and gives quick access to the customizing option. Give a gorgeous look to your phone and help business owners who continuously visit different cities or countries to attend meetings.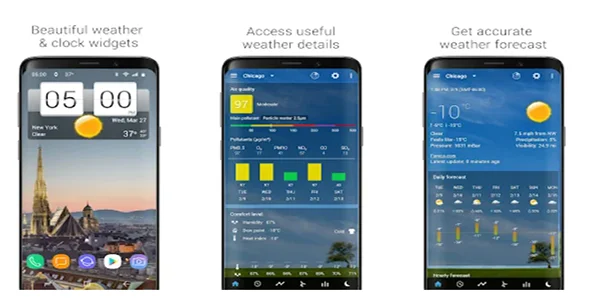 Does anyone want weather reports, date, day, time, and place with just one easy click? Well, everyone has a dream to find this kind of application. Sense flip clock is a fantastic digital clock on Android that shares all this information together.
Get all this information in the widget along with the GPS location track feature. This application holds more than 40 languages so that everyone can receive information in their convenient language.
It has a fantastic interface that changes the widget's background according to the weather and day-night situation. The widget of this application is designed in such a way so that it can fit with any screen size.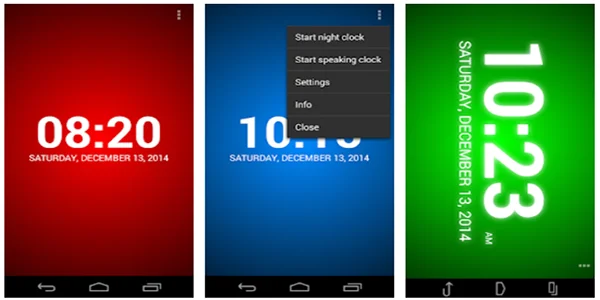 Are you an Android user looking for a unique digital clock application? TellMeTheTime application turns your mobile into an attractive piece that helps drivers and people who lost their eyes. If you don't like the theme or format, you can customize it anytime.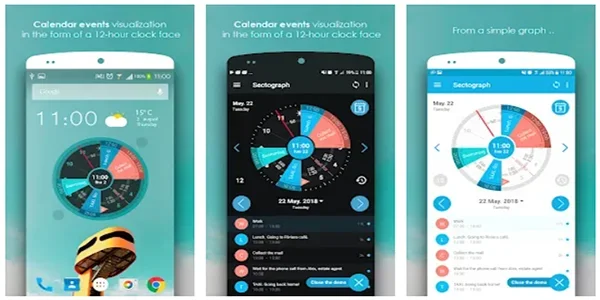 What if you find an application that shares the distribution of work along with the time? This application is the perfect choice for this, where you get the display of an analog clock in multiple levels & colors.
Receive information about your daily activity from your phone and make yourself organized. Spectrograph app is ideal for all those candidates who are preparing for competitive exams. It makes a person prompt and allows you to reach the perfect place at the perfect time. You can adjust the clock by turning it to the dark mode or light mode theme and receive the notification of your daily task and events in the pie chart form!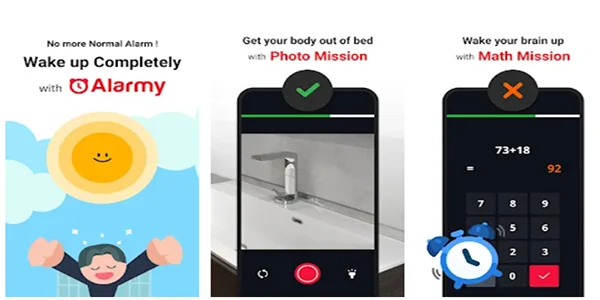 We talked about so many clocks, but this one is for those who struggle to wake up in the morning time. Students and job holders can't wake up on time, and as a result, they skip their breakfast. Alarmy application comes to make you punctual and obedient with time.
The application holds different methods to wake you up from sleep. This works on a paid subscription, but it is worth investing in an application with many features. Trust me; you won't regret it later after investing in this. When you click to stop the alarm, it will challenge you with new riddles and quotes daily.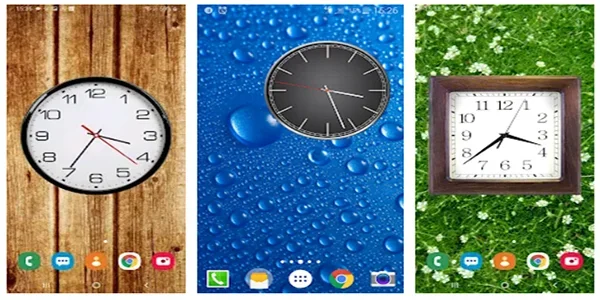 This application comes to the internet by holding all the advanced features. Save your phone away from excessive battery drainage. It gives an aesthetic appeal to your phone. It keeps you aware of the time by displaying the time, date & day!
Analog Clocks battery saverallows personalizing your device with amazing wallpapers. Here any individual can receive multiple themed clocks. That supports both portrait and landscape orientation. These features make this application perfect. Receive complete control to change the theme and language as per your need by installing it.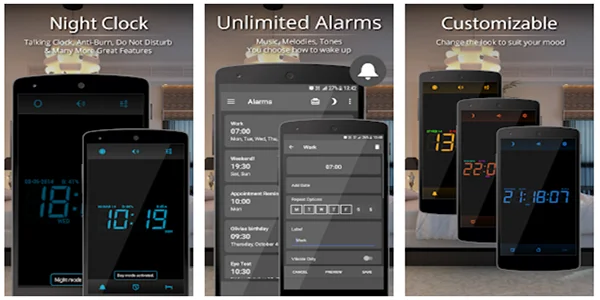 This popular Android application comes with additional features. It shows the percentage of available device battery, along with the date and time. Digital Alarm application works in 24-hour format along with the night-day mode. It also helps visually impaired people by telling time.
Anyone can make required customization and change, background color, clock font, size. The app contains more than 16 million color options, which is especially of this clock. Digital Alarm clock moves around the screen with an alarm that snoozes until you wake up in the morning.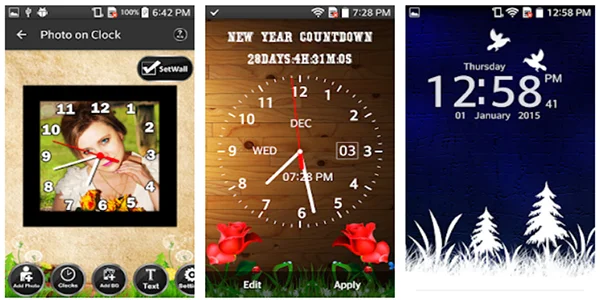 This application is also working as a boon for all Android users. It holds excellent modern features and shows time in the digital format. By installing, any individual can get living clocks & cute wallpapers. Any individual can make customization in this app for changing the color, style, and size.
Get some cute animated bubbles that will beautify your phone screen. Live clock wallpaper application contains a flashlight so that you can check the time on dark nights easily. Now get up in the early morning with your personal favorite song as an alarm!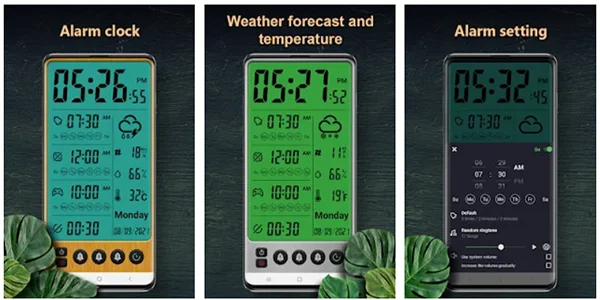 This digital application for Android shows time in digital format. Here you will get notifications about the weather, time and date, day! Customize the interface of this application as per your need. You can use this as an alarm as well as a stopwatch too.
Choose your favorite color pallete from the 30 color pallets. To stop the alarm in the morning, you have to first solve a mathematical riddle. Alarm Clock also allows you to play small games and puzzles instead of alarm tones; you can pick the playlist option and wake up in the morning with random music.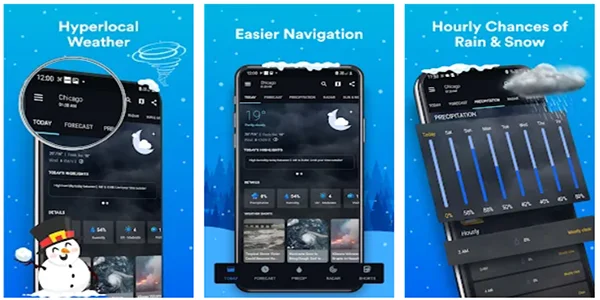 One weather is an application relied upon by millions of users. It also comes as one of the top-rated apps in hurricane seasons, as it forecasts the hurricanes beforehand. In one-time connectivity, this application forecasts your weather for the next ten days.
Beyond that, it also tells you detailed temperature and weather for the next 48 hours. Coming to its primary functions, you achieve time in different time zones and all different formats. As a top-tier app, it offers you several customizable widgets to attain time on the home screen.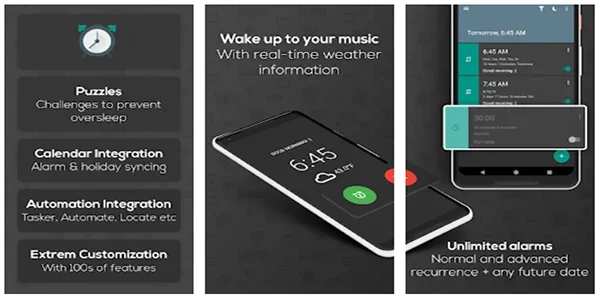 This is a clock app that appears with two integral features. It shows you time and works like a heavy-duty alarm clock to wake you up from deep sleep. However, Alarm clock for heavy sleepers is an app that comes with two versions. It has both free and paid versions.
The premium version of this app offers you some additional features. It wakes you up by saying the real-time weather and time; the most compelling feature of this app. It also integrates with your Android wear to offer you precise functions.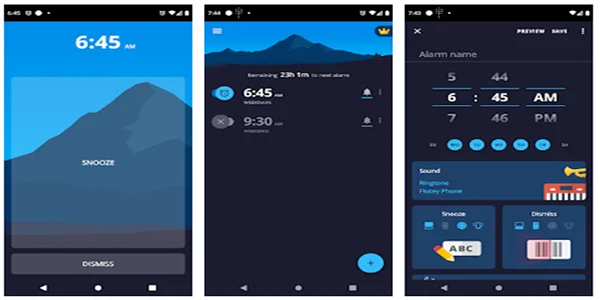 Alarm Clock Xtreme is another remarkable clock app with several useful features. It not only tells you time, but rather it also wakes you up with your favorite music.
You can use it as your bedside timekeeper app. Apart from just time, Alarm Clock Xtreme tells you real-time temperature and forecasts for the next ten days. It requires just one-time connectivity with the internet to offer you predictions about weather and other information. The theme of this app is dark, which suits the UI.
See Also: Top 20 Best Manga Apps for Android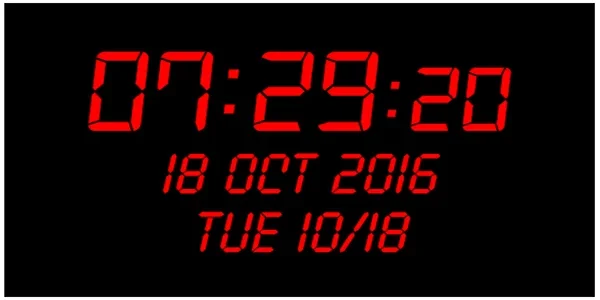 It is the tiniest digital clock app for smartphones serving you with primary functions, showing you time. This app doesn't have any advanced features. The UI is also quite simple and easy to use.
It may not compete with modern-day apps, but its ad-free feature is something that most users look for. It doesn't require the device permissions as well.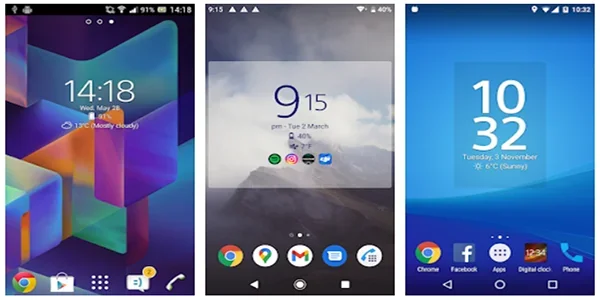 This is a simple app showing you time and date on your smartphone. The digital clock is a tedious application, as its UI is simple and works as a widget. It fits into all types of themes and home screens to show you time without any ad.
The app also doesn't demand network or internet connectivity, as it runs with network time. The app runs on all sorts of devices without any bugs. Apart from simplicity, it is also a free app that can get accessed by every user.
---
Frequently Asked Questions (FAQs)
1. What Is The Best Clock App For Android?
All the 25 mentioned apps are quite decent for your Android device. You can use them to access information along with time. However, some of the most prominent apps on the list are as follows:
Smart clock
Clock live wallpaper
Big digital clock
World clock
The Clock: Alarm Clock, Timer & Stopwatch Free
2. What Is The Best Alarm Clock App?
Apps in this list offer you a feature of alarm and reminder. However, there is also a distinct alarm clock app focusing on alarms and reminders.
3. How Can I Install The Clock App?
Installing the clock app is an easy procedure. You can tap on the Google Play Store and find apps that are suitable as per your need.
Then click on the app icon
You will find an install option
Click on the install option; the app will automatically get installed on your smartphone
4. Does Any Third Party Clock App Disable The Internal Clock of My Smartphone?
No third-party apps don't disable the internal clock app of your phone. Rather any other app works solely collecting data from the internet and network.
5. How Can I Capture The Time And Date On My Home Screen?
To get the time and date on your home screen, you need to open the widget. In widgets, you will find several widgets, including digital clocks. You can drag the widget to your home screen to achieve it on your main window. Many smartphones also offer you clocks on the lock screen.
6. Do The Clock Apps Drain The Battery?
The clock app works like any other application. It will operate in the background. Thus, it might consume battery.
---
Conclusion
Keeping it brief, these are the top 25 best clock apps that you find on the Play Store. Now that you know the best 25, you can install one that best suits your purpose. If you have any more recommendations, you can write them down in the comment section. We hope this article about 25 best clock apps for Android is helpful to you. Do share this content on social media, if you found it helpful for you in any manner.