Are you still not sure which laptop will be perfect for the Hackintosh project? Or are you still not satisfied with guides available on various web pages? If you already have proper knowledge about Hacktonish, you should probably know that you just can't simply install macOS on any random computer machine. For appropriate working and processing, you'll need a laptop with compatible hardware.
Let's take a simple example if macOS doesn't support your Laptop's Wi-Fi card, then there is a high probability that you will repeatedly be facing Wi-Fi connection issues. Thankfully most of the laptops released after 2015 are compatible with macOS on a condition if they have Intel's 6-series or 7-series CPU.
We have not only listed the Hackintosh compatible laptops, But we have filtered out the best laptops that carry out all Mac OS functions efficiently, with good connectivity and most minor performance issues. To begin with, we will start with a small introduction about Hackintosh, and then we will continue with the list of the top Hackintosh laptops. So keep reading and enrich your knowledge with the article.
What is Hackintosh?
It is a trendy name after combining two words Hacking + Mackintosh, to form Hackintosh.
Hackintosh is a non-Apple device that can run Apple's OS or macOS.
Building a Hackintosh PC for only personal use is not illegal. However, it violates Apples' EULA (end-user license agreement). So in Apple's eye, building a Hackintosh PC is an offense, but if used under Digital Millennium Copyright Act's Fair Use CAN be ok. Always keep in mind whenever you are purchasing an OS or an OS-driven device, you are getting the license of usage; you are not buying the OS.
If you are in hurry, here are the top 3 choices for best hackintosh laptops.
Invalid table id.
---
General Problems of Hackintosh OS?
Hackintosh is a cheaper way to run macOS on a non-Apple MacBook device. No OS is entirely perfect; even today, the latest versions of macOS updates carry some significant issues. So running Hackintosh on the hardware, which was not meant for it, will have some issues. Below are the few Hackintosh issues that we faced while running it on different laptops.
Boot screen issues
Sudden Mouse cursor freezing
Screen Freeze when left unattended
Kernel Panic issues
Power management issues
Wi-Fi and Bluetooth connectivity issues
---
Is Hackintosh Worth it?
There are multiple reasons why many people prefer using Hackintosh:
To Save Money: Not every desiring fellow is financially strong to afford a super Apple MacBook Air or Pro, so those who are technically solid and skilful buy compatible Windows laptops and install macOS on their laptop and try to save some money.
Cheap and Easy Solution for Developers: An Android app can be developed from any laptop and any kind of OS, be it macOS, Linux, or even Windows laptops. But, developing an iOS, macOS, or watchOS app mandatorily requires having an expensive Apple MacBook laptop. And if you don't want to invest a lot in MacBooks, you can get yourself a Hackintosh laptop.
For Customization Lovers: Simply because some customization lovers would like to use macOS on a 2-in-1 laptop
Ok, so it's time now to start with our 10 best Hackintosh laptops in 2021
---
Reviews of 10 Best Hackintosh Laptops In 2021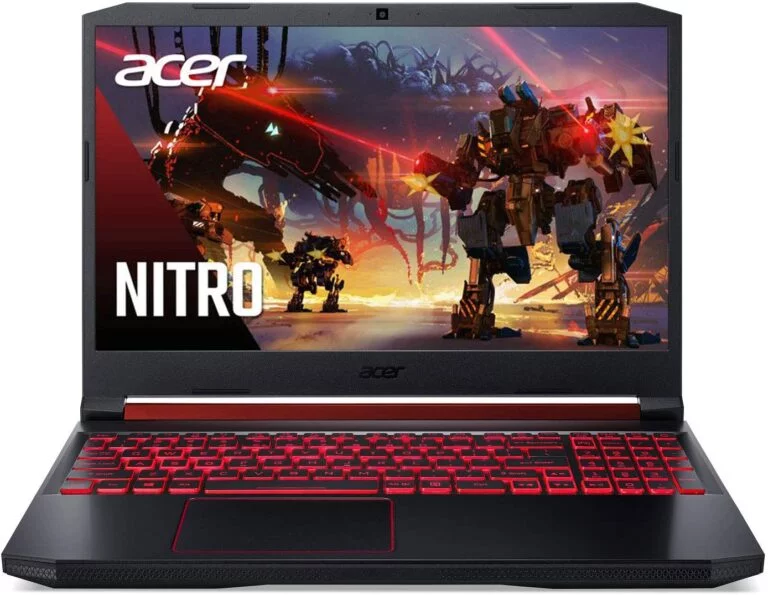 Acer Nitro 5 is one of the most loved gaming laptops at such an exciting price range. Its top-end gaming components make it one of the best laptops for making it a Hackintosh laptop. This laptop is built keeping in mind for future up-gradation, which makes it a good option for Hackintosh.
CPU
Under the beast design, the Acer Nitro 5 clubs a 9th gen Intel Core i5 processor. With a boosted overclocking speed of up to 4.1GHz, capable enough and ready to take control over most Mac-powered applications with ease. Additionally, the i5-9300H series processor makes an excellent case for itself if one is willing to run a dual-boot setup.
GPU
Acer Nitro 5 comes with a powerful graphics card from NVIDIA GeForce GTX 1650 with 4GB of dedicated GDDR5 VRAM; this will surely satisfy your high graphics load hunger.
RAM and Storage
The Acer Nitro 5 packages 8GB of DDR4 RAM, which can be upgraded to 16 GB of RAM, making it a strong enough laptop for handling iOS app development platforms like Flutter, Xamarin, and Ionic. Moreover, with such quality and quantity of RAM, one can enjoy both Windows and Mac OS on the same laptop.
While speaking of the storage, Acer delivers a 256GB PCIe NVMe SSD unit with this laptop, lighting fast and well-protected. Therefore, storage partitioning for running a dual-booted system won't affect the machine's performance much.
Other Hardware Details:
Red backlit keyboard
Dual cooling fans along with dual exhaust
15.6″ Full HD IPS Display
PROS (What we liked)
Reliable, Good processor and performance
Minimal lag
Mostly silent while operating
Easy up-gradation
CONS (What we didn't like)
It gets very hot during heavy loads
Battery consumption is a bit high
Acer Nitro 5 Gaming Laptop, 9th Gen Intel Core i5-9300H, NVIDIA GeForce GTX 1650, 15.6" Full HD IPS Display, 8GB DDR4, 256GB NVMe SSD, Wi-Fi 6, Backlit Keyboard, Alexa Built-in, AN515-54-5812
9th Generation Intel Core i5-9300H Processor (Up to 4.1 GHz)
15.6 inches Full HD Widescreen IPS LED-backlit display; NVIDIA GeForce GTX 1650 Graphics with 4 GB of dedicated GDDR5 VRAM
8GB DDR4 2666MHz Memory; 256GB PCIe NVMe SSD (2 x PCIe M.2 slots - 1 slot open for easy upgrades) and 1 - Available hard drive bay
LAN: 10, 100, 1000 Gigabit Ethernet LAN (RJ-45 port); Wireless: Intel Wireless Wi-Fi 6 AX200 802.11ax
Backlit keyboard; Acer Cool Boost technology with twin fans and dual exhaust ports
---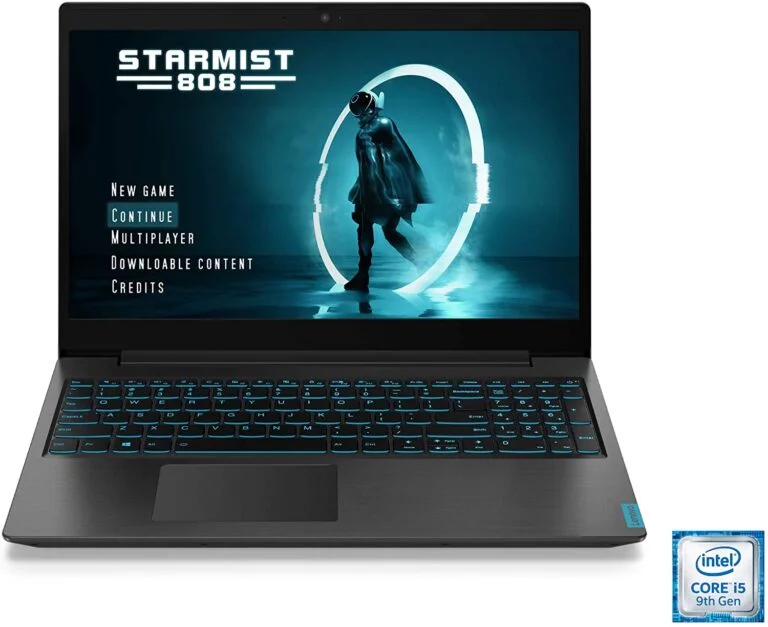 In terms of design, Lenovo Ideapad L340 looks similar to a regular office laptop, but wait; engineers have designed its display screen in such a way that it can be swiveled to 180 degrees, yes! One hundred eighty degrees means the screen and keyboard both can lie in the same plane.
CPU
Like its rival, Acer nitro 5 Lenovo Ideapad L340 also houses the 9th gen Intel Core i5 processor with a CPU speed of 2.4 GHz But can also be overclocked up to 4.1 GHz. Such a powerful i5-9300H processor will handle the Mac OS and its applications with ease. Furthermore, a dual-boot setup won't be a problem in this laptop as well.
GPU
Acer Nitro 5 comes with a powerful graphics card from NVIDIA GeForce GTX 1650, which will take good care of higher graphics and visuals.
RAM and Storage
Lenovo Ideapad L340 accommodates 8GB of high-speed DDR4 RAM, a trustworthy component for managing dual-boot systems, to carry out Mac OS processes and applications.
Note: No extra slot for RAM is provided, so to upgrade the RAM from 8 to 16 GB, you need to replace the 8 GB RAM stick with a 16 GB RAM stick.
Sufficient storage is provided, i.e., 512 GB of SSD, which is fast enough and would be perfect for keeping your data safe.
Further, if you are willing to extend the storage memory, prefer buying an external hard disk.
Recommended Read: Best External Hard Drive
Other Hardware details
Blue backlit keyboard
Dual fan setup
15.6″ Full HD (1920*1080) IPS screen display
Physical shutter to cover Laptop camera
Dolby Audio support
PROS (What we liked)
Portable and sleek design
Performs best with mac OS
Silent working
Reliable
Good Booting speed
CONS (What we didn't like)
Bit on the expensive side
No vacant slots for up-gradation
Lenovo Ideapad L340 Gaming Laptop, 15.6 Inch FHD (1920 X 1080) IPS Display, Intel Core i5-9300H Processor, 8GB DDR4 RAM, 512GB Nvme SSD, NVIDIA GeForce GTX 1650, Windows 10, 81LK00HDUS, Black
A new dimension of gaming performance awaits - with 9th-generation Intel Core i5 processors, the IdeaPad L340 gaming has the power you need to outshoot, outrun, and outsmart anyone. Includes 8GB DDR4 RAM and 512GB NVMe SSD
Take it to the next level - With the latest NVIDIA GeForce Graphics behind you, you can tame the hottest titles with faster, smoother, and more power-efficient gameplay. Plus, the 15.6-Inch screen delivers a stunning full HD IPS Display with 1920 x 1080 resolution
A portal to a new sound dimension - hardwired into every Idea Pad L340 gaming is advanced Dopoundsy audio technology. Take your mobile gaming experience to another dimension and have a real blast along the way
Control your own fate - Game in 'quick' Mode or work in 'quiet' Mode. It's your call with a simple function setting that lets you shift gears between modes, instantly.
Final product may vary slightly from image
---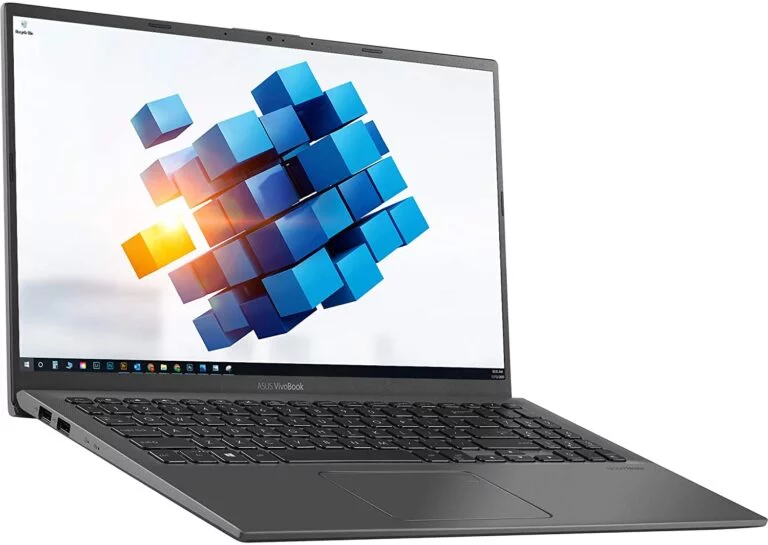 A simple, stylish-looking touchscreen laptop from the house of Asus is an excellent choice for a Hackintosh laptop. It is light in weight and will be able to carry all regular office or college projects quite efficiently. While there is no touchscreen MacBook available, imagine building a laptop with mac OS. And that also at a much cheaper rate than an Apple MacBook, isn't that fascinating?
CPU
This beautifully designed VivoBook from ASUS comes with Intel Core i5-1035G1 1.0GHz With Turbo Speed Up to 3.6GHz. Such a processor will be adequate to run Mac OS Catalina and carry some daily project loads with a touchscreen advantage.
GPU
The Asus VivoBook has Intel's integrated UHD graphics card, which is again quite efficient to run low to medium graphics or a full HD movie flawlessly.
RAM and Storage
Speaking about RAM and Storage combined, we experience a good combination of 8 GB DDR4 RAM and 256 GB of SSD storage. Like earlier laptops, this laptop can be set as a dual boot setup without compromising the laptop's performance.
Other hardware details
Touchscreen 15.6″ full HD (1920*1080) display resolution
Normal backlit keyboard
1 type C USB 3.2
1 type A USB 3.2
2 type A USB 2.0
1 HDMI and 1 micro SD card slot
PROS (What we liked)
A significant advantage of touchscreen
Lightweight
Reasonable price
CONS (What we didn't like)
Wi-Fi Connectivity issues (But can be solved by plug and play apple Wi-Fi chip)
Color bleeding on panel
Integrated GPU is restricted
---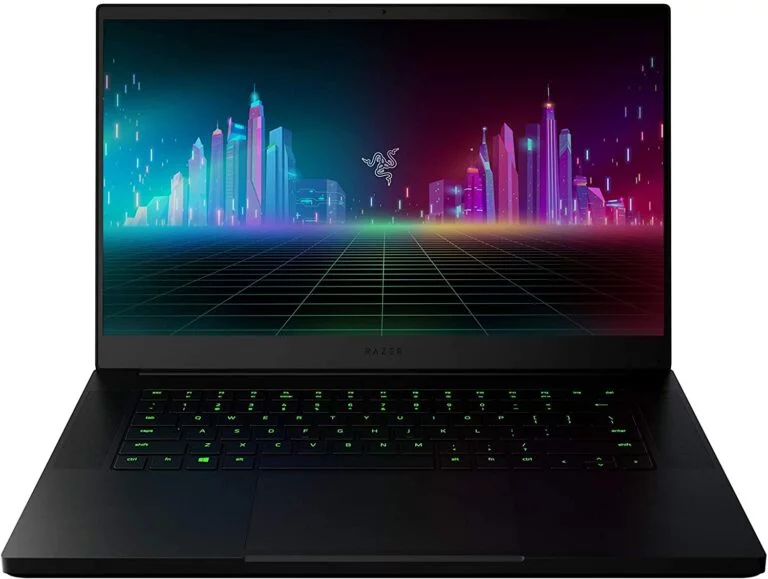 With the eye-catching looks, this laptop can flex itself wherever it is placed. Phenomenon looks and monster-like performance this can easily be one of the best and most powerful Hackintosh laptops.
CPU
This laptop is absolutely a beast and perfectly compatible with Mac OS. The Razer Blade 15 will give you an authentic MacBook pro experience in terms of performance. It has 10th gen intel i7 Hexa core processor, which can be overclocked up to 5.0 GHz.
GPU
Razer Blade 15 comes with a blazing-fast NVIDIA GeForce GTX 1660 Ti graphics card. There is no point where this laptop will stop; its high-end GPU will load and run the applications at its highest level.
RAM and Storage
Collectively Razer Blade 15 comes with an outstanding package of 8 GB DDR4 SDRAM, expandable up to 16 GB, and 256 GB of SSD flash storage. One can easily dual-boot setup this laptop.
Other hardware details
RGB backlit keyboard
120 Hz of full HD display
Dual fan cooling setup
Extra slot for storage up-gradation
PROS (What we liked)
Reliable and Premium built quality
Excellent performance with Intel 6-Core processor
Easy future up-gradation
Portable laptop
Latest connectivity ports including Thunderbolt 3, Mini DisplayPort
Perfectly compatible with macOS
CONS (What we didn't like)
Price is on the expensive side
Average battery life
Razer Blade 15 Base Gaming Laptop 2020: Intel Core i7-10750H 6-Core, NVIDIA GeForce GTX 1660 Ti, 15.6" FHD 1080p 120Hz, 16GB RAM, 256GB SSD, CNC Aluminum, Chroma RGB Lighting, Black,Windows 10 Home
More Power. The 10th Gen Intel Core i7-10750H processor provides the ultimate level of performance with up to 5.0GHz Max Turbo and 6 cores
Supercharger: The NVIDIA GeForce GTX 1660 Ti graphics is a blazing-fast supercharger for today's most popular games
More Frames: Incredible performance paired with the fast 120Hz 15.6" Full HD thin bezel display helps edge out the win
Thin and Compact: The CNC aluminum unibody frame houses incredible performance in the most compact footprint possible, while remaining remarkably durable and just 0.78" thin
Ready To Connect: Fully loaded with ample connectivity including a webcam, wireless-AC, Bluetooth 5, 2X USB Type-A, 2X Type-C ports, and more
---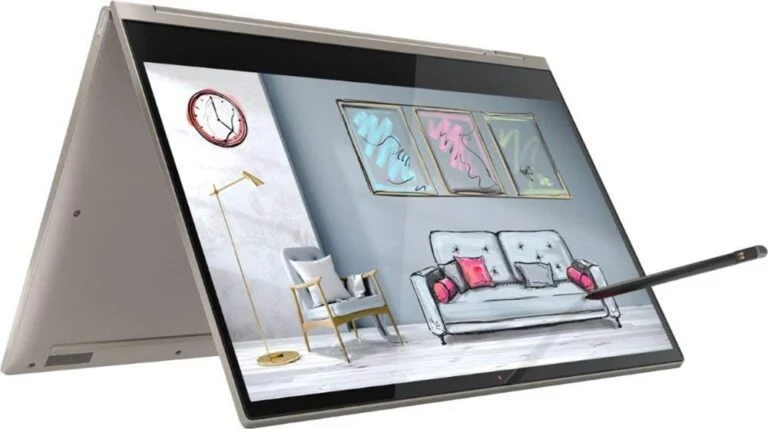 Has anyone seen a convertible touchscreen MacBook pro? Apple has not been able to manage to make convertible laptops. But you can it happen by transforming a Lenovo Yoga C930 2-in-1 into a Hackintosh laptop.
CPU
The Lenovo C930 smart laptop is powered by the Intel Core i7-8550U processor, with a clocking speed of 4 GHz. So, running mac OS Catalina or Mojave won't be a troublesome job for this laptop.
GPU
Intel UHD Graphics 620 integrated graphics card is sufficient to satisfy low to medium graphics demand and efficiently handle the daily individual project.
RAM and Storage
16GB of DDR4 RAM along with 1TB PCI-e SSD storage space is not only excellent for getting the experience of mac OS but is also sufficient to run a dual boot laptop.
Other Hardware details
13.9″ 4k UHD (3840*2160) touch display panel
Dolby Atmos sound support
Active pen stylus
Normal backlit keyboard
1x USB 3.0 Type-A Ports, 2x Thunderbolt 3 Ports
PROS (What we liked)
Perfect convertible notebook for Hackintosh
Reasonable pricing (though expensive from others)
Best in class 4K IPS touch panel
Active Pen Stylus included
Excellent performance and very reliable
lightweight and compact
Good battery life
Realistic macOS Mojave experience
CONS (What we didn't like)
The fingerprint sensor stopped working after turning into Hackintosh
The internal mic was not responsive to macOS
Lenovo 2019 Yoga C930 2-in-1 13.9" 4K UHD Touch-Screen Laptop - Intel i7, 16GB DDR4, 1TB PCI-e SSD, 2X Thunderbolt 3, Dolby Atmos Audio, Webcam, WiFi, Windows 10, Active Pen, 3 LBS, 0.6", Mica
Premium craftsmanship and style - Crafted from premium aluminum with high-precision drills and polished twice for luxurious tactility. 360° flip-and-fold design; Rotating sound bar with Dolby Atmos speaker system
13.9" 4k Ultra HD touch screen - 3840 x 2160 resolution, IPS technology, LED backlight, Built for Windows Ink; Integrated Intel UHD Graphics 620
8th Gen Intel Core i7-8550U processor - Ultra-low-voltage, Quad-core, eight-way processing, Intel Turbo Boost technology; 16GB DDR4 2400 MHz memory; 1TB PCIe solid-state drive (SSD);
Two Thunderbolt 3 ports for connecting advanced monitors and external drives; Built-in HD webcam with stereo microphone; Microphone-in/headphone-out combo jack.
Weighs 3 lbs. and is 0.6" thin overall; Four-cell lithium-polymer battery. Windows 10 operating system; One-month trial of Microsoft Office 365.
---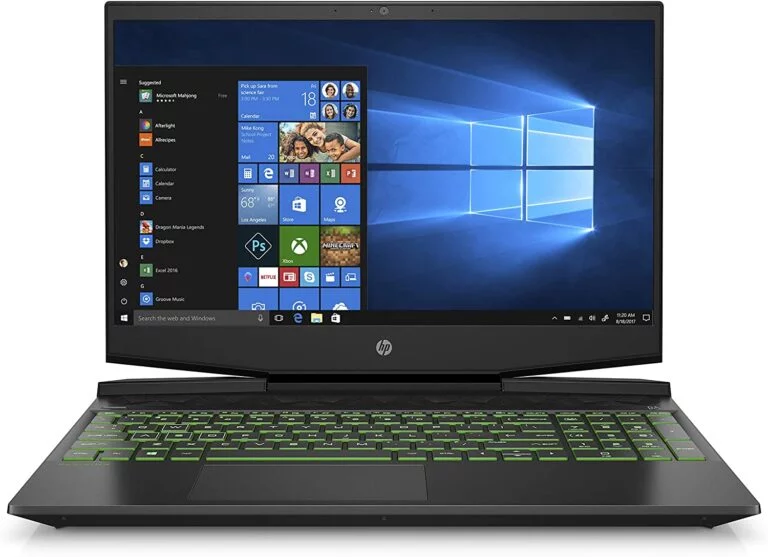 Multitasking is the main USP of the HP Pavilion Gaming 15-Inch Micro-EDGE Laptop; it delivers superb performance for gamers. This laptop is very much appreciated to work with Hackintosh laptop as the components are highly compatible and support processing of mac OS.
CPU
HP Pavilion Gaming 15-Inch Micro-EDGE laptop clubs 9th gen intel i5 quad-core processor simply implies it will support Hackintosh with ease. The laptop comes with a clocking speed of 2.4 GHz but can effectively be overclocked up to 4.1 GHz.
GPU
Talking of GPU, a good amount, i.e., 4 GB of graphic card of Nvidia Geforce GTX 1650 (GDDR5 dedicated), is provided, which is great to process real-time ray-tracing technologies and run heavy graphics demanding application and games seamlessly along with B&O sound support.
RAM and Storage
HP Pavilion Gaming 15-Inch Micro-EDGE Laptop comes with 8 GB DDR4-2400 SDRAM (upgradable with two accessible Memory Slots). That RAM helps in Fast boot-up, file transfer, and a quicker experience.
With the internal 256 GB Solid State Drive (SSD), there should not be any storage issue for making the laptop Hackintosh or dual-booted.
Other Hardware details
Unique green backlit keyboard
B&O sound support
15.6″ full HD W-LED display with 60 Hz refresh rate
Dual fan cooling system
Ports USB 3.1 Gen 2 Type-C(tm), 3 USB 3.1 Gen 1 Type-A
PROS (What we liked)
Decent battery life
Silent in working
Lightweight
Good compatibility with mac OS
Excellent connectivity
Reliable and future up-gradation ready
CONS (What we didn't like)
Slightly expensive
Battery life could be better
HP Pavilion Gaming 15.6-Inch Micro-EDGE Laptop, Intel Core i5-9300H Processor, NVIDIA GeForce GTX 1650 (4 GB), 8 GB SDRAM, 256 GB SSD, Windows 10 Home (15-dk0020nr, Shadow Black/Acid Green)
Fast and easy multitasking: experience high-grade Graphics and processing power that meets your gaming and multitasking needs for the latest games including Fortnight, PUBG, and Overwatch
Advanced thermal Management: optimized thermal design and IR sensor keeps your laptop cool to the touch, without affecting acoustics
Fast Processor: 9th Generation intel(r) core(tm) i5-9300h Processor, quad-core, 2.4GHz up to 4.1GHz with Intel's) Turbo Boost
Realistic graphics: nvidia(r) geforce(r) GTX 1650 (4 GB GDDR5 dedicated). enjoy new levels of gaming realism and performance with real-time ray-tracing technologies. Vr/mr ready. 15.6-Inch diagonal FHD IPS Anti-Glare micro-edge WLED-backlit Display (1920x1080) with 60Hz refresh rate
Memory and storage: 8 GB DDR4-2400 SDRAM (upgradable with 2 accessible Memory Slots) and Fast boot-up, file transfer and a snappier experience with the internal 256 GB pcie(r) nvme(tm) M.2 Solid State Drive
---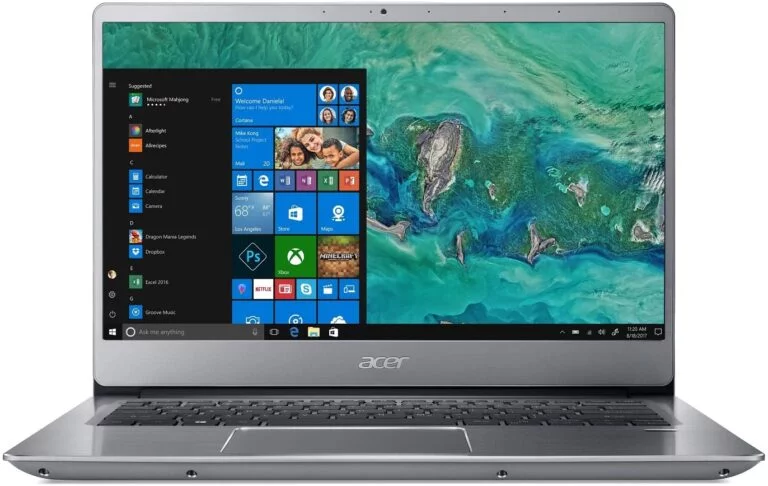 A straightforward-looking office-type laptop and at a very affordable price could be an excellent choice for setting up a Hackintosh laptop. Acer Swift 3 SF314-54-56L8 has got all the components to serve the purpose of a Hackintosh laptop.
CPU
Acer Swift 3 is can be a perfect optimized Hackintosh laptop. Acer delivers a good 8th gen intel's i5 quad-core processor; this chipset is promisingly efficient and grants the user to manage two operating systems with great ease.
Moreover, the processor speed can be clocked up to 3.4GHz. The provided chipset is sufficient for hassle-free app development and support tasks that require mac OS processing.
GPU
Along with a powerful chipset processor, Acer swift 3 consists of a UHD 620 integrated graphics card. The GPU can handle all the basic required visual performances and won't let users miss a dedicated GPU. However, the integrated GPU would be somewhat after turning into a Hackintosh laptop.
RAM and Storage
Though an affordable price range laptop, Acer swift is integrated with high-speed 8 GB of DDR4 SDRAM, a capable resource for handling dual-boot systems, the relevant mac OS process, and application process.
Talking of storage, 256 GB of SSD is reasonably good according to price point and primary usage of a Hackintosh laptop.
Other Hardware details
14″ Full HD (1920 x 1080) Widescreen LED-backlit IPS Display
Normal backlit Keyboard
Fingerprint sensor is available but would be not functional in Hackintosh setup
PROS (What we liked)
Lightweight
Sleek and portable design
Affordable price
Compatible with latest Mac OS versions
Mostly all components are functional
CONS (What we didn't like)
Average battery life
Wi-Fi connectivity issues
The fingerprint sensor is not functional
Sale
---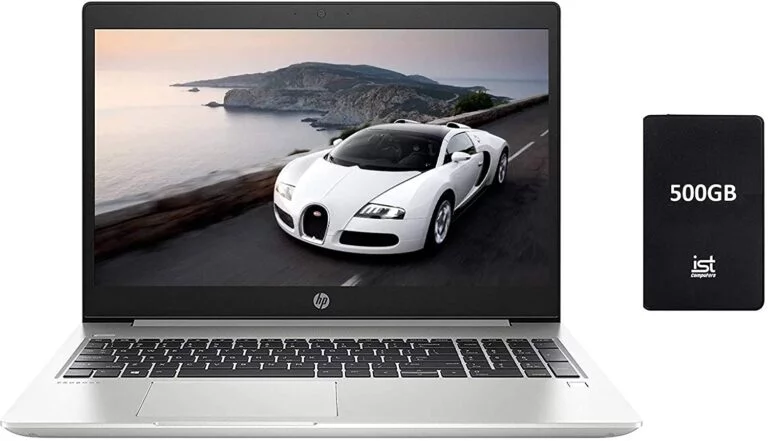 Another classy, finely finished laptop from HP's end is a must consider laptop for Hackintosh. HP ProBook laptop was launched back in 2019, but it has it all to be a perfect beast Hackintosh laptop.
CPU
On paper, it may seem that it's an outdated and low-configured laptop, but it's not as it looks in reality. The HP ProBook 450 G6 laptop is powered with 8th Generation Intel Quad-Core i5-8265U with a clocking speed of 1.60 GHz. Still, it can be surprisingly overclocked up to 3.90 GHz to perform way better than a 6th or 7th generation processor.
The chipset also comes with Turbo Boost up to 3.9GHz, which is an excellent thing from the performance point of view. Of course, you're left with integrated graphics.
GPU
Talking about GPU and considering HP's price, they have provided Integrated Intel UHD Graphics 620 to support a maximum of 4K (4096×2304) 60Hz display resolution flawlessly, also sufficient for processing and working with Hackintosh laptops.
RAM and Storage
Here HP has been very generous and impressively provides 16GB of DDR4 RAM that is a massive positive point of HP ProBook 450 G6.
HP's generosity just doesn't end in RAM management; they provide the 512 GB SSD that is more than enough for a dual-booted laptop and store big movies and games.
Other Hardware details
Normal backlit Keyboard
15.6″ HD Anti-glare LED-backlit display panel
720p HD webcam
HP Premium Spill-resistant Keyboard
1 USB 3.0 (charging)
2x USB 3.1 Gen 1Type-A
PROS (What we liked)
Sleek portable design
Efficient multitasking
Stable Mac OS support
Reliable
Decent battery life
CONS (What we didn't like)
No dedicated graphics card
Gets Hot after long hours of work
HP Probook 450 15.6" FHD Business Laptop (Intel Quad-Core i5-10210U, 16GB DDR4 RAM, 256GB PCIe NVMe M.2 SSD ) Backlit, USB Type-C, HDMI, Windows 10 Pro Professional
16GB DDR4 RAM; Storage: 256GB PCIe NVMe M.2 SSD (Seal is opened for upgrade ONLY, Professional Installation Service included)
15.6" FHD Anti-glare LED-backlit (NON-Touch) | Integrated Intel Graphics - Max Support (DP) 4K 4096x2304 60Hz
10th Generation Intel Quad-Core i5-10210U 1.60 GHz (4 Cores 8 Threads, Turbo up to 4.20 GHz, 6MB SmartCache)
Wireless 802.11a/b/g/n/ac (2x2) + BlueTooth 5.0 | Webcam | Backlit Keyboard | USB Type-C | HDMI | NO OPTICAL DRIVE
Windows 10 Professional 64-bit - Ideal for Home, Enterprise, Professionals, Small business, School Education
---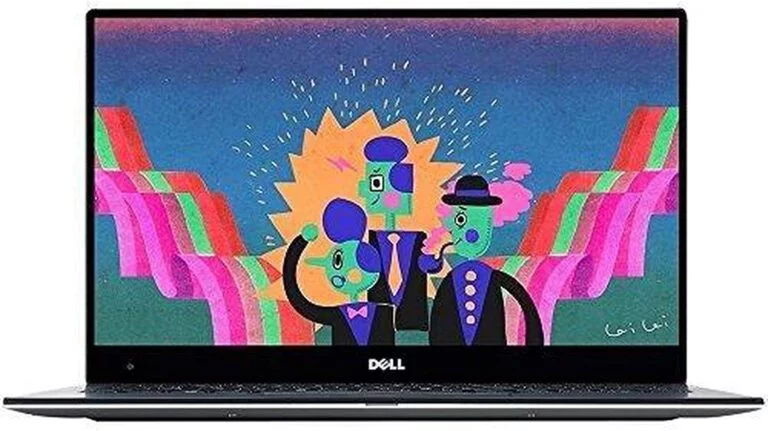 Dell has always been known for its durability, and this laptop is no different. A very durable, sleek, and stylish-looking laptop gives a very premium look. Besides its looks, this laptop is competent for being turned into a good Hackintosh machine along with a touch screen panel.
CPU
It is a very dated device that was first available in late 2016. Despite its release, it consists of a 6th gen Intel Core i7-6500U core 2 duo processor. The processor delivers a base clock speed of 2.5 GHz but can be boosted up to 3.1GHz without any trouble. This chipset was considered a flagship chipset by that time, and it is still appreciably very compatible with Mac OS Catalina.
GPU
In terms of GPU, this machine is powered with an integrated Iris Graphics 620, which works with Hackintosh without a problem and will effectively carry the usual loads of applications.
RAM and Storage
The old Dell XPS laptop provides 8 GB of DDR3 RAM, which is not up to the bar to compete with the latest MacBook devices.
But the old horse's speed can be modified by upgrading the RAM to 16 GB when needed.
In terms of storage capacity, Dell offers quite an ample amount of 256 GB of SSD storage.
Other Hardware details
13.3" 3200×1800 QHD+ resolution Touch screen display.
Flagship quality of the premium normal backlit keyboard
PROS (What we liked)
Affordable price
Touchscreen works perfectly
Mac OS Catalina is very stable and compatible
Good display screen
CONS (What we didn't like)
Battery discharges quickly
It gets hot while working for long hours
Only refurbished models available
---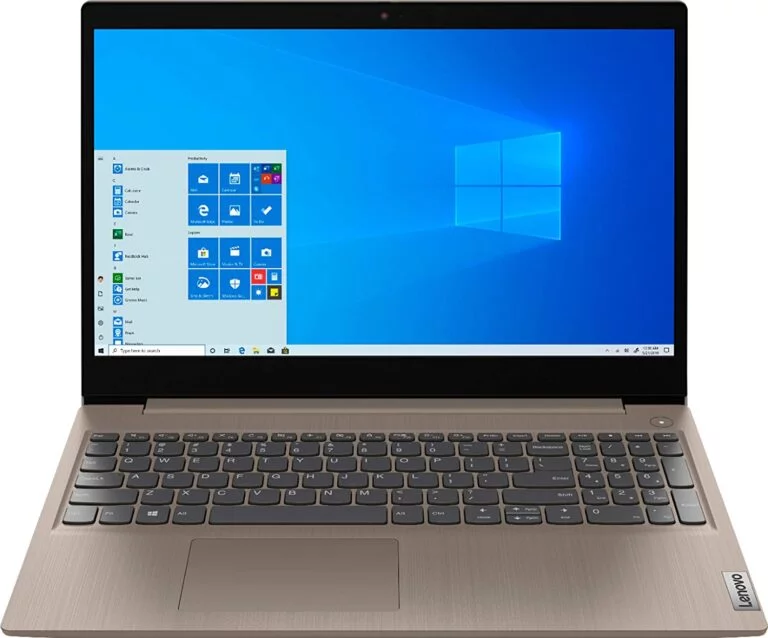 A very, very affordable laptop from the house of Lenovo. This laptop can be turned into a Hackintosh machine without compromising much on the device's performance. This laptop with a minimalistic design and simple looks can be a good and cheaper touchscreen display option for turning a Windows-based laptop into a Hackintosh laptop.
CPU
Lenovo IdeaPad 3, apart from its low price, comes with a 10th gen Intel Core i3-1005G1processor, which can easily defeat and outperform an i5 or an i7 processor from the earlier generation.
Its chipset is also very impressive in terms of battery management.
GPU
Lenovo IdeaPad 3 offers an integrated Intel UHD Graphic card which is sufficient to handle low to medium graphic demand of a Hackintosh device's applications.
RAM and Storage
8 GB of DDR4 RAM is provided with Lenovo IdeaPad 3, which performs satisfactorily even in Hackintosh laptop.
Speaking of storage ample amount of 256 GB of storage is available and works well with mac OS Catalina.
Other Hardware details
15.6″ touchscreen HD (1366*768) display panel.
Full-size keyboard
PROS (What we liked)
Very affordable pricing
Supports and stable with macOS Catalina
10th gen chipset
Good connectivity
CONS (What we didn't like)
No full HD display panel
Slightly inferior built quality
---
FAQs Related To Hackintosh Laptops
1. Is Using Hackintosh Illegal?
In Apple's eye and according to the Digital Millennium Copyright Act, yes, it is indeed illegal as Apple's EULA (end-user license agreement) is broken. But if you are customizing your non-Apple laptop using macOS for personal use, it is not illegal under certain conditions.
2. Are Hackintosh Laptops Reliable?
The answer is a big YES. Hackintosh laptops can be built at marginal cheaper rates than the original macOS devices. Hackintosh laptops are fun to use and for personal projects and daily computer jobs. Further, you can rely on the performance and features of such laptops.
The only drawback is you may encounter some minor PC issues at times which can make it unreliable.
3. Can Hackintosh Run All Mac Software?
Without any worries, a Hackintosh laptop will be comfortable in running all programs and applications of macOS. If somehow some application or program there are alternative solutions available for such.
4. Will It Be Costly To Build A Hackintosh Laptop?
That solely depends upon the type of system and hardware you want to integrate with macOS. However, a non-Apple laptop with Hacktonish will always be cheaper than the Apple Macbook.
---
Conclusion
The Hackintosh laptops have been common and trendy among developers and customization lovers. We all know about the high price of Apple products. At the same time, Hackintosh laptops provide performance somewhat at Apple's level, happily but not at apple's price. The models which are listed above offer better compatibility and perform relatively better (not to mention some issues).
Moreover, if you don't like the Hackintosh experience, you can always go back to using the Windows OS if things do not go as per your expectations.
Note: Always back up your data before you install Hackintosh.
Feel free to comment, share your views regarding Hackintosh laptops or ask your doubts in the comment section; we will be delighted to answer your queries.