Are you looking for the best video player apps for Android? If so, sit back because we've listed the same for you. If we look back, we can recall buying CDs and DVS to watch the movies. But, now, in this progressive and technology-based era, it became pretty straightforward to do so. At this point, we are living in a visual-based environment, where we'd love to watch the videos more.
---
Reviews of 20 Best Video Player Apps For Android
We've got many advanced mobile phones in which we could find in-built video players. However, if you'd love to have the other options to watch the movies at your terms right under your hands, this is exactly where this article comes into the light.
Let's get right into the top 20 best video players for Android.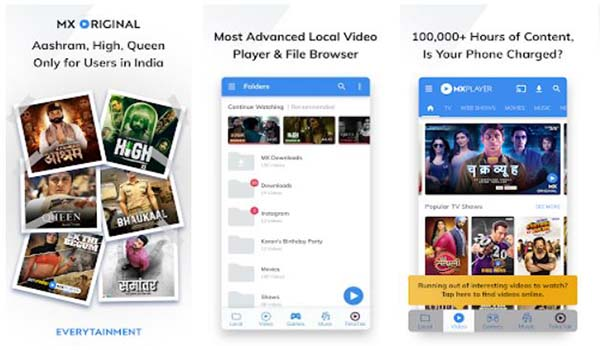 MX Player needs no introduction. This video player has been around for a long time now. No one can deny that the first thought that comes to our mind is MX Players when we seek the best video players for Android mobile phones. MX Player offers such an excellent real-time option that is rare, among other platforms. Above all, it supports almost every video format without any hassle. You can also enjoy sub-titles when watching English movies, multi-code decoding feature, backward and forward quickly, and zooming option. Apart from this, you can enjoy the videos by locking the video screen by tapping on the lock icon.
Key Features of the App
Multi-core decoding and HW + decoder
You can zoom by pinching in and out your fingers on the screen
Various swipe gestures are available to control the video
You can play the video with subtitles
---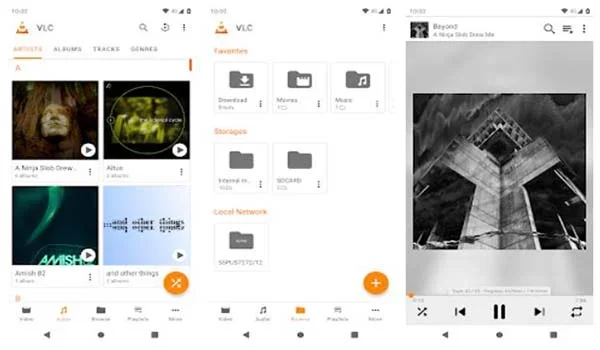 VLC is one of the best and well-known media players among us. The VLC media player is free Android software that can be downloaded from Google Play Store. One of the best things about VLC that I admire is that it is ad-free. VLC helps you listen to the audio files as well as watch the videos. It comes with many features such as cross-platform, network streaming, equalizer and filters, all audio and video formats. On the other hand, the course is open for everyone because the VLC media player has been designed by passionate developers who want to help people watch anything.
Key Features of the App
It supports almost every file, discs, video, and audio files
Comes with a media library for audio and video files
It offers support for multi-track audio and subtitles
Auto-rotation, gestures to control volume, and aspect-ratio adjustments
---
PlayerXtreme Media Player is a free Android app and is the most popular cross-platform video and audio player. With PlayerXtreme, you will be able to listen to any of your favorite music, watch the movies any time, and it supports every audio and video format such as m4v, MPEG, mp4, mpeg2, WebM, to name a few, seamlessly. Its simple and user-friendly interface makes it the most-loved and well-versed Android video player app. You will feel the original audio and can experience the smooth 4k HD 1080p MKV playback support on the go.
Key Features of the App
It allows you to enable all popular formats of subtitles
It supports all of your system video and audio files
You can manage and organize music, video, and audio by sections
You can watch third-party content by browsing in-app
See Also: Top 22 Best Battery Saver Apps for Android
---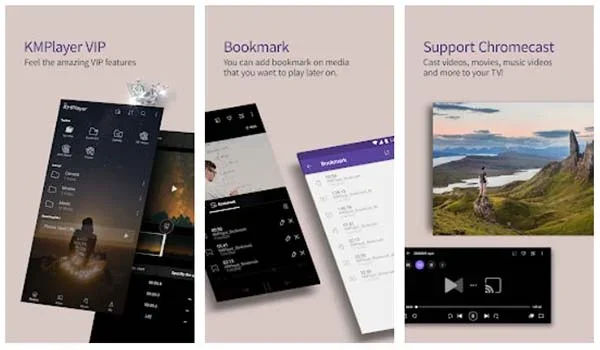 KMPlayer is one of the best and well-established video players for Android users. It comes with many features and functionality that will surely make you fell in love with this. KMPlayer can support high-quality videos and any of the formats you might have on your phone or tablet. Various quick and one-tap buttons are there, video zoom in and out, and move the real-time to the home screen while working on other tasks. Above all, subtitle settings and playlist settings will organize the stuff more efficiently and perfectly.
Key Features of the App
You can bookmark the position at the time you want
It supports HD, 4K, 8K, UHD, Full HD video formats
Screen resolution, hue, contrast, brightness, and saturation on the go
Pop-up windows to play the video over other apps
---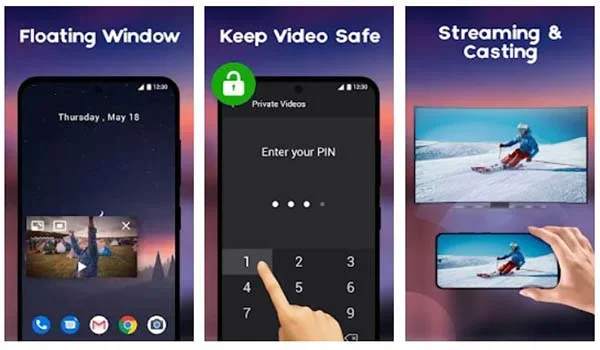 If we talk about the player's reward and existence, we can recall being recognized as Google Play Best of 2017 Winner. It has crossed the 4.8 rating score on the Play Store and got many reviews from real-world users. Now coming to the surface and talk about the feature and options that have been designed for you to provide you with comfort and easiness. Unlike other players, it also supports all kinds of video formats without any error; at the same time, it comes with a private folder. This means now you can hide your videos safely on your phone.
Key Features of the App
You can play MKV, MP4, M4V, AVI, MOV, 3GP, FLV, WMV, RMVB, TS.
It supports Chromecast and TV to play your videos online
You can enable subtitles to understand more
Manage and share the files in an effective manner
---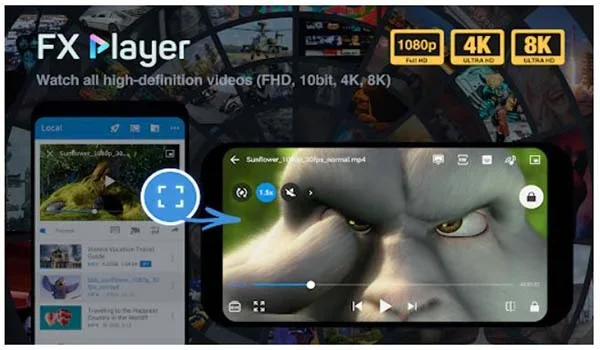 If you are looking for an all-in-one solution, FX Player can help you in the same. FX Player has brought many features that the need of the hour, the first thing that we like most is its mobile-friendly approach. Though every video player is responsive for mobile users, when it comes to FX Player, we'd say it is the first video player in the market that focuses only on mobile UI rather than other players. It supports almost every video and audio format that comes your way. You can play full HD and 4K videos without thinking about any second thought.
Key Features of the App
You can transmit your favorite content on a larger screen using Chromecast
While using other apps, you can watch the movies in pop-up playing mode
It supports video conversion, from high-quality to MP3
You can also download the videos using the web-video function
---
OPlayer is a professional video player and has been around for over eight years now. You can enjoy 4K, full HD, 4K-ultra video and audio files even without scratching your head. It works perfectly and smoothly on Android OS, for example, Android tablets and mobile phones. Another feature that might help you hide your videos is, by using OPlayer, you can hide your private content from the app when you give your phone to other hands. You can also adjust the play-screen size, brightness, repeat, and can perform many more things on the go. Get it today to enjoy yourself with your family and friends!
Key Features of the App
It supports a single-hand mode to provide you with ease to control
You can transfer files through several ways like wi-fi, USB
AirPlay, built-in file manager, and HDMI wire support available
You can control the 3D and 2D video modes as well
---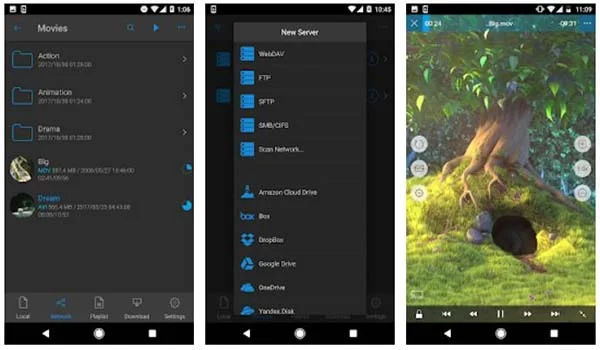 If you are tired of converting your video files into other formats, watch right on your mobile screen, using an Android video player, nPlayer is the perfect platform to get you out of this trouble. Just by installing a nPlayer video player to your Android mobile device, you will be able to play almost all kinds of video and audio files hassle-free. In addition, just by taping one time on the screen, you can control the video, and above all, volume control, playback position, move next and previous, brightness, font size of subtitles, and so on. Hit the download button below to get this fantastic application today!
Key Features of the App
Import the videos from your system location, and Drive, Dropbox, OneDrive, etc.
Arrange your files according to the category and genre
nPlayer throws the updated version time-by-time
It supports DTS HD and DTS audio codec at the same time.
---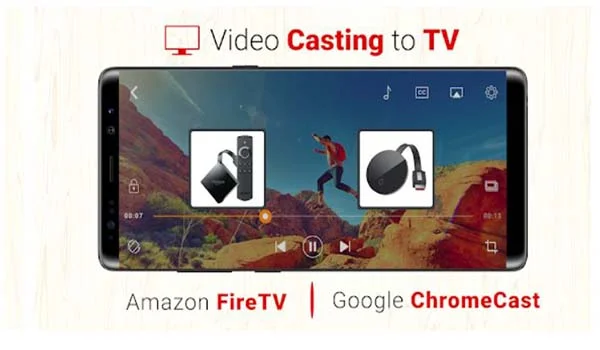 To enjoy movies and mesmerizing audio with your friends and family, you must download CnX Player right away. This app especially has been designed for the 4K and high-definition videos and movies. You will experience the breath-taking audio and video quality when you use it. Moreover, you can play any video using the powerful subtitle feature smoothly. If you want to play the video on the big screen, you can anytime transmit the play into TV and Chromecast. The other remarkable thing is its best interface and mobile-friendly UI that does not let you get tired of the app.
Key Features of the App
Hardware Acceleration HW and Hardware Decoding
It comes with battery-saving features to let you play the movies longer
It supports several formats such as MP4, MKV, 4K, TS, WEBM, XVID, AV, etc.
Theatre Mode is available to experience the movies in more significant ways.
---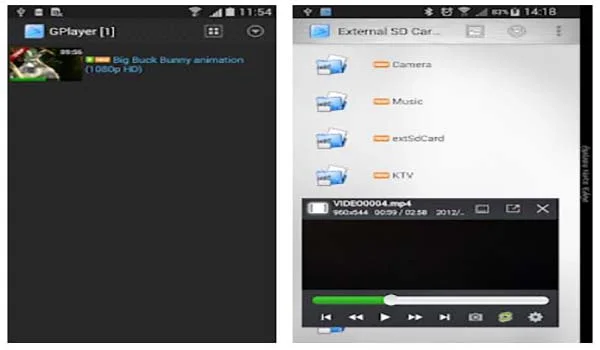 GPlayer is another best video player for Android users, which is 100% free and comes with several heart-winning features. With a player, you easily share your essential files from PC to mobile phone and vice versa using the in-built wi-fi option. For smooth and second-to-none video and audio quality, we recommend downloading this application without any functional delay.
You can shift your viewing from the small to the big screen and watch the movies on a larger display, just by using Chromecast and TV Firestick. Apart from this, the app will help you organize your space area and let you experience the playback even in a pop-up window.
Key Features of the App
Select the theme as per your interest and taste
You can set your gallery in 3D modes, like grid and listing
At one time, you can play 6 videos using the pop-up window feature
Import videos from YouTube and custom URLs
---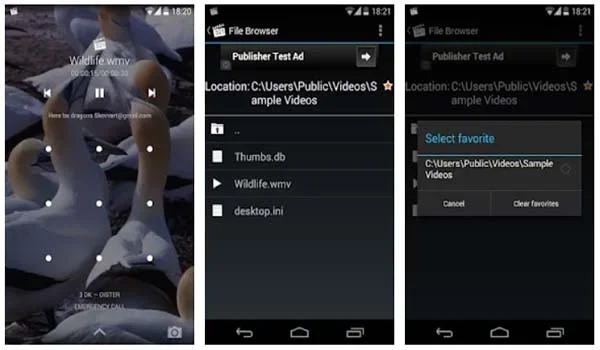 To control the program, you can use the built-in web interface, and the cherry on top is that you can manage the content remotely. You can control the playback from the notification bar, lock screen, and even from the app itself. You can connect with your PC to transfer the files without any trouble, and also local servers and local media from your phone. You must need to enable MPC-HC from the interface if you come across any real-time problems. The super active contact support team is there for you to help you.
Key Features of the App
It supports lock-screen, notification area, and in-app control features
It comes with better audio and video performance
You can play various video formats on the go
It can work perfectly on slower devices
---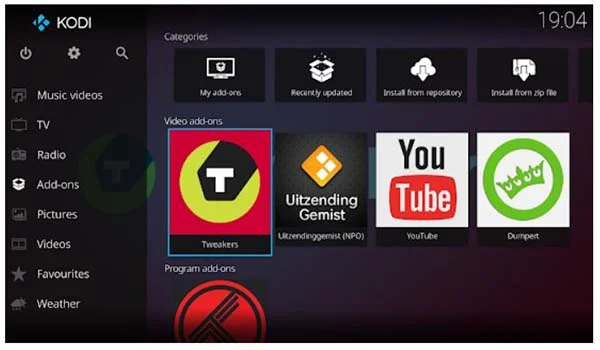 Kodi media player is an award-winning platform, has active installs of more than one hundred million real-world users, and got several reviews on positive note. This is enough reason to get this application right away; however, let us make you understand what other benefits you can get on the go. Kodi is the perfect blend of video players and HTPCs to entertain you regularly. The simple yet amazing user-friendly UI of the app is a noticeable thing among others. Remove control is another fascinating option offered by Kodi Foundation for free. Get it now to enjoy the far-fetching and extensive experience.
Key Features of the App
It supports all formats like FLAC, WMA, wav, mp3, etc
Downloading and setting it up is easy and can be done within a few clicks
It also comes with Retro Gaming Emulators
Voice control feature and music library available
---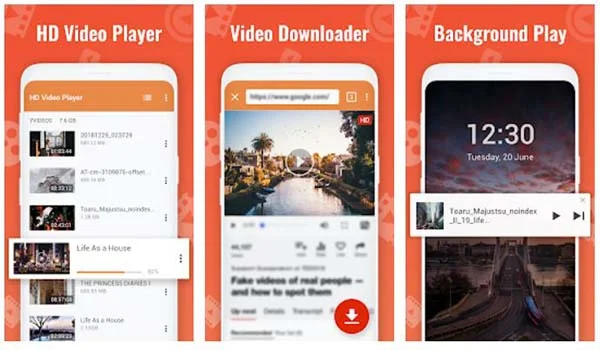 Video Player HD is a well-known and established media player in this list. The app's primary goal is to provide you with a seamless and smooth, high-quality video-playing experience in real-time. With Video Player HD, you can run video formats like MP4, WMV, RMVB, MKV, 3GP, M4V, and MOV, to name a few. Apart from this, you will be in control to manage the brightness, playback speed, colours of the screen size of the video, zoom in and out option, and much more effortlessly. The bass and treble adjustments are the essential aspects of the app; try it now!
Key Features of the App
You can list all of the files stored on your phone
You can set the bass and music compositions using the powerful equalizer
Select your language in the subtitles settings
One-tap video resume and quick start options are available.
---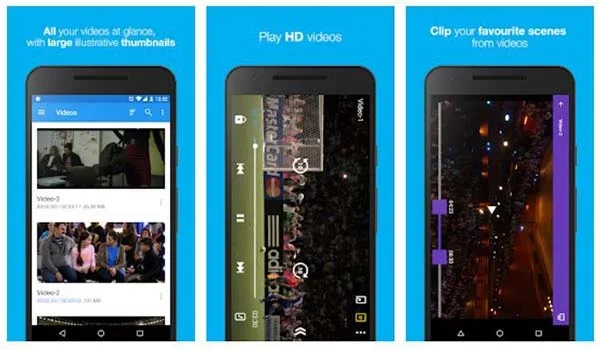 Among several video player apps available, SR player is one of the most popular video player apps available on Playstore. You can enjoy movies and videos for free. It also comes with a pro version where you can enjoy watching videos without getting distracted by ads and can get access to all the app's advanced features. With this app, you can do multiple activities, such as making and sharing video clips with your friends, uploading files, deleting files, securing your files with a high-security lock system, and playing all the videos in high-definition with superb sound effects.
Key Features of the App
You can play videos from the home screen even without opening the application.
You can indulge in other activities by playing the video in a minor pop-up mode.
Can also play videos in the background as audio.
You can bookmark videos to watch later and create a personalized wish list.
---
15. IPTV Manager for VL Player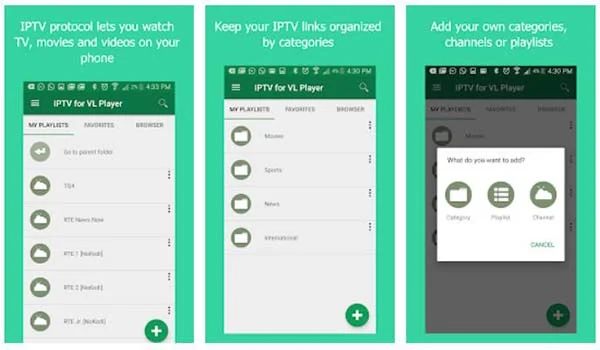 VL video player IPTV is another top-rated video viewing app that comes with a user-friendly interface. You will be left speechless by the audio and video quality of this app. All the videos are streamed in high-definition with super-satisfying audio quality. The format of the video file is not an issue here for smooth streaming. You can also play music and videos that you have stored in your device's gallery. The interface and typesetting are easy to understand, and it also offers a video-sharing option.
Key Features of the App
It also supports auto-rotation and auto-ratio adjustment features.
It supports all file formats, including 3D audio and HD-quality video files.
You can view the subtitles in video files in multiple languages.
It uses hardware acceleration that makes it function smoothly on any device.
---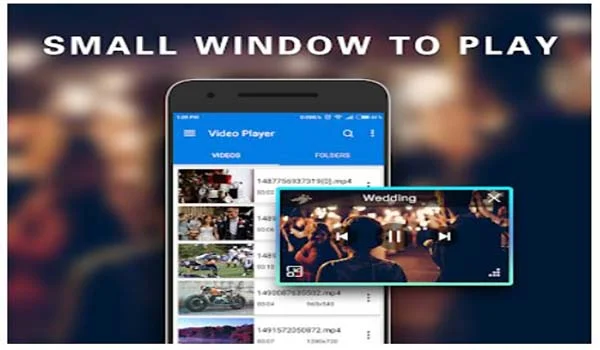 HD video equalizer is yet another excellent video player app famous for its convenience to use compared to other apps. It comes with unlimited features that are not easy to count and is available in small sizes. The notable feature is that it can play video of any format, including 4K and even ultra HD videos, without compromising the audio and video quality of the video you are playing. So, all these excellent features make this a must-download app. Even if you are using any other app, do give this app a try.
Key Features of the App
You can customize your video files using EQ Equalizer.
You can lock your screen while playing video to avoid unnecessary taps.
The resolution and graphics are of high quality.
It also offers a virtualizer equipped with an active Bass Boot.
---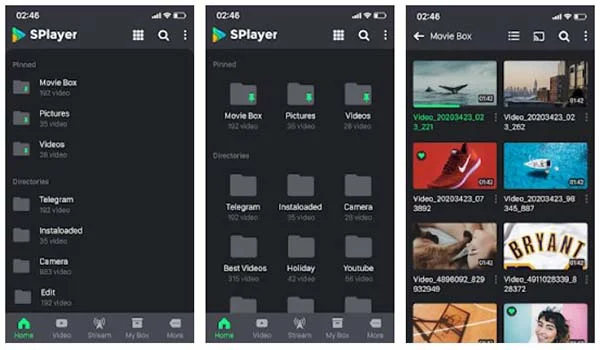 S player is one of the most sought-after lightest and compact size video player Android apps. The best part is that, along with an easy-to-use interface, it supports videos in all formats, keeping the video and sound quality smooth and clear. If you are a first-time user, you will also find it too simple to use because of its clean and easy-to-navigate interface. It supports live torrent streaming and comes with an audio and brightness booster. The background playback options are what make it more powerful and stand apart from its rivals.
Key Features of the App
A strict privacy policy fully protects your private video files.
You can switch between day and night mode along with a special eye-protective mode.
It is loaded with customizable player gestures, such as pausing, zooming in and out, and fast-forwarding video clips along with several others.
It also supports playing videos in the background.
---
18. 4K Video Player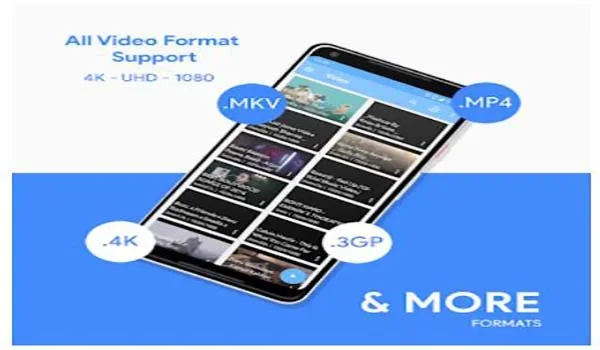 4K video file format is the latest in the market. As it is new in this field, most video player apps for Android do not support this file format. As a video lover, you might get disappointed. But 4K video player is one such app that allows you to play high-definition videos. It is packed with powerful features, and the users can experience the best video streaming. The high resolution supports all media formats, such as 4K, 8K, HD, and Ultra HD. It comes with a super-easy and mobile-friendly interface that will not let you get bored of its unique features.
Key Features of the App
It occupies only a tiny memory of 4MB on your device.
A user-friendly search bar allows you to search and access Ultra HD files quickly.
It comes with customizable player gesture controls settings.
You can easily play the video and audio in the background while working on another app.
---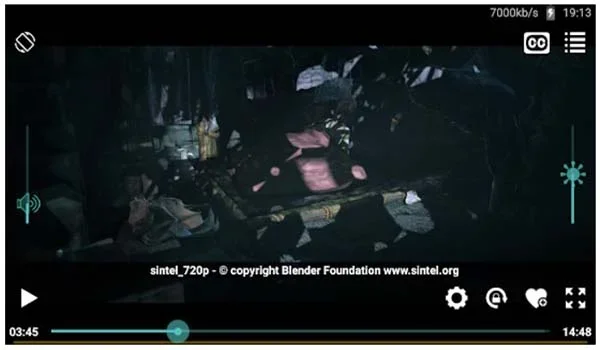 This video player's easy-to-navigate interface makes it stand out, as you can view your files in the list, grid, and 3D gallery modes. It also allows you to enjoy sharing the video files with other users, such as your friends and family. You will be amazed by the countless features it offers, like moving and resizing the video window, viewing the video on full screen or in minimized form, and multi-video viewing simultaneously. The other thing that we admire is its personalized media options, as this will help you organize and protect your files.
Key Features of the App
It supports all kinds of video file formats and also plays YouTube videos.
It also supports the Google Chromecast dongle.
You can create a personalized media list that is entirely private and shows up only in the mirror list.
It comes with fully customizable theme options as per your likings.
---
This media player is one of the most loved apps in the market; as its name suggests, it can support several formats with subtitles on the go. With this, you can enjoy 4K, 4K-ultra, full HD, and high-quality videos; on top of this, you can lock the screen by taping one time on the screen. As soon as you download this app, it will automatically detect all of your system's videos and files that it can support. Apart from this, an intelligent control panel will be given to you to order, arrange, and adjust the files, videos, aspect ratio, auto-rotation, and touch to mute and slide to the next/previous file.
Key Features of the App
It is a perfect all-in-one media player that supports all files and formats
Quick search and intelligent search options will help you a lot
It protects your videos and keeps them safe
It comes with advanced hardware acceleration features.
---
Conclusion
When it comes to media and video players for Android, there are many options on the Internet you would come across. We have researched the best video players for Android users so you don't have to spend time doing the same. So, select any one of them or try out multiple options until you find your best. Let us know what you think about it and share this valuable information with your friends and family, too.