Are you looking for the best music-making apps for Android? If yes, then this content is for you. Below we have shared the 20 best music-making apps for Android. Music Making Android Apps are more popular nowadays. Many music lovers and beat masters are moving to online platforms and which is why they'll need some fantastic music-making apps to help them come up with great and engaging music.
---
Reviews of 20 Best Music-Making Apps for Android
When we are talking about mobile-production applications, we must say that this era of technology has come to a new track record where many musicians use mobile or tablet-based applications to drum beats or remixing music.  We, of course, did extensive research about the trend and come up with the top 20 best music-making apps for Android users, which are free and offer an easy-to-use interface. We have also mentioned the key features of each application to get an idea of what to go with.
Figure out what's the best app for you and why!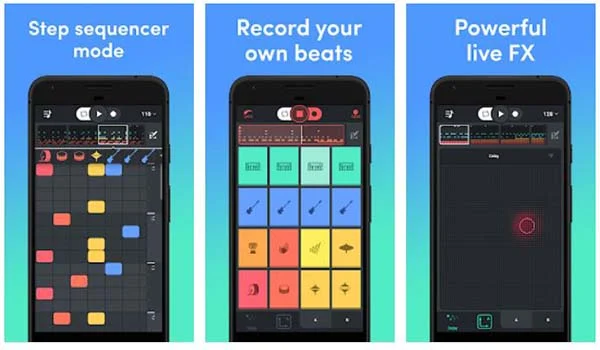 If you love the beats and enjoy the pad controller, Beat Snap is the right music-making app for you. The application is easy to download and comes with a user-friendly interface for a seamless user experience. Beat Snap lets you enjoy the music in the way you want. This means you can fix the beat and adjust the drum sound; simultaneously, you can manage the music about 30 times in a sequence. The easy-to-use interface is incredible and handy, and above all, second-to-none functionality helps you create outstanding music on the go.
Key Features
Record up to 32 sequences to create beats
An extensive catalogue of sound packs is available
Share the track on social media 
Six live-controllable FX to re-shape your music
---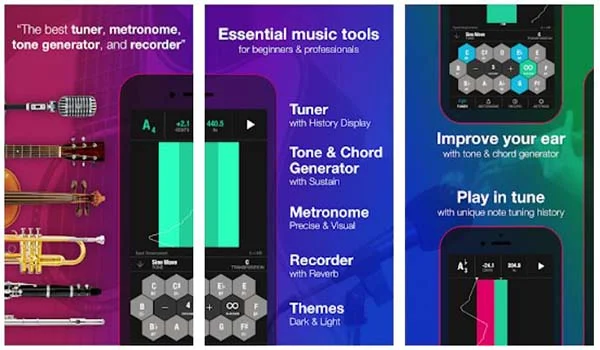 Tunable is another best music-making apps that will help you show your creativity to the world. This app is mainly used by musicians who want to enjoy musical instruments to the next level. This means this app will help you tune your instruments; chord generator, metronome, and recorder that will help you play the music with a perfect beat and tune. It comes with a toolkit to polish your creativity and is made for beginning professional musicians. With a green indicator, you can sense the right-tuning pitch for your instruments. 
Key Features
Tuning indicator that lets you be aware of perfect-tune
Tuning history to examine your strengths
Perfect for wind and string instruments from Tuba to Piccolo (24hz to 15khz+)
Vertical and Horizontal tuning displays
---
3. MixPads – Drum pad machine & DJ Audio Mixer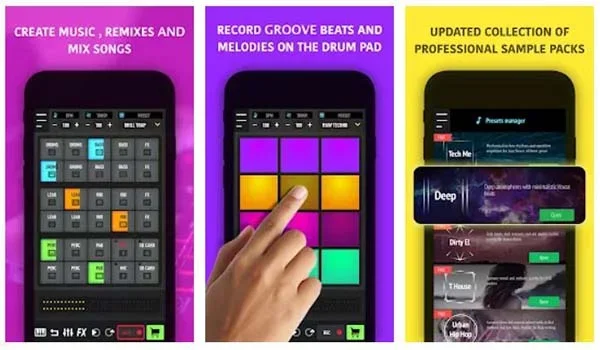 The main goal of this app is to provide you with an easy-long and straightforward interface that can help you concentrate on music, not the heavy interface. One of the most amazing things that we admire is that now you can compose music and remix the music elements like a pro. If you love making sounds like DJs, Grooves, and MixPads, this application, of course, is for you. The simple yet elegant design of the app and its features make it the most-loved and well-suited music-making app for Android users. On the other hand, a DJ audio mixer is noticeable, making it the best audio mixer app. 
Key Features
Record your voice and mix it up with others.
You can create hip-hop and DJ compositions in a simple way
Upload your music from files
30 drum pads. Reverse effect, 9 PRO DJ sound effects
---
4. uFXloops Music Studio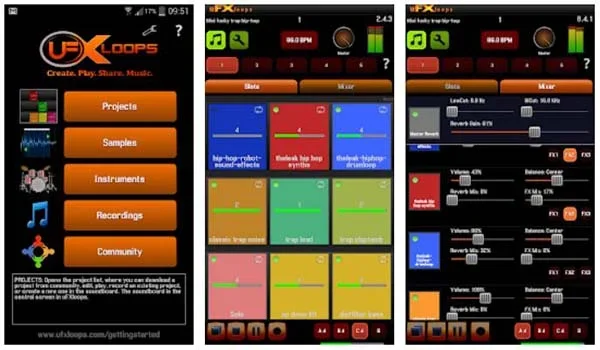 uFXloops Music Studio comes with a lot of interesting and exciting features to make you a pro mixer. Yes, it's true! If you don't have a studio, no worries; this Android music-making app is for you. It will provide you with many tools and sound-mixing components such as Sampler, Beatmaker, Loop Sequencer, Song Maker, Mixer, Soundboard for DJs, and many more. High-quality audio is guaranteed!
You can use ready-to-use projects and many samples to create your music or add to your existing one. One of the best things about uFXloops is its music community; this means you can connect with co-mixers to collaborate.
Key Features
More than 200 projects and 3000 samples are available
Over 3000 instrumental sounds 
Easy-to-use soundboard sequencer and arranger
An extensive community-based library 
---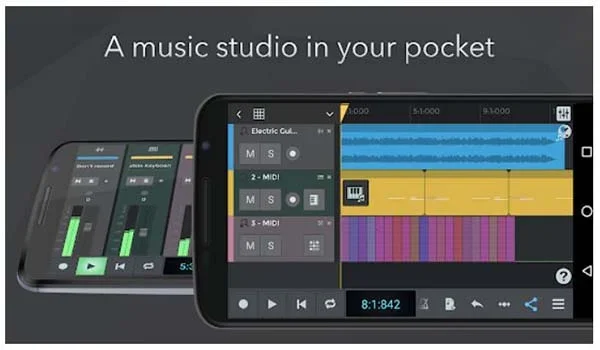 For those who want to turn their mobile phone into a pocket-sized studio, n-Track Studio DAW is the perfect Android application. It comes with many beat-making and sound recording features that can help you create an outstanding piece of music. You can record virtually unlimited audio, MIDI, and Drum Tracks; apart from this, you can mix them all and add one of your favorite effects on the go. Another feature that we like most is the Songtree community; with this app, you can create and share the results with your audience and join the community to get the ideas and share the screen.
Key Features
Piano-roll MIDI editor and on-screen MIDI keyboard available
Sound equalizer with 2D & 3D spectrum analyzer as well as a chromatic tuner
Built-in metronome, MIDI tracks, and Aux channels
Share your songs online with your friends
---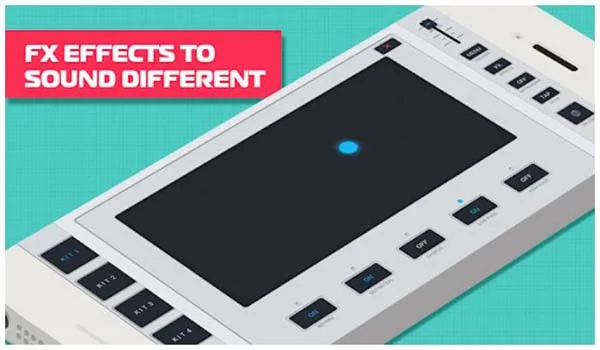 Hip Hop producer pads is for music lovers who want to create hip-hop and party songs. This app is a perfect music-making machine, and with this, you can come up with some of the fantastic hip-hop audio tracks. There are many samples to create songs; apart from this, you can also use Loops and One-Shots to add an extra layer of engagement to your work. Metronome, on the other hand, is the perfect blend of fine-tune rhythm. On top of this, share your edited work with your friends and family.
Key Features
Several loops and beats are available.
Metronome to help you in creating a perfect piece of melodies
A large collection of One-Shots
With this, share the melodies on social media
---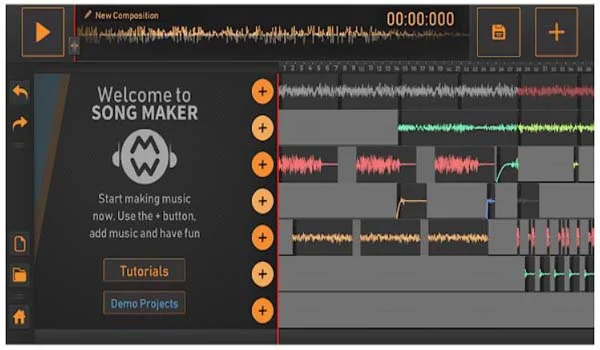 Song Maker is a free music-making Android application that will make you a rocking star in your room. If you'd like to compose music on your terms, Song Maker comes with such functionalities to combine your pieces into a perfect soundtrack. With this app, you can make rhythms, and beats and create different sound effects with just a few clicks. You can also modify the loops and sound using its in-built editor. Apart from this, add free beats into your compositions and put powerful and engaging work on the table. Moreover, you can also add your voice to your work and make the perfect music. 
Key Features
An extensive library of ready-to-use free sounds, loops, and beats
Save and share with your audience
Create music like hip-hop, bass, special beats, and much more
Record your voice and add it to your song
---
This application is dedicated to all music creators who'd love to leave their mark by creating second-to-none compositions using a mobile phone. Music Maker is a perfect music-making app for producers, music creators, DJs, and aspiring music lovers. With its easy-to-use functionality and user-friendly interface, you will be able to create fantastic work. You can create and remix music with beats, loops, soundtracks, and various music genres such as Garage, Pop, Rock, Rap, Dubstep, Hip-Hop, Trap, EDM, House, and many more.
Key Features
A customized music library is available to use for free
Show your creativity to the world and be a music producer
Choose your favorite music genre to create the music you love most
You can join the music community to collaborate or learn more
---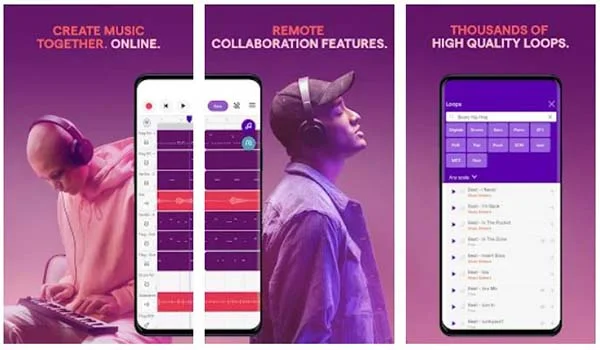 Soundtrap Studio is another Android music-making app based on sound recording and remixing concepts. This online app can help you in many ways, such as recording your voice and adding it to the soundtrack, and above all, you can avail of the podcast feature. This means you can share your recording on various channels. The cherry on top is high-quality professional sound effects; with these effects, you can fill your music with life. You can save your recordings and share them with your friends and family or on social media. Soundboard Studio is available on Windows, Chromebook, Linux, Mac, iOS, and Android.
Key Features
Invite friends remotely using the in-built chap option
A lot of high-quality sound effects
It comes with a cloud option to save your recordings
Download and share your work on multiple social media channels
---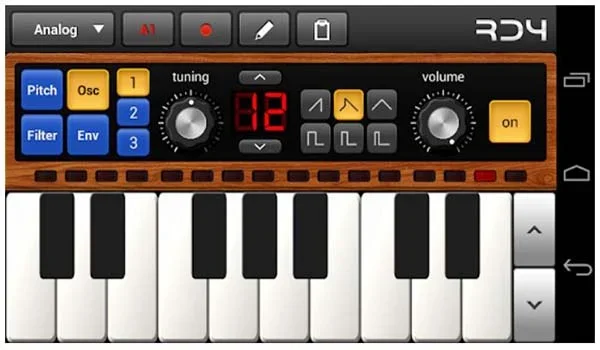 Want to turn your mobile and tablet devices into musical instruments? If so, RD4 Groovebox is the one-in-a-million Android music-making application. This is a perfect application that comes with virtual analog synthesizers, drum machines, and effects. This app lets you edit and arrange the compositions in real-time. You can now record and set notes with each sequencer and piano roll. The app's interface is incredible and comes with a simplistic design that will not distract you from inappropriate stuff. Whether a beginner or professional, this app is the one-stop solution for your entire music creation journey.
Key Features
Connects external MIDI keyboards, and USB MIDI support
Perfect for phones, 7 and 10-inch tablets
Multi-touch control and sync support
SoundCloud sharing kit and OpenSL support
---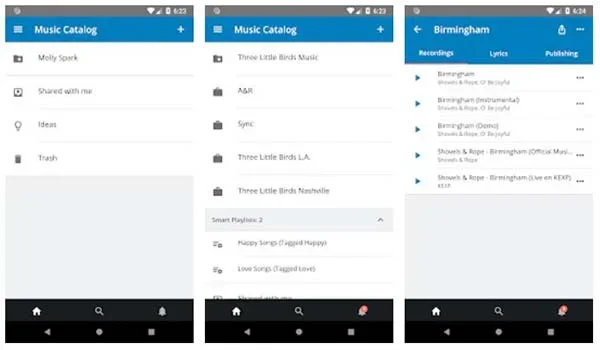 SongSpace is one of the best and most well-suited music-making available on the Internet. This app comes with categories to define its functionality differently. If you are a creator, you can save lyrics, backup voice recordings, upload song ideas, keep track of demos, and many more things are possible with SongSpace alone. At the same time, if you are a company or team, you can use this app to use the library and listen to your company's catalogue, search, create, share, and much more right at your fingertips. Ultimately, SongSpace is an app that will help you in so many ways, so hit the download button to explore your areas. 
Key Features
Offline playback feature to listen to your songs
Backup your recordings and memos on the phone or cloud-based catalogue
You can store lyrics and share song pages from anywhere
Device compatibility is enough to get it today
---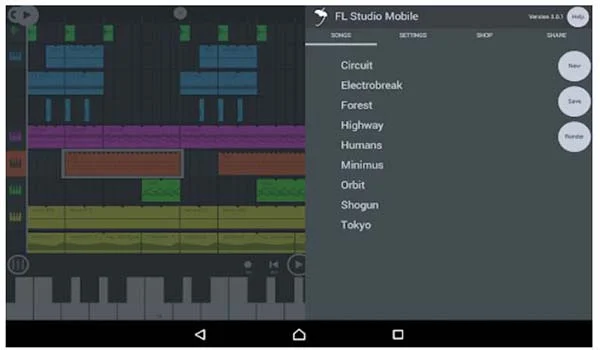 FL Studio Mobile is another excellent application if you're seeking a second-to-none music-making Android application. This app comes with many in-built features that will surely make your life easier and more fun. You can create a multi-layered soundtrack right on your phone, tablet, or Chromebook with this app. At the same time, you can mix, record, sequence, and render a complete song to your device in high quality. You can also browse and view the preview to check the going-on work. Load projects, files, audio, and recordings from your device using a free plugin. 
Key Features
Automation and MIDI controller support
MIDI files import and export options
Share your work through Wi-Fi or Cloud
Virtual piano-keyboard and Drumpads available
---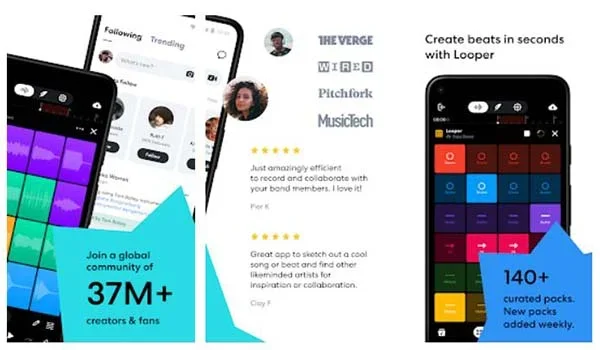 BandLab is again the most popular and well-known Android music-making app that is dedicatedly built to provide you with excellent editing and music-composing options. This free custom music creation app is fantastic and powers you to record, create from scratch, and collaborate with producers and music creators worldwide. On top of this, this app lets you enjoy the music library and enables you to share your track with the world by joining the global BandLab community. Easy-to-use and simple editing options make it an eye-catchy and perfect app for music creation. 
Key Features
You can find and connect with new friends using BandLab's social networking feature.
Hundreds of free vocal soundtracks are available.
An extensive range of musical genres like EDM, dubstep, garage, etc.
You can customize the sounds with its options and add lyrics to the song.
---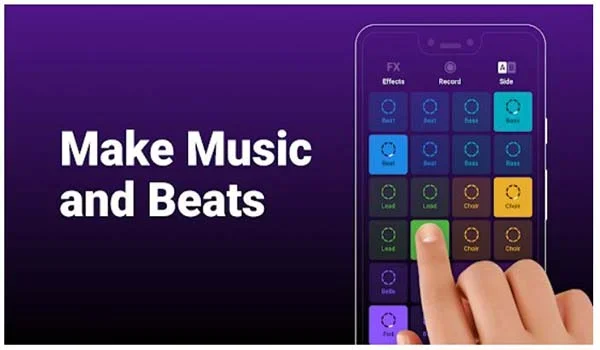 If you want to become a DJ or bring your musical dreams to the table, Groovepad is just like that. With its smooth sound and ease of use, you can create complex compositions in no time. Apart from this, Groovepad also teaches you to create your song and add multiple effects to it. All you have to choose your favourite genre and click on the pad to create the beat. You can do many experiments, mix, remix, create melodies, and master your music-making skill with one of the best music-making apps, Groovepad. 
Key Features
You can utilize FX effects in your song and party
A perfect app for DJs, beatmakers, music producers, and music lovers
Unique and eccentric soundtracks available
Most popular genres such as Hip-hop, EDM, House, Dubstep, Drum & Bass, etc.
---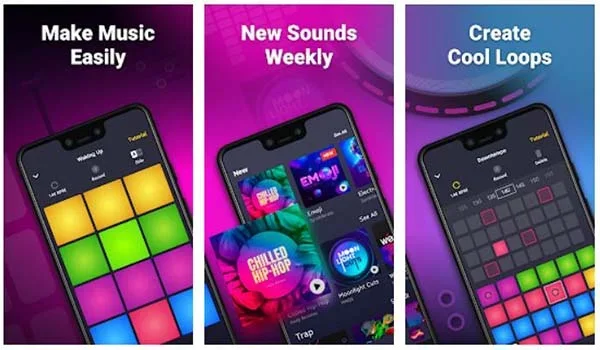 Drum Pad Machine is an excellent music-making app for creators and music lovers who want to generate new and fresh beats. This is an Android app to create a multi-layered soundtrack and unlimited music and melodies for free. With its minimal interface, you can play and create songs in real-time and create and play many loops on the go. Social sharing is also available; this means you can record, save and share your work with your friends, and family, and on your social handles. Many features like loops creation, sequencer, tamp, etc., are available for free use. 
Key Features
You can go with the finger drumming option to enjoy the beats
A library of samples and compositions are available
You can customize the soundtracks and options available in the app
It comes with recording options to record in your voice
---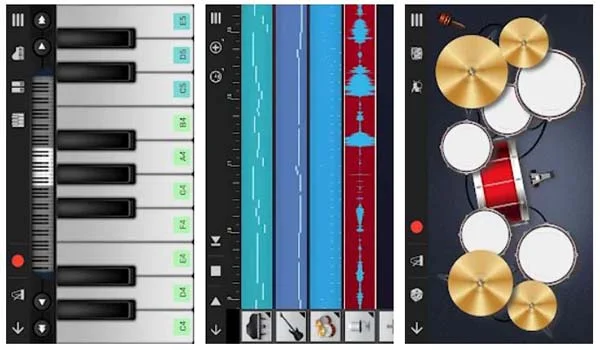 Walk Band is another well-established Android music-making app that you can download and use for free. This app is an all-in-one solution for your music creation field. This means, from beats to recording, from loops to adjusting the tempo, you will get everything right at your fingertips. This app can help you play many instruments such as drums, guitars, keyboards, and many more to make you stand apart from the crowd through your creativity. You can produce studio-quality audio using Multitrack Synthesizer (Mixer). 
Key Features
You can enjoy a bunch of modes such as solo, bass, and chords
An exclusive kit is available to create the outstanding songs
MIDI track recording system and MIDI to MP3 formats
Add your voice via the recording option
See Also: Top 20 Best Home Security Apps for Android
---
As its name suggests, Add Music to Voice is an Android music-making app that allows you to add voiceovers to existing music tracks. It comes with simple yet elegant features and an end-user interface that will not make you think about any other music-making app, unlike other applications. You can also record your voice and add it to your track and mix and edit it accordingly. You can also choose a song from an in-built library and make it as per your requirements. The saving options are also there to store your sounds for future use. To make the voice and sound smooth, you can apply the default filters.
Key Feature
Choose music from your systems' files to edit
The smart filter is available to make your song more attractive and smooth
Thousands of music you can find in music-library
You can utilize karaokes to add your voice to it.
---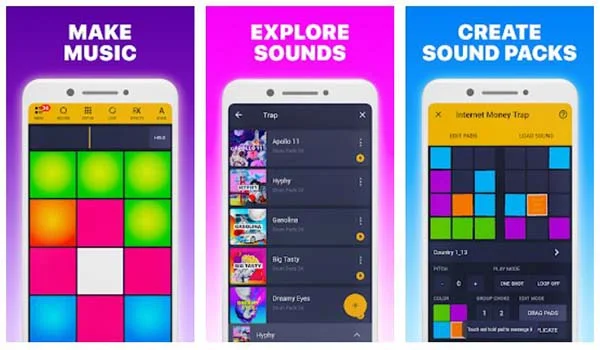 If you are looking for a hip-hop music mixer, your search now ends here. Drum Pads 24 is a perfect app that can beautify your creativity and make you known to the world. This app is just incredible; it comes with a drum pads sampler and beats music mixer. It boasts that over 15,000,000 beatmakers have used it and are enjoying its second-to-none approach towards music. DJ mixer is the most loved feature of this app; with this, you can create music and tracks on the go. Beatboxing, finger drumming, and playing loops are the other fine-tuning reasons to get this application today. You can rock in front of your clients with ready-to-use and high-quality sounds.
Key Features
Create perfect beats with Pad Editor
You can record tracks and share them across the social media
It comes with 24 drum pads with pitch audio effects
More than 2800+ sounds and music packs are available
---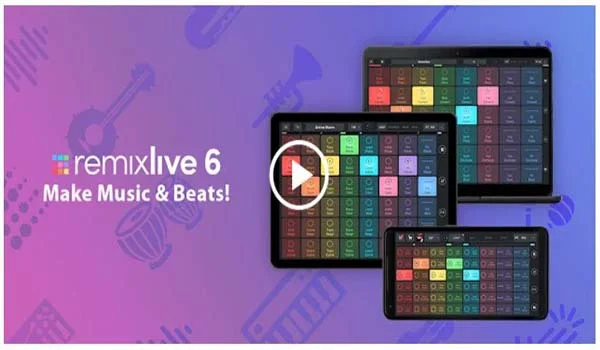 Remixlive is another feature-rich and versatile music-making application for Android users. You can create any music within seconds, in fact, with a few clicks. Its intuitive and straightforward music composition and performance are excellent. You can take advantage of 48 samples, 48 loops, and 48 sequences sound packs to re-make your audio with Remixlive. You can choose your favourite music genre to create music in. It supports the new Chromebook app and MIDI controllers; apart from this, you can create, export, and edit your track with brand-new Song Mode. 
Key Features
You can load files from third-party services or files explorer
It comes with a full-flavored remix toolkit
You can use samples and sound effects on the go
Instant sharing options and seamless user experience are fantastic.
---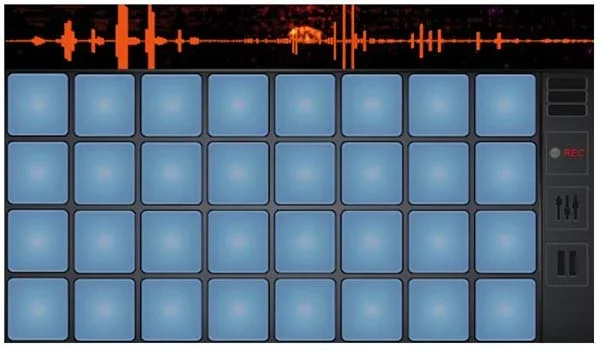 DubStep Music Creator is a free Android music-creating app. It comes with many exciting and mind-blowing features such as a beat pad, a song maker, and discovering and sharing the music online. It makes creating the songs and composing the tracks much more straightforward than any other application. If you love to become a beat master, the DubStep app is for you. Just download the app and turn your mobile phone or tablet device into a beat machine. With FX effects and significant sound effects, you can create your music like a pro. It offers High pass, Reverb, Distortion, Echo, Low pass, Pitch, and Chorus. 
Key Features
You can use your sound samples to create mesmerizing songs
With DubStep Hero, you can listen later or share your work with the world
User-friendly interface and simple to use
8 x 4 beat pad, Stereopan, and Pause button
You can start and stop recording with just one click.
---
Conclusion
We have covered the 20 best music-making apps that can help you create brilliant and mesmerizing songs for your audience. All the apps featured in today's article are powerful and come from a trusted house. First, you will need to finalize your requirements, such as drum beats, recording, music mixing, or sound effect app.
Once you are done with your mind, select one or multiple options from the apps mentioned above. At the same time, you can go with multiple options. Let's say, for recording, you can use Add Music to Voice, and for beats, you go with Drum Pads 24 – Music Maker.
This is how you can select your preferred app and start creating songs and showing your creativity to the world. We recommend an app that offers social sharing options so that you can make your talent viral.