Are you searching for the best emoji apps for Android? If yes! You are at the right place. What makes emojis prevalent is their expressive nature. Folks of all ages use emojis to convey their feelings over text messages. Several people find it comfortable to use text chat as a communication approach instead of video call or voice call conversation.
---
25 Best Emoji Apps for Android
Android, by default, comes with very basic emojis. With the Google keyboard, you can extend your choices but they're still quite limited compared to the many apps that offer way more emojis. Let's explore the different Android apps for emojis today.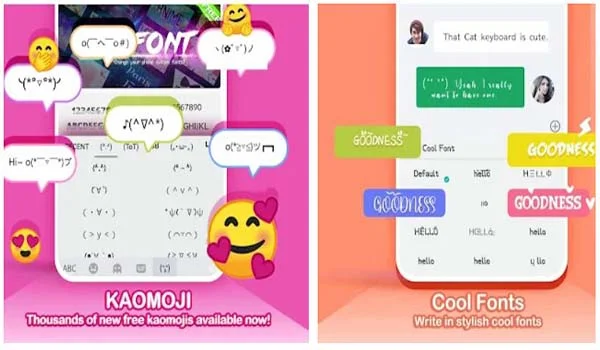 The app is smooth to use and offers you easy access to all new and trending emojis. There is a wide range of emojis to select and share in chat. Besides emojis, this application offers you GIFs, stickers to integrate into your social media platform.
Communicating is easier to achieve with the Kika keyboard. A variety of emojis, along with stickers, never makes you fall short of expression. Further, as this is a keyboard app, you get all standard and expected features such as auto-correct, prediction, and many more in the keypad. Users can also find several fancy keyboard skins to make it attractive. You will have a variety of modifications in this keyboard app.
---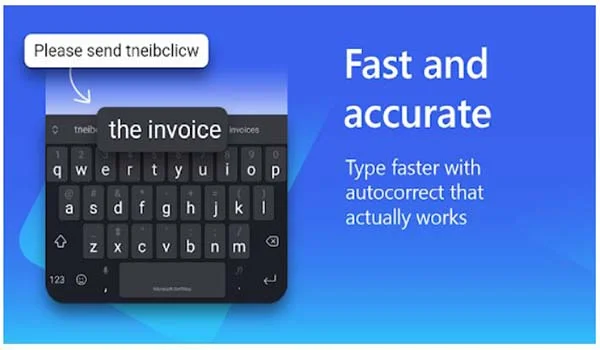 Android users can discover an extensive range of emojis in this app. It suggests precise emojis to complete your communication. As a time-saving app, Swiftkey also offers you frequently used words as suggestions while you are typing.
Users can explore tons of new and old emojis for all situations. An inbuilt search option on the keyboard lets users search emoji by typing the name they want. For example, you can type Pizza in the search bar to find the Pizza emoji. Overall, the app adapts to your communication style and suggests emojis as you need.
See Also: Top 25 Best Puzzle Games for Android
---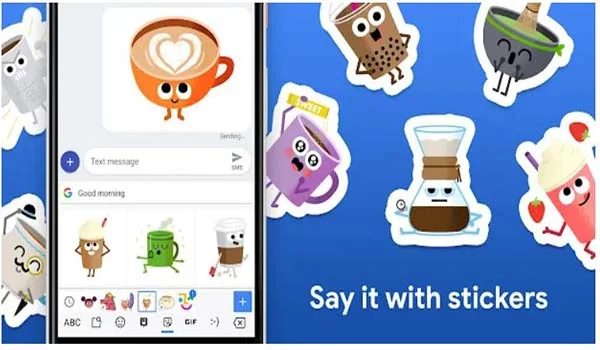 This app is a lot more beneficial than the standard keypad of your android phone. Gboard is a keyboard developed by Google. It is quite simple, fun, and fast to use.
Users can expect many advanced features. Some of the most indispensable features in this app are word suggestion, gesture typing, voice typing, cool stickers, funny GIFs, and many more.
Convenience in use is the major feature that makes it prevalent among users. There are no hard-to-understand features or actions that would confuse you. There are tons of emojis and automatic-customized stickers accessible in the app. Translation while typing is another major feature that boosts its demand.
---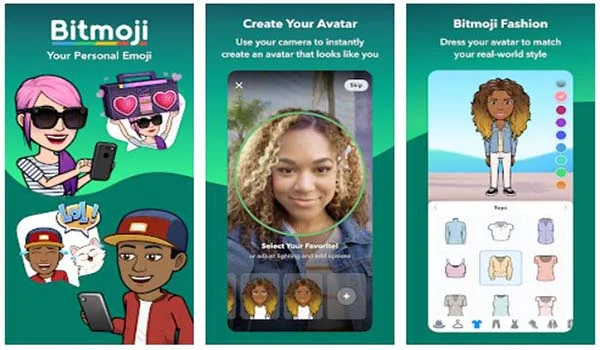 This is an entirely different emoji app from other regular ones. The app's most unique feature is creating your emoji. You can create emojis that you find suitable for your communication and share it with friends. Gboard users find this app more helpful.
With Gboard, you can share these Bitmoji with your friend.
Emoji creation by customizing your face into the avatar makes it even more awesome! There are many pre-defined emojis to add faces. You can use the phone's camera to take a picture and add emojis for maximum personalization. Besides emojis, users can also find comic GIFs, expressions, reactions, and many more. Countless sticker availability also makes this app fun for social media.
---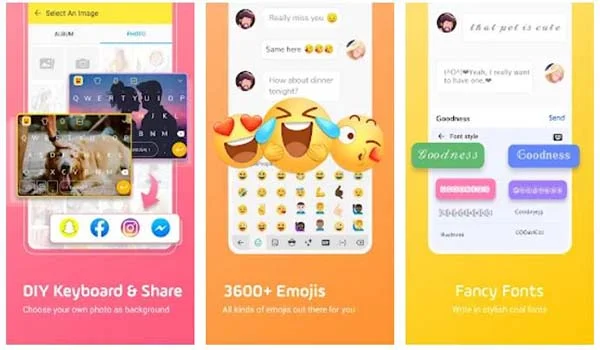 As an android keyboard, this application surely will make your conversation interesting. The emojis are more interactive and interesting to drive user interest. The app has a whopping 3600 emojis stored in it.
Not only emojis, but users can also explore many emoticons, GIFs, stickers, and many more features that will suit all your moods. Facemoji also has a feature that enables it for emoji prediction as per user conversation. You can also combine emojis to make it more fascinating.
Like Bitmoji, this app also allows users to modify emojis to their faces. Facemoji offers you maximum personalization with fun features. Smooth gesture typing is also available for seamless communication on social media. Facemoji also comes with numerous emojis that enable users to decorate the keypad.
---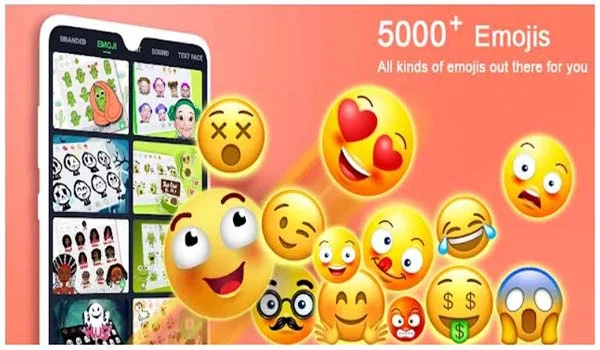 Cute emoticons, GIFs, and stickers are easily accessible in this app. As the name suggests, the app is prevalent for its wide emoji variety users can explore up to 1600 emojis with a click. One more feature that makes this app useful is emoji prediction.
This app uses AI to predict emoji based on the conversation of the user. A wide set of stickers with funny GIFs allows you to make your chat interesting. As a keyboard, this app has extensive themes to apply. Users can also type in more than 150 languages to convey emotions. One-hand use is also accessible and comes as a handy feature.
---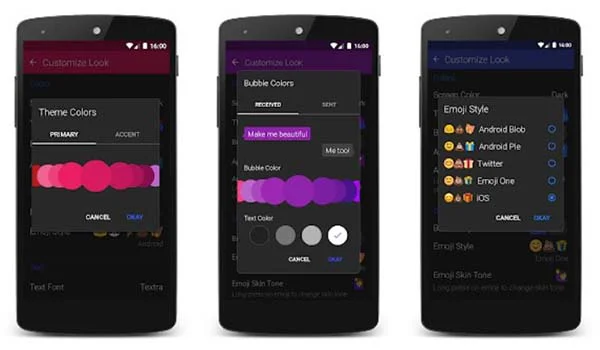 Textra appears as a superfast customizable keypad with a bunch of useful features. Diversity in emojis makes it more popular among android users. There are more than 2000 emojis to use in your chat. Emojis are usable on all social media platforms, including Facebook, Instagram, and Twitter.
There are a bunch of useful features in this app. There are android style emojis and iOS-style emojis to help users to choose the one they need. One other helpful feature of this app is the image sending option. It allows you to send a picture using the keypad itself.
In basic messaging using a phone also you can use these features. Users can also delay and schedule messaging sending time using this app. The app comes exclusively free with more than 180 themes to match your phone's theme.
---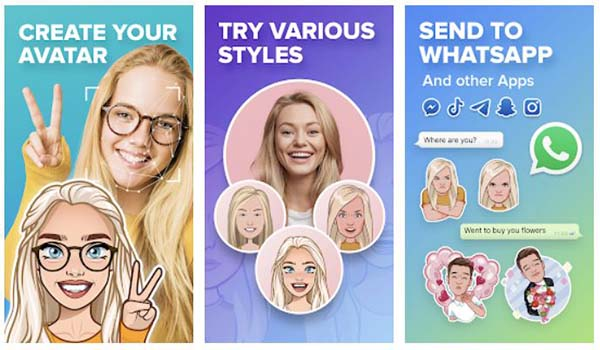 Mirror Avatar maker enables you to create an identical animation avatar of yourself. You can personalize and customize them to use in social media as emojis. These images are also usable in text chats as stickers. Apart from customization, users can also send custom smiley by creating them.
This app keeps on offering new emojis with updates. Meme stickers are also available to make your conversation funnier. It lets you create more than 1500 personalized stickers and emojis faces to send in conversation.
WhatsApp users can find great help with the wide availability of stickers, GIFs, and emojis. The emojis and images that you create as stickers are of higher resolution to maintain their clarity. Moreover, an excellent app for fun stickers and emojis.
---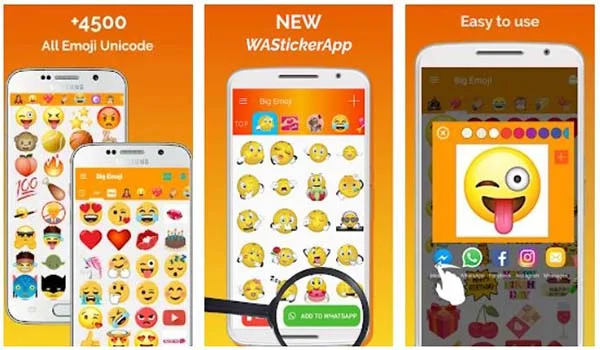 Big emoji is a user-centric app that offers you about 5000 emojis. With massive varieties of emojis, you won't ever fall short of expressions. App provides compatibility with all social media platforms.
It includes WhatsApp, Messenger, and other instant messaging apps.
The background colors in the emoji are customizable. Users can also change the skin color of emojis to personalize them. Apart from standard emojis, you can find an extensive range of newly added emoticons.
If users demand more stickers, they can also download them from the built-in store.
The significant feature of this app is it offers you emojis in HD quality. All these are also directly usable as stickers. The app is straightforward to use and great for social media.
---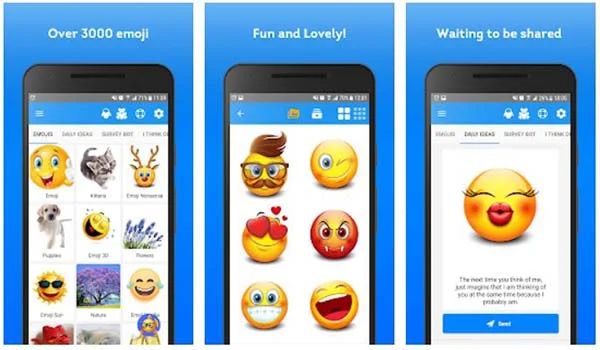 Elite emojis offer you more realistic emojis to get maximum expression. You can easily integrate the emojis from this app into your chat heads or messages.
There are more than 2000 exclusive HD emojis found in this app. Users can also explore a massive amount of stickers suitable for their conversation.
The predictive feature helps this application to suggest you emojis as per your communication. This app aids you in creating your animated images for emojis.
The emojis are also great for witty messages. Some other main features include huge access to GIFs. Users can also select emojis to share as per occasions like New Year and Christmas.
---
11. Afromoji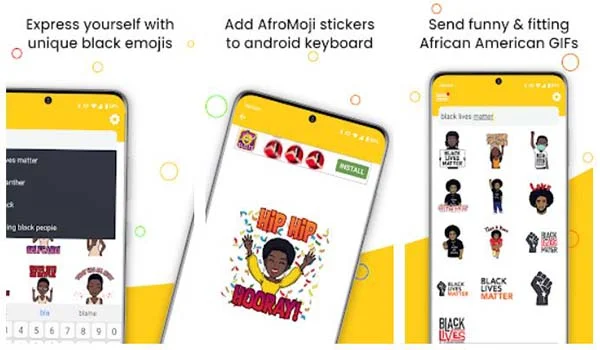 Emojis in Afromoji are quite distinctive. Emojis here appear either in yellow or white color. The emojis are huge in quantity for all universal needs. There are cool African emojis and stickers that users may find interesting.
The app does justice for all sarcastic users.
A collection of black stickers steals the moments with a great range of emojis. All the emojis are free to use. Users don't have to spend on any premium version. Afromoji is also lighter in weight that doesn't make much difference in your smartphone's performance.
Users can find it easy and quick to share emoticons on social media platforms. An overall review suggests this app is simple with minimalistic features. But it delivers your demand with a huge collection of emojis.
---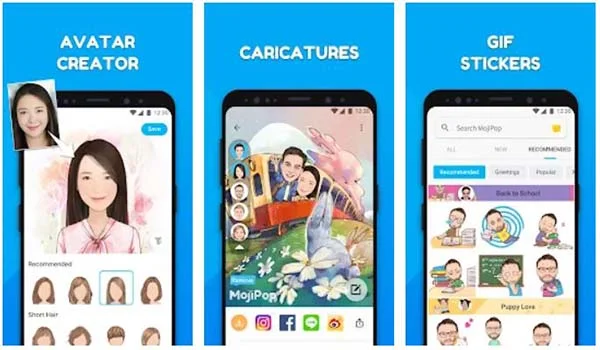 MojiPop is your emoji maker. Users can create their emojis and cartoon stickers with useful features. The app lets you use your customized stickers with your face to share on social media in many situations. Besides the creativity feature, the app also has many existing cartoon stickers and emojis.
These are the emojis and stickers to add to your regular conversation to lighten up the mood. One notable feature of this app is it allows you to access the fun stickers directly from the keyboard or your phone's camera. This app also gets updated with new emojis and stickers every week.
Quick share with fast and easy access makes this app more prevalent among users. Users can also access thousands of distinctive caricatures in MojiPop.
---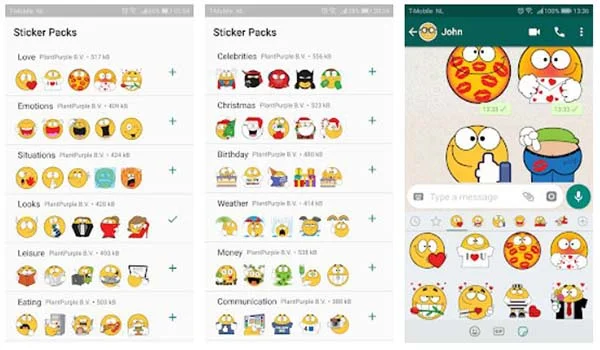 Like other emoji apps, Emojidom offers you more than thousands of emojis to share on any platform. The users can directly send these emojis on platforms like WhatsApp. You can save these stickers once after using them to find them easily.
The app also lets you integrate WhatsApp stocker from WhatsApp to use it on other platforms. When they delete one sticker or emoji by mistake, the users can again find it under the category by searching them. There are also in-app purchases that enable users to find what they need.
However, free version emojis fulfills all your demand to convey feelings. There are many high-resolution images to access at one tap. Users can find this app extremely useful. The features are also minimalistic and straightforward without any complexion.
---
14. Go keyboard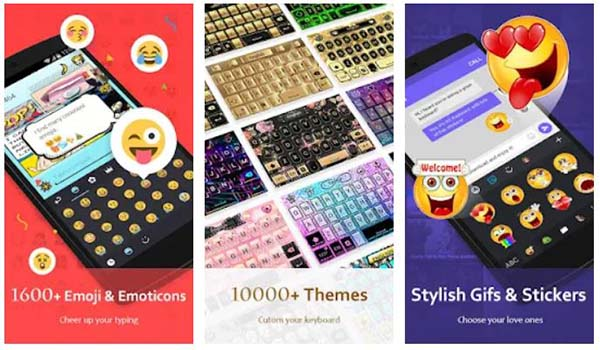 Go keyboard is one of the extensive emoji apps that have striking features. It offers you a lot of exciting features as compared to the standard keyboard.
This app comes with more than 60 languages on the keyboard to support users worldwide; there are thousands of diverse emojis and stickers to fulfill your search demands.
The emojis in this app is compatible with all popular social media platforms and instant messaging apps. Users can also use the keyboard to achieve significant font choices while text messaging. Keyboard themes make this app more attractive to users.
When it comes to privacy, the app doesn't collect any personal data while messaging. Users can trust this app on the scale of reliability. Free emojis and stickers are exciting and loved by over 200 million users.
---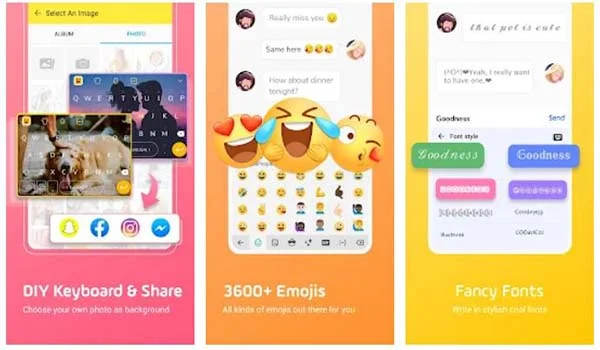 Facemoji keyboard lite is the lighter version of Facemoji. It consumes only 7 MB on your phone's storage and doesn't affect the phone's performance. Users can find thousands of emojis, stickers, and funny GIFs to share on a different platform.
Like the regular version of the app, this app is also compatible with all social media platforms. There are numerous trending GIFs and emojis to explore.
Users get a prominent feature, and that is predictive emojis. The app predicts emoticons as per the communication tone of users.
The keyboard also offers you predictive text for seamless messaging. Emojis from this app is usable even in emails if you are sending any personal emails. Special emoji combo is a special feature of the app that lets you combine emoji to innovate.
---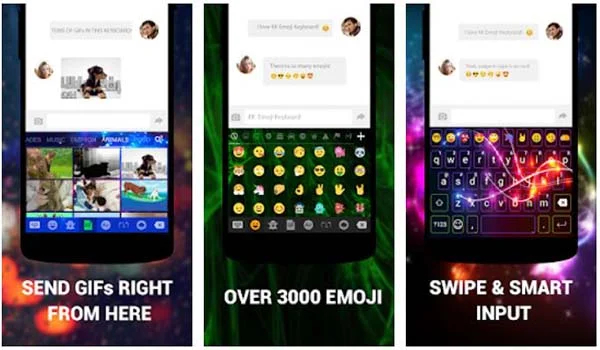 Keyboard-Emoji, Emoticons is an exceptional application that comes with a GIF keyboard. It is quite an expressive emoji app with more than 3000 emojis. There are emoticons, stickers, Lenny's face, and many more elements to make your chat interesting.
The GIF keyboard, as you know, is a special feature of the app. It let you access several animated GIFs using the keyboard itself.
There is an integrated search bar where users can search for GIFs, emojis, and stickers to find what they need. Apart from emojis, keyboards have some extraordinary features.
It enables users to achieve auto-correction, gesture typing, font, and more than 65 language access. Keyboard themes are also attractive that lets users change the appearance with interesting, colorful themes.
See Also: Top 22 Best Office Apps for Android
---
17. ASCII faces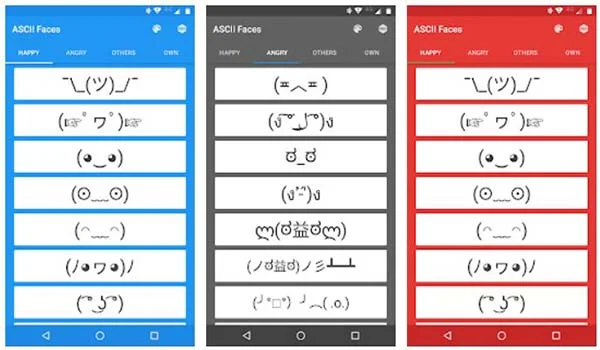 Users who love text-based emojis will love this app. Although text-based emoji creation is quite old these days, some users still find it fascinating.
ASCII faces one of those apps that offers you these cool text-based emojis. Using this app is also quite simple to achieve.
Users who like a template can simply click on it, and the template gets automatically integrated into the clipboard.
There are no complex and high-resolution emojis or stickers; you can find this app quite lighter in weight.
It doesn't offer any changes to the performance of the user's phone. However, users won't find realistic emojis with smileys. If you are expecting any such, this app won't serve you what you need.
---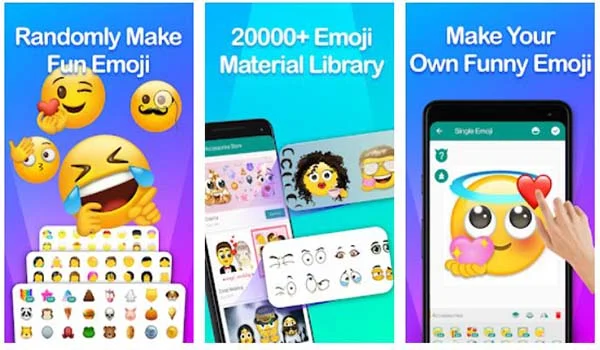 Emoji maker is an emoji creator. Like most apps in this list, it allows you to customize your emoji. Users can create a new kind of emoji with animations.
All you require to perform is to pick a pre-defined mood of emoji. The app will provide an editor option to add elements like animated text, additional elements like beards, and many more.
Users can also combine two emojis to create a unique emoji that expresses them; it is a great platform to show your creative skill and come out with new stickers for social media.
You can completely resize the emojis to make them tiny or larger. Moreover, it offers you the complete chance of personalization.
---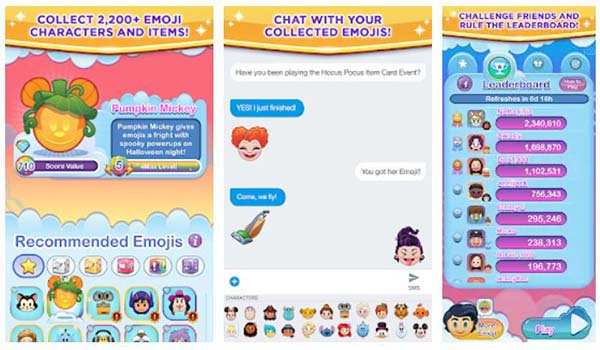 It is an interesting app for all Disney fans out there! The emojis are lovable. Most of them are from your favorite Disney characters. The app is quite amazing for the users.
However, the app permits users to play games with several emojis and challenge friends as well. There are many emojis to collect from this app. It covers some of the most popular Disney characters such as The Lion King, Cinderella, Zootopia, Muppets, and many more.
A challenging friend and leading the leader board is exciting, but you don't get keyboard features. It is only for collecting Disney emojis.
Users who want new challenges and special events to participate in every day can find this app engaging.
---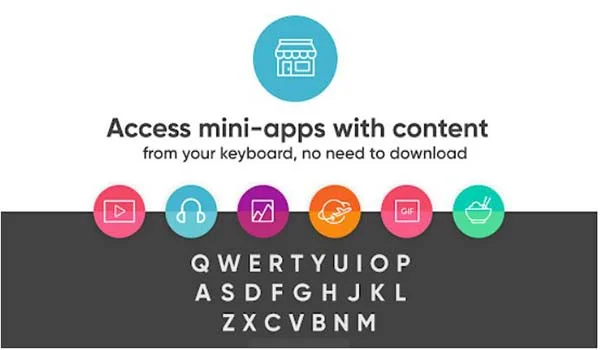 This app is considered one of the fastest keyboards loaded with a wide variety of emojis. Free themes, emojis, GIFs, and stickers are exciting features of this app.
Users get an advanced auto-correction feature on the keyboard to avoid typing errors.
One more impressive feature about this app is, it also recommends you emojis and stickers as per your conversation. A perfect way to express your feeling while typing is by using this app.
Users can modify the appearance of the keyboard with thousands of themes available. The app is more popular among users because it holds the Guinness book record for the fastest keyboard. This quite proves its build quality.
---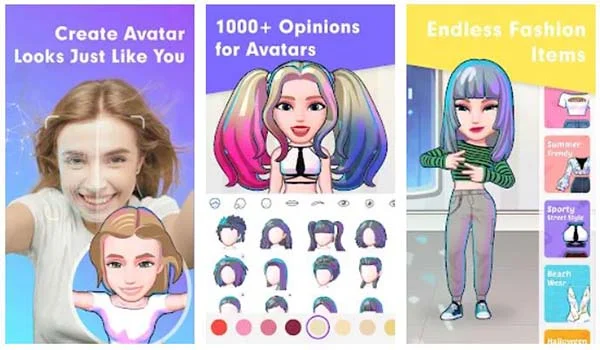 The 3D Avatar creator is an emoji-making app. It can help you animate your picture to convert it into an emoji. Users can not only make emojis, but they can also create Stickers, GIFs, and their 3D avatar to share on social media.
Unique personalized cartoons enable you to achieve creative satisfaction. This app is also compatible with all social media and instant messaging apps.
Other than creating, users can also find built-in emojis in thousands of numbers. The app is quite uncomplicated to use with minimalistic features. The features are simple to use but offer you what you need.
---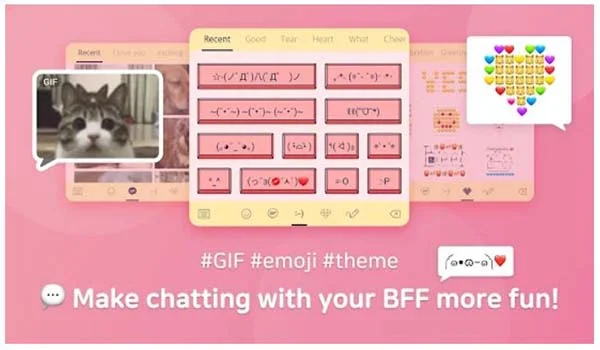 It is an emoji app that offers you cool emojis, stickers, and stickers on a keyboard. It is more like an advanced keyboard with features to fulfill all your messaging needs.
There is an extensive range of emojis to use in your conversation. Like any other emoji app, this app is also compatible with all social media platforms.
The perfect-sized emoji available in the app appears cute. This keyboard offers a great feature for seamless communication with your family and friends.
Keyboards come with many themes to apply. The fonts are even significant to use in the text. In an overview, the app is lightweight and perfect for all users. It doesn't use much space in the phone also.
---
23. Rockey Keyboard -Transparent Emoji Keyboard GB Yo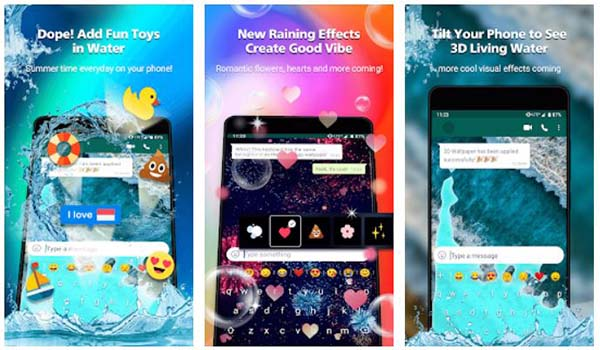 This is a recent keyboard from 2021. Users in this app can find emojis for all moods. This app is a complete suite in itself. Users who are using this app for instant messaging can also change the chat background from this keyboard.
However, what attracts more is the wide availability of emojis and stickers. There are more than 500 emojis to share with your friend on social media platforms.
The Rockey keyboard doesn't collect any personal data from your conversation. It is quite safe and reliable to use. The keyboard that users achieve in this app comes with transparent background. It appears like an advanced keyboard in your smartphone.
This app is great for all users who want to achieve an extensive range of emojis.
---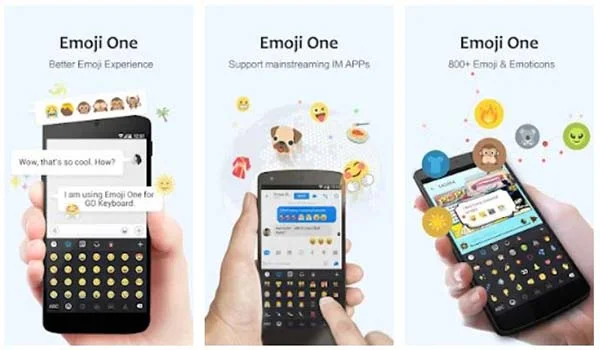 Users who want fancy and new emojis will find this app quite helpful. There are thousands of fancy emojis and stickers you can find helpful in this app.
All these emojis are exclusively free. Not only smiley faces but there are also many other things you can get in the app.
It includes stickers, funny and cool GIFs, animated emojis, and many more.
This app is compatible with all social media platforms, making it easier to share emojis as much as possible. In keyboard settings, you can always apply to change the themes and appearances.
---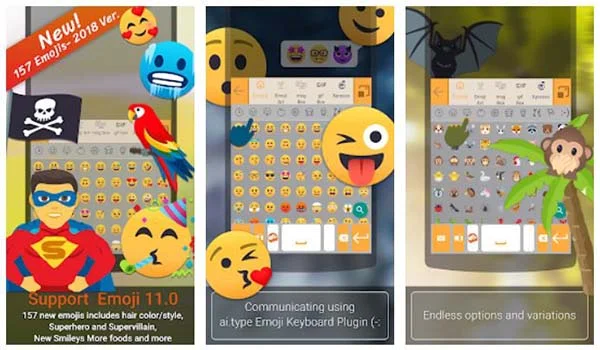 It is an app from 2021 with some coolest emojis. Ai.type appears as an emoji app for android free to download and makes your messages exciting.
There is a dedicated emoji keyboard in this app. The keyboard plugins are available in the recent versions of the app. This offers an endless opportunity for users to chat emojis frequently. In the regular keyboard frame, emojis will appear on the button.
Despite having the smiley face emoji, this application also offers you text-based emojis to use in your conversation. In a brief comparison with other apps, this app has some unique features like the emoji keyboard plugin that makes it unique.
The app is handy for social media connectivity.
---
Frequently Asked Questions (FAQs)
1. What is the best free emoji app for android?
All the apps mentioned in this column stand out with some unique features. Kika Keyboard, Swiftkey keyboard, Gboard are some of the preeminent apps for android users.
2. How can I find more emojis on my android?
If you want to find more emojis, you can open the keyboard settings in your android smartphone. This setting option comes under general settings. Then go to the keyboard submenu and find a list of keyboards available. Besides that, you can also download the emoji apps to add more emoji to your android smartphone.
3. What are the best free emoji apps?
All emoji apps in this list are free to use. Kika Keyboard, Swiftkey, Gboard are some of them that offer you free access.
4. Does Android 9 have new emojis?
The major updates of Android platforms have brought many changes. Emoji addition is one of them. Users in the new version of android can find many new emojis added to the keyboard.
5. How do I download more emojis?
You can download emojis to your smartphone by visiting the setting tab. Here are the actions that you can follow.
1. Go to the settings menu
2. Spot the language option and click on it
3. In the language tab, you will find keyboard and input
4. Then click the advanced keyboard option under Google keyboard
5. Finally, enable emojis for physical keyboards to download more emojis
Besides this option, you can also directly download new emojis from the Google play store. Several emoji apps let you download and access new emojis.
6. Are Google emojis free?
Yes, Google emojis are free to access. However dragging, and copying them to other platforms is tedious.
7. Where can I get some free emojis?
Google play store is the place for android users where they can find all new emojis. Users can install emoji apps on their smartphones to find free emojis.
Conclusion
Keeping it precise, these are the 25 best emoji apps you can rely on for emojis sharing. The apps are uncomplicated and straightforward to use. However, while using any app, you should make sure that you are not compromising your privacy. If the column helps you, you can submit your thoughts in the comments.
We hope this article about the best emoji apps for Android is helpful to you. Do share this content on social media if you find it useful for you in any manner.