If you have installed Ubuntu for the first time, this is the right article for you. As with every other beginner, you would also doubt what to do next after installing Ubuntu in your system. Ubuntu has undoubtedly become the most prevalent operating system of the recent age. It is more popular amongst professionals like developers, designers, and programmers. Besides, Ubuntu is not only limited to professional use only.
Instead, regular users also are fascinated with Ubuntu. It is especially the gamers who find Ubuntu helpful for them. No matter if you are a trained or normal user, Ubuntu has always stolen the attention of many users with its ease-of-using features. Apart from that, Ubuntu is also free to use and a secure operating system for professionals. This is what brings in more users for Ubuntu.
In this article, you will learn how to set up your Ubuntu operating system for long-lasting use. So, stay tuned and read the entire writing to explore some indispensable steps to ensure after your OS installation.
Things To Do After Installing Ubuntu
Here are the few best things to do after installing Ubuntu.
1. Download & Install The Latest Updates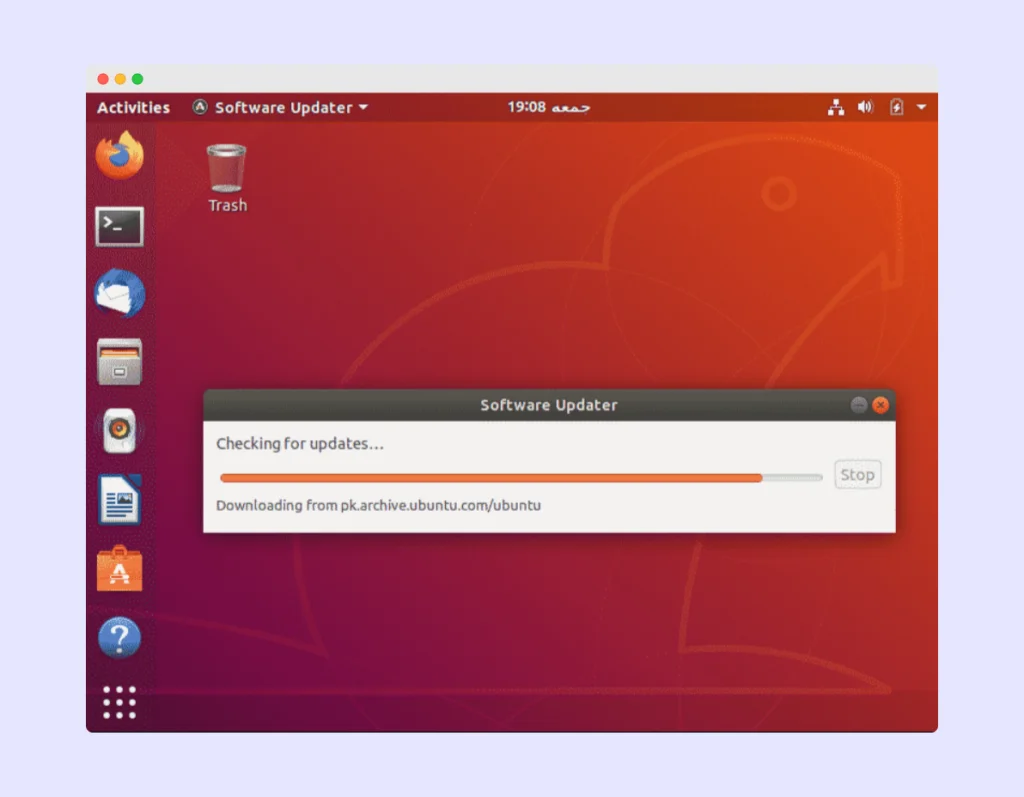 After installing Ubuntu in your system, the primary thing that you must ensure is to install the latest updates. An outdated version of your Ubuntu OS can lead you to several flaws like bugs, glitches, security issues, and many more. So, you need to install the latest updates to find security patches and other essential updates.
Getting all the latest updates is quite easy in the case of Ubuntu. Thanks to incredible community support, all the bug fixes, updates, and other features are quickly accessible. You can also manually scan for the updates using the software updater tool. If you have downloaded the latest version of Ubuntu, it won't show you any more updates.
2. Setup additional repositories
After installing all the latest updates, you might need to install all extra repositories. Ubuntu undoubtedly comes with its own repositories, but there are times when you might need additional drivers and software. Some of those repositories may have been disabled by default.
You can find them in software and updates and enable them to get additional functions. Click on other software and tick on the checkboxes to enable the repository you want to use. If you want any additional repositories, you can search for them over the internet and install the same.
3. Install Missing Drivers 
Ubuntu has a built-in efficiency that makes it capable of scanning and automatically detecting all the missing drivers. Despite these features, there may be some additional drivers that you may need to install. It can be your graphics driver for gaming or any other driver. In such cases, you can download the driver you need manually and install them to your OS. For users/ gamers who use NVIDIA graphics, or Radeon graphics, you need to search for the dedicated versions and install them to your Ubuntu OS.
If you wish to know about the additional drivers, you can click on software and updates and then click on the Additional Drivers tab to find a comprehensive list of all the additional drivers that you need to install.
4. Change the appearance using the Gnome Tweak Tool
The Gnome Tweak Tool is a remarkable tool that lets you modify and customize your Ubuntu. With its unique features, you can completely change your appearance and attain a new look. This tool also allows you to set up your Ubuntu OS per your requirement. Users can change the desktop environment or some parts of it.
Some of the most basic features that you will get with this tool are changing default fonts, modifying desktop icons, managing extensions, and many more. You can use the beneath command to install the Gnome Tweak Tool.

$ sudo apt install gnome-tweak-tool –y

5. Enable the Firewall
The next most imperative thing you need to do is enable the firewall for enhanced protection against attacks. UFW is the built-in firewall that you will get in Ubuntu. It is, in fact, trusted by all Ubuntu users. When you install Ubuntu, you won't get it enabled by default. So, you need to enable it manually. If you wish to allow the firewall in your Ubuntu, then you need to follow the steps below:
For enabling the firewall, use the below command
For disabling the firewall, employ the following command
If you want to manage it in the GUI, you have to use the below command
6. Install Your Favorite Web Browser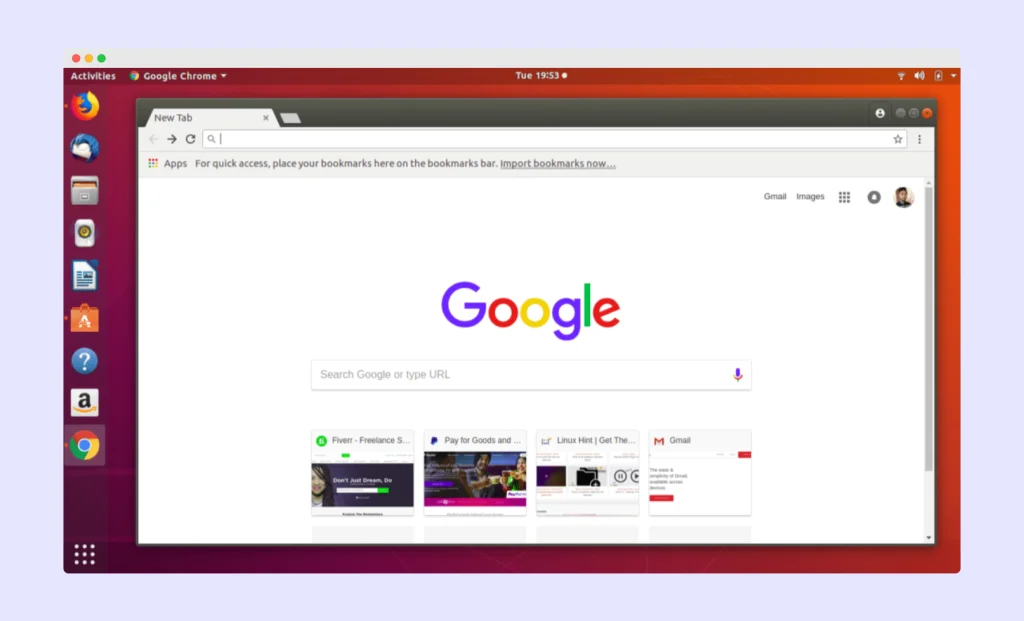 Web browsing is an obligatory requirement in every operating system. By default, Ubuntu comes with Mozilla Firefox. However, if you wish to use a different web browser on your Ubuntu OS, you can install some other browsers from the internet. There are a lot of users who prefer using Google Chrome as their web browser.
It is because; it comes with several built-in features apart from just web browsing. Opera web browser can also be another decent choice if you are already acquainted with it. You can download the setup file from the internet and then run the installation to launch the browser in your Ubuntu system.
7. Synaptic Package Manager Installation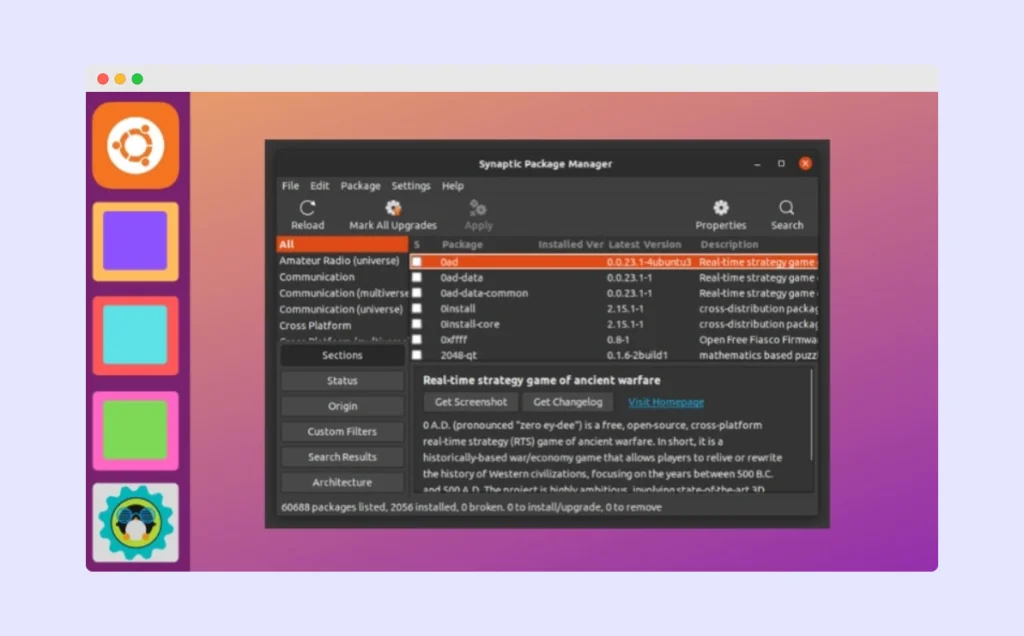 The synaptic package manager in Ubuntu is usually a GUI. It is a user interface for all the APT packages and helps users manage them seamlessly. It is a remarkable alternative to the command-line process and also helps you manage several software packages. Synaptic management is a decent tool to use, and you can manage all software packages without the need for command-line use.
As an Ubuntu user, you must know that Ubuntu comes with several limitations. However, the Synaptic package manager helps you overcome all these limitations. Users can directly download the synaptic package manager from the Ubuntu Software hub or else can use the following command.

$ sudo apt install synaptic

8. Removal of Apport
Apport in Ubuntu is one of the most annoying things you can find. Most users get frustrated with Apport. It is usually a rectangular pop-up dialogue box that you can see on the screen. It shows you several crash reports and asks you to send them to the community. If you also find this annoying, you can remove Apport from the command below.

$ sudo apt remove apport apport-gtk

9. Install Multimedia Codecs
If you wish to edit or run various media file types, then you need to install multimedia codecs. By default, Ubuntu doesn't come with pre-installed multimedia codecs. Users who run multimedia files like MP3, MPEG4, and AVI will mostly need multimedia codecs. One can easily install the multimedia codecs by installing all Ubuntu-restricted additional packages. Apart from that, you can also execute the same with a command. For installing multimedia codecs, you can use the below command:

$ sudo apt  install Ubuntu-restricted-extras

10. Java Installation
Java installation is necessary for all professional web app and mobile app developers and programmers. Most of the users use Ubuntu for programming needs. If you are also using it for the same purpose, you must install Java. Java can be installed using the web browser, or else users can also use the below command to install Java.

$ sudo apt install openjdk-11-jdk

After installing Java, you can use your skills to develop remarkable programs and enhance your productivity.
11. Installation of Snap Store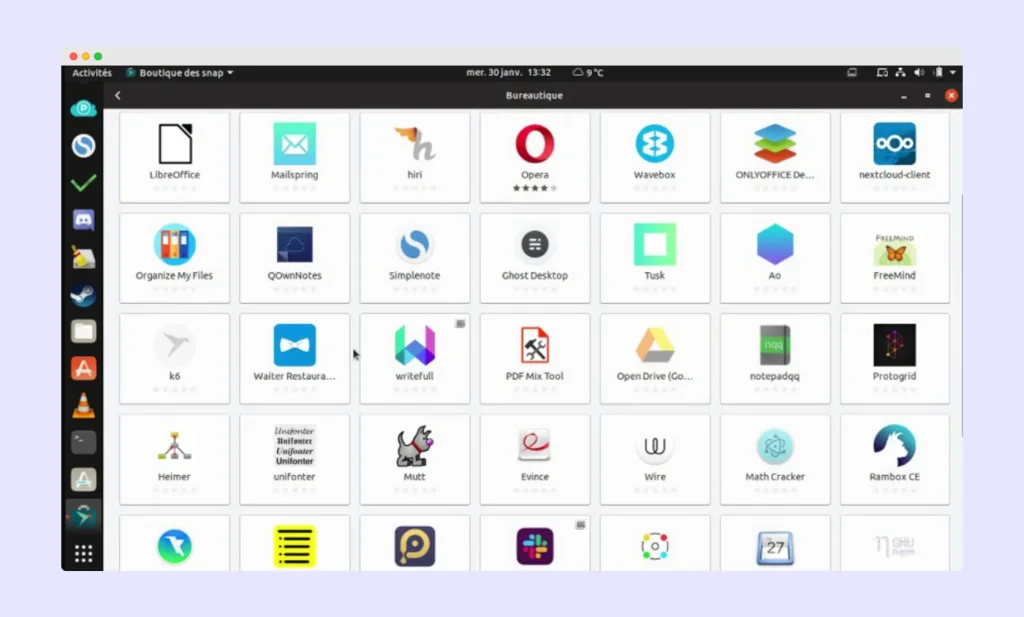 Snap store has made it easy for all the developers to distribute their apps to other users. Several prominent apps like VLC, Skype, Mailspring, and Spotify can get accessed in Ubuntu using the Snap store. If you also want access to all these prominent apps, you must install a snap store. Users can visit the Ubuntu software center to directly download the software or use the command line for downloading. Installation of the snap store will make app downloading easy for you. You can find all those apps that you get on other OS platforms. Developers here can also distribute their apps easily.
12. Mail Account Set Up Using ThunderBird
All working professionals must stay connected with a mail account. The importance of virtual communication has significantly increased after the hit of the pandemic. In such cases, setting up a mail account is crucial. In Ubuntu, the default mail client that users will get is thunderbird.
It comes loaded within the installation package. If you wish to set up your mail account, you need to provide some of your details. It includes name, email address, and password. Users who wish to use other mail clients can open the same in the web browsers. However, once you log in, thunderbird will keep you connected.
13. Setting Up Keyboard Shortcuts
As a professional, when you are using Ubuntu, you need to configure your keyboard and set up the shortcuts. While working, there are multiple times when you might need Keyboard shortcuts to get things done faster. In the case of Ubuntu, you can assign shortcut keys for almost all the functions.
It includes opening the apps, switching between one app to another, running multiple applications, and several other tasks. If you want to configure keyboard shortcuts, you must follow the below steps.
You need to click Settings, click on devices, and click on the keyboard. You can choose a set of your personal preferences while assigning any task to the keyboard.
13. Augment Your Battery Performance
Some of the users might witness slightly extra battery consumption while using Ubuntu. However, if you think so, it is not! It totally depends on the hardware configuration. You can improve the battery performance while using Ubuntu. All you need to install is the TLP.
It is a power management tool that augments battery performance and puts all the operations running in the background to sleep. So, if you witness any such battery issue, you can directly download TLP from the Ubuntu software center or use the following commands.

$ sudo apt install tlp tlp-rdw
$ sudo systemct1 enable tlp

14. Wine Installation
There are several Windows applications and programs you cannot use in Ubuntu. Although Ubuntu has befitting alternatives, you may sometimes need to use those programs for your professional obligation. In such cases, if you wish to use the Windows program, then you need to download Wine in your Ubuntu.
It is a tool that enables you to run several Windows applications in Ubuntu. It is helpful for those who work with multiple platforms. Users can directly install Wine using the terminal. However, you need to use the following command.

$ sudo apt install wine64

15. Microsoft Font Installation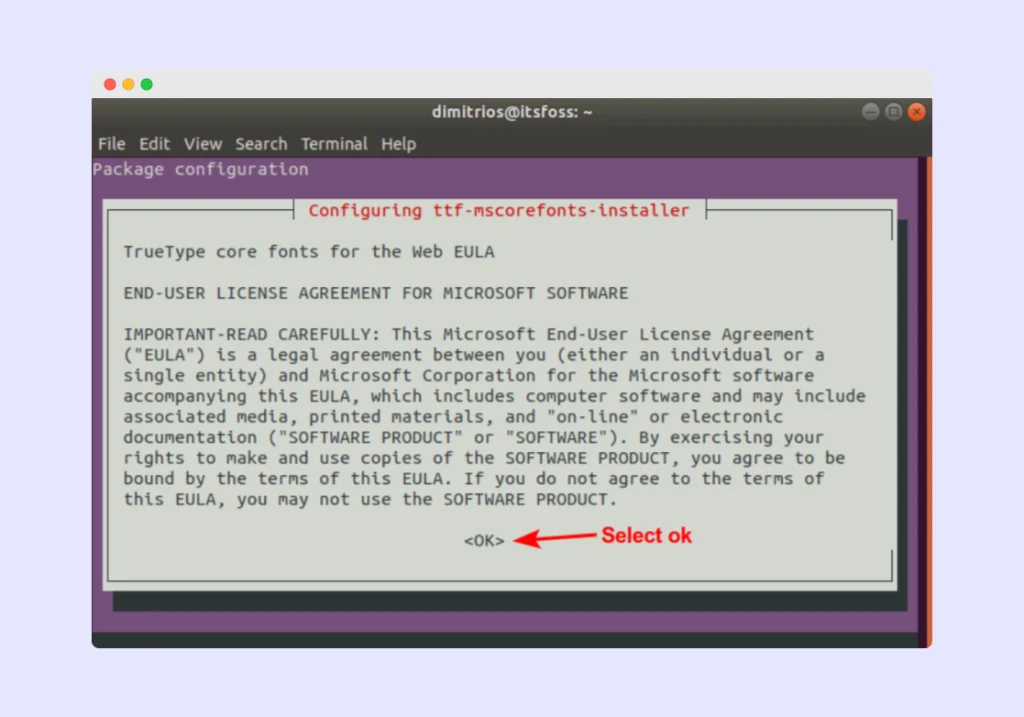 If you like the font from Microsoft and want the same in your Ubuntu systems as well, you have got the tool that empowers you with such a feature. You can seamlessly install Microsoft font using the Ubuntu software center or the synaptic package manager. After installing one of these platforms, you just need to type Microsoft.
You will get a result displayed on your screen showing you "Ttf-mscorefonts-installer." This is the font package from Microsoft. Click on the install button to install the same on your Ubuntu system. It is a great approach to achieving Microsoft-like fonts on your screen.
16. System Clean Up
When you use your Ubuntu system for a while, you will save several unnecessary and junk files on your systems. All these files need to get deleted from your system for the effective working of your system. If you don't clean up these files, you may find them lagging in your systems. In such cases, Ubuntu users can clean up their unwanted files in the system by using some commands. The commands are as follows:
When you want to clean any partial package
When you wish to remove the unused files
For initiating auto-clean up
18. Install Flatpak
Flatpak is another tool similar to the snap store. It is a utility program from fedora that helps you access several additional packages and additional software in your Ubuntu system. When you use this tool, you may find software that is not even accessible in the Ubuntu Software Center. You can easily use Flatpak to bypass and use all those software.
If you wish to install Flatpak, you need to use the below command

$ sudo apt\ install flatpak

After installation, when you wish to integrate any Flatpak plugin using the Ubuntu Software Center, you can use the following command:

$ sudo apt install gnome-software-plugin-flatpak

19. Choosing Whether You Want Data Collection or Stay Out From It
Ubuntu and Linux operating systems are known for improvising user experience by collecting user data. It collects system data from hardware and evaluates that data to make augmentations. With this data, Ubuntu offers more stability to the current OS with updates. Several users are not comfortable with sharing their system information. If you don't want your system information to get shared, you can opt out of it. All your need to do is follow the below steps.
Go to settings
Find out privacy
Click on problem reporting
Click on disable sending error reports
20. Setting Up Your Online Accounts
Users these days are more active on several online and social media platforms. With regular use and everyday access, you might want to stay logged in to your account. You would be astonished to know that using Ubuntu also offers you access to all these platforms. You can simply connect to all these accounts on your Ubuntu systems.
All you require to do is go to settings options. Then you can find the online accounts. You can add up several platforms in online accounts, including Google, Facebook, Microsoft, and many more. Ubuntu Single Sign-on allows you to stay signed in and use all these platforms any time seamlessly.
21. Install Steam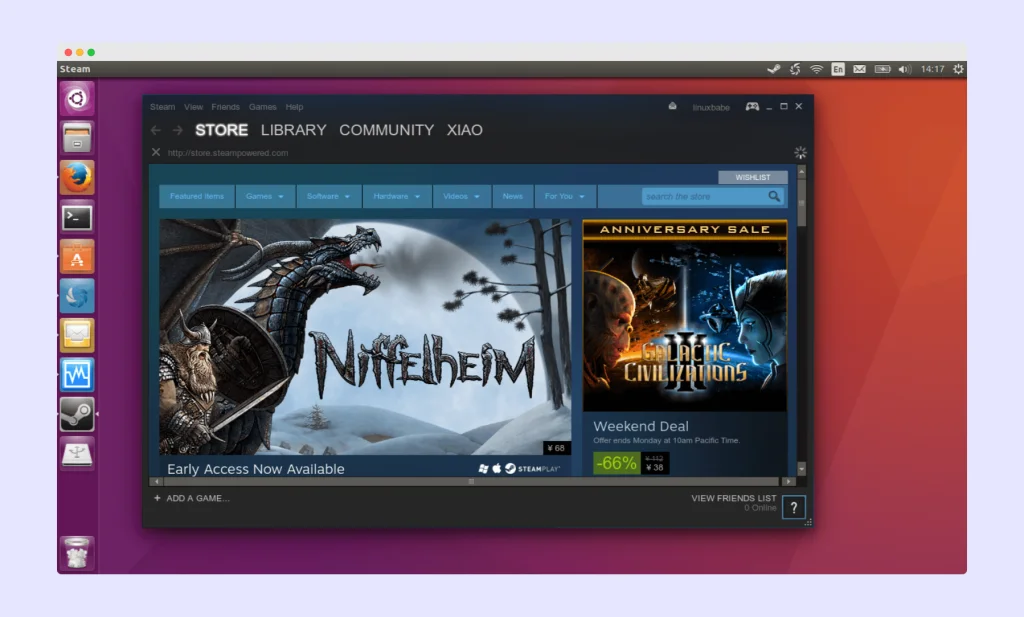 If you are a gaming lover and use Ubuntu solely for gaming, this is a tool you always need. Steam is a platform that enhances the playing experience of video games such as Counterstrike, Global Offensive, and Dota 2. You must install Steam. Playing games using Steam offers you a great experience. You can install Steam to augment your gaming experience on Ubuntu. Users who want to install Steam using a traditional command-line approach can use the below command:

$ sudo apt install steam-installer

Apart from that, you can also use Ubuntu Software Center to download and install Steam.
22. Installation of VLC
If you are a media lover and love watching videos and movies, then this is a media player that you certainly cannot miss. VLC is a prominent media player used by almost all modern-day users. You can also use a VLC media player in your Ubuntu system. It supports several media file types that include MP3, MPEG4, AAC, DV audio, FLV, MP4, and AVI.
Apart from that, there are also several other media files that VLC supports. If you want seamless watching of videos and listening to music, you must install VLC to your Ubuntu. You can use the following command line to install VLC in your system.
You can also get it from the Ubuntu software center or install it using any package manager tool.
23. Skype Installation
The installation of Skype is one of the most imperative in the recent day scenario. It is especially after the pandemic. The recent working culture has now shifted. People are working from remote areas. Corporate spaces are also promoting the same, as they are getting more productivity.
In such cases, all these professional workspaces are harnessing the power of Skype for video meetings. If you are an Ubuntu user, you can also get video calling and desktop screen sharing by using Skype. Many more prominent features make Skype indispensable. If you wish to install Skype from the command line, you can use the below command:

$ sudo snap install skype

24. Night Mode Enabling in Ubuntu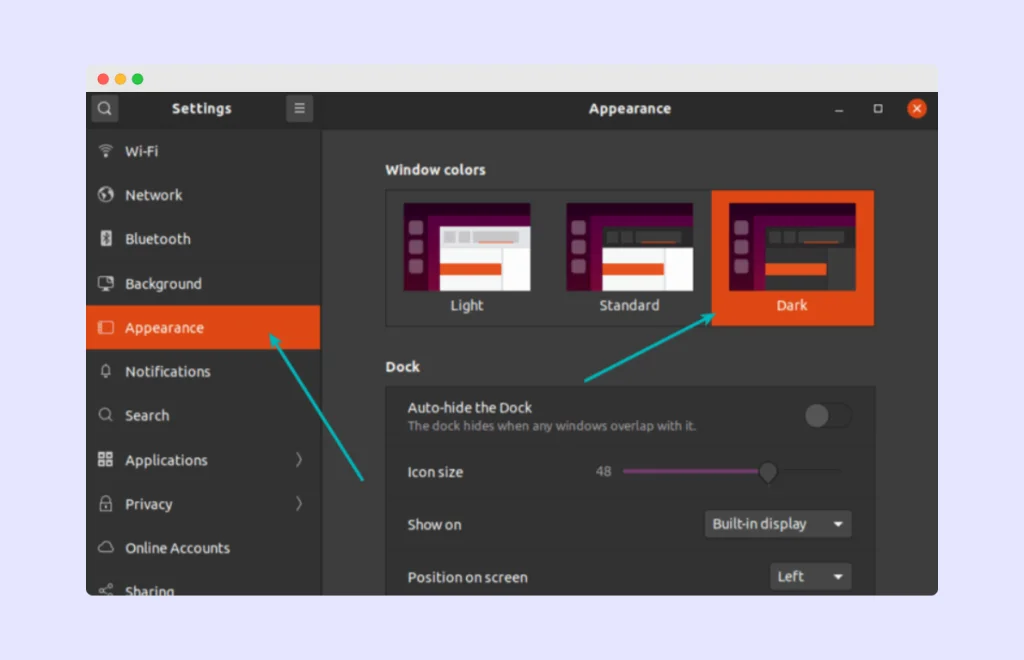 The Dark theme or the night mode is more in trend right now. Several people are using it for better visuals, and it also consumes less battery. Apart from that, the regular blue lights coming from the screen are also not ideal for your eyes. The good news is you can also change your appearance to night mode in Ubuntu. Follow the below steps to change the mode:
Go to settings
Click on devices
Switch on the Night light
25. Set Up Cloud Accounts
You can also set up cloud accounts in your Ubuntu OS. This will help you save all your personal documents on an inaccessible platform. You can access your files relevant to work from any place you want. Users in Ubuntu can set up their Google drive account by accessing Google in a browser. You can also integrate another cloud platform such as dropbox if you want.
Frequently Asked Questions (FAQs)
1. What should I do after installing Ubuntu?
After installing Ubuntu, you need to follow all the above steps and complete your setup. The things that you need to include:
Checking package updates
Downloading the latest updates
Additional repositories
Missing driver installation
Tweak tool installation and many more
2. How do I make Ubuntu 20.4 lighter?
The best way to make your Ubuntu 20.4 lighter is to start a new installation. You can also use the minimal installation in the Ubuntu installer to make it lighter.
3. What is Ubuntu used for?
Ubuntu can get used for all general and specific purposes as you expect from any other operating system. You can use Ubuntu OS for your company, enterprise, and school and also for personal work.
4. Does Ubuntu run faster than Windows?
Undoubtedly, Ubuntu runs faster than Windows and has been known for the same as well. The application-wise speed is also faster in comparison to other operating systems.
5. Does Ubuntu have a task manager?
It has a task manager, but you can find it as the System Monitor. The system monitor is the panel where you can access all operations similar to the task manager.
6. Is Ubuntu good for gaming?
Yes! Ubuntu is indeed great for gaming. It is one of the most used platforms by gamers to play games.
7. Is Ubuntu good for regular use?
You can definitely use Ubuntu for your everyday use. Accessing Office, internet browsing, and communication is quite easy using Ubuntu. Professionals also use it for editing and video production.
Conclusion
In conclusion, these are the top things to do after installing Ubuntu. All these processes will help you completely set up your Ubuntu system for everyday use. Now that you know all the steps, you can use them and attain seamless operations. If this article seems helpful to you, share it across maximum platforms to let others know.