Are you searching for the best manga apps for Android? If yes! You are at the right place. Manga is one of the most prevalent comic series among teenagers of this era. However, manga comics and books are not frequently available to many readers.
---
Review of Manga Apps for Android Devices
Thus, if you are a manga comic enthusiast, here is a simple solution to discover manga comics. In this editorial, you will find the 20 best manga apps to find manga comics and series digitally.
1. Manga Geek – Free Manga Reader App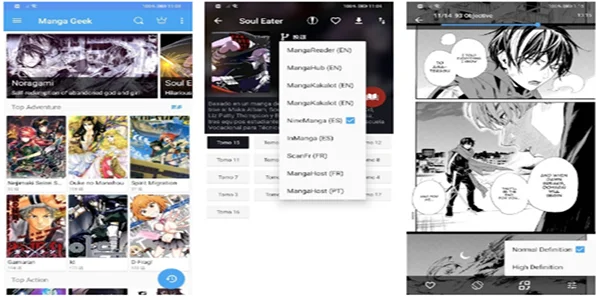 It is a free app for reading manga and comics virtually. Manga Geek appears with a compelling theme to attract readers; the interface is also quite intuitive. As the name quite defines it all, it is decent for searching for all your favourite manga.
Apart from that, this application is free to access from the Google Play store. The library is extensive, with a massive collection of Manga and comics. Readers can also access day and night reading modes for comfort.
2. Manga Searcher – Manga Reader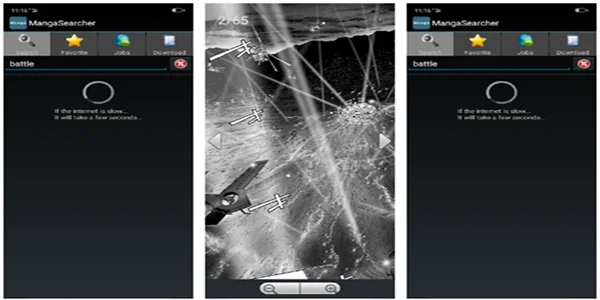 One more useful manga app on the list! The theme and interface are eye-catchy. As the name says, it is a searcher. It helps users track all manga and comics. Manga Searcher is also free to download and gets updated with the new chapter release of the manga. Users can download files for offline reading.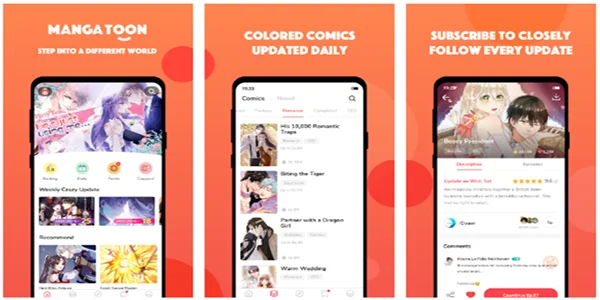 MangaToon is a very easy-to-use app for users. The interface of this app is quite simple but robust. Users can also discover a great theme to immerse in the app. For readers, again, this app comes with a lot of features. It is quite an easy-going app with auto chapter update as a feature.
There is an extensive library of manga and comics that can entertain you all time. One important feature you will get in this app is the wide language support. Readers can read in English, Portuguese, German, French, Japanese, Korean, Chinese, and a lot more. Offline reading is also available in this app, helping readers to read without internet connectivity.
4. Manga Reader – Manga App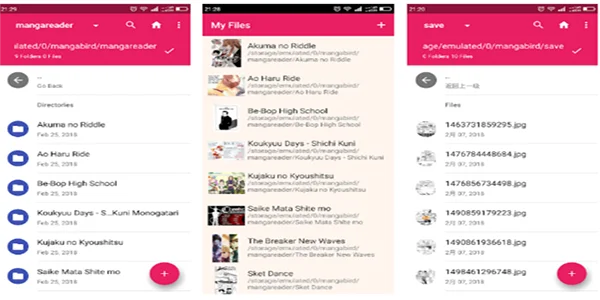 It is an app with may be a common name, but the features are quite distinctive. The theme and interface of this app are quite intuitive. Users can enjoy reading comics and manga without having to pay a single penny. This app manages and brings you manga from more than 20 sources.
You can always filter results as per the name, author, genre, time, and rankings; Users can also read manga with three reading modes available in this app. It includes continuous reading, page scroll, and page curl. Apart from that, users can also bookmark any particular page or mangas that they want to revisit again. The offline download is also available in this app without any constraint over the limit.
5. Super Manga Pro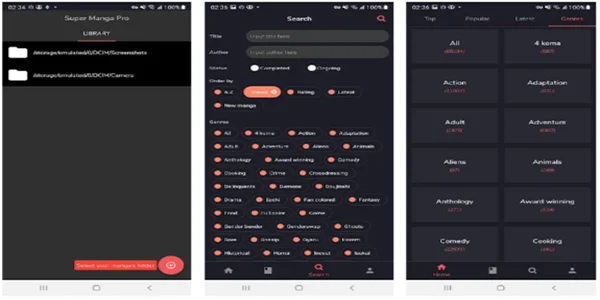 The subsequent app with some ideal features is Super Manga pro. It is another app with some remarkable features. The themes and interface are for teenagers, and it offers them a great reading experience. Super Manga is quite easy to use, as users can find any manga easily.
There are over millions of manga and other comics available that keep you engage all time. Readers can even enjoy reading offline by saving files for offline mode. Users can also use many filters to search, such as name, genre, writer, rankings, time, and many more. Apart from that, users can experience beautiful images displayed on pages to explore manga.
Manga Plus is an application that accommodates you with real manga from some favourite and popular anime series. It includes some prevalent names like Naruto, One-piece, Dragon Ball, and a lot more. Readers can actively communicate with writers through this app. There is a commentary section where readers can write for authors to encourage them. It also includes an easy filtering option.
Users can find out several mangas by filtering them. In addition to every new chapter, the app gets automatically updated and also notifies users about it. There are two modes of reading in this app. It includes day and night modes; users can switch reading modes as per their use.
7. Manga Cookie – Free Manga Reader App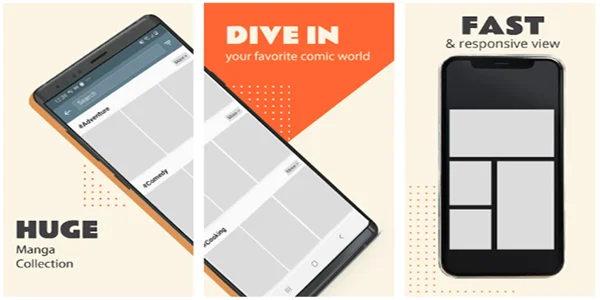 It is an app for all manga enthusiasts. Users using this app won't only be able to read manga and comics but can also actively participate in the manga community. This is one app that is quite prevalent for its feature and usefulness. There are millions of manga chapters to explore and read.
Besides an extensive library, users can also find easy filtering in this app. It empowers readers to search for their favourite manga chapters by applying filters. Readers can offer feedback to authors by commenting on the manga that they are reading.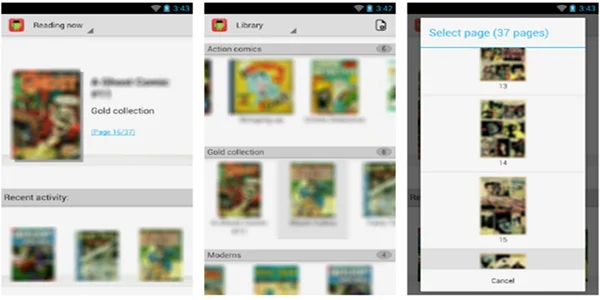 It is also another contemporary free manga reader. Comic Time Reader is quite famous among its users for its simplicity in app design. Although the design look elegant still there are no monotonous features in this app. Yet again, this application also has distinct genres for readers. Readers can explore their favourite series easily. Readers can bookmark any page they want and revisit those pages seamlessly.
One most useful features to discover is offline reading. Users can download and save files from the app to access them anytime at any place without the internet. When any chapter gets updated, the app also reminds you of that with simple notifications. There are also themes and many beautiful images that immerse users.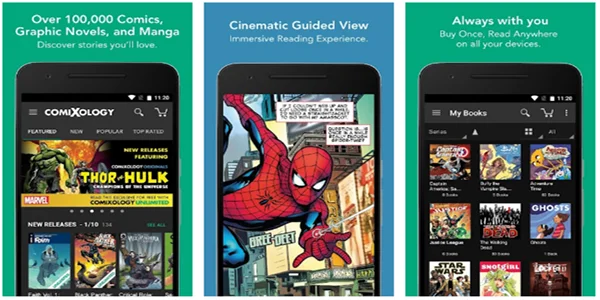 It is another app that offers you access to several comics and mangas in one place. However, it is a premium app that demands a subscription to deliver you mangas and comics. Users can also access the free trial version of this app before deciding to take a subscription.
The app appears with elegant and compelling themes, and the user interface is also quite impressive. For users, this is an app that they have always anticipated. But subscription is what comes out of nowhere. One obvious feature to get in the paid app is downloading and offline reading. However, this app also offers you to save files in external SD cards to still access if you don't have the app.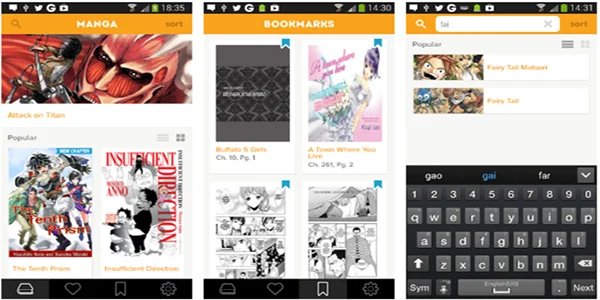 Crunchyroll Manga is another exciting app you cannot miss downloading. It is a free app available on the Play Store. However, it comes with an additional option to subscribe. A subscription gives you additional perks, such as ad-free reading and quick chapter updates.
There are some latest mangas that you can find in this app. It includes Attack on Titan, Fairy tale, and a lot more. The overall reading experience in this app is good, and users can browse pages and discover the entire series seamlessly. Before taking a subscription, users can use the free trial version to avoid any misconceptions.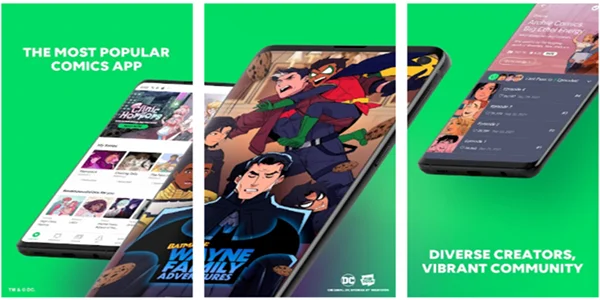 Web Toon revolutionizes the complete way of reading manga and other comics. It is an app that lets users enjoy free mangas from any country of the globe. There are several categories and sections of manga in this app. Readers can find different genres that include Anime, action, romance, and family. Web Toon offers you manga from a wide range of languages as well.
You can read in your favourite language and bookmark those pages that you wish to revisit. Readers can also create their favourite list in which they can add their all-time favourites. Offline reading is also available in this app, and the reader can download files to read at remote places without the internet.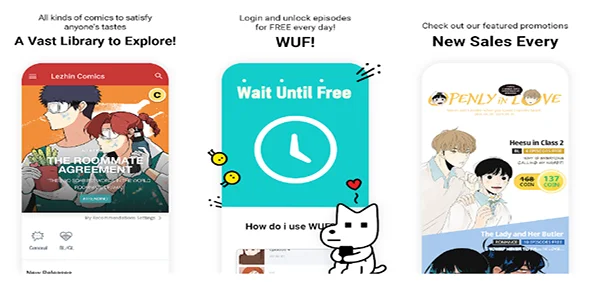 It is an application that never lets you miss any newly released manga and comics. You can find chapters of all newly released manga and comics on this app easily. It is popular for its everyday release of manga. Thus, each day there is something new for you that you can read. All new releases also get notified to users with simple notifications. Users can download and save files from any genre they want. Apart from that, users also get to track their readings.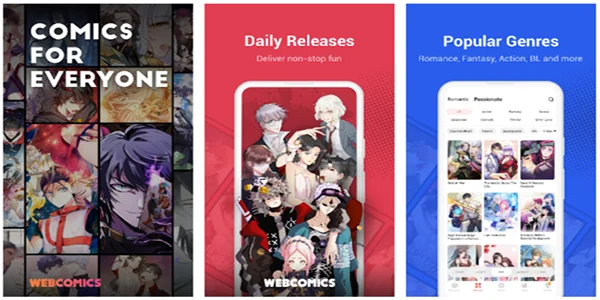 Webcomics is an intuitive application with an easy-to-use interface. Overall, the app comes with a great user experience. There is huge storage for manga users in which they can find manga and comic series from Asia, America, and Europe. Even after reading the whole life, an average user cannot finish all the mangas available in this app. It offers you HD-quality text and content with vibrant colours.
Reading mode is accessible to readers in two different types; that is day and night. Readers can also share their thoughts about comics and mangas, which is a great feature.
14. Manga Reader Pro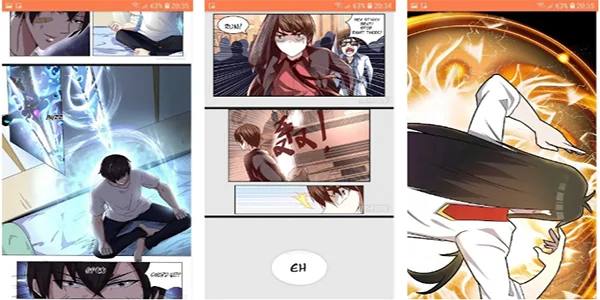 It is an application that brings you a whole new experience. Authors from different countries and languages offer you some engaging manga on this platform. Users can discover several genres of Manga to find new interests in. There is a built-in optimized search engine that finds you the best mangas from authors.
Readers can filter their search using names, genres, authors, and even release time. By using this app, you get access to offline reading. You can save files and pages to read it later. There are two different reading modes available in this app; it includes the portrait and landscape modes of reading. This app's interface is also quite intuitive, making it easier to use.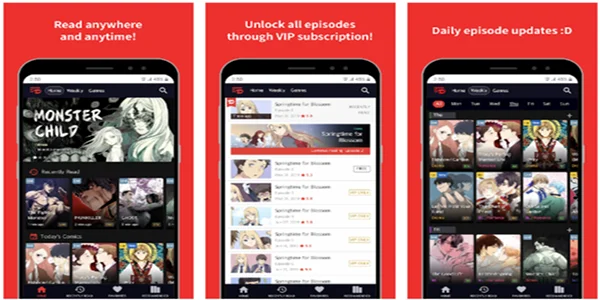 It is a platform to access unlimited comics and Manga without paying a single penny. There is a massive collection of Manga and comics that won't let you get bored. Reading modes are also quite comfortable for users. Besides, this app offers vibrant yet comfortable colours that don't stress your eyes.
Light, dark, portrait, and landscape are reading modes that the user will get. Users can find mangas in different genres and sort them by names, authors, and time. Sadly, this app doesn't offer you offline reading, which is a useful feature that you get in other apps. Readers can bookmarks pages to read them later on the internet.
16. Manga World – Comic Reader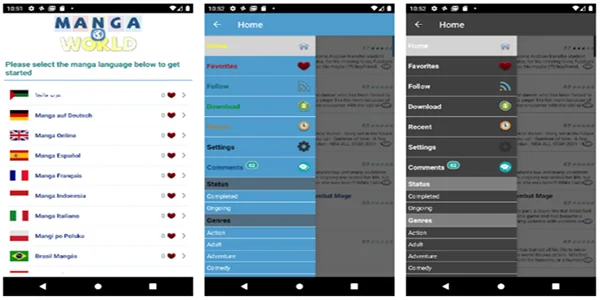 This app comes enriched with a lot of features to attract users. It is quite famous for its extensive range of Manga and comics. You can find this app on the Play Store and download it without any cost. Apart from the free-to-use perk, users can mark mangas based on authors, time, and genres.
This aids you to find any manga easily. Only two reading modes are available in this app. It includes horizontal and vertical reading. There are beautiful themes with great colour schemes and wallpapers, but they might consume excessive battery power. This application gets an auto-update when any new chapter in Manga comes.
17. ZERO – Manga Zero Original Comics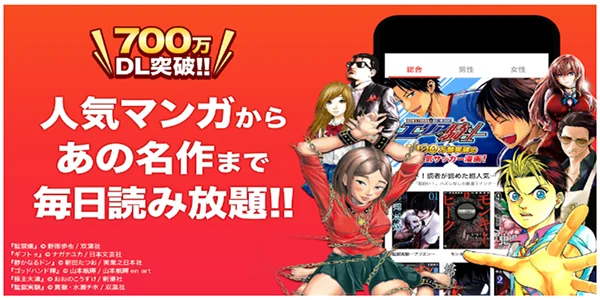 An app for all Japanese Manga lovers! As Manga is the most prevalent entertainer in Japan, you can achieve some really compelling Manga to entertain you from Japan in this app. As the app focuses mainly on Japanese Manga, readers would barely get diversity. But these Japanese series will equally keep you busy; auto-updating comes as an obligatory feature.
The app gets updated with the release of every new chapter. Users who wish to learn the Japanese language can use this app. Several reading modes makes it comfortable for the reader to access any Manga. Apart from new-age mangas, there are also many classic and old-age mangas to enjoy. You can find all-time classics to relive your reading moment.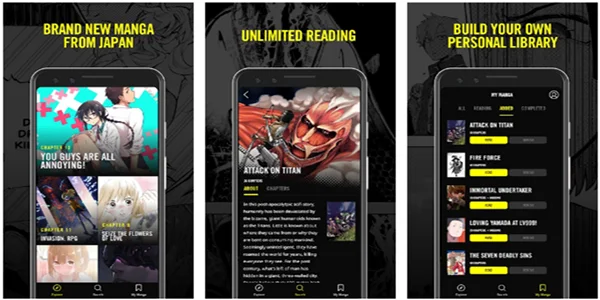 This is the recent reading destination for almost all users. Mangano offers you the best mangas from over 15 top-rated Japanese Publishers. Some of the prevalent titles like Attack on Titan, Japan Sinks 2020, Loving Yamada at Lv999, and a lot more. Readers can find over 1000 titles of mangas that come with a legal license to read.
It also includes some of the recent award-winning mangas that you can find nowhere else. However, this is not a free app as you need to pay to access mangas. There is a 30-days free trial that lets you decide on getting a subscription.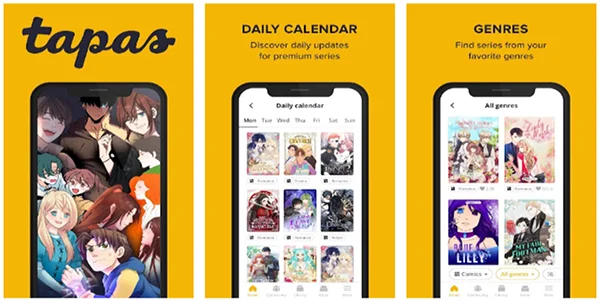 Tapas is an all-in-one hub for comic and Manga lovers. Readers can not only find comics and Manga here but can also discover novels and stories. There are some top-tier features. However, they are only accessible with a premium subscription.
It runs on all new-age android and takes minimal space. Users also can attain auto-updates in case of all latest releases and popular series releases. Apart from that, this is an app for all age-group. You can find new mangas, and at the same time some old classics as well.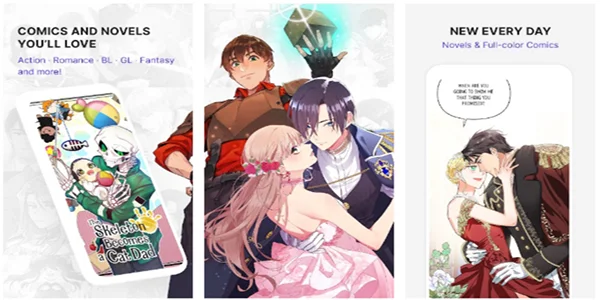 Tappytoon is also another all-in-one hub where you can find some exclusive comics and mangas. Readers can also enjoy stories and novels with some high-quality materials. There is quite a popular series available on this platform.
However, you need to buy a premium subscription to get all that content. It works without any bugs, and the interface is also decent. There are advanced notifications that let you know about all new releases instantly.
---
Frequently Asked Questions (FAQs)
1. Which app is best for reading Manga comics?
All the apps mentioned in the above list are perfect for reading Manga. However, some dominant names are Manga Geek, Manga Searcher, Manga Toon, Manga reader, and Super Manga.
2. What are the best free apps for Manga?
Manga Toons, Manga now, and UR Manga are some free apps you can find on the Play Store to read Manga comics. In the store itself, you can apply filters for free apps to find all free apps for Manga.
3. Where can I read my favourite Manga literally?
In all the apps mentioned above, you can read your favourite manga comic. These apps are legit solutions offering you exclusive Manga series.
4. Are Manga apps legal?
Initially, many apps appeared on the Play Store offering Manga comics. However, now you can witness many apps disappearing. Well, this is because; many apps want to open their legal platforms with all licenses. All the apps that you are seeing now on the Play Store are legal.
5. What can I use as an alternative to Manga Rocks?
Instead of Manga Rocks, you can also use Tachiyomi, honey view, YAC reader, MangaDEX, and many more. These are similar apps with entertainment.
6. Where can I read Manga for free illegally?
– Shonen Jump
– Comic walk
– Bookwalter
– Crunchyroll
– Comixology
These are the platforms where you can read Manga for free.
7. Which manga app consumes less battery?
All the apps mentioned in the list are standard and lightweight. It doesn't use much power. However, battery usage also depends upon your usage.
---
Conclusion
Keeping it short, these are the top 20 best manga apps that you can download for your android devices. Now that you know the best 20, you can choose one that best suits your need. For easy downloads, above, we have also provided the download for the manga apps.
We hope this article about the best manga apps for Android is helpful to you. Do share this content on social media if you find it helpful for you in any manner. Please stay connected with us for future updates.