The crypto and blockchain sector has got everyone involved this year. With the rise of non-fungible tokens (NFTs) or digital collectibles, many people have been exploring the exciting world of crypto. Even consumers who are not too tech-savvy but might have an interest in arts or collectibles are beginning to ask questions about how they can create their own NFTs.
Notably, NFTs are designed to harness the power of blockchain technology in order to prove that a particular digital item is truly one-a-kind. In addition to NFTs, the security tokens space is really heating up this year. In fact, the security token market cap recently surpassed the $1 billion mark and has been steadily rising. An entire ecosystem consisting of a wide range of decentralized applications (dApps) is maturing right in front of our eyes.
But how do blockchains actually work? What does all the open-source code really mean? If you're a skilled software developer, with many years of experience, then you probably know that it won't take you very long before you can start coding smart contracts. Despite many challenges, Ethereum remains the go-to platform for building and deploying enterprise-grade dApps.
If all of this terminology is still quite new to you and seems confusing, then you may consider participating in an engaging hackathon. These events have become quite popular because they allow developers to learn in an interactive environment while working on solutions to real-world problems. Hackathons are also appealing because most of them offer monetary rewards and other special incentives to participants.
In other words, these events are based on the "earn as you learn" model in some ways. Developers are incentivized to give it their best so they can compete for first place, second place, and other opportunities during these global events. We've compiled a list of 5 great hackathon events that you may find interesting. We've shared our list below. Enjoy!
1. Metis
The Methis Hackathon participants will get the opportunity to implement Ethereum-based decentralized applications (dApps). These software programs will be launched on the Metis Layer-2 platform and you'll also get a chance to acquire a portion of the $1M $METIS prize pool.
METIS is an Ethereum (ETH) Layer-2 Optimistic Rollup platform built for the Internet of the future, also known as Web 3.0. METIS is supported by its native $METIS cryptocurrency token. METIS Hackathon's mission is to work with high-potential projects (for example, those focused on dApps, DeFi protocols, distributed autonomous organizations / DAOs, and decentralized exchanges or DEXes).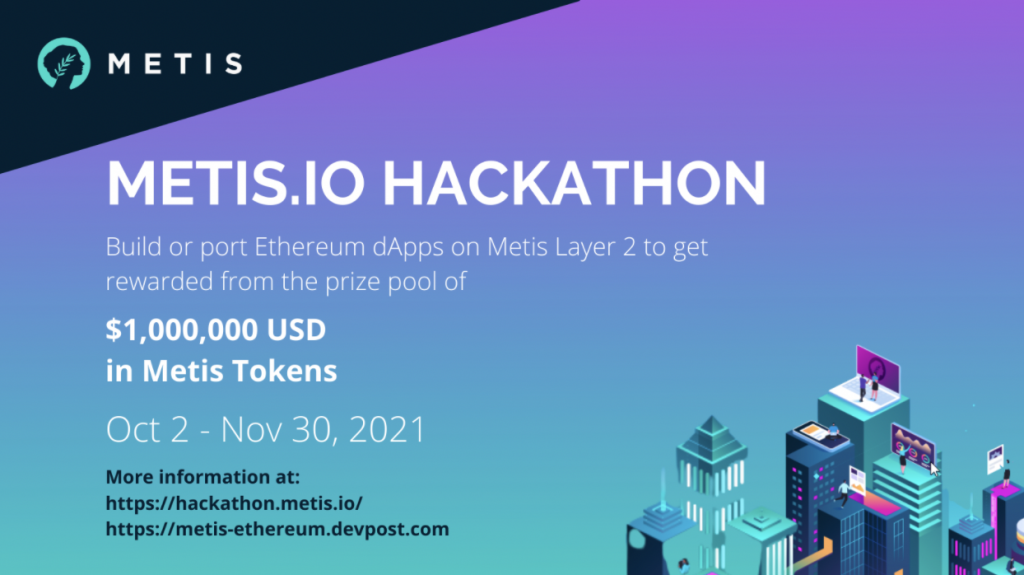 During this event, you may fully implement or simply port an Ethereum (ETH)-powered app to the Metis Layer-2 and then begin leveraging the key functionalities while not leaving the Ethereum chain.
As confirmed by the Metis developers, the first place DeFi-related project created on Metis will be eligible for a $25,000 prize in Metis tokens – which will be announced when the winner is determined.
2. Theta Hackathon
Theta is ranked among the leading blockchains. In this event, you can start building products, integrations and tools for the fast-growing Theta ecosystem. You can perform video platform integrations with the Theta blockchain. There's also an option to create smart contract-based dApps, new digital tokens, as well as NFTs issued on the Theta chain. For more information on this update, check here.
3. HECO Gaming Hackathon 2021
HECO is a decentralized and cost-effective public (or permissionless) blockchain that Ethereum developers are able to easily get started with. Smart contracts are compatible. HECO is described as an open-source, high-performance decentralized transaction public chain, which is also focused on the implementation of business applications.
This event will be supported by well-known GameFi platforms. To learn more, check here.
4. DefiWinter
#DefiWinter is described as a "winterlong" celebration, summit, and hackathon for decentralized finance (DeFi) and blockchain for enterprise-grade development. Beginning November 1, 2021, developers from across the globe will be able to team up with each other and start accessing the resources and assistance from industry professionals, in order to solve the most pressing issues in the DLT space. To find out more, check here.
5. Celo's Make Crypto Mobile Hackathon
From Venice beach to Venezuela, the event's diverse ecosystem is focused on democratizing access to the digital economy, which includes NFT creation, various technical integrations and support for marketplaces. They're also looking for environmental and sustainability projects.
This event aims to make Crypto what it should be: Mobile-first. Open. Real. Built on Celo. For more information on this opportunity, check here.