Are you in search of the best Conky themes for your Linux system? If yes, you are at the right place. If you are a Linux user, you must be aware of Conky. Conky is customarily a render in Linux operating systems.
Review of 24 Best Conky Themes For Linux Operating Systems
The primary reason why every Linux user lookout for a Conky theme is Conky appears directly on your operating system. It displays all the system information in a small pop-up window on the screen. In such cases, every user wants to attain the best theme of the Conky that would also complement their windows home screen. If you want to attain a trendy look for your Linux system and Conky freeware, here are the 24 best Conky themes for you.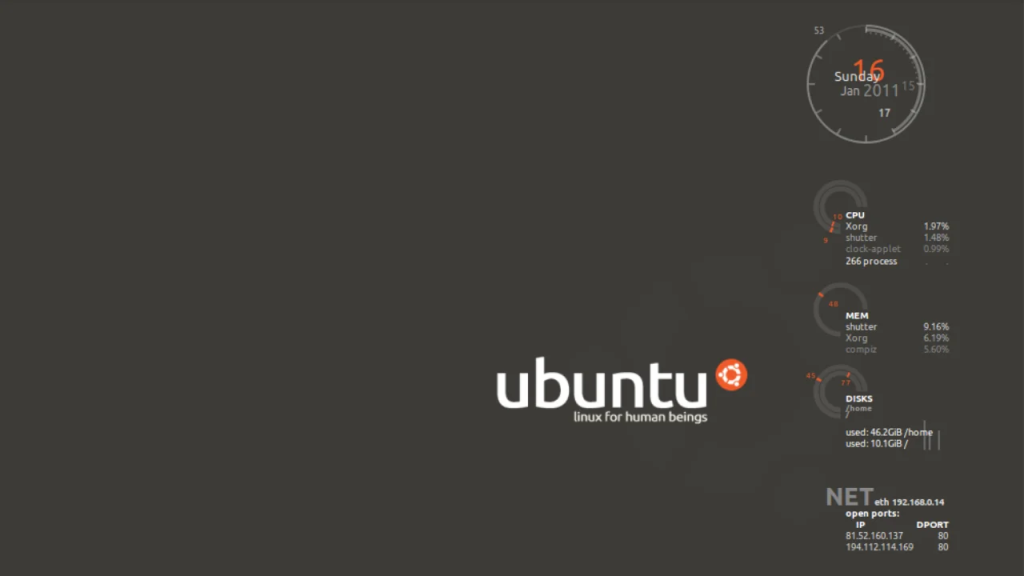 Conky Orange is one of the most prevalent versions of the popular Conky theme. The same theme creator has created more than one variant of these themes. It includes Conky Red, green, Conky Grey, and many more. What makes it outstanding from its contemporaries is its modern and elegant appearance.
This offers you a complete makeover of your customary Conky freeware. The theme has dials and round clock-like meters to show you all sorts of system information. The general information that you get in this theme includes Clock, Calendar, memory usage, CPU state, network activity, and many more.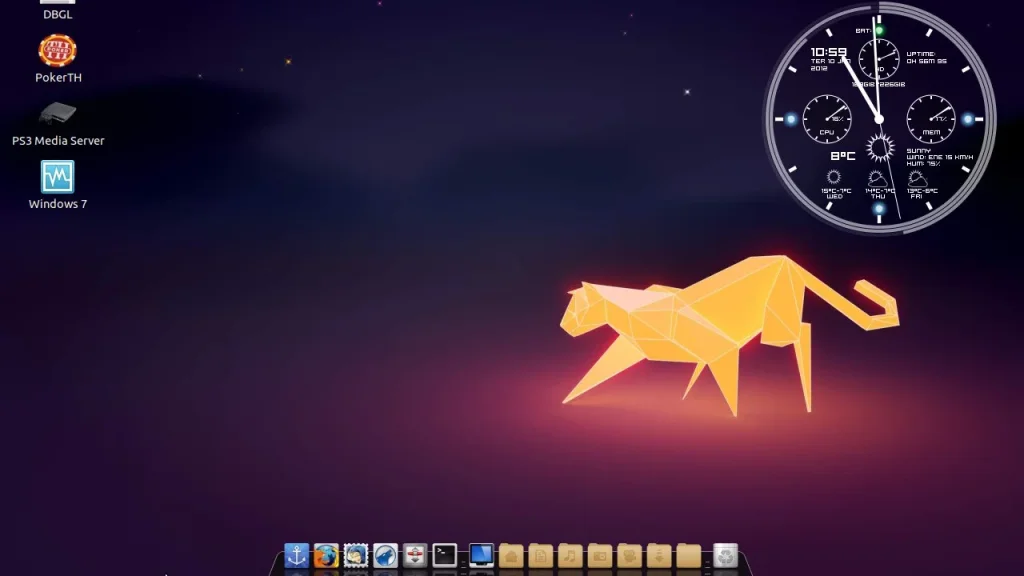 As the name quite tells the story, this is a Chronographically designed theme that showcases several parameters. The system status looks quite stylish in this theme. Apart from that, this theme also has a compelling visualizer. You will see the information in a modern swiss chronographic dial in the station.
The station shows you many imperative system statuses that include CPU activity, memory usage, temperature, and many other things. It looks quite similar to the watch dial. The most decent feature of this theme is it shows you weather updates from Accuweather.com. There are several other graphical elements to entice you as well.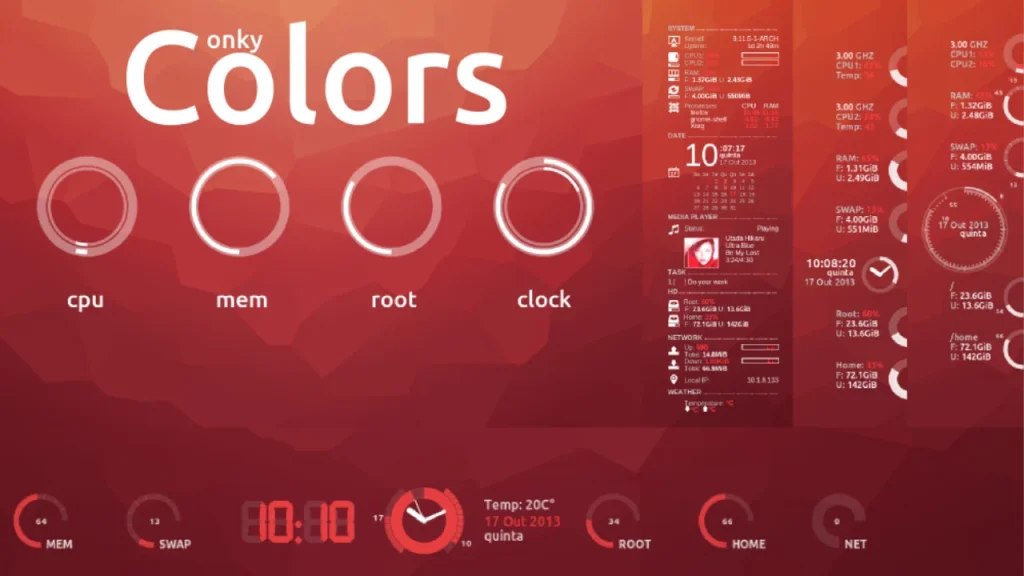 It is another beautiful Conky theme with quite a new-age interface. Users here can customize the interface with several colors changing as per the color of the wallpaper. However, the users can always access the standard white theme by default. It looks elegant and modern on your desktop screen.
Several contextual icons also enhance the look of your Conky freeware; there are also several updated icons. These icons will show the parameters in the desktop like IP, location, calendar, and Music. The system information such as temperature and speed gets displayed on the clock like gauges.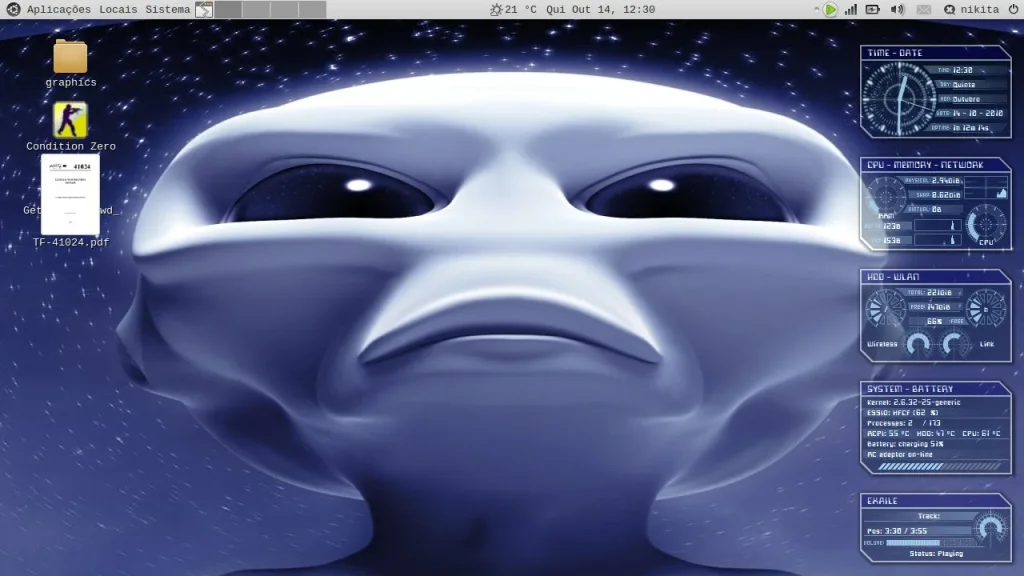 This, in comparison to other Conky themes, is quite old. This theme got its last update about nine years earlier. However, it is still quite operational and trendy. This is why we could not help themselves but keep this on their list. Apart from that, this theme has quite got an advanced look.
When you install it to your Linux operating system, you will feel like working on some sort of Alien technology. This theme displays you with a wide range of information. It includes a media player, song info, temperature, CPU speed, and many more. This theme comes sorted and doesn't let you worry about developer support.
See Also: Top 10 Best Gnome Themes for All Linux Distros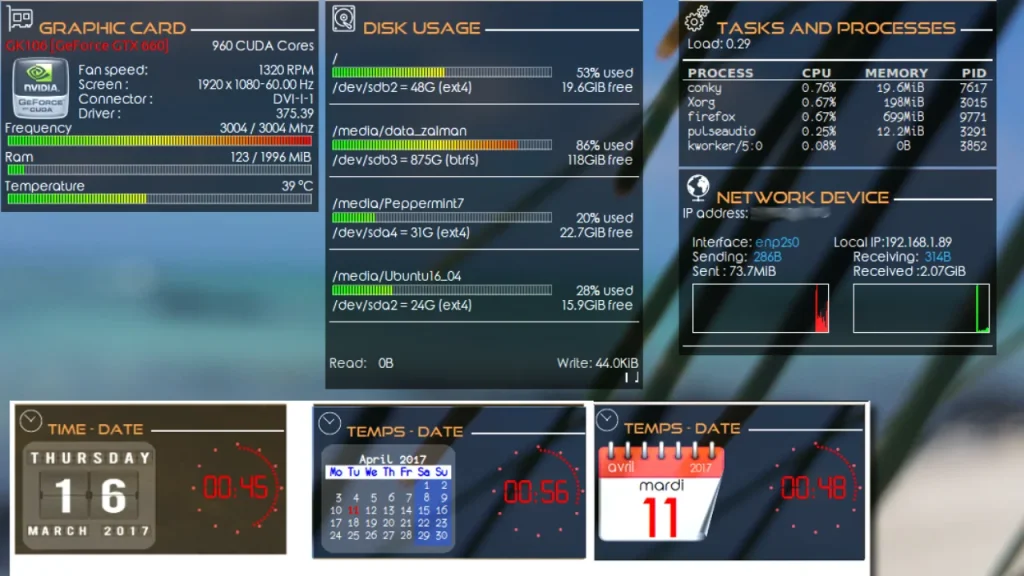 This Conky theme doesn't need any sort of change in script files by accessing the code. It automatically blends with your hardware and shows you all the system information innovatively. It scans the complete hardware of your system to show you all the insights. Automated operations are the key feature of this theme.
Multi-lingual support is another remarkable feature of this theme – it includes languages such as Japanese, French, Italian, German, and many more. You can also translate the components of Conky into a language that you like. This is a widget that supports both AMD and NVIDIA GPU.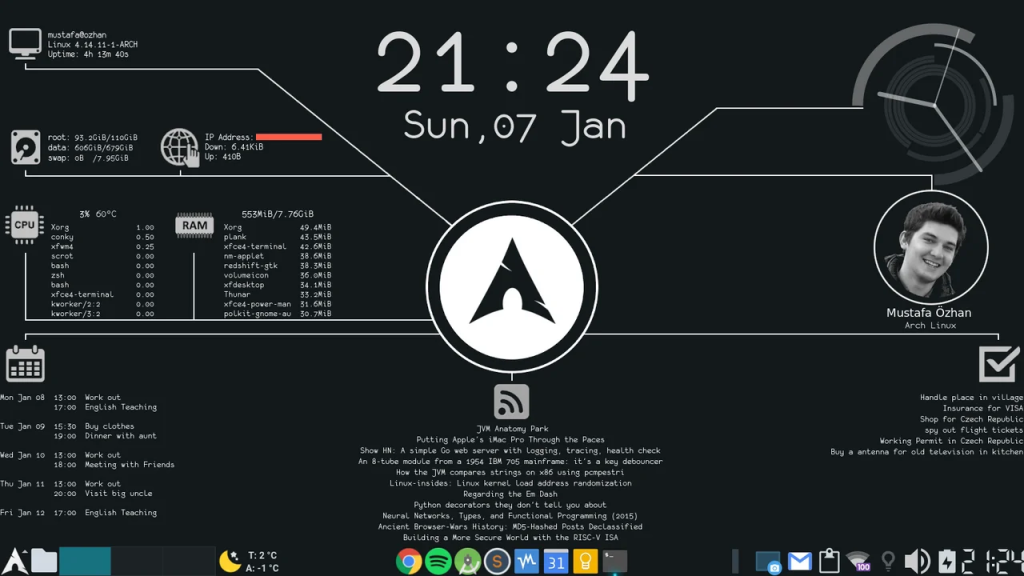 This is one of the most esteemed names you can find on the list. Like the name, this theme also has a robust list of features and functions you need. The graphical elements are useful, and the interface is also very good and bold in looking.
The main attraction of this theme is the addition of services from Google. It has a calendar such as Google Calendar. You can also use the to-do list in this theme. Besides, this theme also integrates with the RSS feed. This comes in handy to extract any daily information.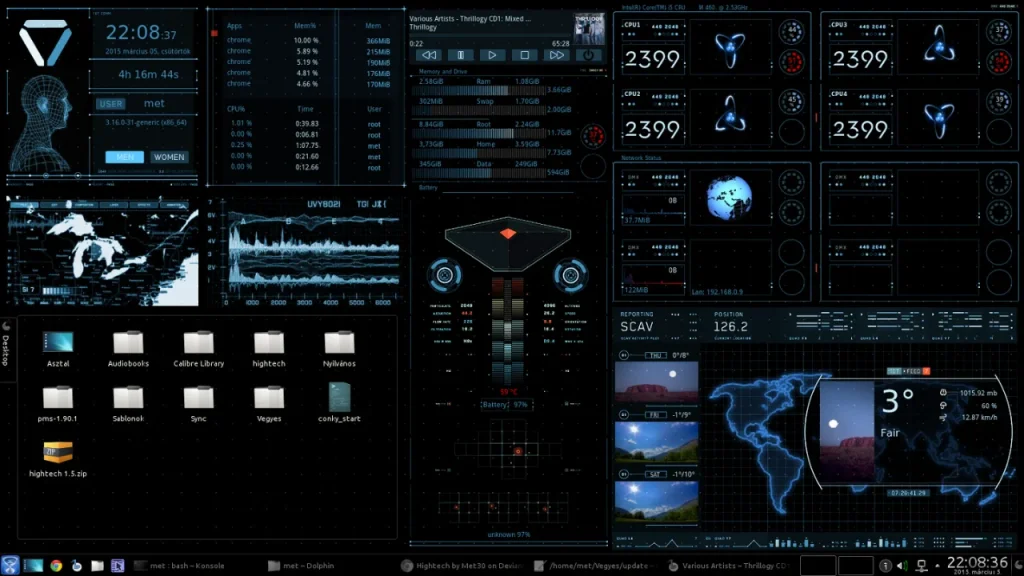 As you must have read in the name, this is an advanced Conky theme that will present you all the vibe using a futuristic dashboard on your desktop? This theme has many visual elements that make you Conky look modern. However, setting up the theme with the existing freeware is quite monotonous.
Once you install it, you can then configure it as per your need. In the theme, you will also get neon shade. It brings you a classy look. There are also folders for the widgets. You can arrange all the widgets inside the folder to achieve a clean look. You can set shortcuts for any widgets as well.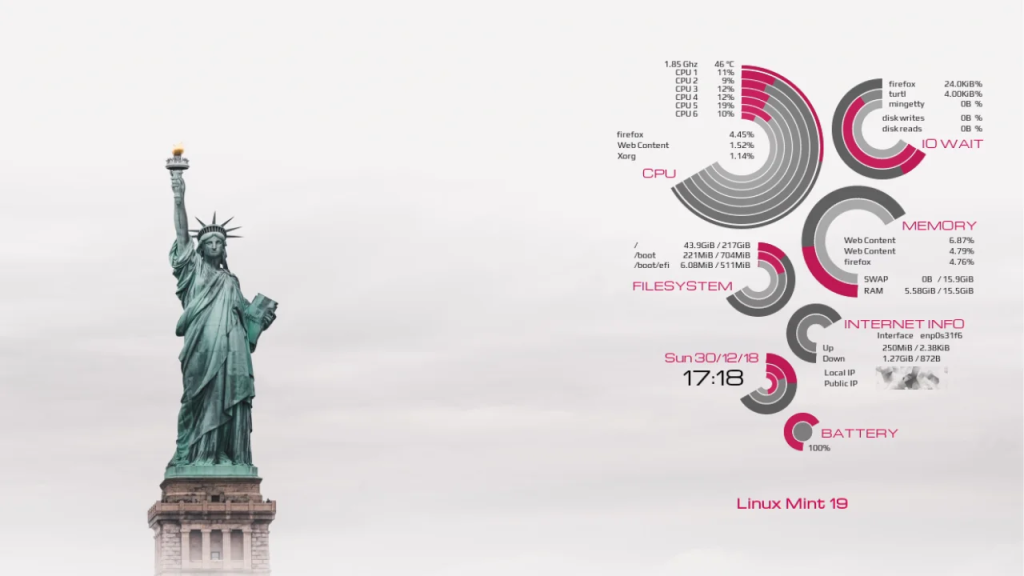 This theme is famous for its pink accent and grey colored circles enclosing the gauges. This is a color scheme that will always get appreciated by all users. Setting up this theme is easy in all the Conky freeware. It is also lighter in weight that renders quite seamlessly.
This Linux Conky theme is also attractive and pleasing for the eyes. You can attain all the relevant information in this theme. It includes CPU temperature, CPU speed, and several other insights. All useful parameters of your system get displayed inside dynamic rings.
This is another useful and cool theme that you can contemplate for your Conky Calendar. This is a simple desktop calendar to get all the system information. It can show you the date, time, and several other insights. Conky Calendar is a theme that would even offer you a complete calendar view on your desktop screen.
In the last decade, the popularity of this calendar has quite increased. It is more famous for its horizontal format of showing information and highlighted colors on the edges. Users in this calendar can even access a quote along with the calendar.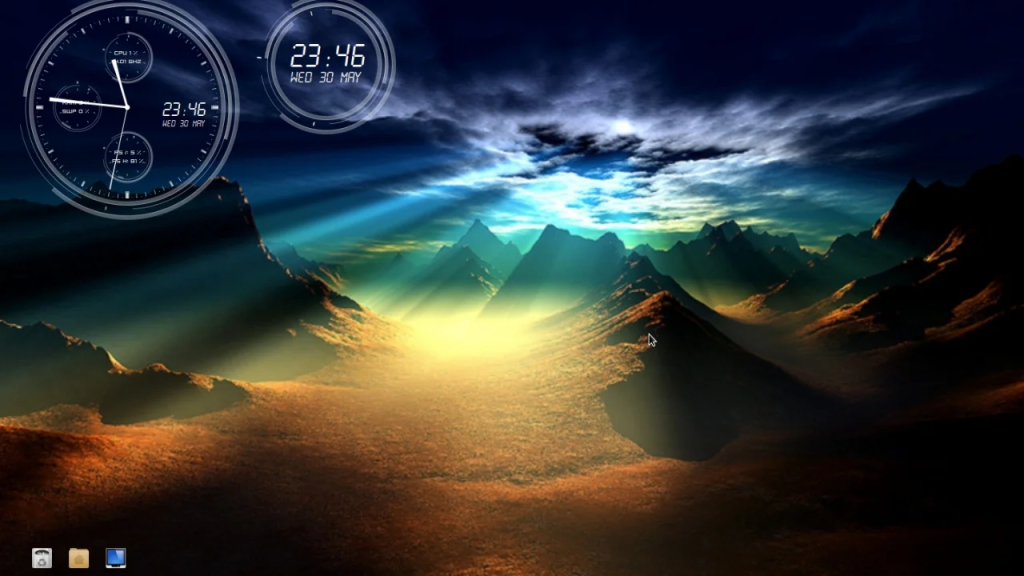 It is another extraordinary theme for Conky Freeware. It will show you several imperative insights that include current, time, date, the temperature in a chronological manner. The watch or the gauge style looks imminent and classy.
One large dial will show you CPU usage, memory stats, the capacity of the storage disks, and many more. The design is minimal doesn't seem to be messy. Several transparent visual elements show you information floating on your desktop. There are also dynamic big rings to show you system information.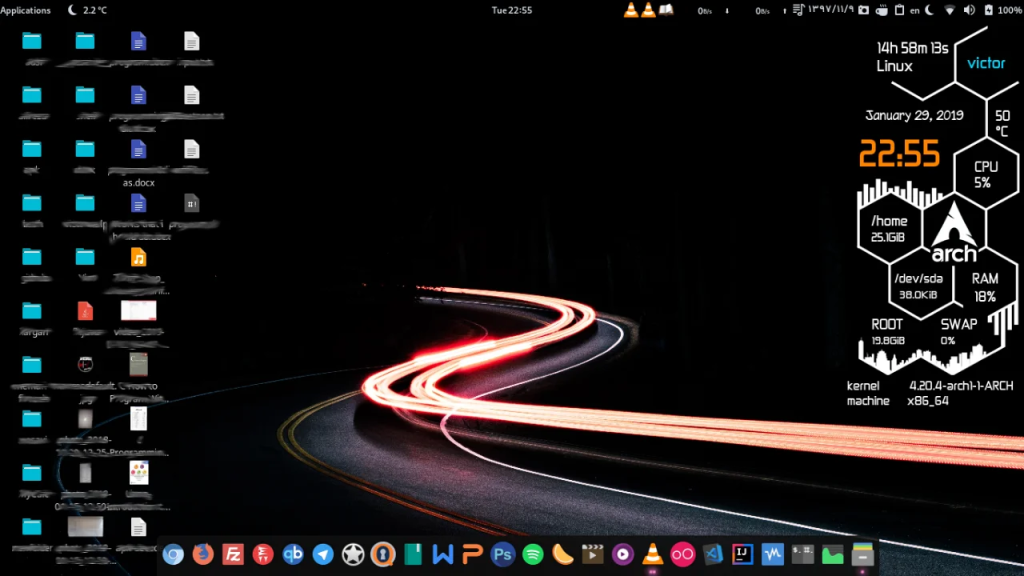 Most users get bored using the same old round gauges in the interface of the Conky freeware. If you are one of them, this theme might be suitable for you. This theme eliminates all the old costumed visual elements with hexagonal-shaped widgets and gauges.
The widgets in this theme are quite powerful to show you all sorts of computer information. It includes memory usage, date and time load on the processor, temperature, and many more. The developers of this theme have developed three different variations so far. All the different variations have different shapes of gauges to show you information.
This is a Conky theme that is from the future again. The interface of this theme replicates the HUD or the heads Up display of an aircraft cockpit. This is something that can fascinate you use it for the maximum days. This is also a theme that you won't get bored of.
However, the beginners' users might find a lot of complexities to understand the interface. The parameters that you can see in this theme include memory usage, date, time, status, weather report, and many more. Moreover, it looks quite cool for users. The users also get a feature to add their profile picture to the Conky freeware theme.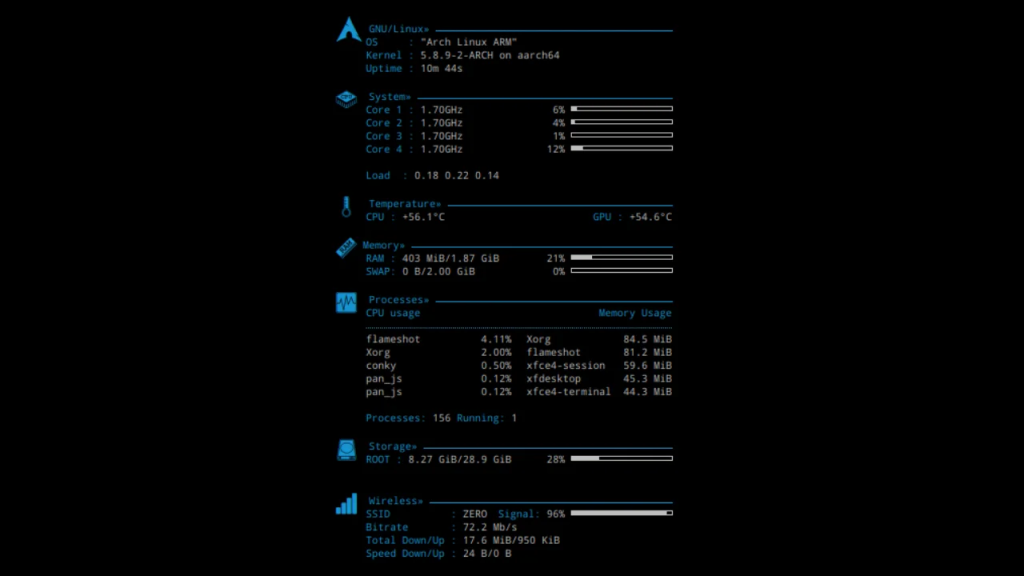 As the name says, this is a Conky theme that comes with a minimalistic design and theme. However, it looks beautiful on your desktop screen. Many users always prefer widgets and other freeware that doesn't take much space on your desktop screen. In such cases, this widget takes the minimal space on your desktop screen.
This Conky theme shows you the name of all individual information about the system. This theme is quite helpful when you want to monitor the CPU process that is causing stress on your CPU. The freeware theme is so small that you can place it on any part of your desktop.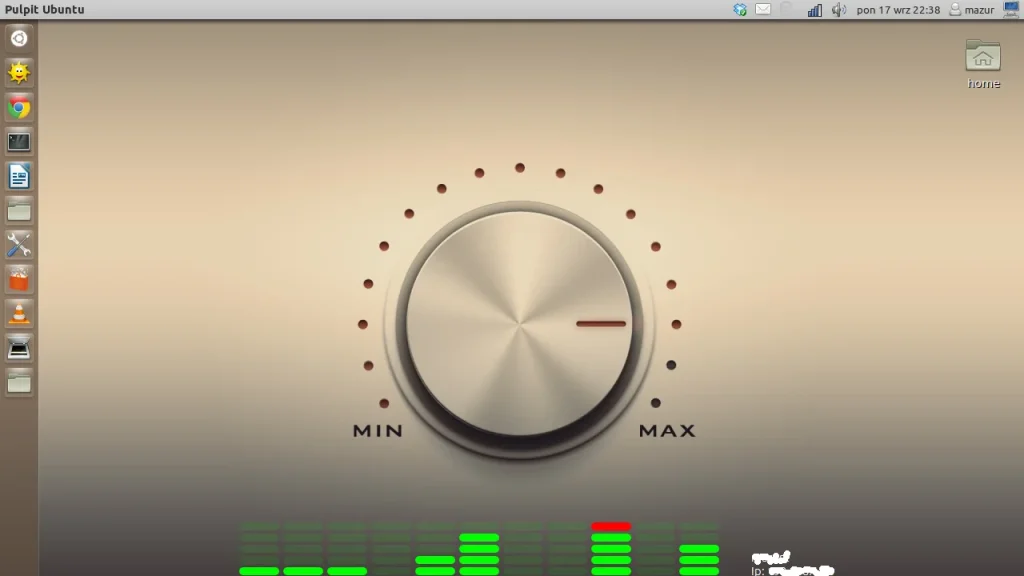 If you are making assumptions by hearing the name, you must not. This is not a theme that shows your media player equalizer. Rather it shows you all the system information. However, the appearance and theme look quite resembles the theme of an equalizer.
There would be bars to show you critical system information. It looks quite impressive in your desktop surroundings and also enhances your wallpaper's look. However, you won't see the exact numbers inside the bars. For the exact numbers, you have to look below the bars. If you want to attain a more immersive look, you can choose a background that matches this theme.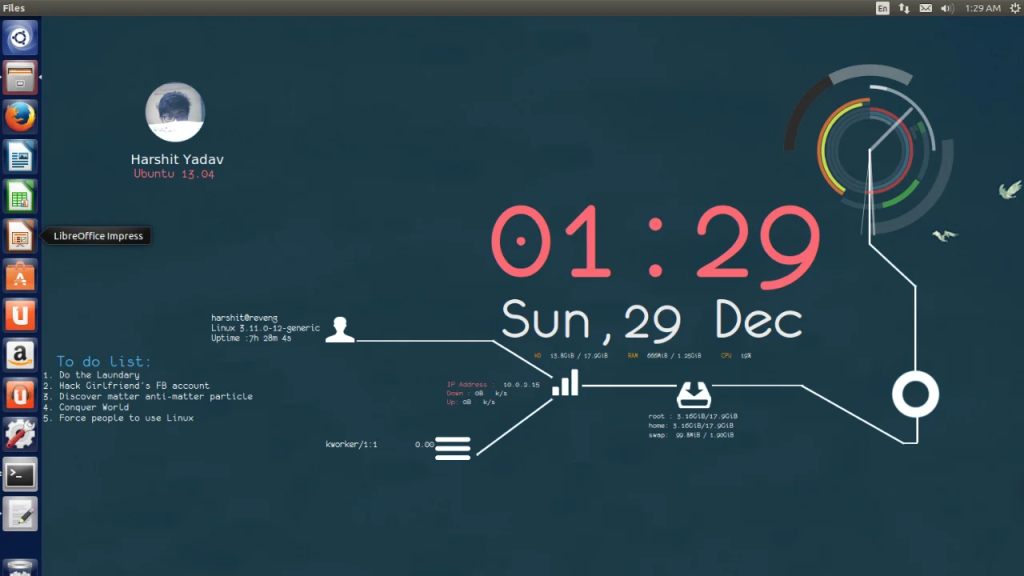 As the name says, this is a dark-looking theme that shows you date, time, temperature, and several other CPU stats. The developers have developed this theme with a font face similar to monitor. This offers you even more vibrant-looking gauges.
The information that you access in this theme includes CPU load, RAM usage, system uptime, and many more other specs. In the last version of this theme, the developer has developed a to-do list that offers even more convenience to the users.
See Also: Top 23 Best Themes For Android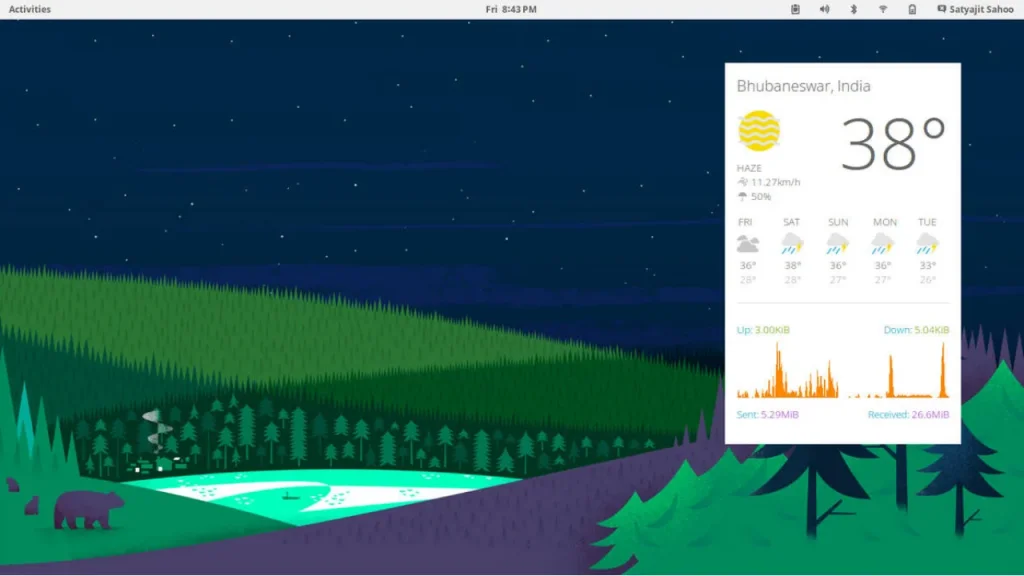 In an honest opinion, this is a fairly equipped theme. we completely adore the design that Google has been utilizing in their app recently. That's why Users and we anticipate this Google Now theme as remarkable.
It's the most decent you will ever get to have a real Google Now app on your Linux system. If you're also concerned about modifying Conky into Google Now, you should use this theme!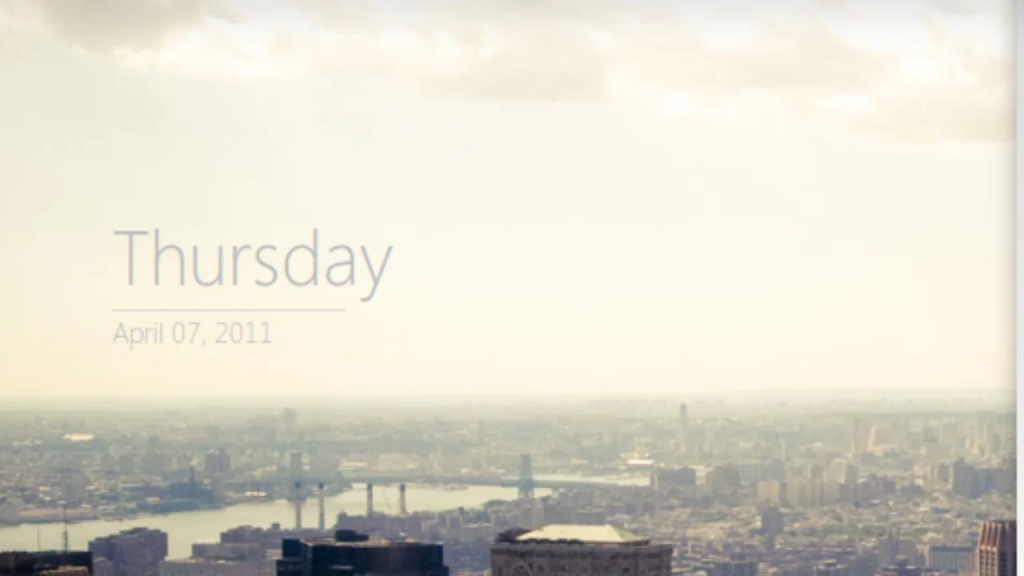 Helix isn't the sole minimalist-looking theme on this editorial. There are several others, but we consider it does belong to the simple-looking Conky theme group. The primary reason behind it is its simple gauges and dial.
There are few complexities, and users can find all basic information on the desktop screen. However, it looks futuristic, and vibrant Helix can be the theme you've been searching for.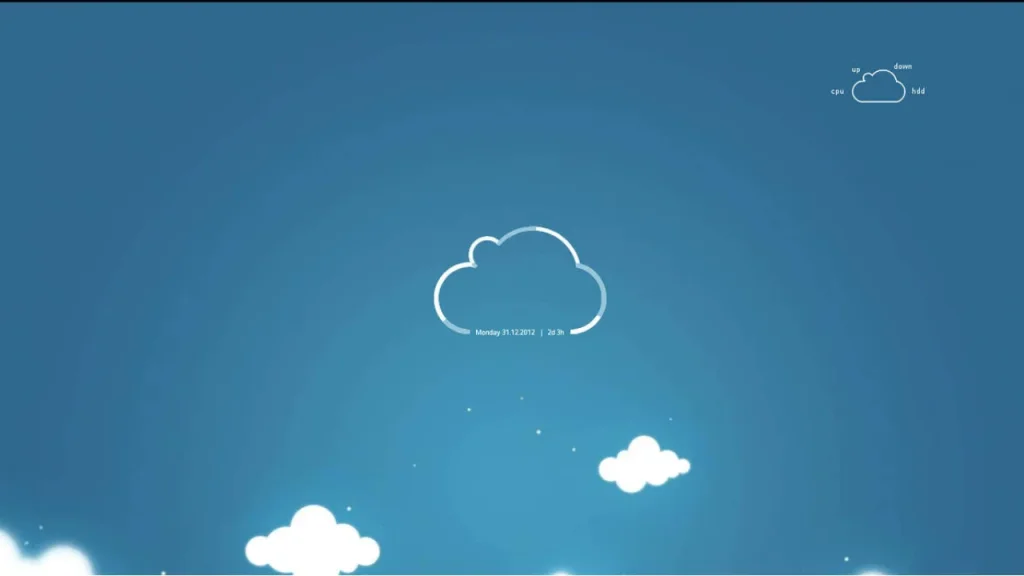 Have you ever wanted to have the date, time, and everything in between told to you in the design of the cloud? If yes! This is one such theme that will offer you so. You may be thinking of it as cloud storage, but it is not so!.
we have never witnessed Conky themes that look quite decent like this one. It's out of the box, good-looking, and shows you all sorts of CPU information. If you've browsed through all the themes in this editorial and still don't get the one that you are looking for, then you should give the cloud a try.
This theme in the list is one of the simplest Conky setups, offering Microsoft's urban UI design on the Linux desktop screen to design a straightforward clock. There are no monotonous widgets, no list of accessible resources, and no visual elements to take much space on your desktop.
However, the con is you can only access the date and time in the simple, windows-like text. If you want to thrust minimalism to 11, blend it with something like OpenBox for an exclusively messy-free desktop.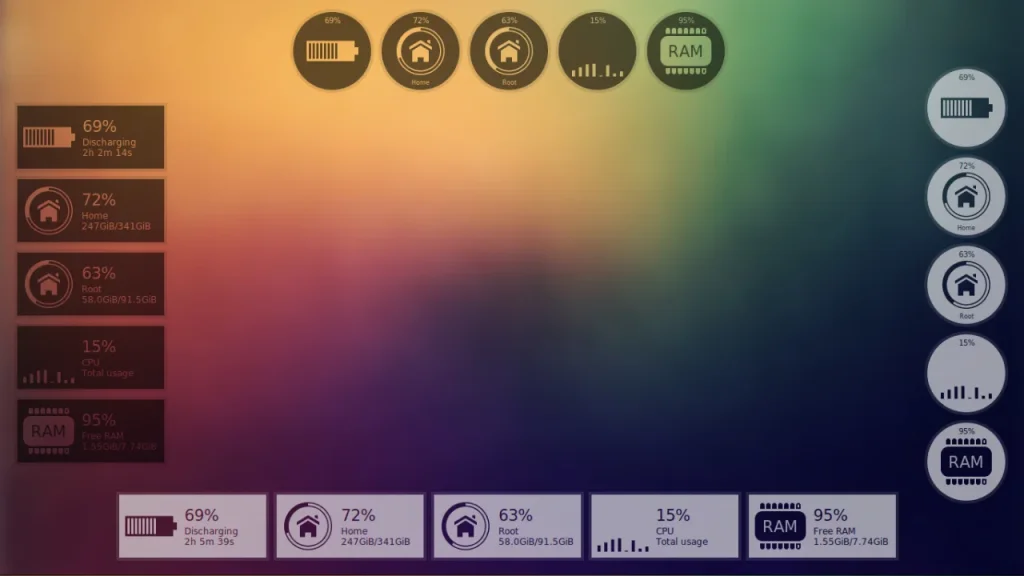 This new theme in this least delivers a laydown of widgets that empowers you to scrutinize free space, CPU load, RAM usage, and charging status at a gaze. It comes with four different settings by default. This offers a vertical and a horizontal widget arrangement, each with either a round or sharper square widget.
Thus, you probably won't have to go into its settings to attain a beautiful look on your desktop.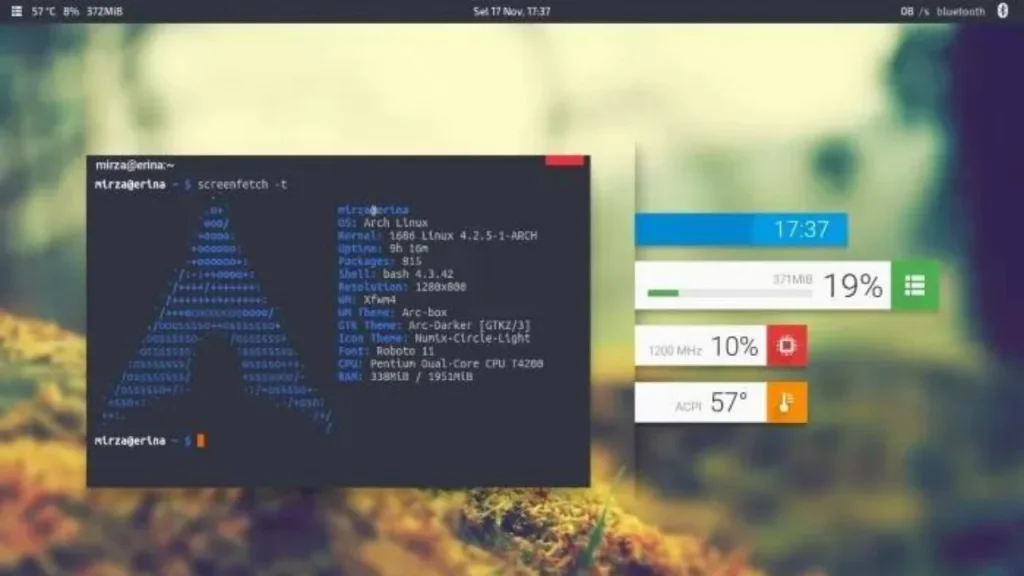 If you like the design of Android's widgets or you are an Android enthusiast, maybe you'd love the designs of Sidecar Conky. It's a minimalistic Conky theme with four different widgets. It displays the time, free space, CPU load/usage, and system temperature.
All four display assSidecard. This is why the developers named the theme a sidecar. It seems as if they're rising from your desktop.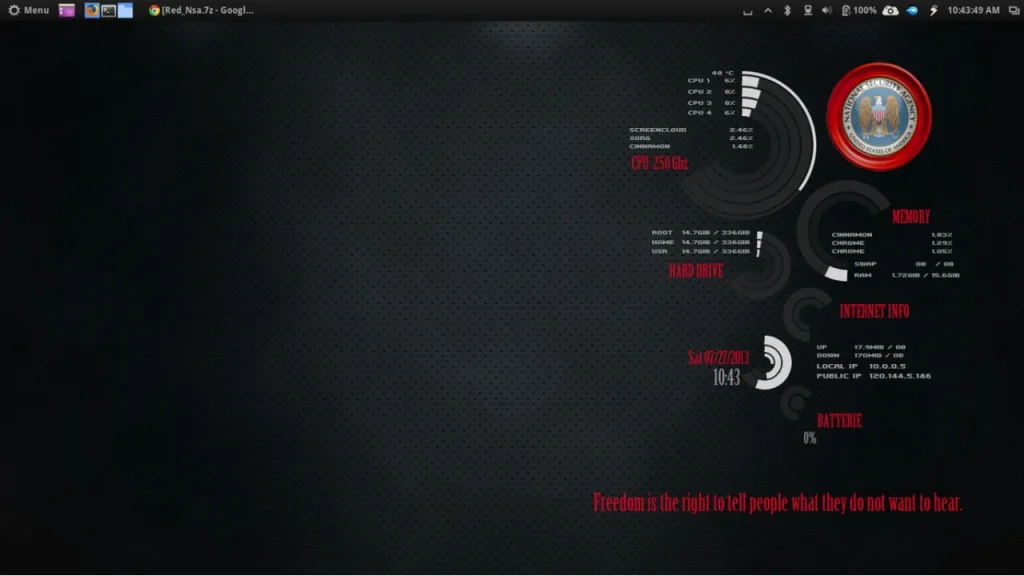 This is a Conky theme that comes with a dark theme design. It has red elements on the sharp edges of gauges and bars to appear more vibrant on your screen. It offers you a wide range of insights about your CPU. Most of the information gets displayed inside round gauges.
Apart from that, you can also attain detailed information about it below the round dials. This is clean and minimalistic. Users can also attain information about the battery percentage.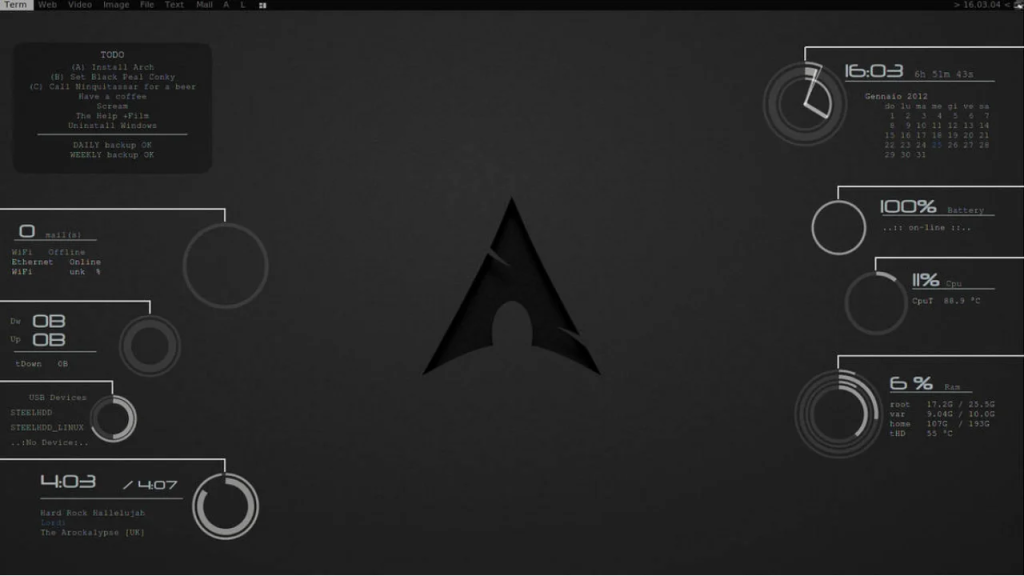 This is another dark edition of the Conky theme. If you love the Conky themes with the dark interface, you will surely fall in love with this theme.
It shows you the complete calendar, date, and time. It also shows you system information on the two sides of your screen. Most of the information gets displayed in figures having a graphical representation in the round dials.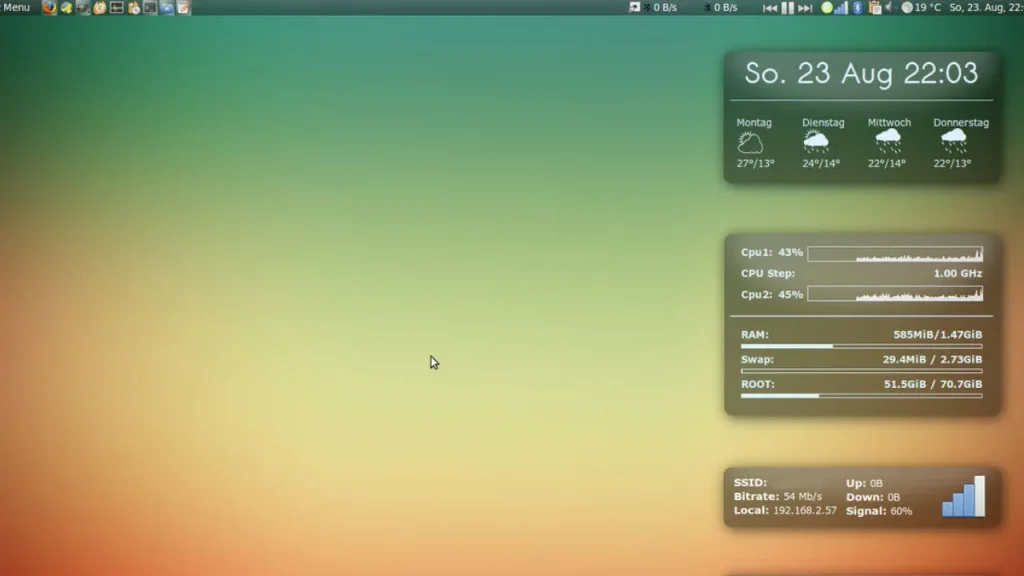 Black diamond in the name might let you think of it as a dark Conky theme. But it is not! A Conky theme will make your Linux look like Windows/Android; the information appears in the boxes.
First, you will first get the temperature, weather, time, and date in the first box. Then you will see the CPU stats and then information about the SSID. The look is quite minimal, and there are no round dials.
Frequently Asked Questions (FAQs)
1. How do you make the Conky look good?
Conky is a freeware that comes with a very customary look. If you wish to change your Conky, you need to try one of these above themes to change its look completely.
2. How can I get a Conky theme?
There are several sources and even the official websites of the theme creators; you can search any of the above names on the search engines to get the download link.
3. What is the best Conky theme for Linux operating system?
All the above names that you see in the list are the best Conky themes. However, the best five names will include Conky orange, Conky Chronograph station, Conky colors, Future Blue Conky, Automatik, etc.
4. What is Conky in Linux?
Conky in Linux is a program that helps the user track the system information. This is a freeware that is accessible for Linux systems, FreeBSD, and OpenBSD.
5. How can I add a theme for Conky Manager?
There is a theme tab available in the Conky freeware. You need to click on the theme tab and select the downloaded theme in your theme tab. Then you can notice an enable button. Click on the enable button to automatically change the theme on your Conky desktop screen.
6. Are Conky themes for Linux available for free online?
Yes! There are several Conky themes that you can access online for free. You can also find several free Conky themes for Linux operating systems in this list.
7. Do the Conky themes make any difference in the CPU performance?
No, the Conky themes are lightweight. They do not consume much CPU performance.
Conclusion
Keeping it concise, these are the top 24 Best Conky themes that you should use. Now that you know the top 24, you can shortlist a few and install them on your Linux operating system to enjoy a good appearance. However, before installing, you must be conscious to download those themes from reliable sources over the internet.
If you have any more recommendations for free Linux Conky themes, you can let the readers know by mentioning the same in the comment section below. If you like this editorial, share it with maximum friends of yours to let them know about the top 24 Conky themes.