Top 5 HTML Visual Editor Tools
The first thing you need for creating web pages using HTML and CSS is an HTML visual editor. There are many free HTML editors on the web, and choosing one of them can be a daunting task.
With a good HTML code editor, you can write code many times faster. Such a tool helps avoid a lot of unnecessary difficulties. So, the programmer's productivity can increase several times.
There are lots of free and premium editors. The advantage of using paid functional HTML code editors is that you get more features. It can significantly speed up the process of marking up and creating content.
Here are the 5 best HTML Visual editors that are worth your attention.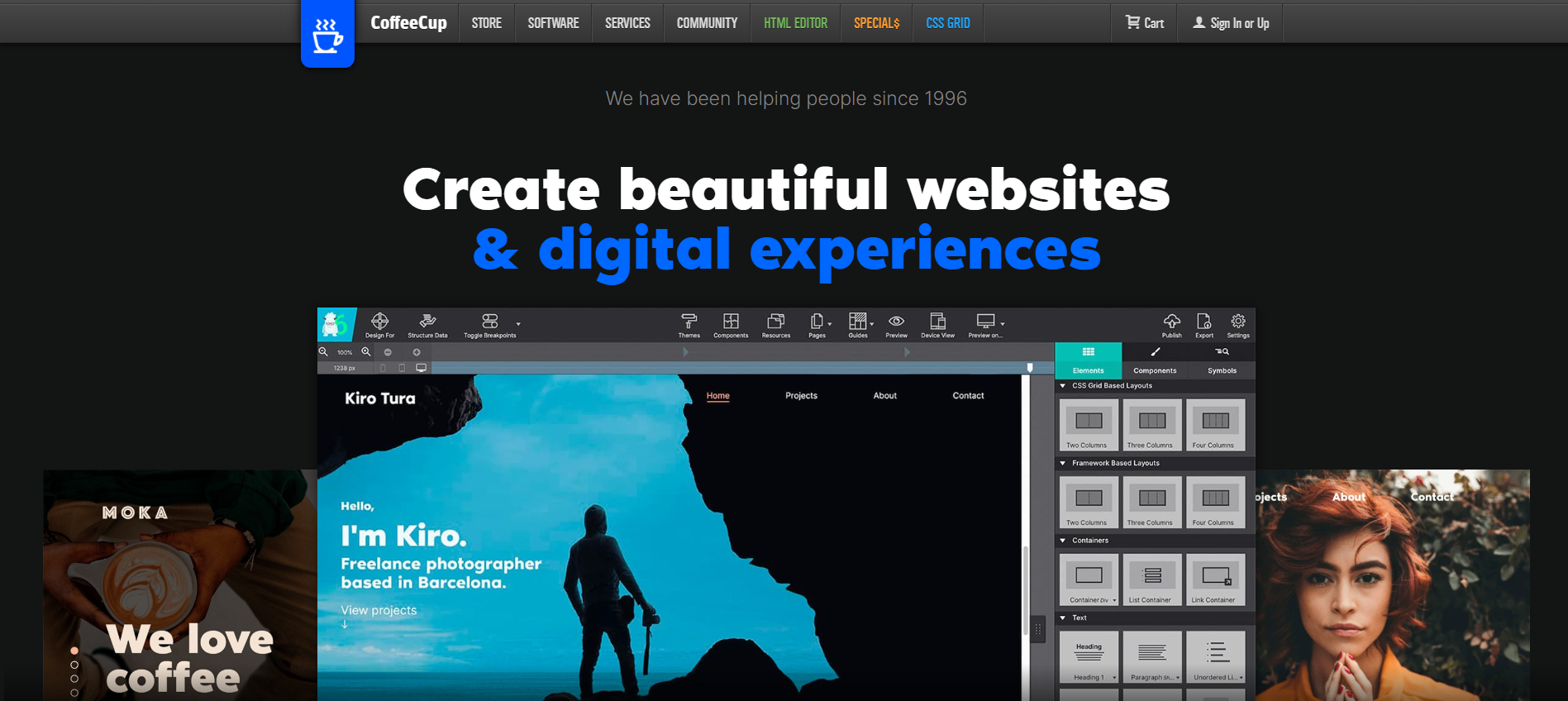 CoffeeСup has been on the market since 1996. This HTML5 editor is popular among freelancers, startups, small businesses, as well as web developers from large companies. CoffeeCup will help you create sites, newsletters, web pages, content for social media, notes formatted in HTML, etc.
You can use this HTML code editor for free. Although, the paid version is not too expensive. For $29 you will get several additional functions, such as validation of HTML and CSS code, a tag library, code cleaner, dynamic spell checking.
CoffeeCup also offers several advanced modules for working in the style of mobile-friendly. There are Responsive site designer, Foundation framer, and Bootstrap builder. You don't need to write any code thanks to drag-and-drop functions.
The key features of the free version of CoffeeCup include:
customizable toolbars,
code completion for elements, attributes, and selectors,
ready-to-use themes and templates,
support for markdown format for HTML,
FTP/SFTP support,
preview option,
Thesaurus for finding synonyms and more.
Pros of CoffeeCup:
At a premium version, you will also get a WYSIWYG editor.
Convenient auto-complete tags.
Compatible with macOS and Windows.
The paid version of CoffeeCup's HTML code editor includes a tag library, HTML and CSS validation, code completion, etc.
 Cons of CoffeeCup:
Most of the functions and items at the library you can find only in a premium version.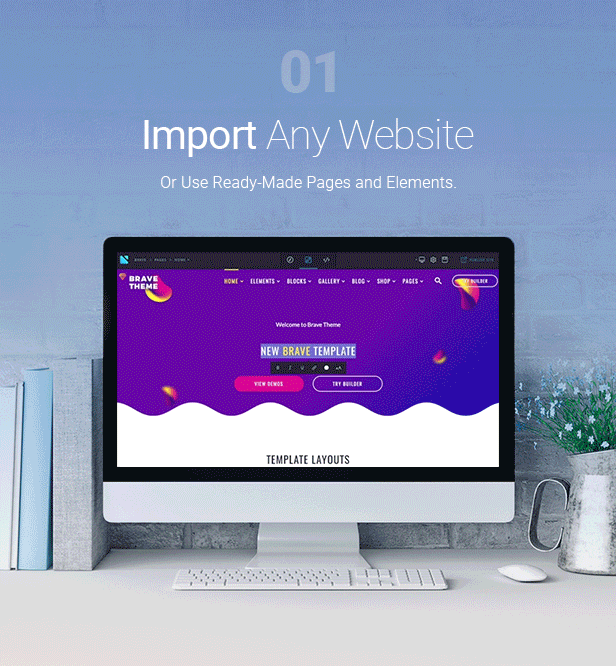 This HTML editor tool allows you to customize your project by Drag & Drop elements and editing various page settings.
Signing up for Novi Builder membership, you will receive not only the HTML visual builder but also templates from Template Monster, as well as additional plugins and modules for setting up the site.
Novi Membership offers several options for different needs — from beginner to developer.
For $29 a year, you get a multi-purpose template — Massive,
For $49 a year, more than 20 HTML5 templates,
And for $149/one payment, you get lifetime access to all templates.
A couple of key features of Novi Builder:
You can create as many pages as you need;
The page is created by simply dragging and dropping all the elements;
You can save your presets for future use;
Copy, paste and replace any design elements with the mouse;
This real-time HTML editor includes a lot of additional plugins (social media plugins, Mailform, subscription form, Swiper Slider and parallax slider, icon manager, Google Map, etc.);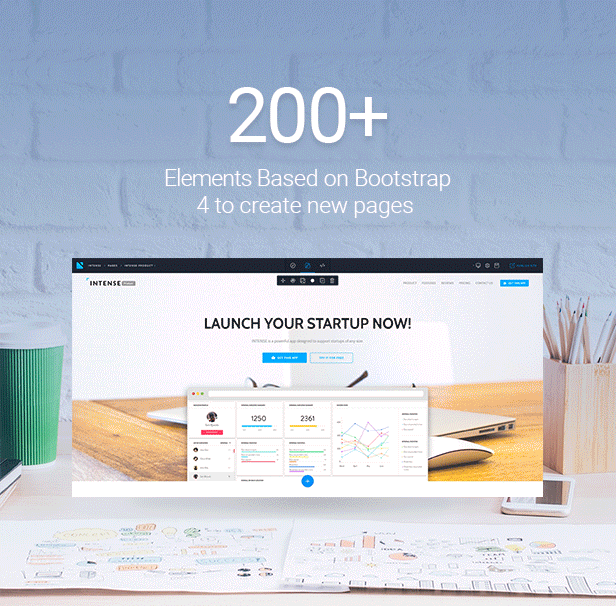 Pros of Novi Builder:
Many plans;
Quite easy to use;
Wide range of themes;
Cons of Novi Builder:
No support for hosting services.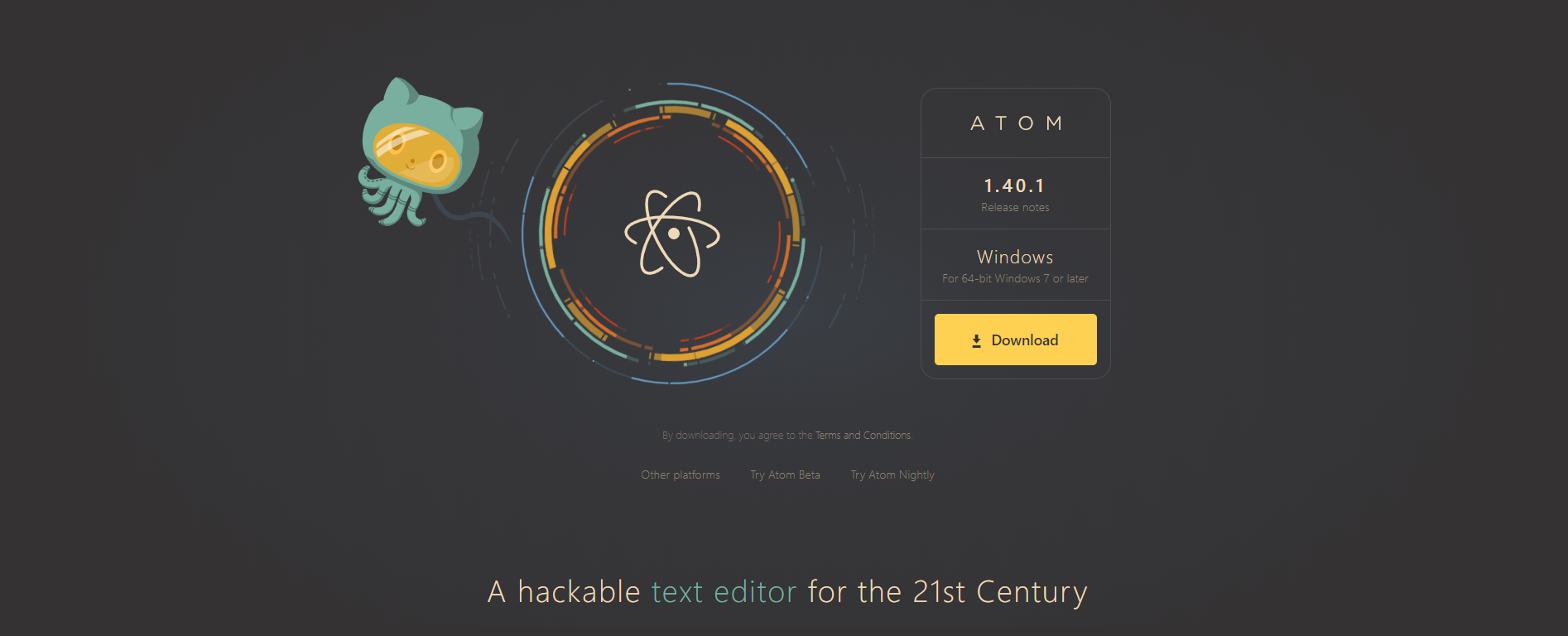 Atom is an open-source editor of a well-known company — GitHub. The main feature of this HTML5 editor is accessibility and versatility. It is ideal for both a beginner and an experienced programmer. The biggest advantage of this real-time visual editor is the ease of setup and the ability to personalize to various needs. Working with Atom HTML code editor's configs is no longer required, it can be used immediately after installation.
What features does the Atom provide?
Cross-platform: confidently and efficiently works on both Windows, Mac, Linux;
A built-in package manager will help you to search and expand the number of existing packages easily;
Supports auto-completion functions. A smart function with flexible settings for various languages ​​speeds up code writing;
A built-in file browser that allows you to open directories and individual files quickly.
An abundance of useful panels. You can configure the comparison and editing of code in various files by dividing the interface into several parts.
Pros of Atom:
More than 80 built-in packages.
Atom has a large number of add-ons, plugins, and extensions.
Open-source (available source code on GitHub).
Over 8000 additional installable packages and you are free to develop your own package.
Flexible customization thanks to many add-ons.
GitHub and Git integration.
Support for the Teletype plugin. This plugin allows you to write code in real-time together with other developers.
Cons of Atom:
Atom takes a large amount of RAM.
Compatible with Windows only.
Support for certain languages is provided not by Atom but by other developer's plugins.

CKEditor is a popular WYSIWYG HTML editor tool. It is often used in CMS Opencart instead of the standard Summernote.
This HTML visual editor is flexible, functional, extensible thanks to plugins. You can use this tool in WordPress as a plugin, as well as in your own scripts. "At the entrance" you work in the editor as, for example, you would work in LibreOffice or MS Word, and "at the exit" you get HTML-code.
Main functions of CKEditor:
It is licensed under the GPL;
HTML editor supports images, tables, lists;
Math is supported;
And it also supports real-time collaboration with the remote cursor and selections.
Pros of CKEditor:
Constant updates;
Easy to extend with plugins;
Compatible with modern browsers;
Time-tested;
Modular.
Cons of CKEditor:
The lack of an affordable open-source collaboration server.

Visual Studio Code is a popular HTML editor tool. It is compatible not only with Windows but also with Linux and macOS. At the same time, it is quite easy to learn, endowed with a convenient interface and all the necessary functions for creating applications. If something is missing, you can always fix it up by installing additional extensions.
Many features at VS Code editor allows you to analyze the code, run it, and debug it. More and more developers use the VS code HTML5 editor. That is why it often takes first place at many ratings.
In general, the work in the Visual Studio Code editor is straightforward and simple, great as a working tool for beginners.
Main features of VS code:
Small size and high speed.
Built-in syntax highlighting for the main programming languages.
Support for a large number of different plugins.
Tooltips and autocomplete by code.
A built-in console that allows you to execute code in real-time and fix errors in a special debugger.
Integration with the control system version of GIT.
Pros of Visual Studio Code:
Visual Studio Code is free.
It has a significant part of the functionality of the IDE.
Built-in IntelliSense.
Lots of extensions and add-ons.
There is a built-in debugger for Node.js, JavaScript code, TypeScript.
Open-source application.
Cons of Visual Studio Code:
Many developers noticed a rather long application launch time.
Project searches are relatively slow.
Final thoughts
Many HTML code editors have their own special features, but serve one purpose — the creation of web pages.
Since during development, you have to spend a lot of time in the editor. You should learn its features well, understand what it can do and how it can help solve common problems.
With experience comes an understanding of what your work tool should be. Modern programs have a wide range of features and continue to develop. Learn them and don't be afraid to try new things.